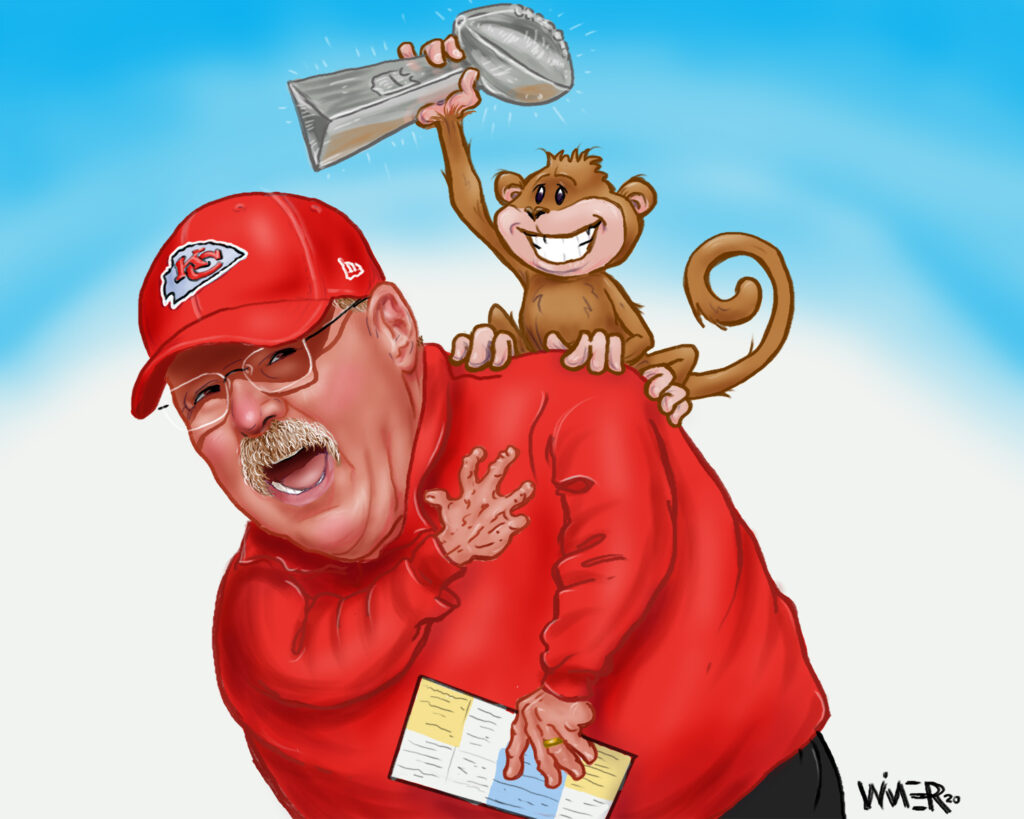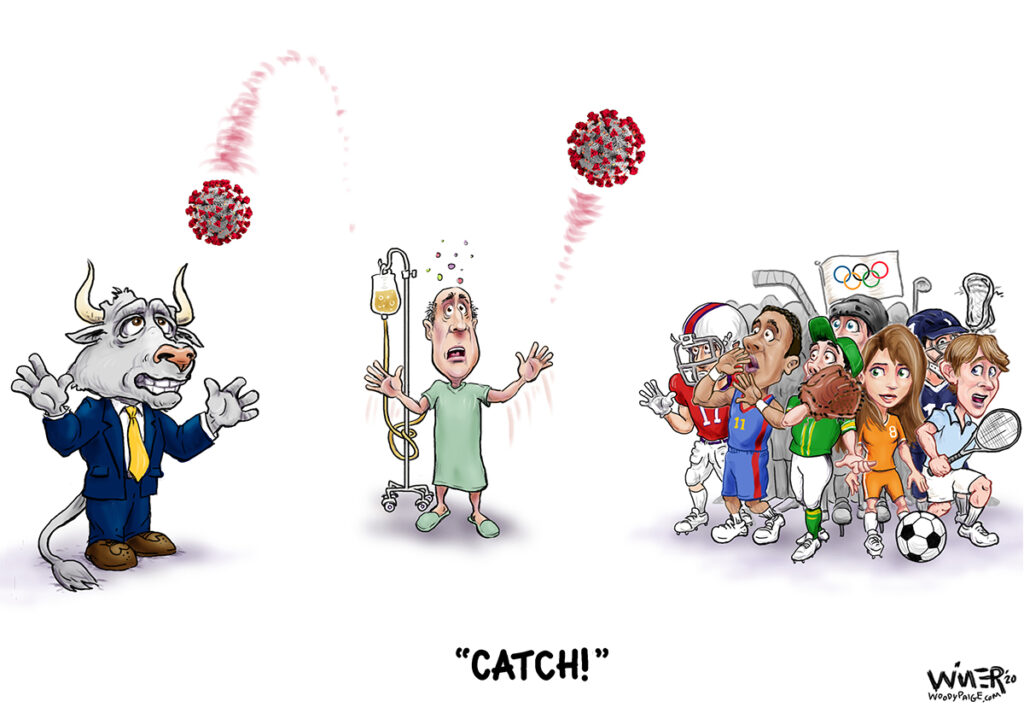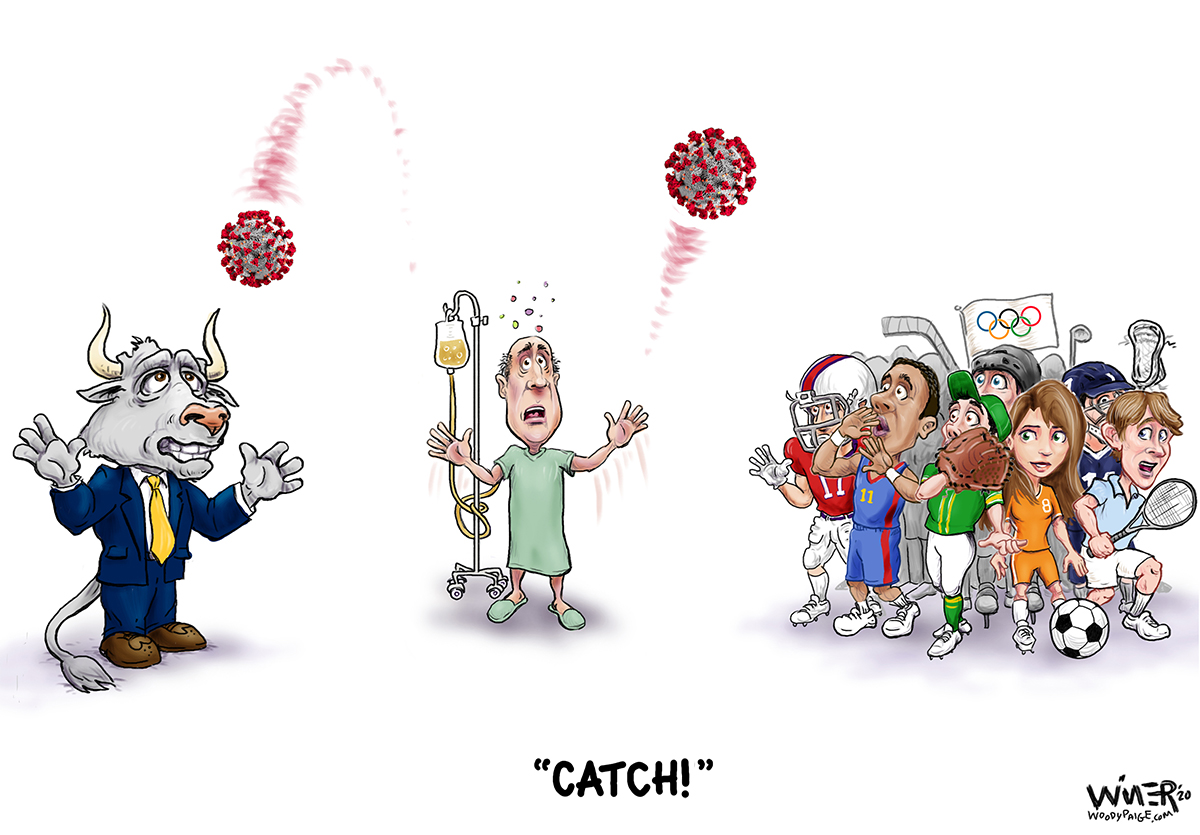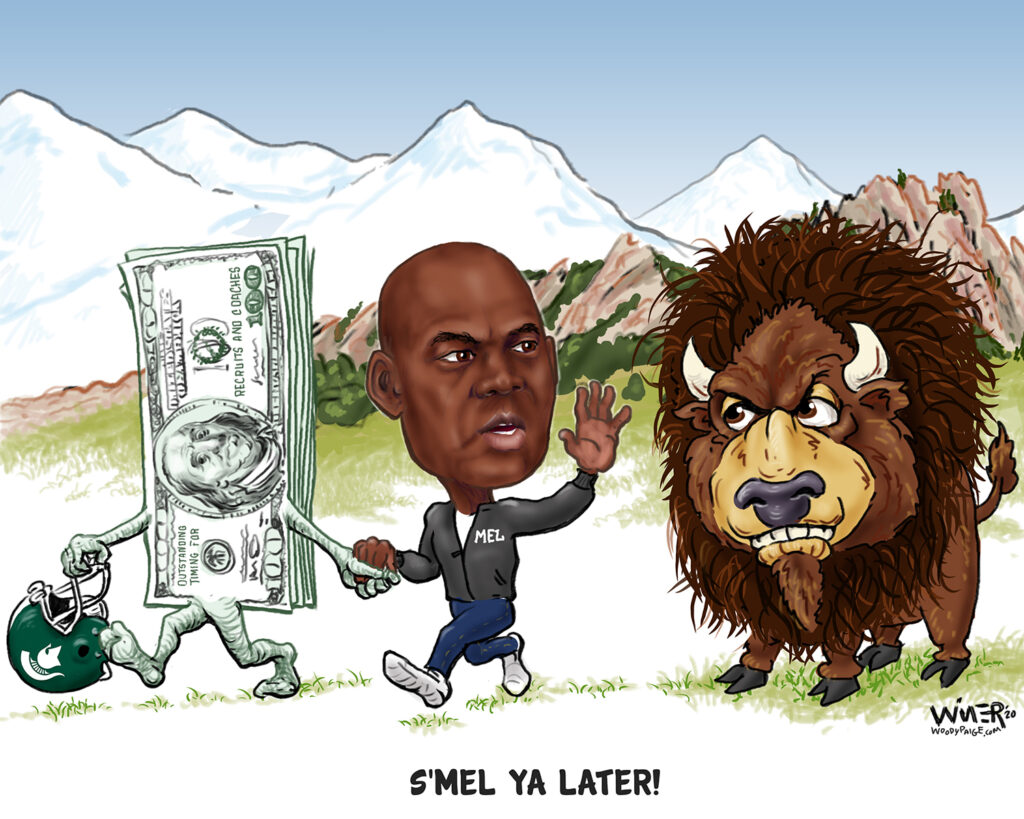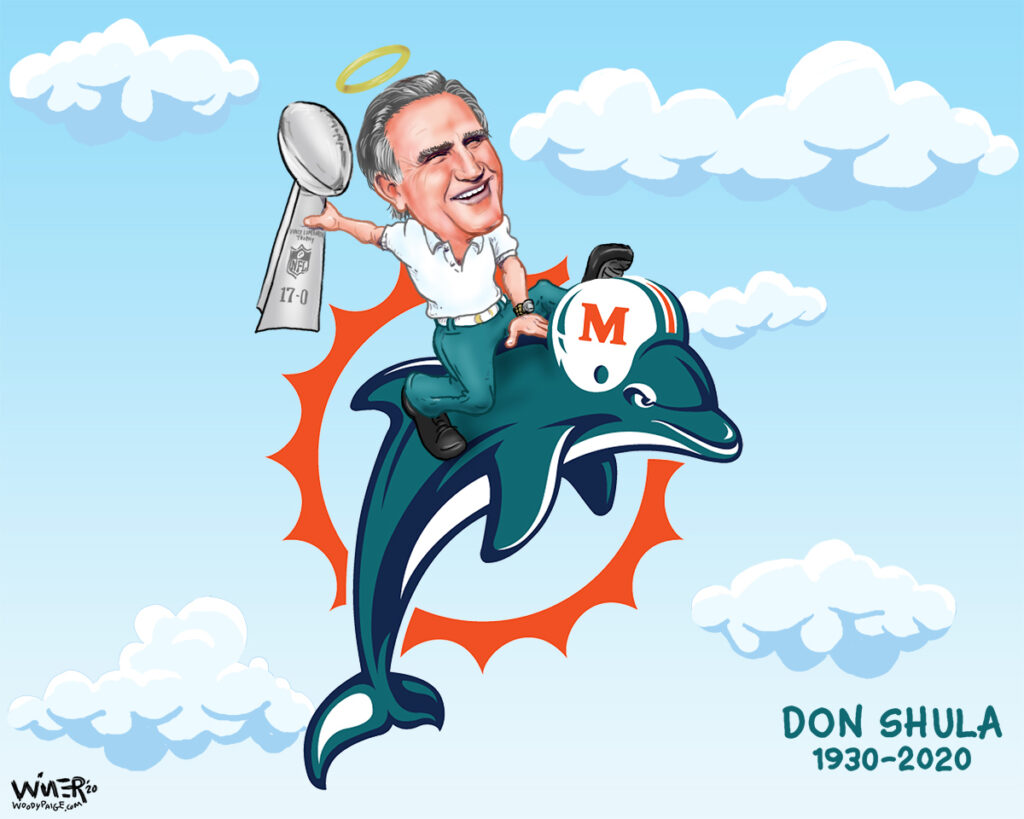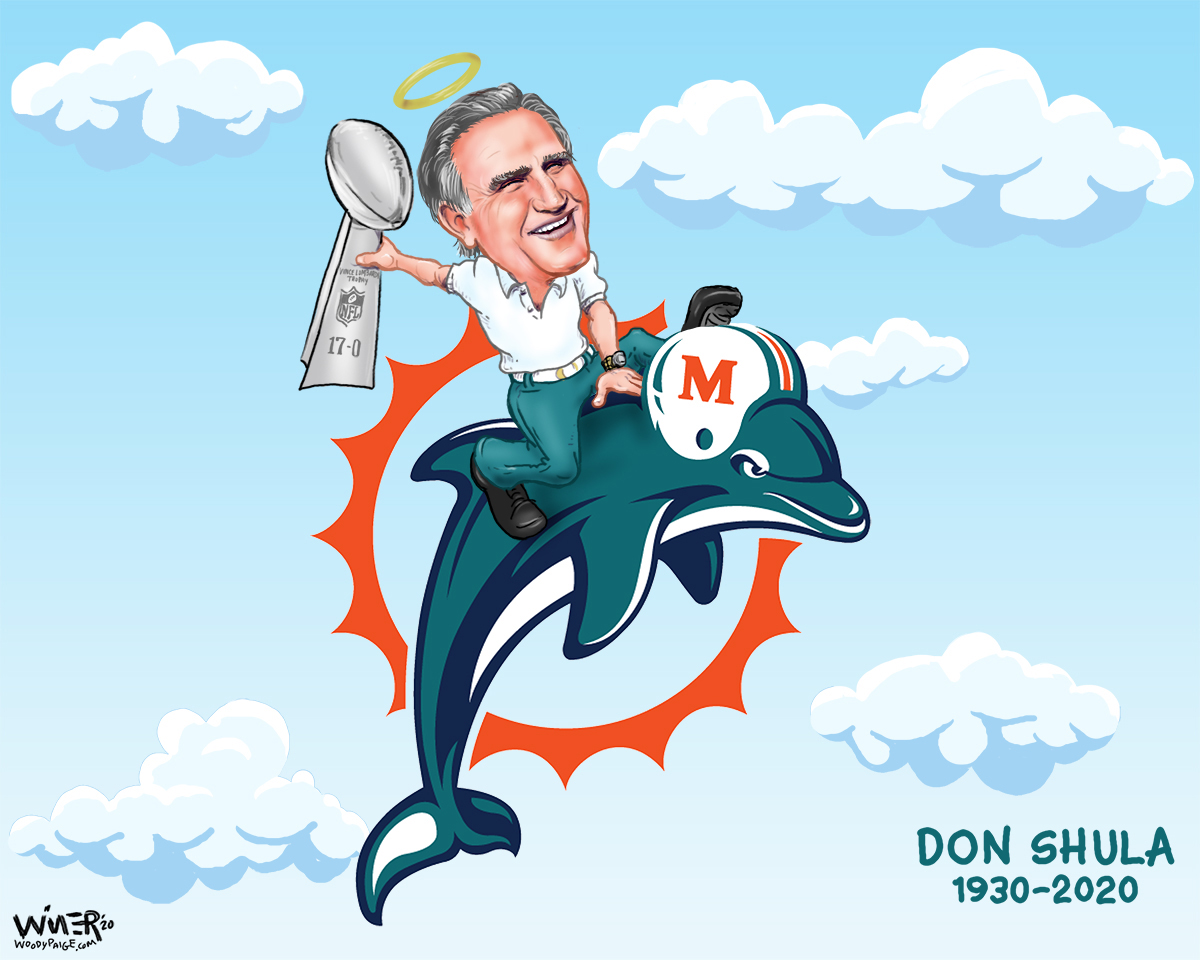 National Sports Fun & Commentary
Woody Paige, a nationally awarded sports writer for many years, continues to deliver his special brand of commentary via television, podcasts and writing. My cartoons, illustrations and comments are featured weekly on WoodyPaige.com alongside Woody's finest and other outstanding content by some of the finest sports writers in the country. I cover a wide range of sports topics, with an honest perspective that comes from a background as an athlete (D-I lacrosse and football, All-America), coach (youth, club and HS), several years living abroad, and family (Grandpa Wimer is in Basketball Hall of Fame). Featured on this page is work from 2020. Click here for earlier cartoons.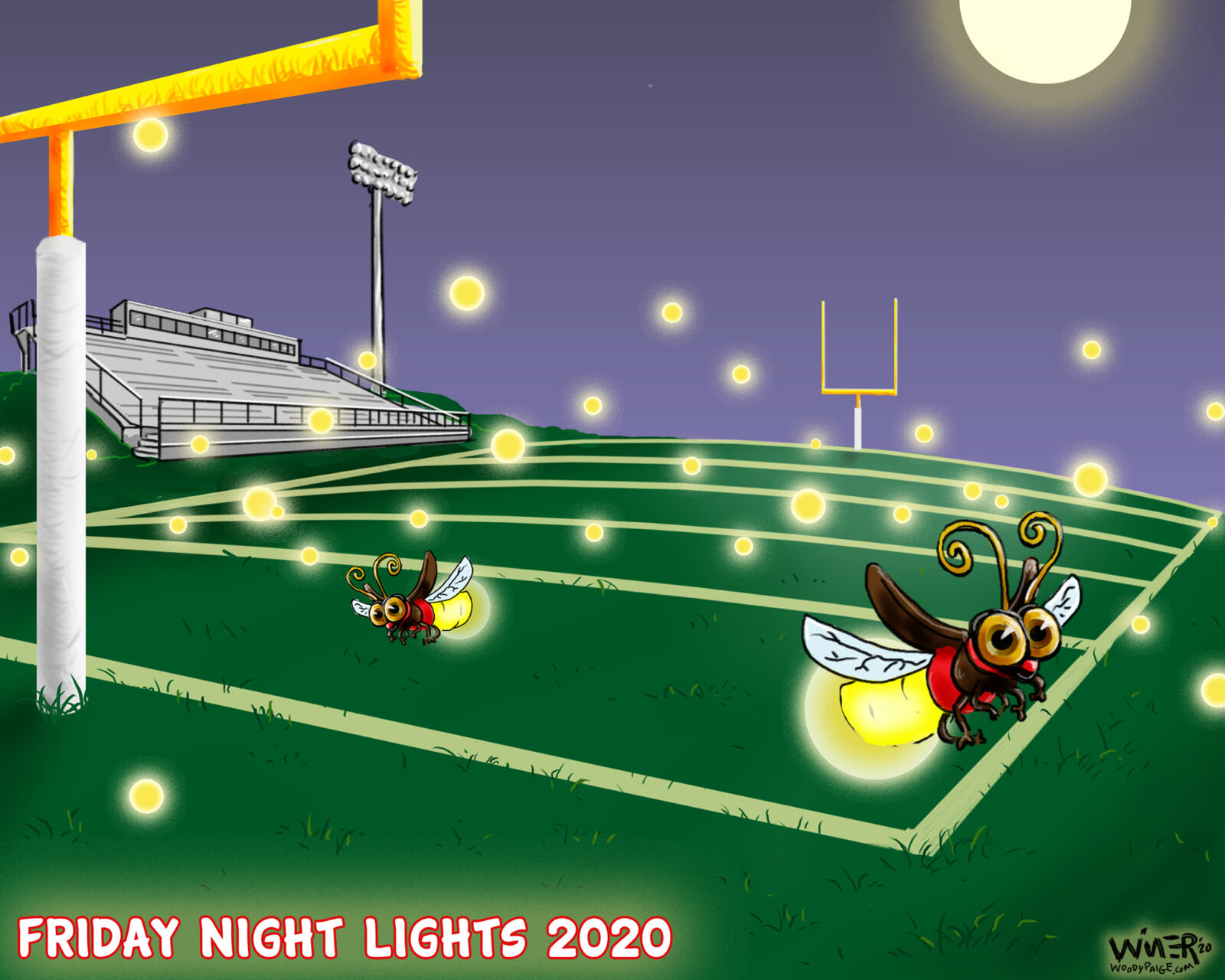 "Friday Night Lights 2020"
Autumn ushers in all kinds of things we all can excited about. Usually, high school football and "Friday Night Lights" is one of them.
But in a year different than any other, HS football in many parts of the country has been a casualty of the pandemic. Thus, many of us will have to settle for a different kind of Friday Night Lights in the late summer/early autumn.
And hopefully the kids who dream of suiting up for their HS get a chance to before they move on.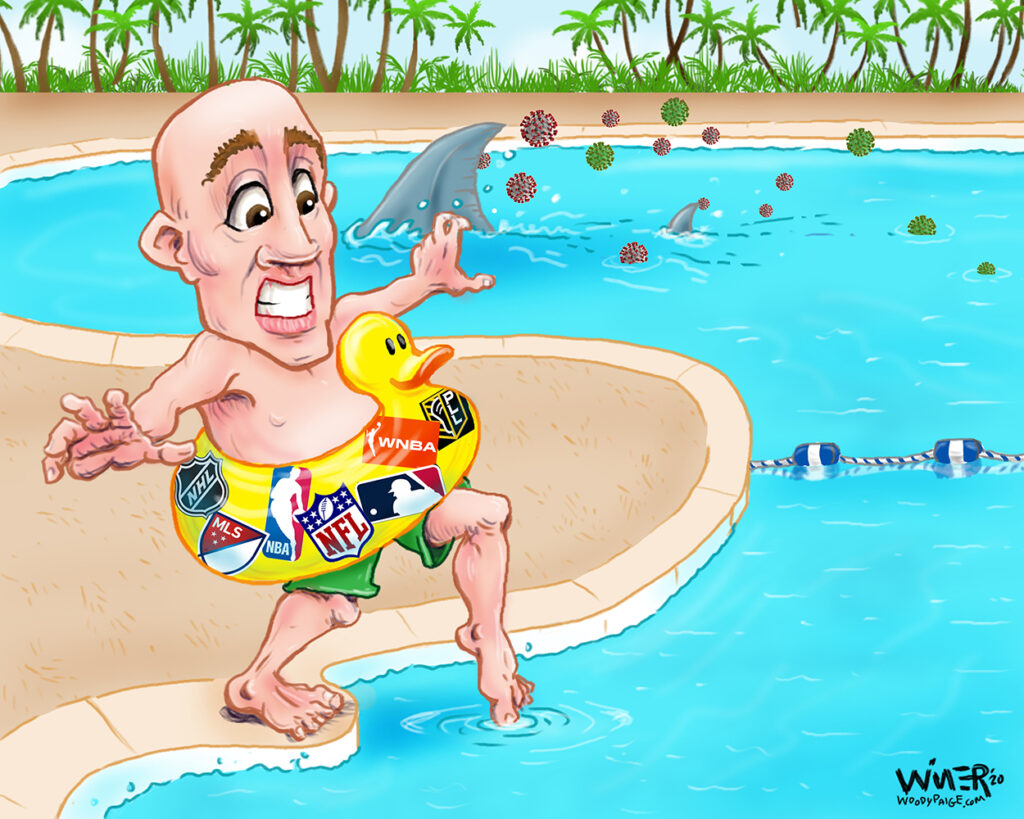 "Sports Dipping a Toe Into Uncharted Waters"
Sports are back! Well, kind of...
All of the major sports (and many of the minor ones) are starting up again in some form or another. None include fans in the stands of any note. So the value of television continues to rise on all levels, as sports-hungry fans will ingest anything to enrich their socially distanced lives.
This is uncharted waters for every one of these sports leagues, with most hesitantly dipping their toe before jumping in to the deep end. These waters are fraught with all kinds of danger regarding Covid. Careful getting in too deep, because the coronavirus has a habit of quickly making a mess of things. Just look at baseball and their approach of no fans, small changes, but business as usual for playing home and travel games with limited isolation for players and staff. Somewhat predictable, but a team (the Marlins) already has experienced a surge of cases on their roster, which in turn led to a postponement of several games. With an already short 60-game season, missed games will only complicate rankings and playoff calculations.
Other sports are taking the bubble approach. So far, so good for many of them. But it's early days, and I'm certain there will be a regular tally of players who are caught "breaking out" of their imposed bubble worlds, no matter how much those worlds are lavishly propped up to meet players' various and extensive needs. Patience and maturity aren't the hallmarks of 20-somethings to start with, and athletes certainly don't set records for impulse control.  Breaking out means higher chances of exposure, which means eventual cases and hiccups to sports leagues' best laid plans.
Here's to the sports leagues that deliver the sports we've been craving, while keeping things safe and as normal as possible. A balancing act that will be as interesting to watch as the sports themselves.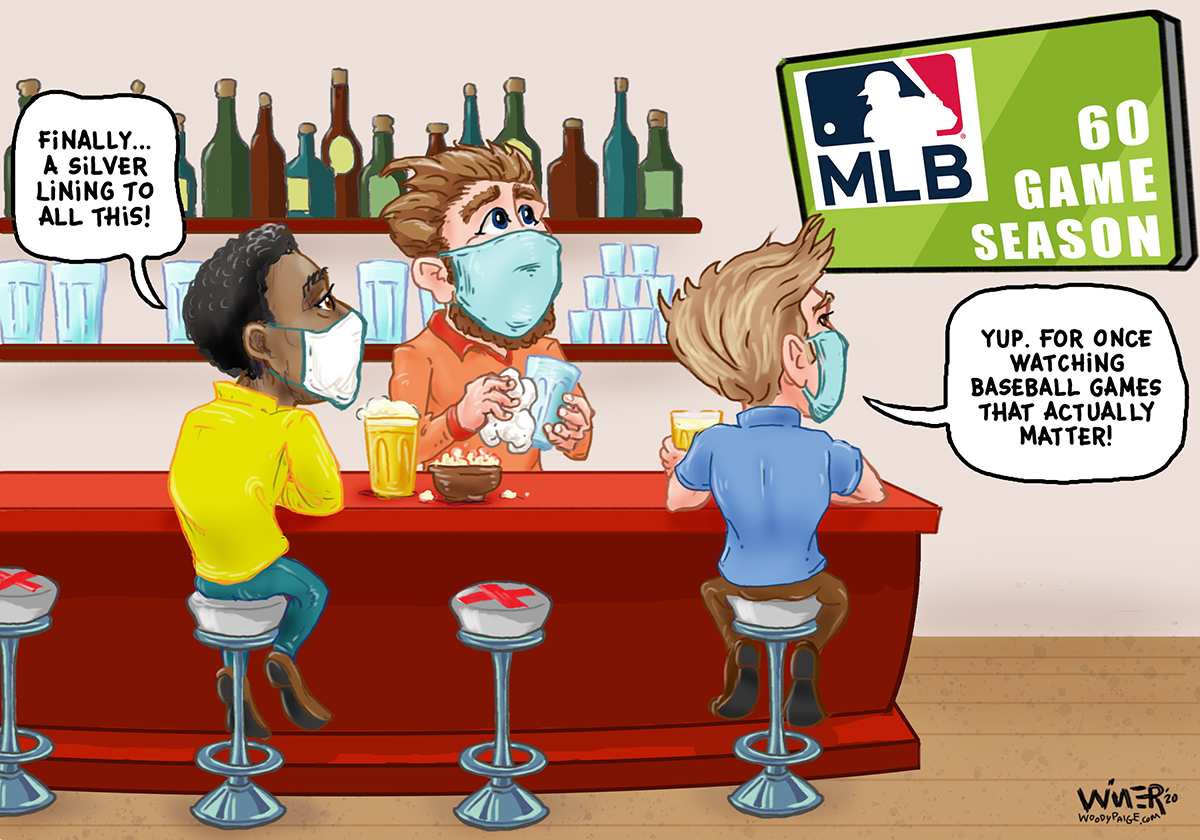 "Baseball that Matters"
After months of torturous negotiations, the owners and the players' union came to an agreement to make baseball happen in 2020. But it wasn't easy, and it was mostly ugly. Probably most apt was the analogy that it played out like a nasty divorce, and in full sight of the kids.

Enough has been said about sports fans of all kinds looking for any kind of live competition, even if they aren't allowed to see it in a stadium. Baseball will be no different. And additionally, it will provide the benefit of a much shortened season, so that each game actually means something. For a handy comparison, one regular season football game equals 10 baseball games (16 NFL to 162 MLB games). At some point in a normal year, it's hard for the fans (and most likely many of the players) to REALLY care about each game. To you baseball purists out there, this can sound like sacrilegious smack talk, but ask the average fan on the street and they'll most likely give you a shrug if you were to ask who the home team is playing next...or even worse, who they just played. So this new look may prove to inject some additional excitement in the ol' ball game.

We are all ready for real games, so bring them on! At the same time, let's hope that we can protect the players and the armies of support and production staff who need to pull it all off in the time of Covid.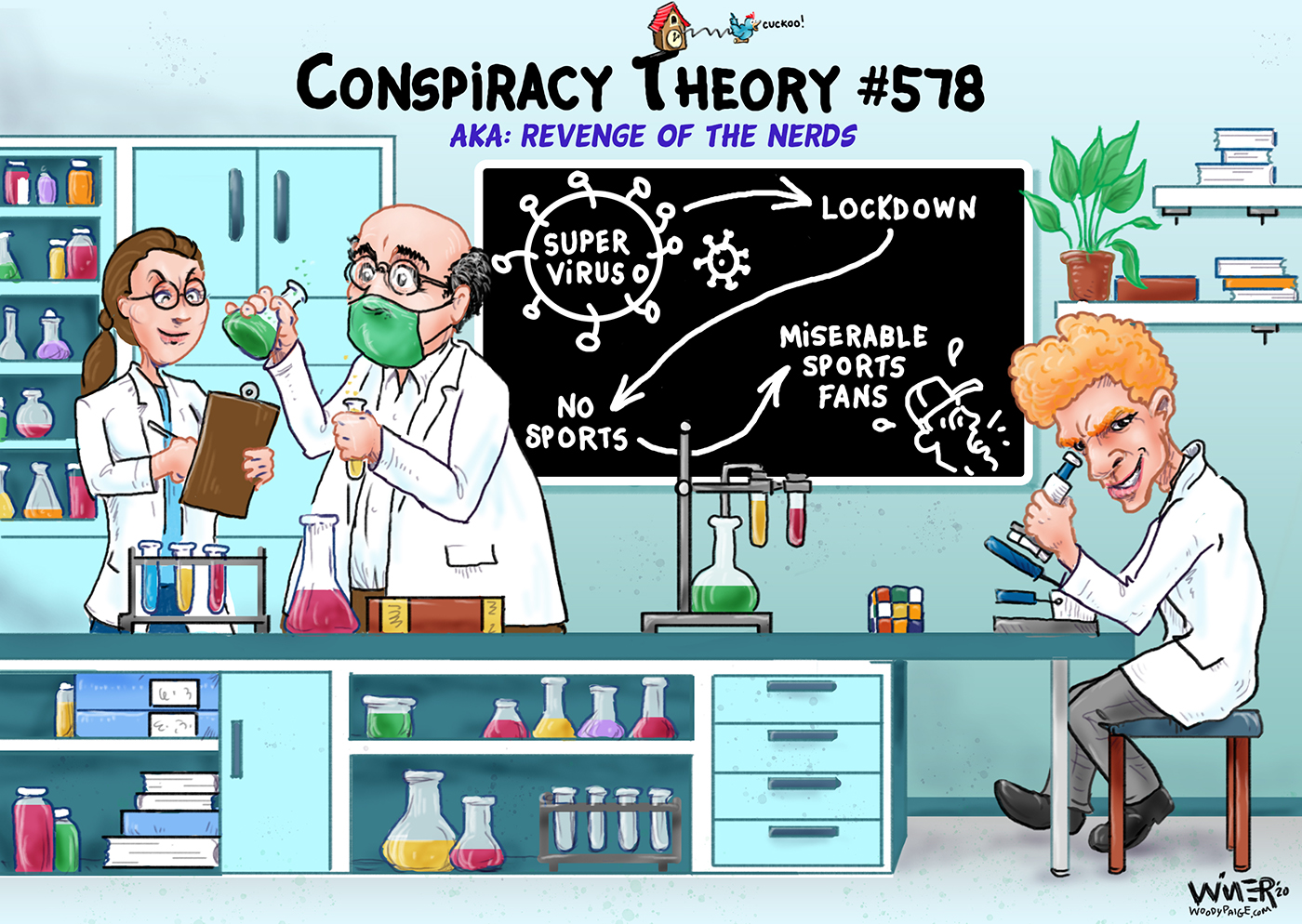 "Revenge of the Nerds?"
The Coronavirus continues to take its toll on every institution across our country and the world.  There has been no shortage of theories, conspiracy or otherwise, regarding the origins of the virus and hidden agendas.
So why not throw one more on the pile? 
The "nerds" have already long ago found their revenge, as the technology age will attest.  They are the ones who startup and run the hot new companies that rake in tons of VC and IPO capital. But to add insult to injury, they've developed a bug so strong it's shut down essentially every sport in the USA. The outcome is hundreds of millions of miserable sports fans who have nothing to watch, bet on, or spend hours arguing about with friends, neighbors, and coworkers. 
Mission accomplished for the brainiacs who never had an interest in sports and suffered through years of middle and high school where popularity was the province of the jock.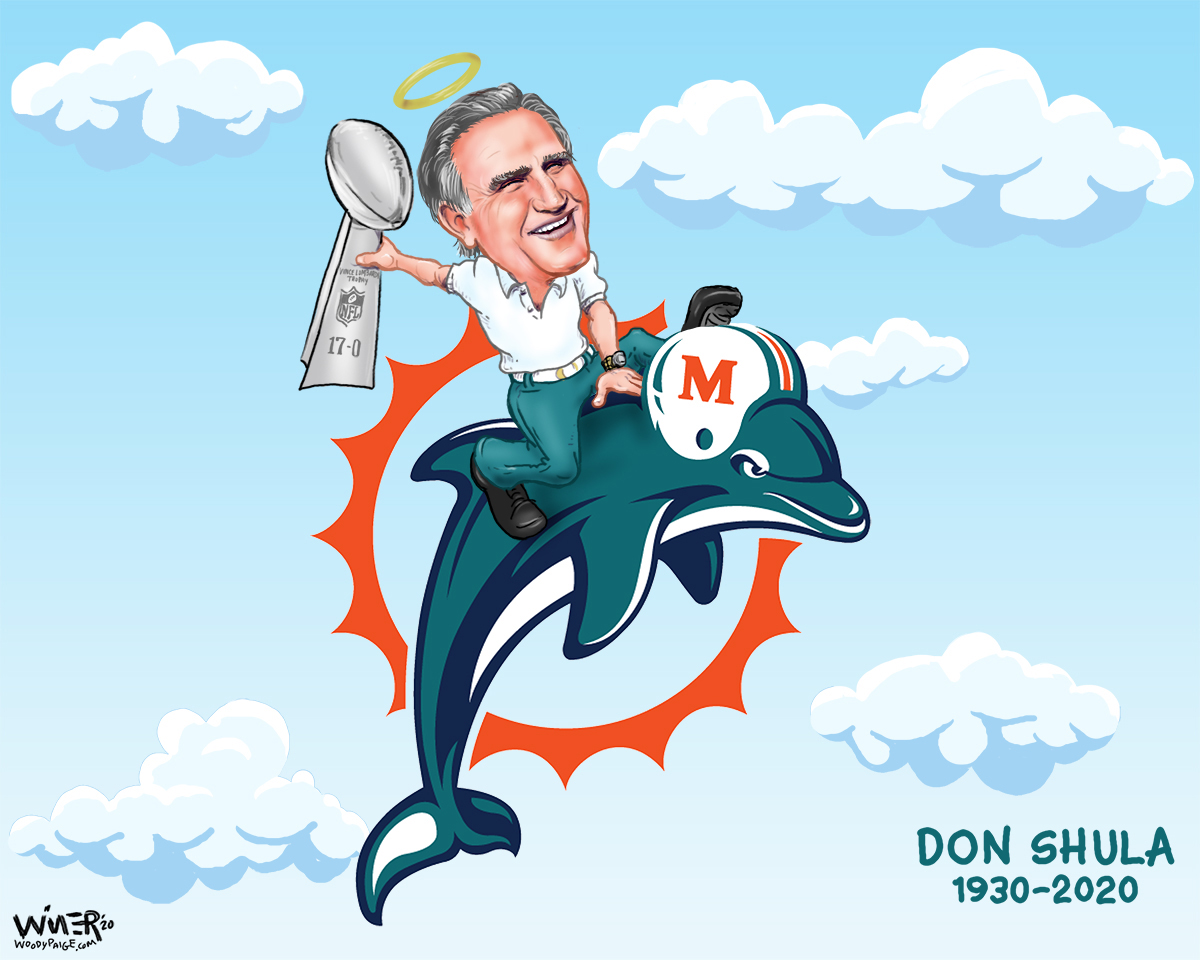 "Don Shula: A Dolphin into the Great Beyond"
Don Shula just left us to begin a totally new and different 'season.' As the winningest coach in NFL history (347 victories), the owner of the only undefeated season (1972), two Super Bowl championships, and only two losing seasons, he was the gold standard.
And Donald Francis Shula did it with a ton of class, and no excuses. He won ugly with defense, with a crushing running game, or by airing it out, depending on what the skills of his players offered.
If there ever will be a Mount Rushmore carved out for coaches, Shula would be a slam dunk; his chiseled face a perfect fit to match his remarkable list of contributions to the game of football.
2020 Cartoons and Commentary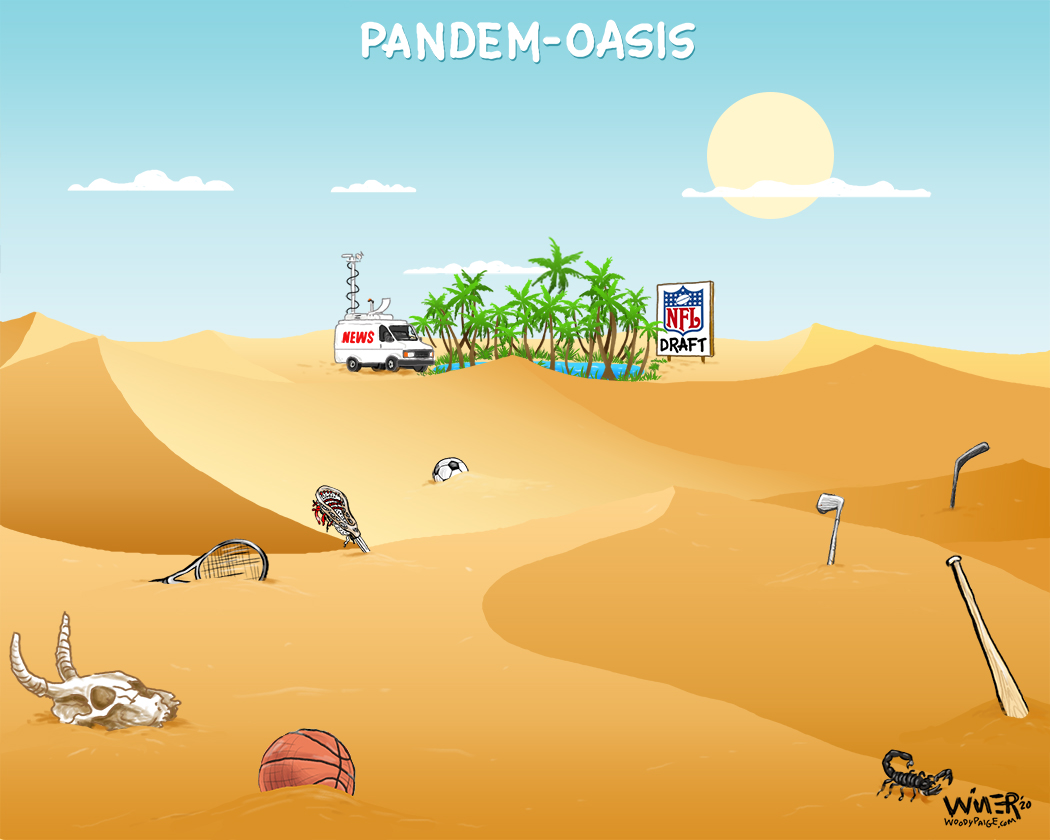 "Pandem-oasis in a sports desert."
The sports scene has become a virtual desert. No competitions, no audiences — no soup for you.
ESPN plays reruns of old games that people may or may not care about. They drum up intriguing, yet only half-satisfying programs like "The Last Dance," chronicling Michael Jordan's final season with the Bulls.
I caught "The Tournament of the Americas" or something like that the other night. USA vs Canada in a dodgeball championship whose mediocre athletes were dead ringers for those in the movie of the same name. Entertaining for about a half hour.
But the NFL Draft is something a little different. Not sports per se, but a draw like nothing else in the past two months. It blew away previous drafts for television audiences, for the simple reason there is nothing else on. For a moment we could all immerse ourselves in something happening real time (as opposed to reruns) and connected to the sport and teams that so many of us love. There was plenty of drama and surprise and hand-wringing, but fundamentally it was a temporary lifeline, an oasis we could enjoy for a moment in the vast desert of silent sports.
Was it any better than previous years? Probably not. As Eddie Murphy once said, "if you're starving and someone throws you a cracker, you'd be like: 'That's the best damn cracker I ever ate in my life!'"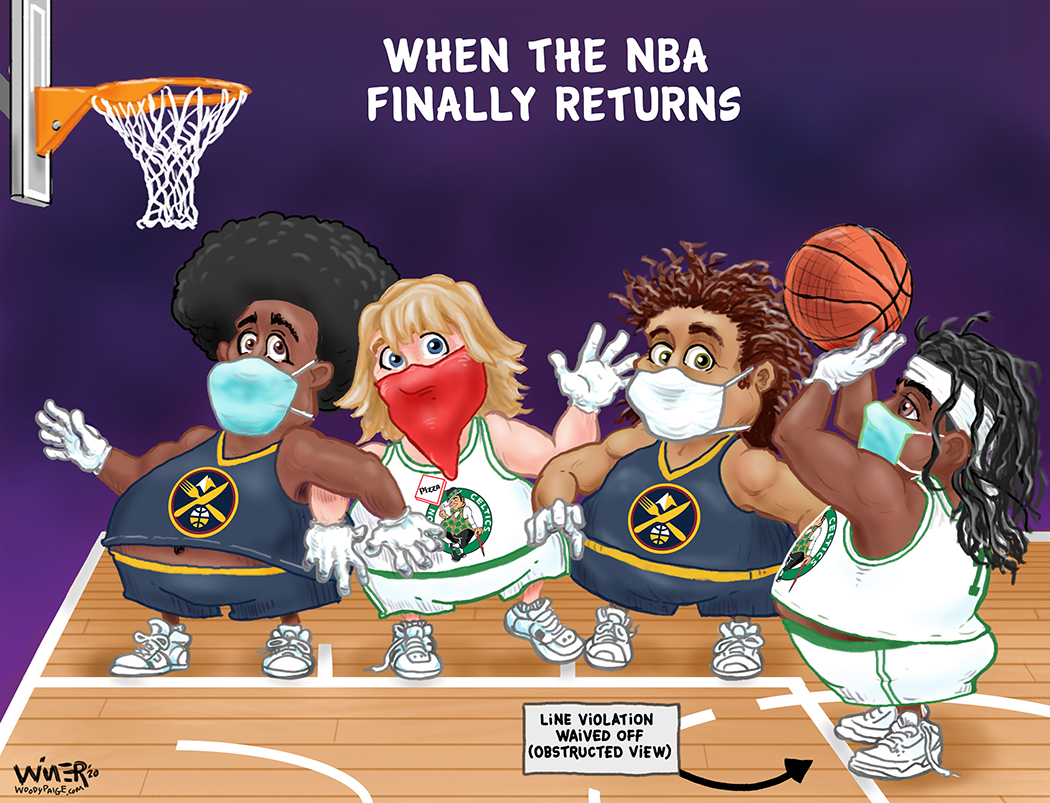 "The Post-Pandemic NBA Look."
After we figure out the "when," we'll get an idea of the, "what it's going to look like." 
To say the players will be nervous to re-enter the court will probably be an understatement. As the first major sport in the U.S. to show cases of the Coronavirus, and with more potential for exposure than most sports, the NBA will be interesting to watch. Add to that players who've been managing their own diet and training (assuming they've had access to adequate facilities), let's just say it will be the beefiest basketball has been in a while.
In the cartoon above, you will find recommended adjustments to certain elements of officiating, and also some tweaks to team logos that will better represent most teams during the post-pandemic era.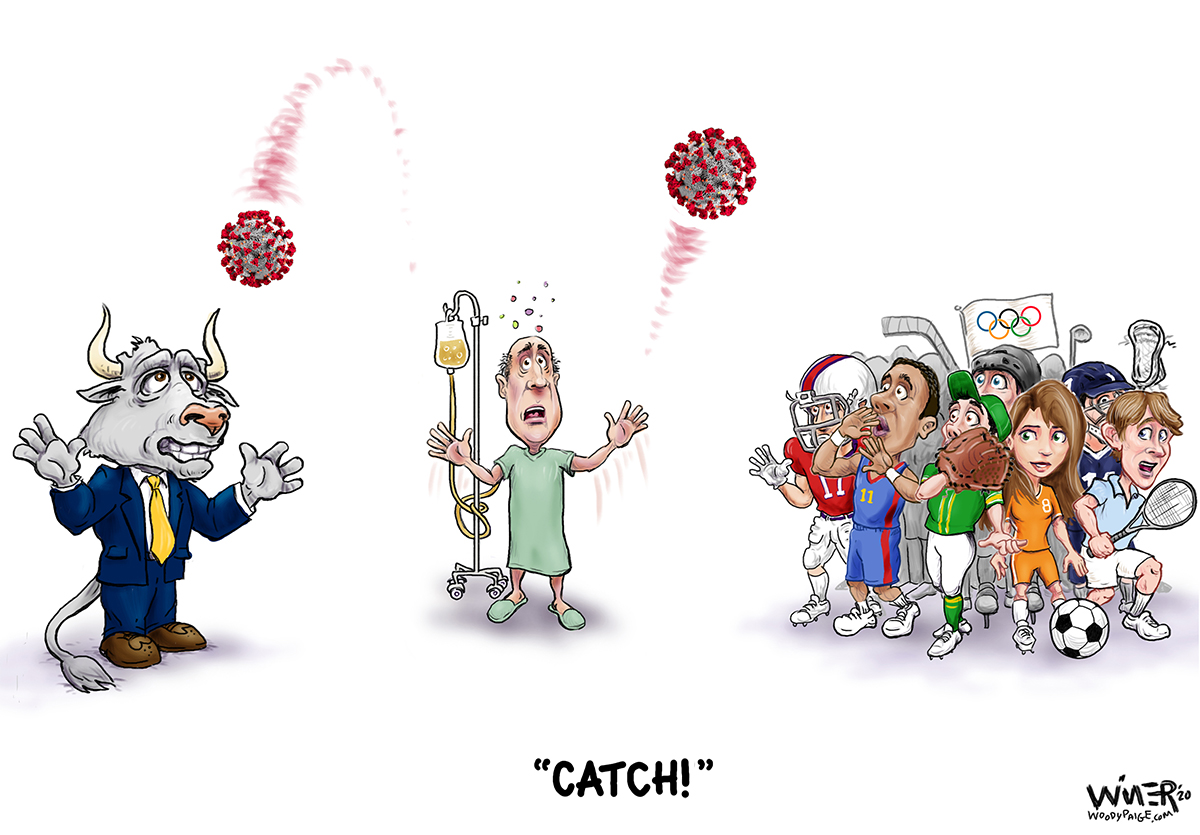 Deep into the Coronavirus pandemic, we've all dramatically shifted our lives to deal with the new reality. There is hardly a phase of life that has not been turned upside down during the last month for any number of countries and the United States.
The contagious nature of the virus, combined with its frightening mortality rate (especially for those particularly vulnerable) present enormous potential direct consequences for everyone of us and those we love.
Secondarily, the virus has deliverd a knock out punch to organizations, industries, and institutions on a level never seen before in modern history. Starting with the economy —and how we typically keep score of its health in the form of the stockmarket—we saw a drop of 35% in a matter of weeks, accompanied by over three million new unemployment claims. Essentially, indications are that the country has entered a recession.
Sports, usually played and followed during wartime and any other moments of crisis have completely shut down. Leaving fans to search high and low for alternatives, including virtual sports and random sports in far flung countries. 
What happens next?
It's hard to predict — we are now in uncharted territory.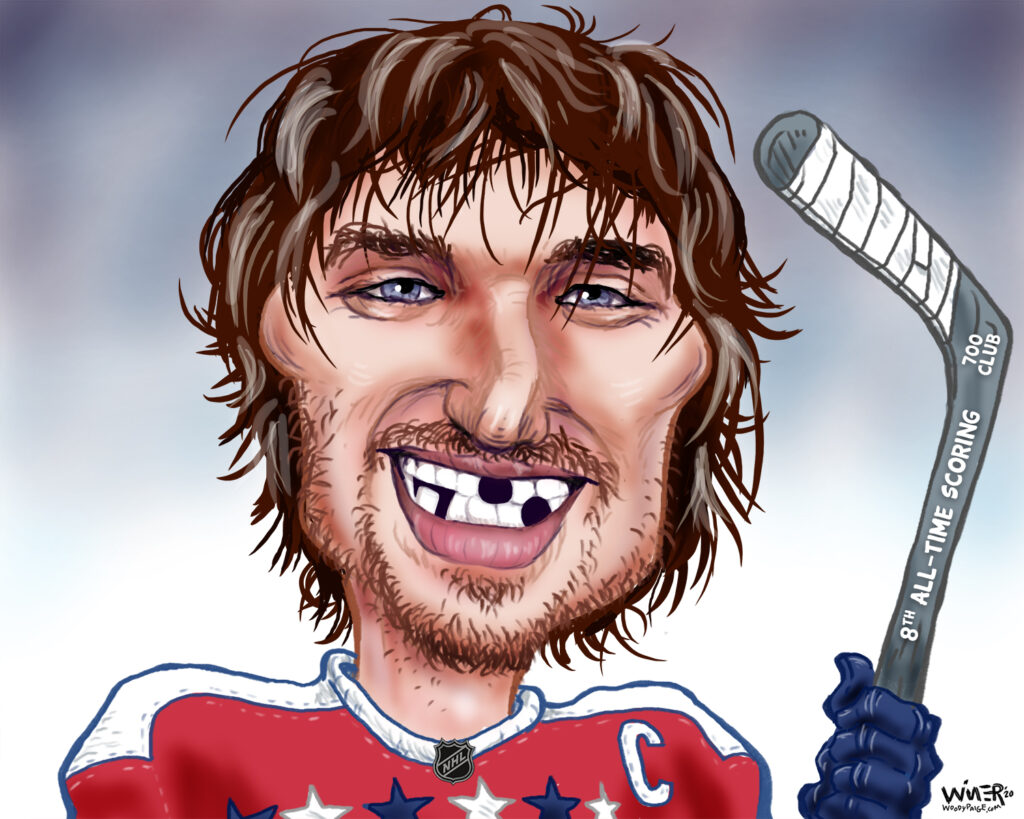 "Alexander Ovechkin's 700-Goal Smile"
Washington Capitals left winger Alexander Ovechkin reached impressive heights with his 700th career NHL goal, and did so with a smile (and nose) that only a mother could love. 
Ovi now ranks 8th overall on the NHL's all-time career goals list, and he has 194 goals more to match The Great One, Wayne Gretzky. At the rate he is playing and staying healthy, it's a very real possibility. Known for a rocket of a shot (he won the hardest shot at 109 mph at the 2018 All-Star game), Ovi doesn't just shoot it hard, but he also is regularly at the top of the league for most shots on goal.
Tough as nails, #8 rarely backs down in any situation (fights included), and yet has remained healthy through most of his career. So at only 34-years old, most players and pundits wholeheartedly believe he will end at the top of an illustrious list — most likely with a missing tooth (or two) more.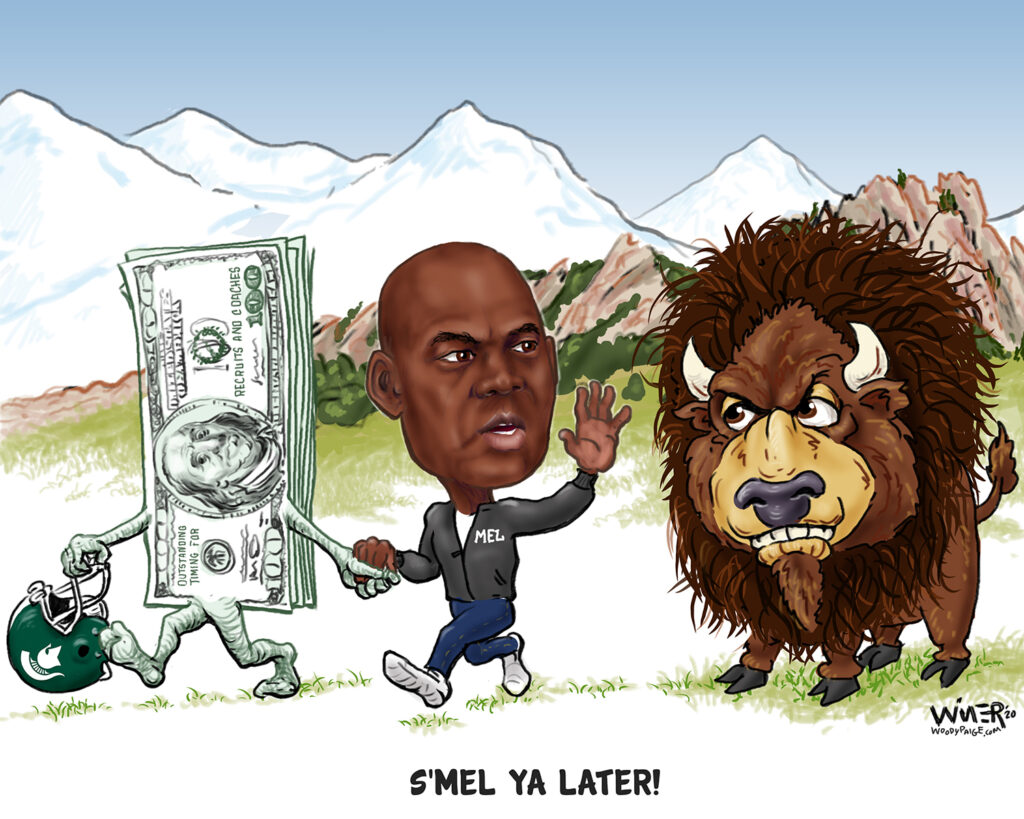 There's plenty of good stories in sports, but this isn't one of them.
Mel Tucker, a little over a year into his stint as University of Colorado head football coach, bailed this week for East Lansing, Michigan and Michigan State. He reportedly will receive compensation that will more than double his $2.4 million salary at CU — something to the tune of $5.5 million. (He also doubled his pool of money to pay his assistant coaches, and got a massive investment in strength and conditioning from the folks at MSU.)  
Michigan State was in a desperate situation after Mark Dantonio suddenly stepped down, conspicuously after a host of recruiting violations were revealed. As an aside, this is an ugly story in its own right; Dantonio claims he simply wants to spend more time with his family. His retirement was announced a day after National Signing Day. I'm sure his recruits loved to hear that news — much like Midnight Mel's recruits at CU were blindsided by his surprise.
Michigan State was able to put together a boatload of money that most Pac-12 schools would never be able to offer, and in the process, made Mel Tucker one of the top-ten highest paid college football coaches in the country. All of this after a 5-7 season.
Certainly you can't blame the coach for dramatically improving his financial situation, as well as those of his assistant coaches. But the way he handled the situation in the days leading up to the decision left a lot to be desired, promising he wasn't interested in the move and dedicating himself to many more years at CU to recruits, boosters and many members of the media. Timing couldn't be worse, for recruits or available high quality coaches. It was also a gut punch for a struggling football program that seemed to be finally finding its footing.
There will be lots of talk in the days and weeks to come of the haves and have nots in college football, as the disparity between the big two conferences (Big Ten and SEC) and everyone else comes into sharper focus with stories like this.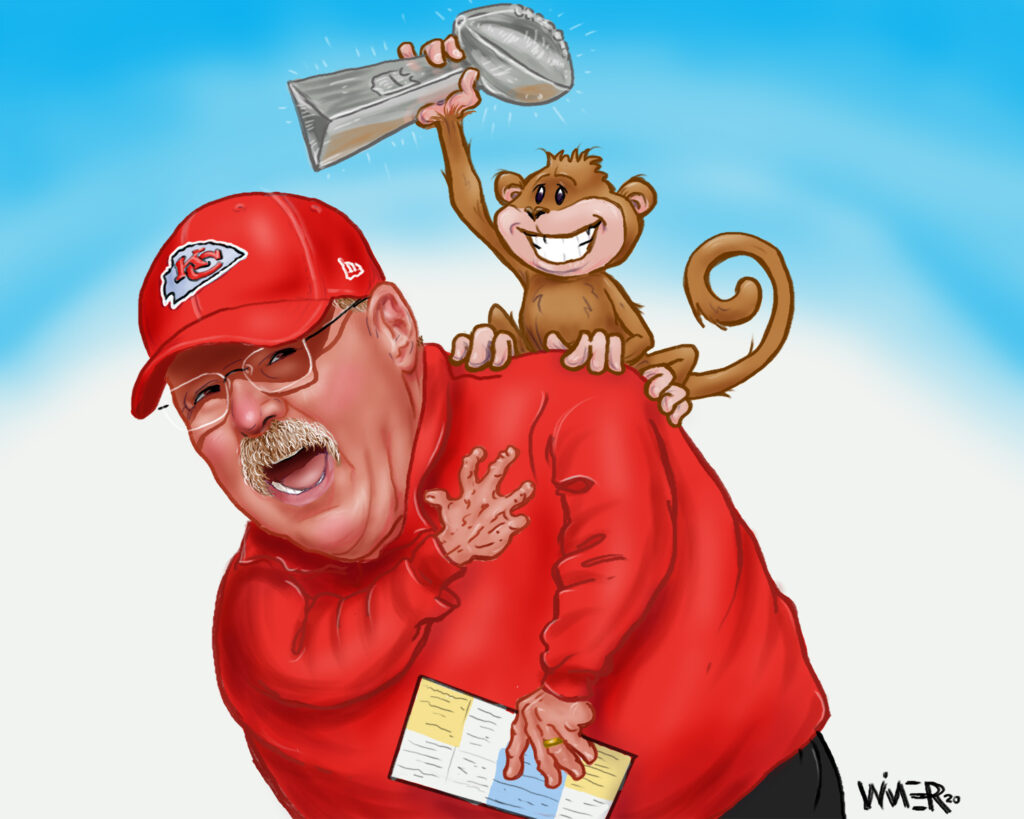 Super Bowl 54 is less than a week away, and Andy Reid is back for another swing at the big hardware — the Lombardi Trophy.
After 21 years as head coach, which included barely missing out on a ring with the Philadelphia Eagles 16 years ago, and deep runs in the playoffs with the Kansas City Chiefs in recent years, Reid looks primed to break through and shake that proverbial Super Bowl monkey off his back.
It's his best chance, with a Chiefs team that is firing on all cylinders. They've shown their ability to pull themselves out of deficits in a hurry, and score in bunches. All I can say is, 'good luck beating them in a shootout' — especially when their wunderkind quarterback Patrick Mahomes gets in a groove with the host of offensive weapons he has at his disposal. 
Perhaps more impressive (and important) is a defense that more than slows down the opposition. A weakness that has kept many prior Reid teams from advancing to the big game, this season's seventh-ranked NFL defense can go toe-to-toe with any offense in the league.
What about the opposition? Kyle Shanahan has a small monkey of his own, having fumbled away a Super Bowl opportunity of his own a few years ago while coaching the offense for the Atlanta Falcons.
Needless to say, it will be interesting to see which coach shakes their respective monkey off their back first.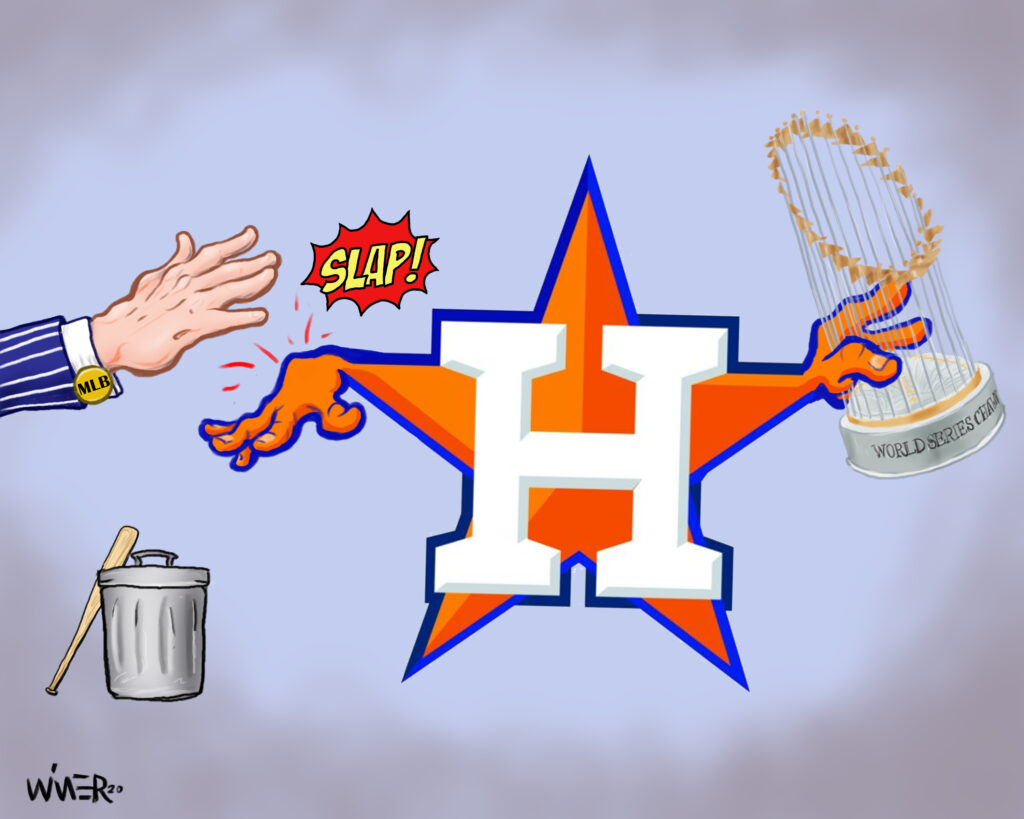 A little ice is needed for the MLB's wrist slap on the Houston Astros.
Punishment was meted out to the Astros this week for their sign stealing offenses that took place on their road to a World Series title in 2017. Manager A. J. Hinch and general manager Jeff Luhnow were both banned by the MLB for a year, then subsequently fired by the team owner. 
Since then, Red Sox manager Alex Cora and Mets manager Carlos Beltran have also lost their jobs for their involvement in the scheme. 
There's been plenty of complaints across the league that this wasn't nearly enough of a punishment for a club that benefited financially in a big way from the championship, and was, in effect, merely a slap on the wrist.
The tremors have been felt across the league with more questions and accusations. 
For a rule that has a ton of grey area (sign stealing is legal as long as it doesn't involve technology), it will be interesting to see how it all shakes out.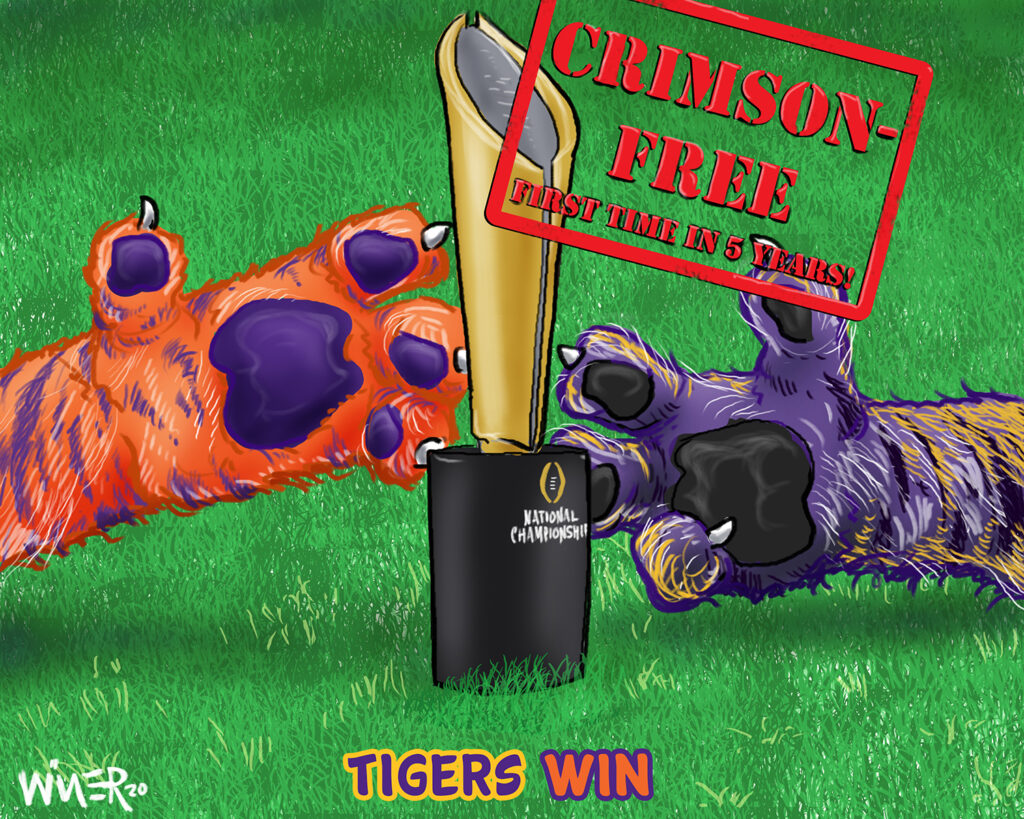 Paws on the Prize.
No matter what, fans of Tigers will be waking up Tuesday morning as National Champs.
The LSU Tigers face the Clemson Tigers in what projects to be an epic final game of the college football season. The winner will be crowned the 2019 College Football Playoff national champions.
Two outstanding offenses facing nearly as equal defenses, with loads of talent that will eventually be starring on Sundays. And, for the first time in five years, there will be no Crimson (Tide) involved in college football's biggest game of the season.
It's hard to believe after so much success by Alabama and head coach Nick Saban over the last dozen years. And at the end of the day, it would be foolish to count them out in years to come.
Shop for over 130 of my top images (many that you have seen here) as prints, unframed or framed. Etsy is super easy and convenient! I can provide additional variation in printing as well, from posters to foam core to wrapped canvas, all at great prices - reach out to me directly for those options.
If you can't find a piece of my work at Etsy, or are interested in a commissioned piece of work, please reach me directly at karlwimer@gmail.com or 303 746-1305.