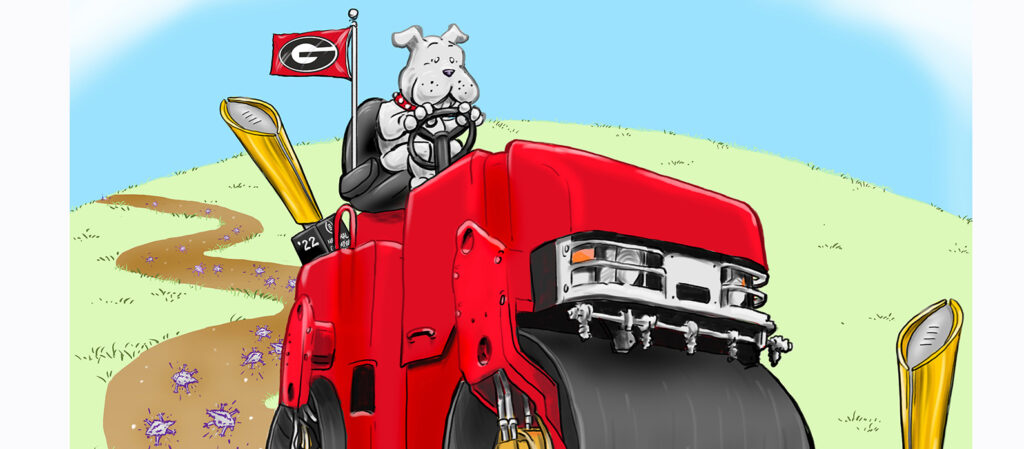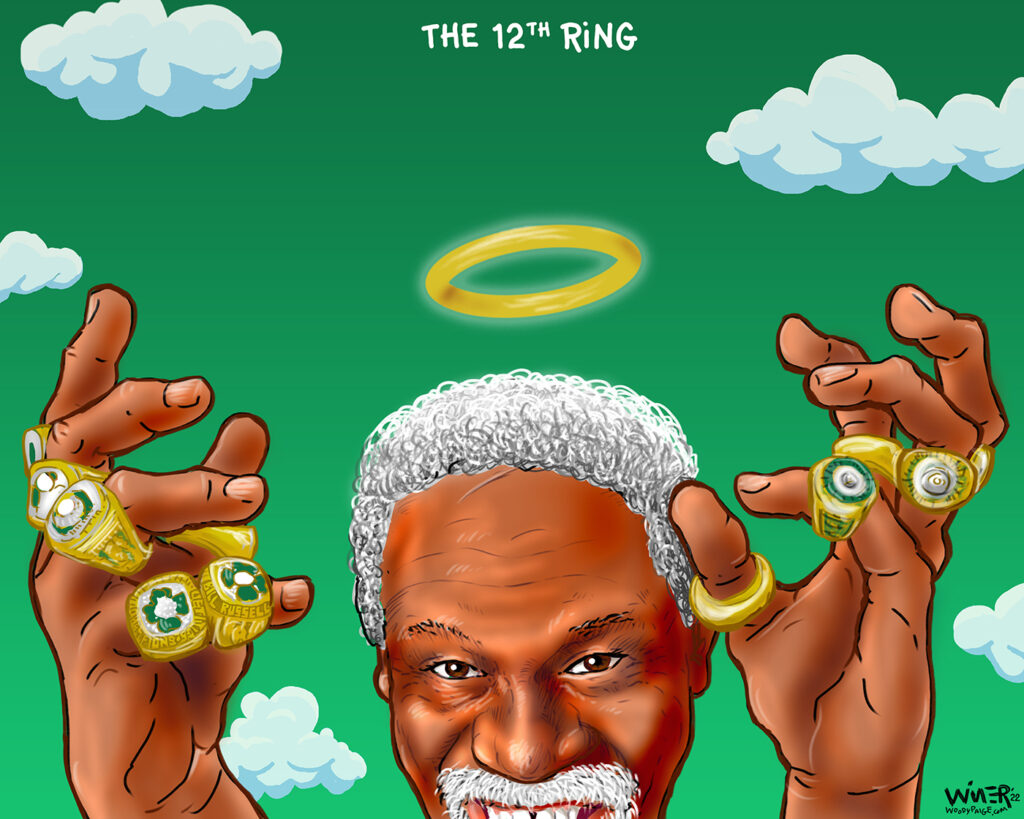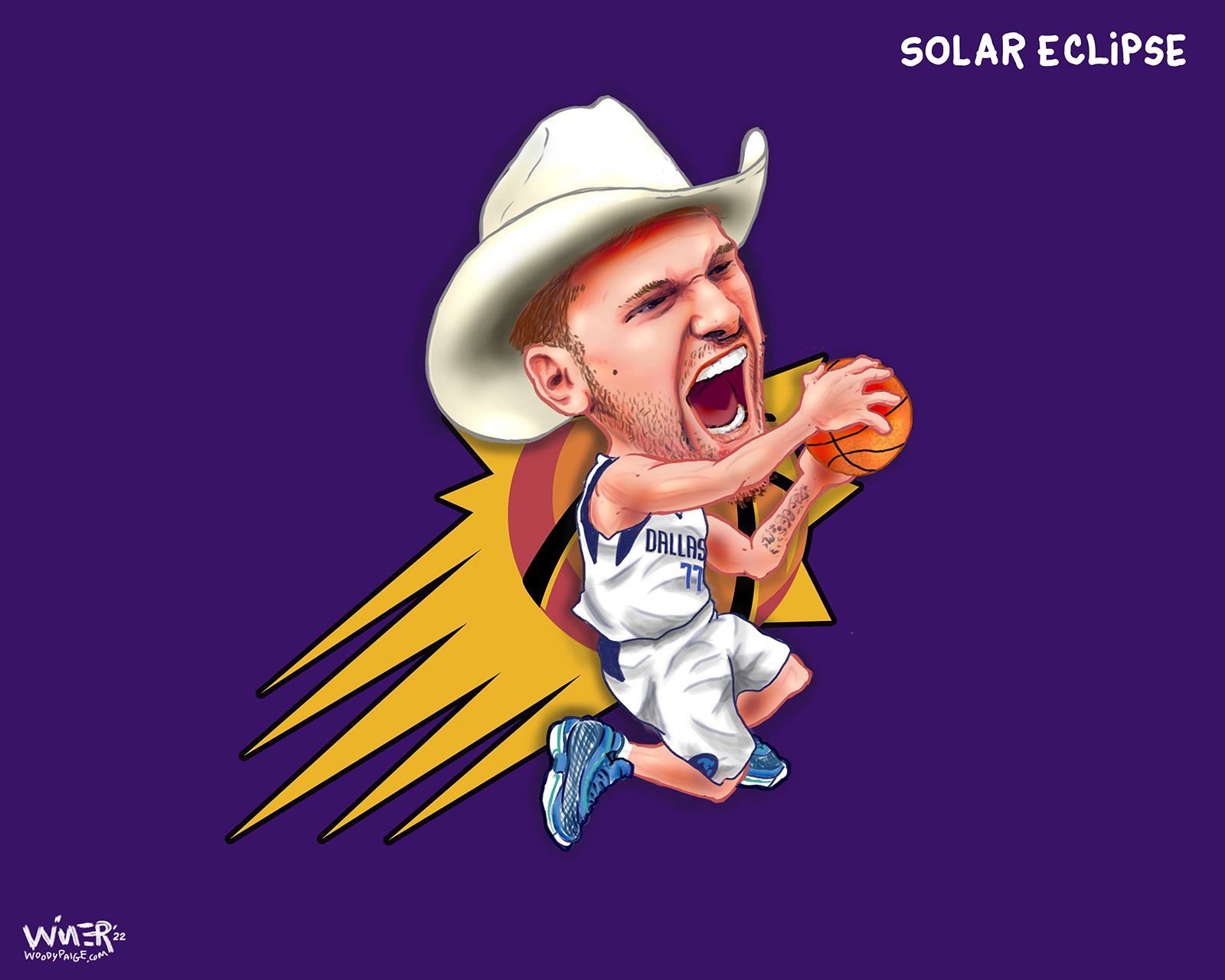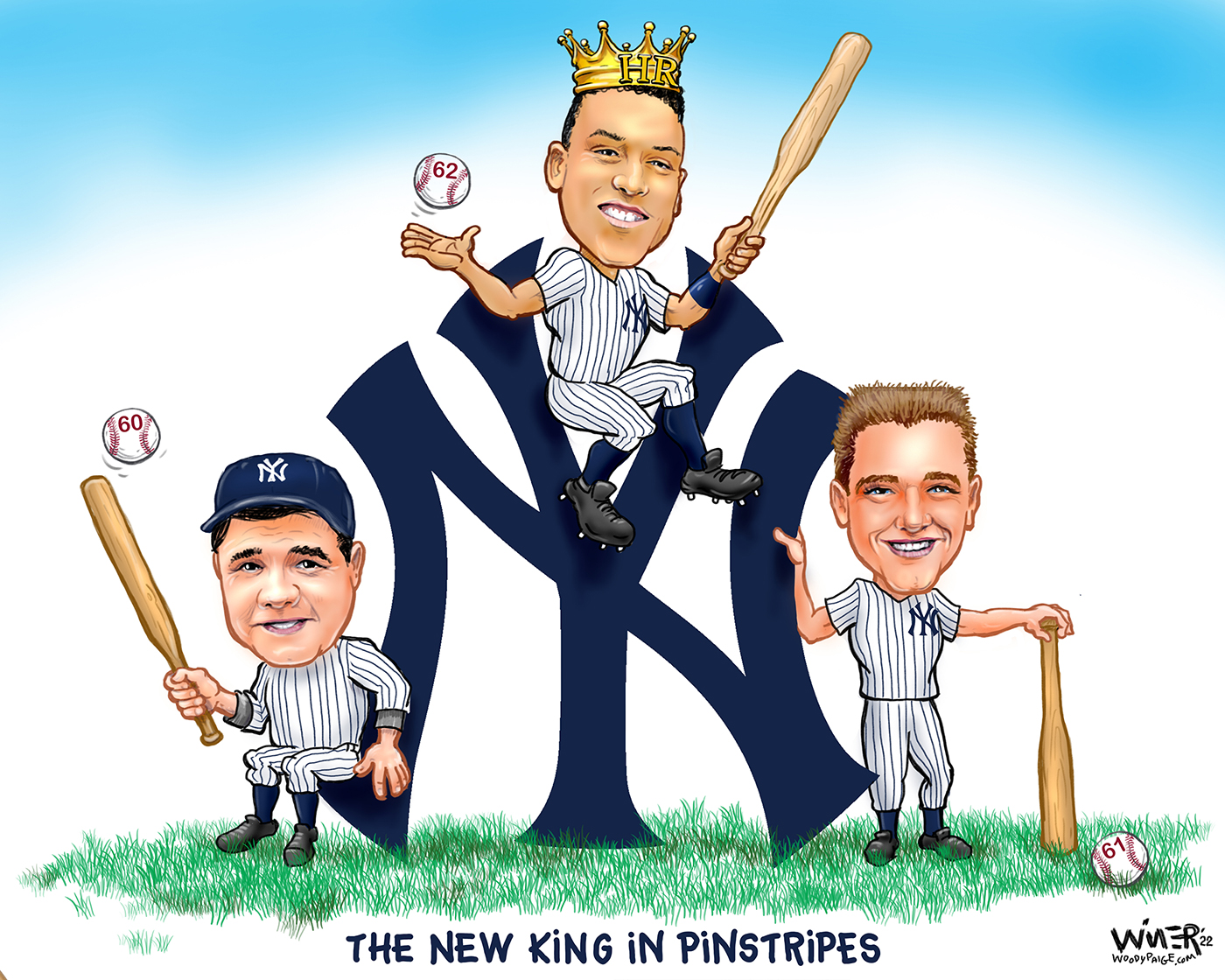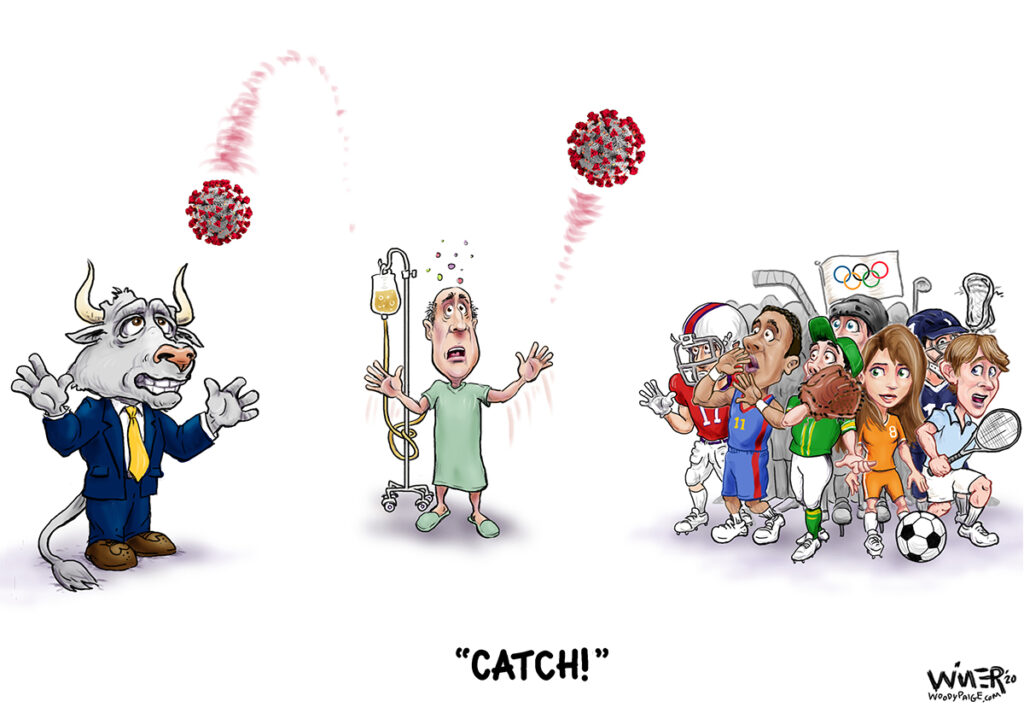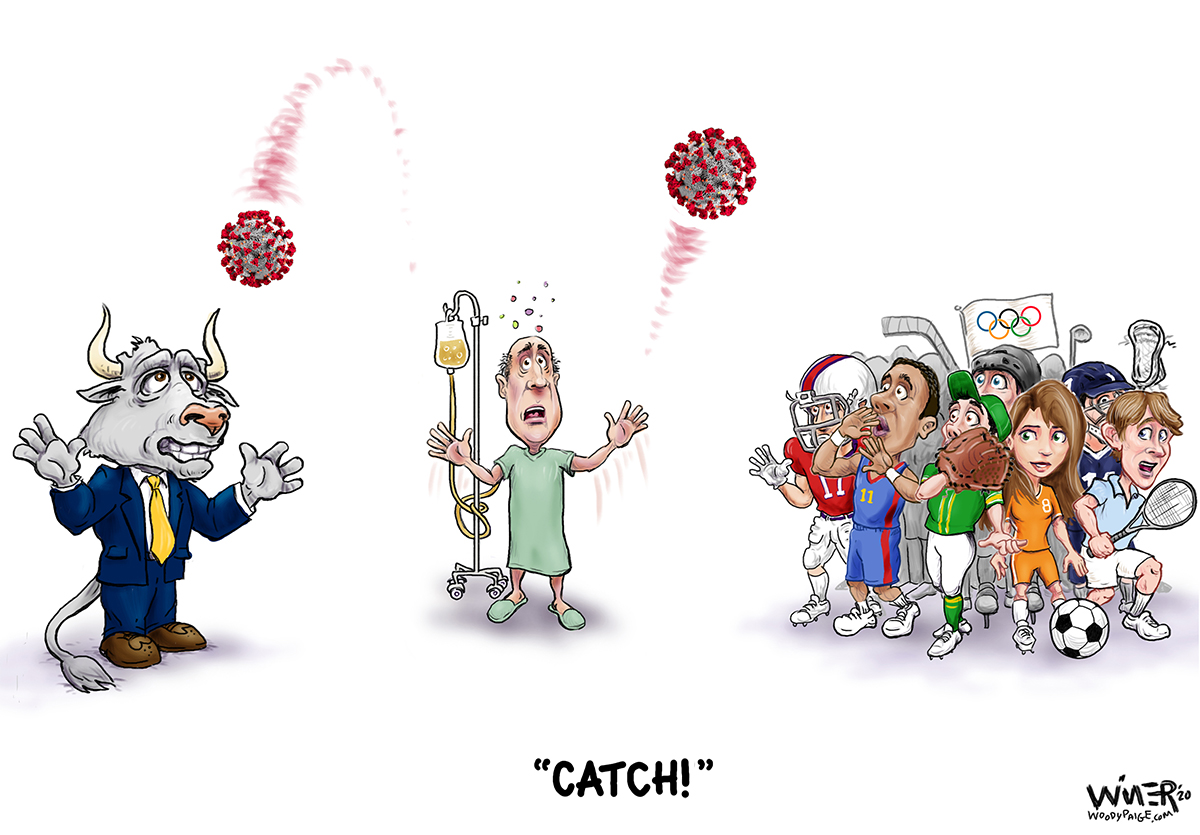 National Sports Commentary
Woody Paige, a nationally acclaimed sports writer for many years, continues to deliver his special brand of commentary via television, podcasts and writing. My cartoons, illustrations and comments are featured weekly on WoodyPaige.com alongside Woody's finest and other outstanding content by some of the finest sports writers in the country. I cover a wide range of sports topics, with an honest perspective that comes from a background as an athlete (D-I lacrosse and football, All-America), coach (youth, club and HS), several years living abroad, and family (Grandpa Wimer is in Basketball Hall of Fame). Featured on this page is work from 2022 and 2023.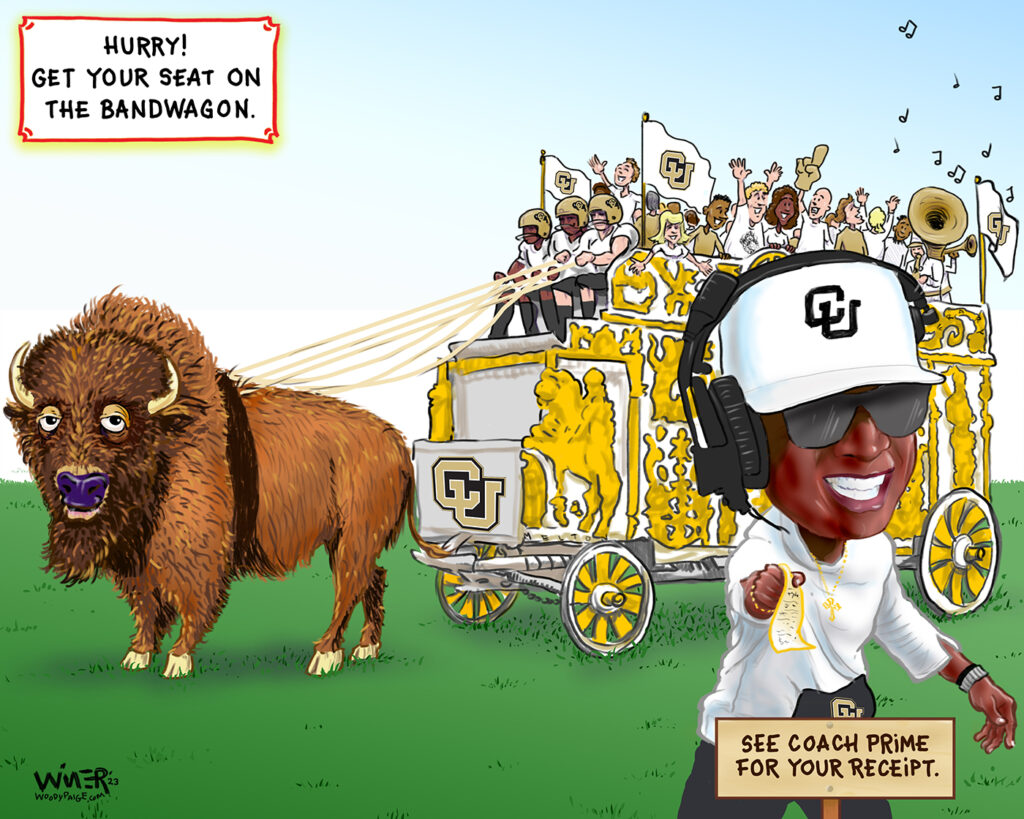 Get Your Seat on the Buffs Bandwagon
The college football season is off and running and Coach Prime is leading the parade with quite the ride.
Not only has he accumulated a slew of talent in Boulder, he and his top notch coaching staff are doing a masterful job leading the Buffs to a 2-0 record and the 18th slot in the AP rankings.
The entire landscape of college sports is paying attention, and plenty of believers are hopping aboard the rollicking CU bandwagon.
In a hypercharged TV interview following CU's major upset victory over TCU, Coach Prime told the world that he "keeps the receipts" in reference to those who wrote the team off. Now he's more than happy to check you on board.
Rough games lie ahead vs USC and Oregon (and don't sleep on rival and heavy underdog CSU Rams) that will test the true strength of this very new team. No matter the direction this season goes for the Buffs, the ride on this wagon is gonna be fun.
Buy a signed print, poster, or wrapped canvas of this piece from me on Etsy here.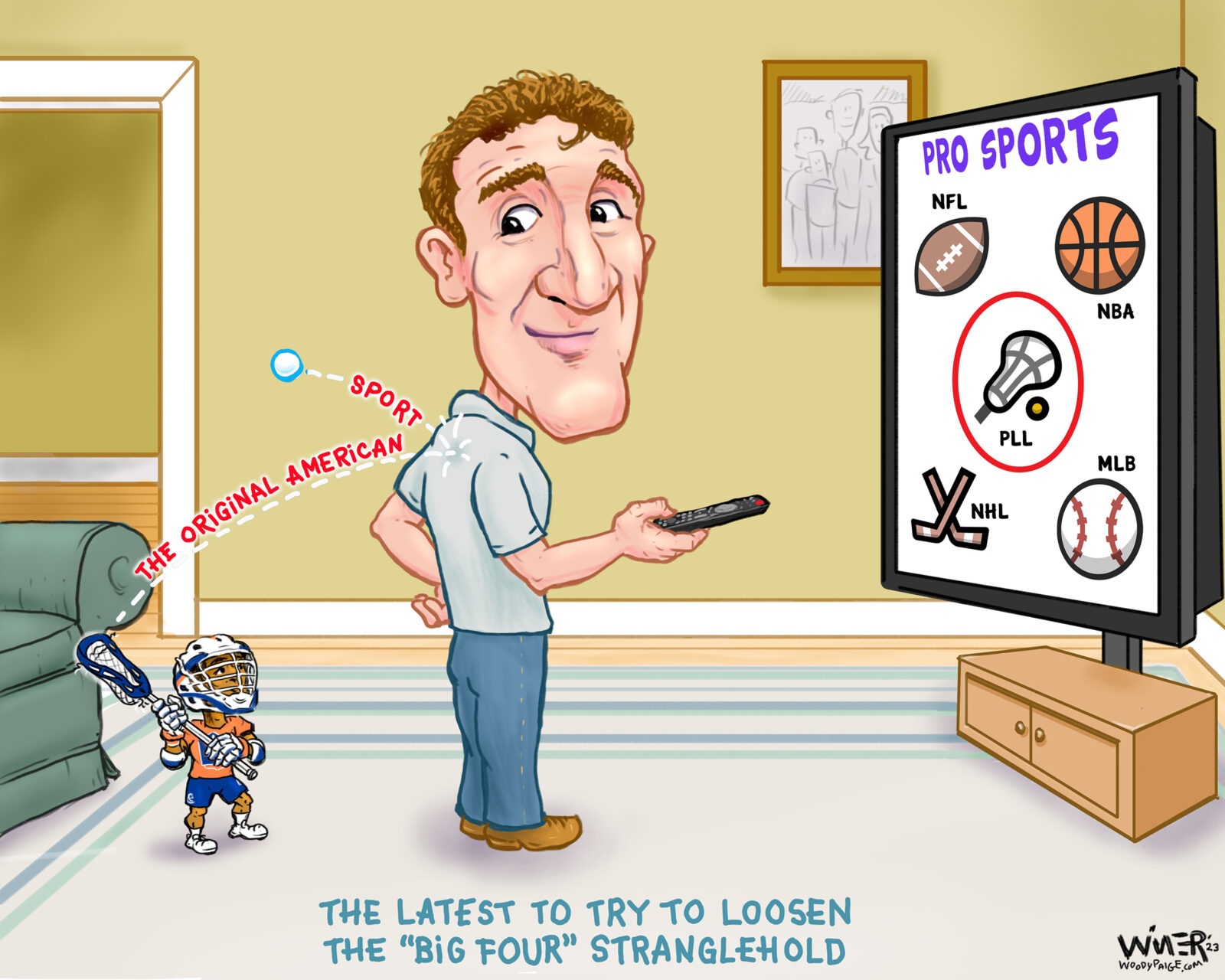 Can Lacrosse Break Into the Big Boys Club?
For decades, the giants of the American, professional sports landscape (the NFL, NBA, MLB and NHL) have dominated the attention of national audiences in stadiums and on the airwaves. Individual sports like golf and tennis (and in earlier times, boxing) will always draw eyeballs to their annual tournaments, but men's and women's soccer leagues and the WNBA have not significantly moved the needle. Attempts to extend football to non-traditional seasons have failed spectacularly. College sports (you can honestly lump into the "Pro" category these days) deserve a separate cartoon and discussion.
Interestingly, a sport that's been around for a while (actually, quite a while, but more about that later) is now making some noise in the jockeying for attention in the world of American pro sports. Lacrosse, in its latest iteration of the PLL, is growing at a massive clip, thanks in part to its broadcasting relationship with ABC and ESPN. Drawn from a report earlier in the season, ABC was seeing an average of 402,000 viewers (one game with a peak viewership of 782,000). Although this is dwarfed by NFL average viewership (16.7 million), this performance is impressive compared to recent averages for the NBA (1.6 million), the MLB (1.5 million), the NHL (583,000), and for additional reference the MLS (343,000 viewers).* In-stadium attendance comparisons are another story, and some locations have not provided optimal TV optics with half-filled stands.
The league's focus has been multi-pronged, including aggressive social media efforts drawn from earlier in the season show a 146% increase in engagements, 186% increase in views, and 80 percent increase in impressions (all year-over-year). Go to a game and you'll be struck by fans young and old sporting eye-catching (and not inexpensive) gear. When Russell Wilson and family showed up to a recent doubleheader in Denver, his wife Ciara sported a Cannons #22 jersey that suddenly became the best-seller in the league as PR and interest ballooned outside the regular lacrosse world.
What's changed to elevate the game in recent years? That's also worthy of another article or take some time to watch the "Fate of a Sport" documentary. After many years of slow growth by a prior outdoor lacrosse league (MLL) and the indoor NLL league that has a strong, but niche presence, Paul Rabil and his brother Mike made a bold move to raise money, pay players as full-time athletes, and build a different kind of beast. They dramatically sped up the game and found a way to showcase the significant skill, creativity and athleticism for a really fun product that those new to the sport could also appreciate and enjoy. It's rare on a weekend day where one if not two PLL moments aren't featured on ESPN's Top Ten Plays of the Day.
For many long-time fans of the game, this became especially apparent earlier in the summer when the World Lacrosse Championships were held and played under much older field lacrosse rules that don't feature a shot clock, a two-point shot, and other recent alterations. The games were plodding, deliberate affairs that seemed to sap the game of the fun and speed now regularly seen in the PLL as well in the NCAA.
Finally, perhaps what is at the core of the sport is finding resonance with new and lapsed fans of lacrosse. It is the original American sport, dating back to 1100, played by indigenous peoples long before Europeans landed on these shores. Named the Creator's Game, and now an important rallying point for the Haudenosaunee people (they captured 3rd place in the World Championships), lacrosse transcends sport and has a strong spiritual component. To its credit, the PLL has done much to honor while also educating on this unique and important facet of the sport.
There's plenty of room for improvement in all areas of the product, and the league has major growing pains ahead of it. But it's proving to be an intriguing new play in a brutally competitive space for a very old player.
*Statistics and comparisons drawn from available online reports and articles. I am NOT an expert in this particular area, so I welcome any corrections or updates where I may have gone astray.
Buy a signed print, poster, or wrapped canvas of this piece from me on Etsy here.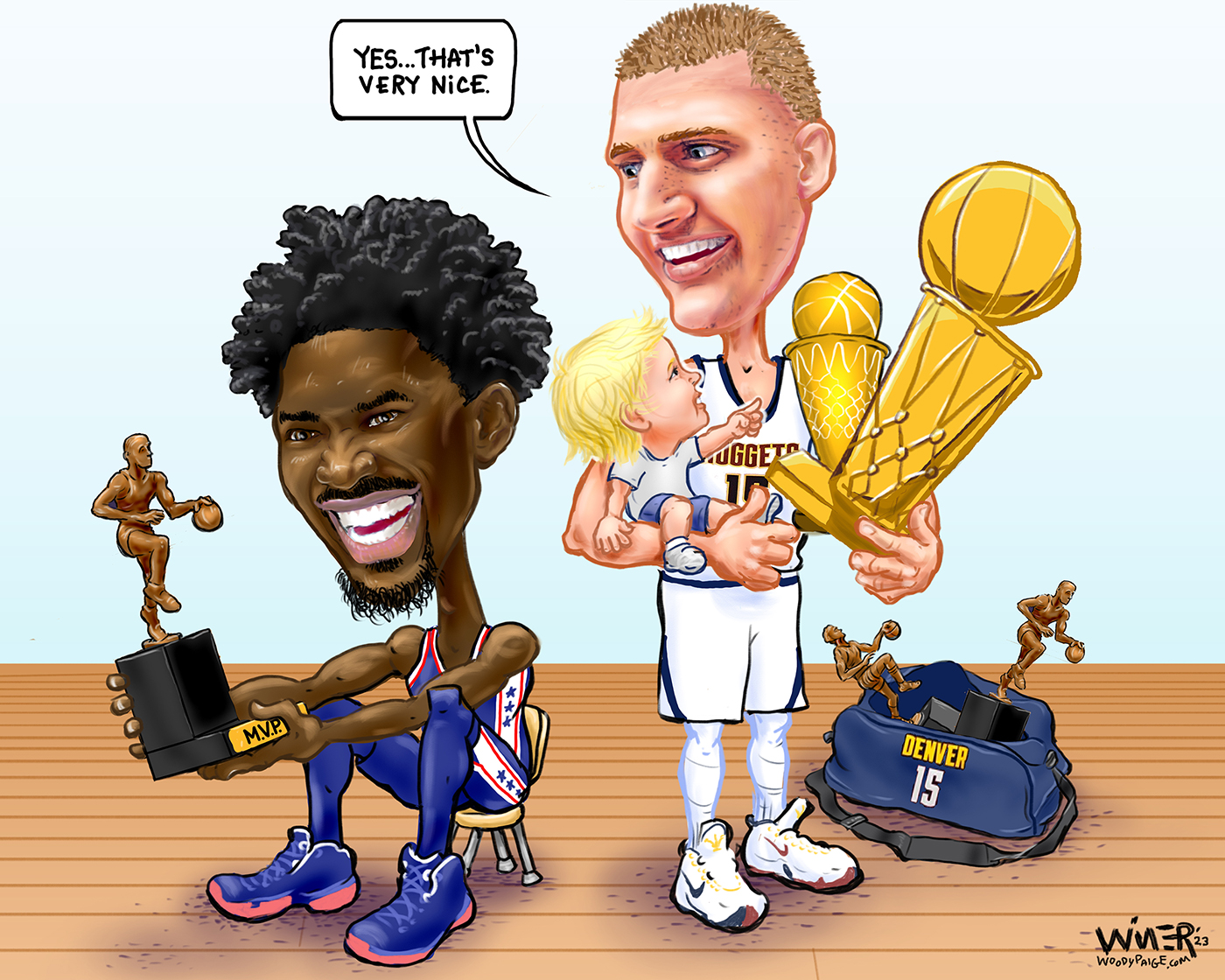 No Trophy Envy For Joker
Nikola Jokic of the Denver Nuggets led his team to the first NBA championship (as well as a NBA Finals MVP award) in its 47 year history.
Through the course of the 2022-23 season, Jokic rode waves of controversy while putting up some of the best statistics of his career and leading his team to the top of the Western Conference. On the East Coast, Joel Embiid had a strong season, leading the league in points and propelling the Philadelphia 76ers to a nearly identical record as Denver and third place in the Eastern Conference.
Embiid made no secret about his desire to win the MVP trophy, and plenty of basketball analysts and personalities weren't shy to jump into the fray with crazy opinions about who was most deserving of the award. Meanwhile, Jokic made it very clear it he didn't care much about winning the award. He had his eyes firmly set on the playoffs and winning a championship. After winning consecutive MVP awards in previous seasons, it's easy to see why Jokic was aiming for something higher.
Joker is also simply built differently than most pro basketball players, much less pro athletes in any sport. The consummate team player and leader, he constantly deflects compliments and attention. Ultimately it was this approach that contributed to a sublime team effort for the Nuggets in their 16-4 playoff run (2nd best in the past 24 years).
Did Embiid and Philadelphia focus too much on chasing the MVP award at the expense of the larger prize? Hard to tell, but the 76ers under-performed in the playoffs, losing in the second round 4-2 to the Boston Celtics. Meanwhile, the Nuggets rested players prior to the playoffs (including Jokic in the midst of the MVP "race") which cost them some games, but had them primed for their epic playoff performance.
At the end of the day, Embiid got his trophy, but Jokic took home the most important hardware of them all.
Buy a signed print, poster, or wrapped canvas of this piece from me on Etsy here.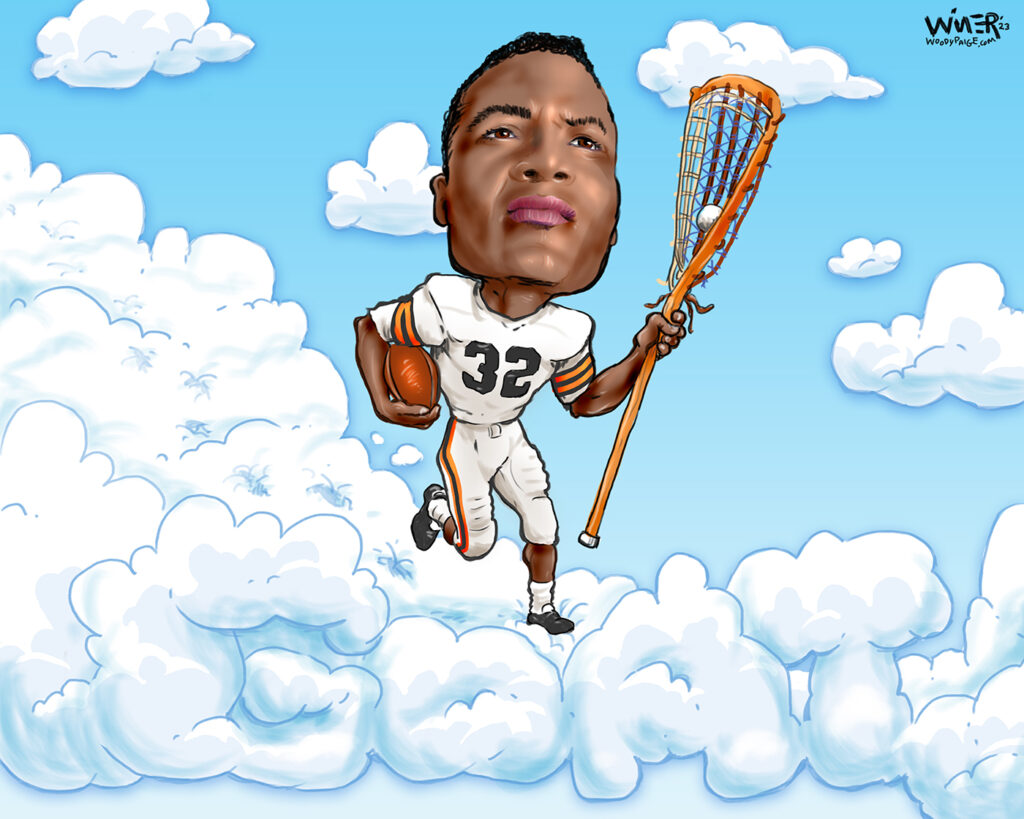 Jim Brown Passes On
Jim Brown passed away at the age of 87. A force of nature on any field, Brown was considered by many as both the greatest football player and lacrosse player of all time.
He retired from the NFL and the Cleveland Browns a year before I was born, but I can still hear my father (separated in age by only a handful of months from Brown) talk with awe about his dominance in the League.
A Pro Bowler every one of his nine years in the NFL, he led the league in rushing eight of nine years, and averaged 5.2 yards per carry. He was named MVP three times, played in three championships and won a title.
As a lacrosse player, Brown was equally unstoppable. It's said that three new rules were instituted because of Brown's dominance, including "chesting the ball." He once said, "I'd rather play lacrosse six days a week and football on the seventh." If there had been a professional lacrosse league in his time, we might have truly seen his dominance in the sport.
Also an outstanding basketball player (drafted for the NBA) and track athlete, Brown earned 10 letters in 4 sports at Syracuse. He would have earned more, but in those days athletes had to play for the freshman teams in all sports.
It must be also noted that Brown faced allegations of assault against various women. He was never convicted in these cases, but admitted "I can definitely get angry, and I have taken that anger out inappropriately in the past."
Brown was never shy in his activism in the community and on the national stage, first as a player, then as an actor and finally as a spokesman and founder of some major initiatives. His impactful work in the Black community, and with the impoverished and the incarcerated of all types spoke to his substantial heart and dedication to making a difference.
Buy a signed print, poster, or wrapped canvas of this piece from me on Etsy here.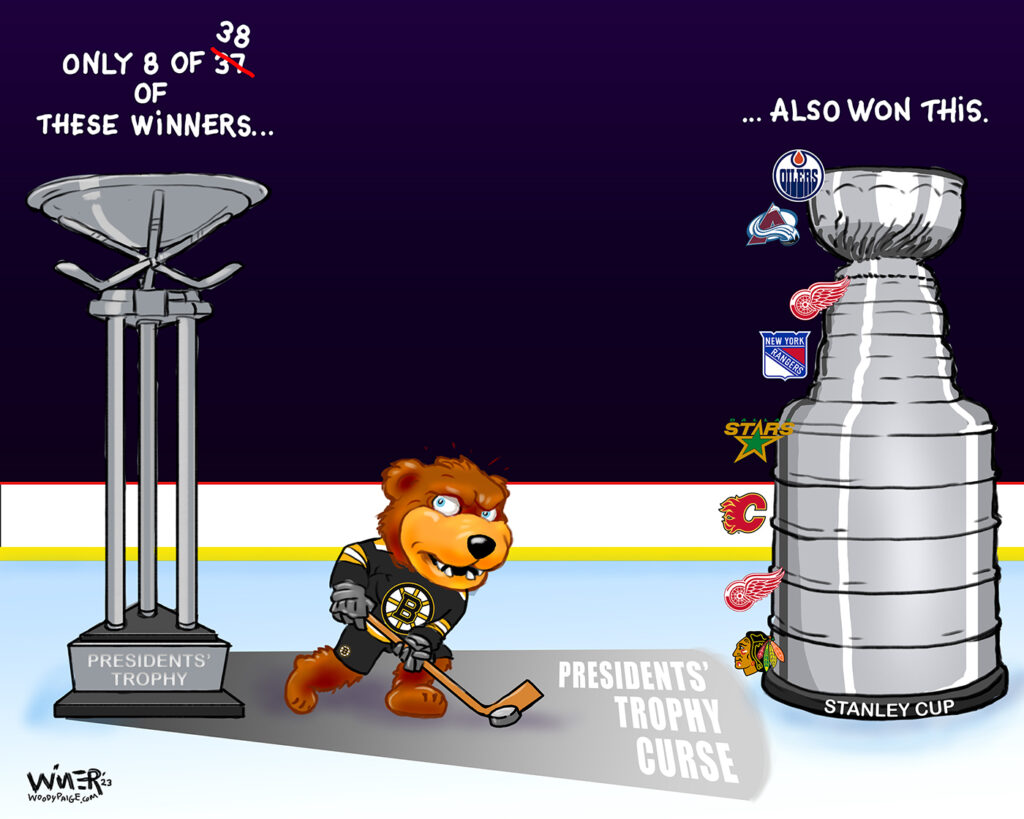 Hockey Curse Strikes Again
The Boston Bruins fell to the Florida Panthers in Game 7 of their first round series after the most dominant season in modern NHL history. In the 38 seasons that the Presidents' Trophy has been handed to the team with the best regular season record, only eight have grabbed the Stanley Cup hardware to finalize a season. It's been over 10 years since the last team did it: the Chicago Blackhawks in 2013.
Because of this, many speculate there's a curse on the regular-season NHL champ. The Bruins just strengthened this sentiment with their failure to advance even out of the first round.
What makes this particularly remarkable is that the Bruins were enormous favorites to win it all, after a season they broke the NHL record for wins and points. They also led the league in goals against, penalty kills, and were 2nd in goals against, contributing to a total goal differential not seen since 1996.
On top of this, they ended the season with tremendous momentum and an eight-game winning streak. Nearly half of all NHL playoff bettors placed their championship hopes on the Bruins.
But somebody must have forgotten to tell the Panthers, who gutted out four wins, including an overtime thriller in Game 7. An upset for the ages and fuel for the fire for belief in a curse that Boston fans will not soon forget.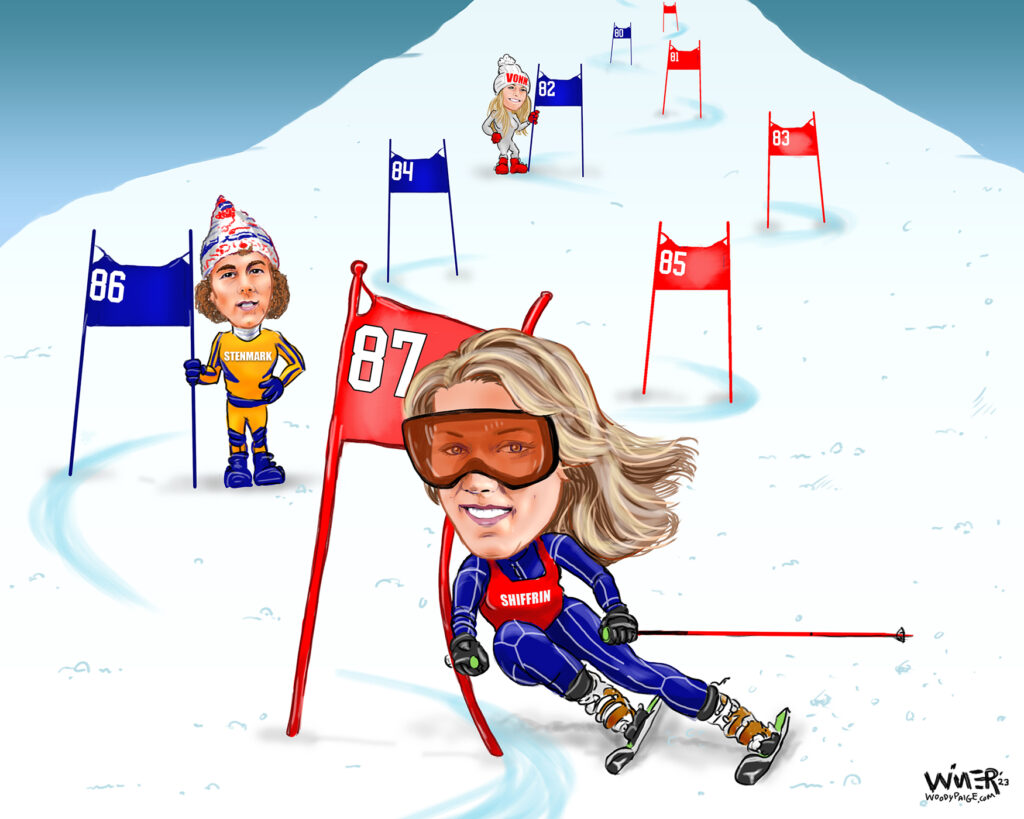 Mikaela Skis Into Uncharted Territory
American Mikaela Shiffrin passed the winningest skier of all time with 87 World Cup victories a day after her 28th birthday.
Remarkable Swedish skier Ingemar Stenmark had set what had seemed an unbreakable record forty years ago. Lindsey Vonn had come close to reaching those heights only a few years ago with 82 victories before succumbing to multiple injuries and retirement.
After passing the Swede, Shiffrin added one more win to push the total to 88 before the 2022-23 season ended. At her young age, who knows how high she can push the record as arguably the best skier of all time?
She's humble and focused, and has for the most part avoided the injuries that are such a constant in the world of alpine skiing. Shiffrin's won World Championships and gold medals at Olympics, so no one knows the motivation she'll need for skiing into the unexplored terrain ahead of her.
But we will all be fortunate if for many more years we can continue to witness the grace, athleticism and absolute mastery delivered by the greatest of all time.
Buy a signed print, poster, or wrapped canvas of this piece from me on Etsy here.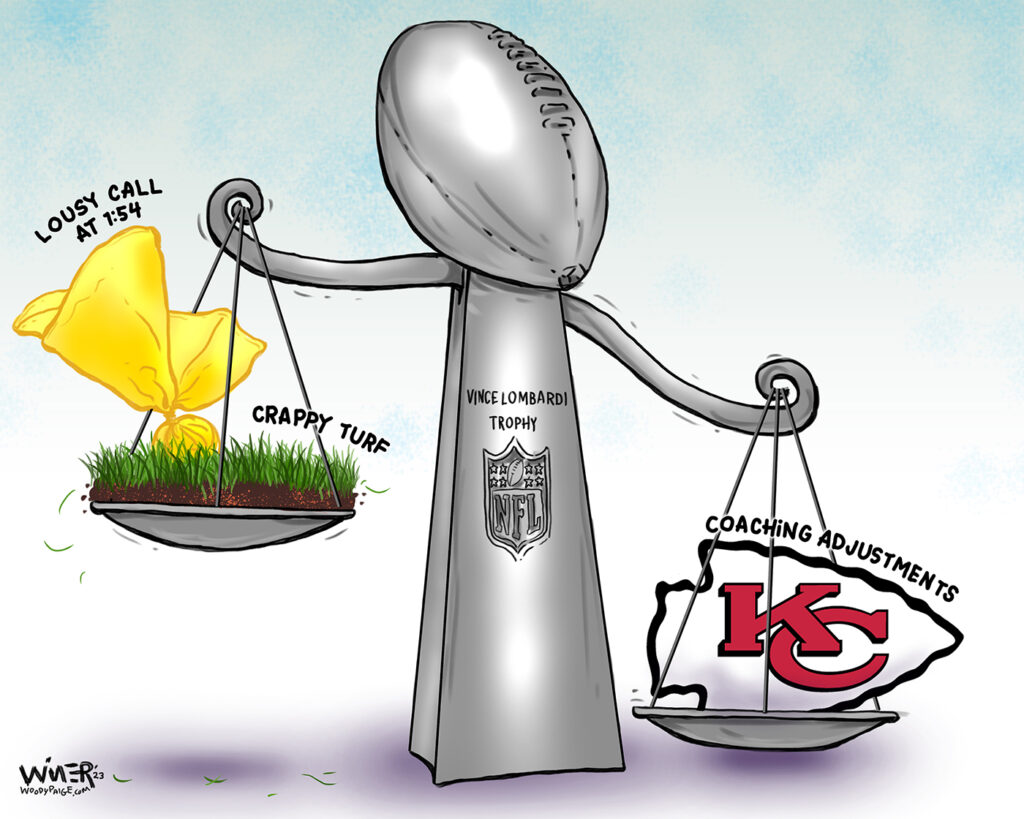 Chiefs Coaches Dictate Super Bowl Scales
Patrick Mahomes and the Kansas City Chiefs claimed their second Super Bowl in four years after a tight battle against the Philadelphia Eagles. A field goal by the Chiefs with 8 seconds left capped a gripping comeback from a 10 point halftime deficit.
Mahomes laid claim to Super Bowl MVP with a masterful second half, in an entertaining duel with an equally impressive Jalen Hurts of the Eagles.
As is always the case with the big game, there were a multitude of side stories regarding factors that tipped the scales one way or another. One was a universal complaint that loose and mushy sod had players slipping all night long. Some claimed that the Eagles were never able to find their footing in order to exert the kind of pass rush and pressure they had been known for all season. Thus, Mahomes found more time to work his magic than he would have otherwise. This argument of course loses some weight when considering the Chiefs had their own challenges navigating the same swampy field.
Perhaps the biggest complaint was a questionable call with 1:54 remaining in the game. The Chiefs had driven inside the twenty yard line, and on a third-and-long play threw the ball incomplete. A somewhat late flag was thrown for defensive holding, resulting in a 5 yard penalty and more importantly a first down. Instead of 4th down and a probable field goal that would have left plenty of time on the clock for a potential scoring drive for the Eagles, the Chiefs had a new set of downs and ultimately the game in hand. For most viewers, the hold/hook seemed minimal, and Mahomes' pass was uncatchable with or without contact. It was a significant call that determined the end of the game, but as most coaches worth a salt will properly tell you, you never lose a game on single play.
The Eagles lost the second half due to outstanding adjustments by the Kansas City Chiefs, particularly on offense. Utilizing a dizzying array of motion and misdirection, the Chiefs had one of the NFL's best defenses on their heels for the final 30 minutes of the game. The Chiefs' final two touchdowns were so well executed (made more effective by overreaction by the Eagles D due to earlier plays), that the receivers caught passes with no defender within 10 yards. Employing effective in-game adjustments is one of the hardest things to pull off in sports, but the Chiefs coaching staff expertly succeed in this and clearly earned their playoff bonuses in the victory.
Ironically, three years ago, it was the Tampa Bay Buccaneers who outcoached the Chiefs in their 31-9 victory. This time Andy Reid and his staff found ways to push the balance in their favor.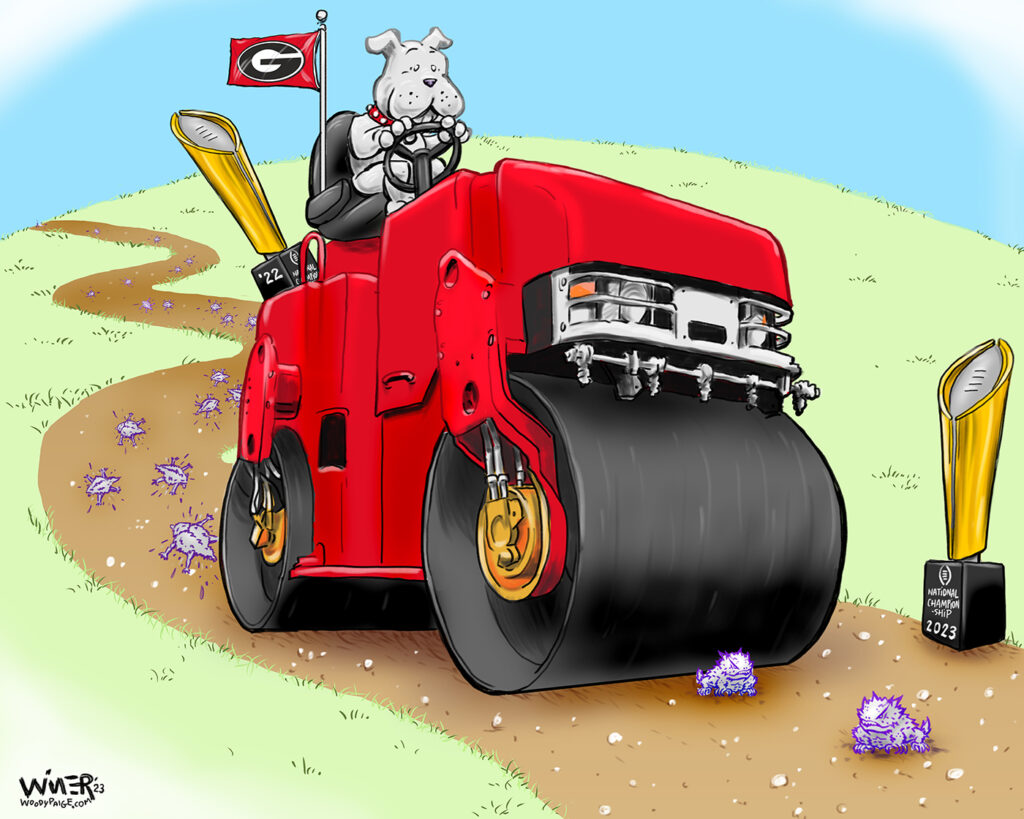 Bulldogs Roll...Over Frogs To National Championship
UGA made it a Two-Peat for the hardware in a victory over TCU in as bad a beat down as there's ever been in the FBS Championship.
It was close up until the coin flip in this dominant display of talent and execution. Kudos to coach Kirby Smart who rebounded from a near miss against Ohio State the previous week, and had his team hungry and prepared.
Besides the Horned Frogs, the big losers were ESPN and large swaths of the viewing population. At 17.2 million viewers, the game marked the least-viewed championship game since the CFP started in 1999. By halftime, one third of the peak audience for the game had gone elsewhere.
My friends and I were lucky enough to be at a bar that mercifully flipped a number of TVs to the Denver Nuggets/Lakers game, during which Jokic made another entertaining case for a third MVP.
Georgia lost 15 players to the draft following last year's championship season, but it didn't seem to slow them this campaign. Expect more of the same for the Big Red machine when the '22-'23 season rolls around.
Buy a signed print, poster, or wrapped canvas of this piece from me on Etsy here.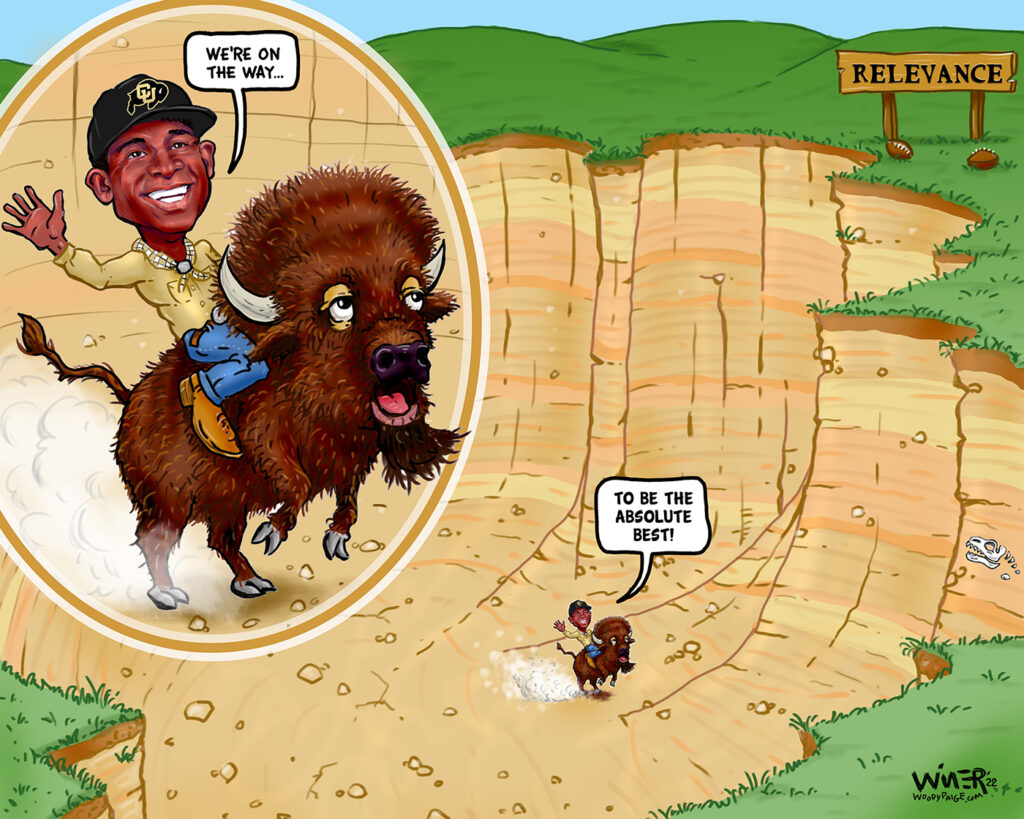 Prime Time Buffs
There's a new sheriff in Boulder town. Deion Sanders has arrived to save University of Colorado football.
The wheels had fallen/flown off a once proud program in dramatic fashion, finishing the 2022 season at 1-11, and facing blowouts in nearly every loss. Poster child for the negative impacts of the new rules (or lack thereof) for NIL and transfers, CU had seen a serious defection of talent in recent years that left the cupboard bare.
Head coach Karl Dorrell was fired at mid-season, so there was plenty of time for speculation regarding the next coaching hire. But you had to search high and low  in the state to find anyone optimistic about that outcome. Colorado had whiffed over and over during the past 15 years with its coaches, and a depleted roster was not going to provide much of a lure for a coach to grab the reins. It required courage to even peer over the edge to see how far the program had fallen.
Then, seemingly out of nowhere Deion Sanders made a splash, as only he could. The school found the money ($29.5 million over five years as well substantial funds for a top tier staff) and a commitment to become more aggressive managing NIL opportunities for players.
However, it was still a major leap of faith for Coach Prime to take on a rebuild of this magnitude. He left a comfortable situation in Jackson State where he'd built a 27-5 record over three years, turning around a program that hadn't seen a winning season in the prior seven years.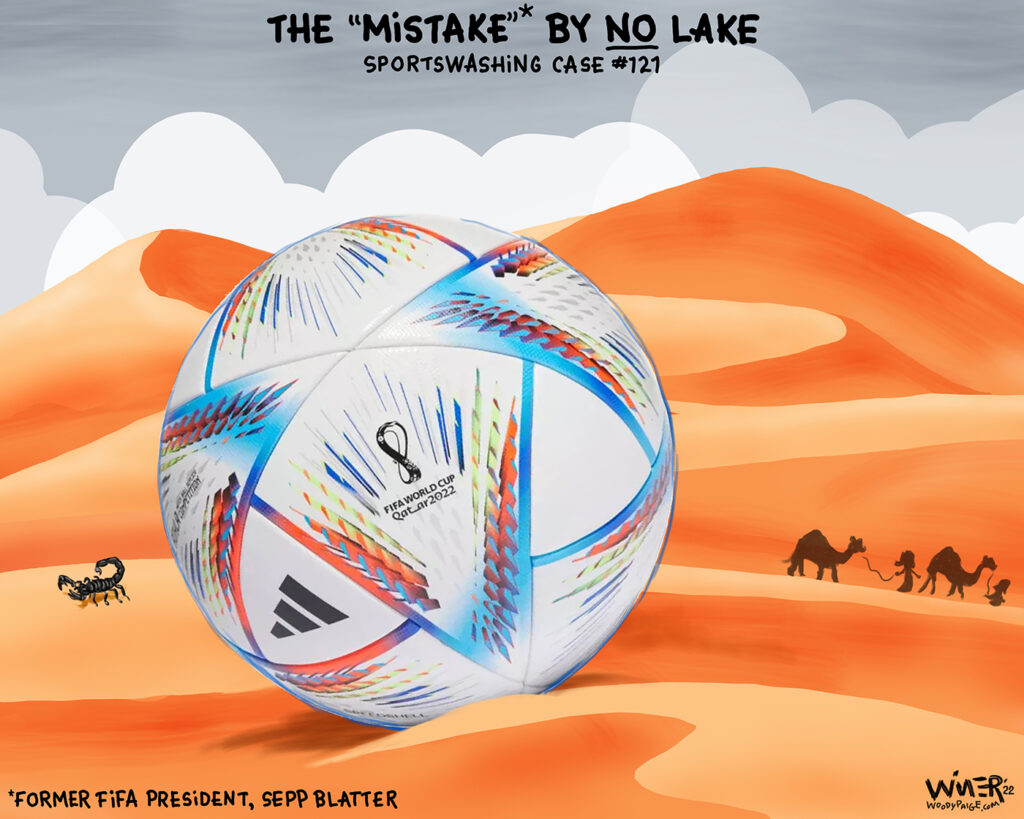 The World Cup in the Unlikeliest of Places
Just around the corner looms the world's second biggest sporting event after the Olympics. Outside the United States, it wouldn't be hard to argue the World Cup is even bigger.
Which makes for this year's location choice a true headscratcher. In the words of former FIFA President, Sepp Blatter, the choice of Qatar is a "mistake." The country is dominated by a flat, low lying desert. No Mistake by the Lake (apologies to Cleveland) this one, as the Cup is going to be the driest and hottest in its history. At least they moved it from the summer, when it was initially supposed to be played, in an average of 105 degree heat.
On top of all this, the infrastructure was in no shape to host such an event, leading to a massive building effort on the backs of an army of migrant workers, since the subject of many stories regarding their mistreatment.
I've never had an opportunity to take in a World Cup, but by most accounts it's not clear which warrants the most serious attention by the fans: the games or the festivities and partying. This will be an issue in a country which severely limits locations for drinking.
As with the recent Olympics in regards to China and Russia, Qatar is using the platform to create goodwill and gloss over human rights violations. This international approach to burnish, called sportswashing can only be accomplished with a willing accomplice, and FIFA steps up in this role regularly. The international governing body of soccer has a long documented history of corruption, a major reason why Russia hosted the last World Cup.
Perhaps it's coincidence, but the present FIFA president, Gianni Infantino recently moved his primary residence to Qatar. Gifts can come in all sizes...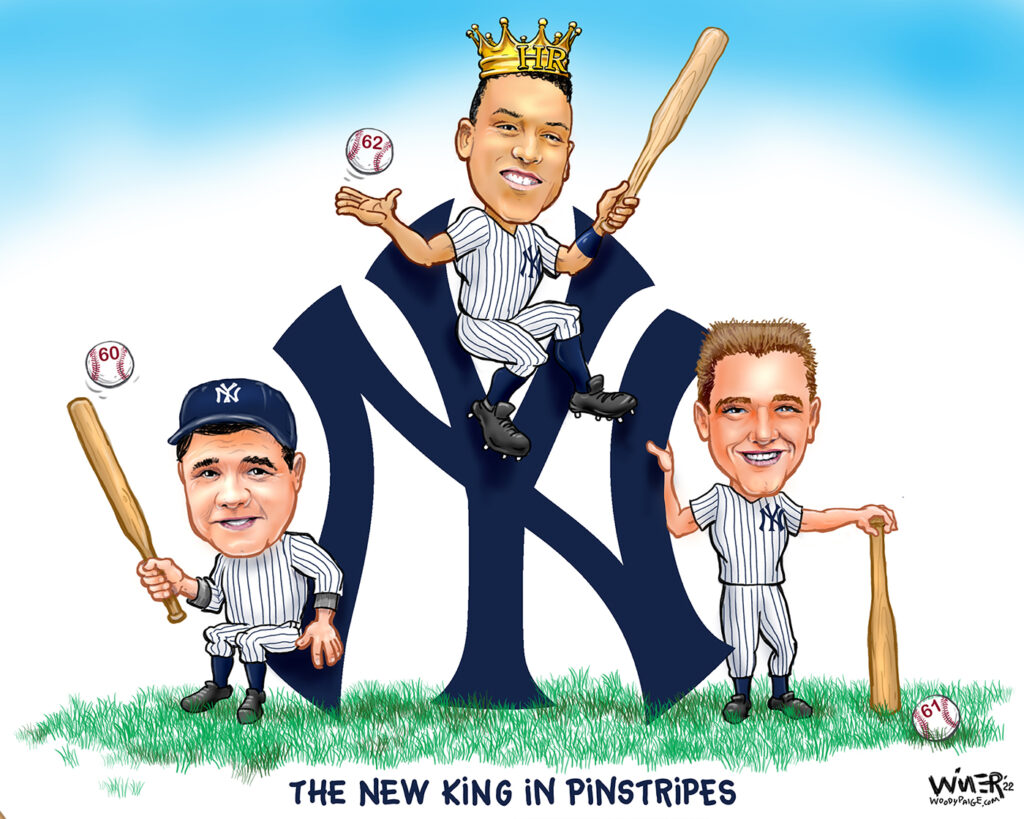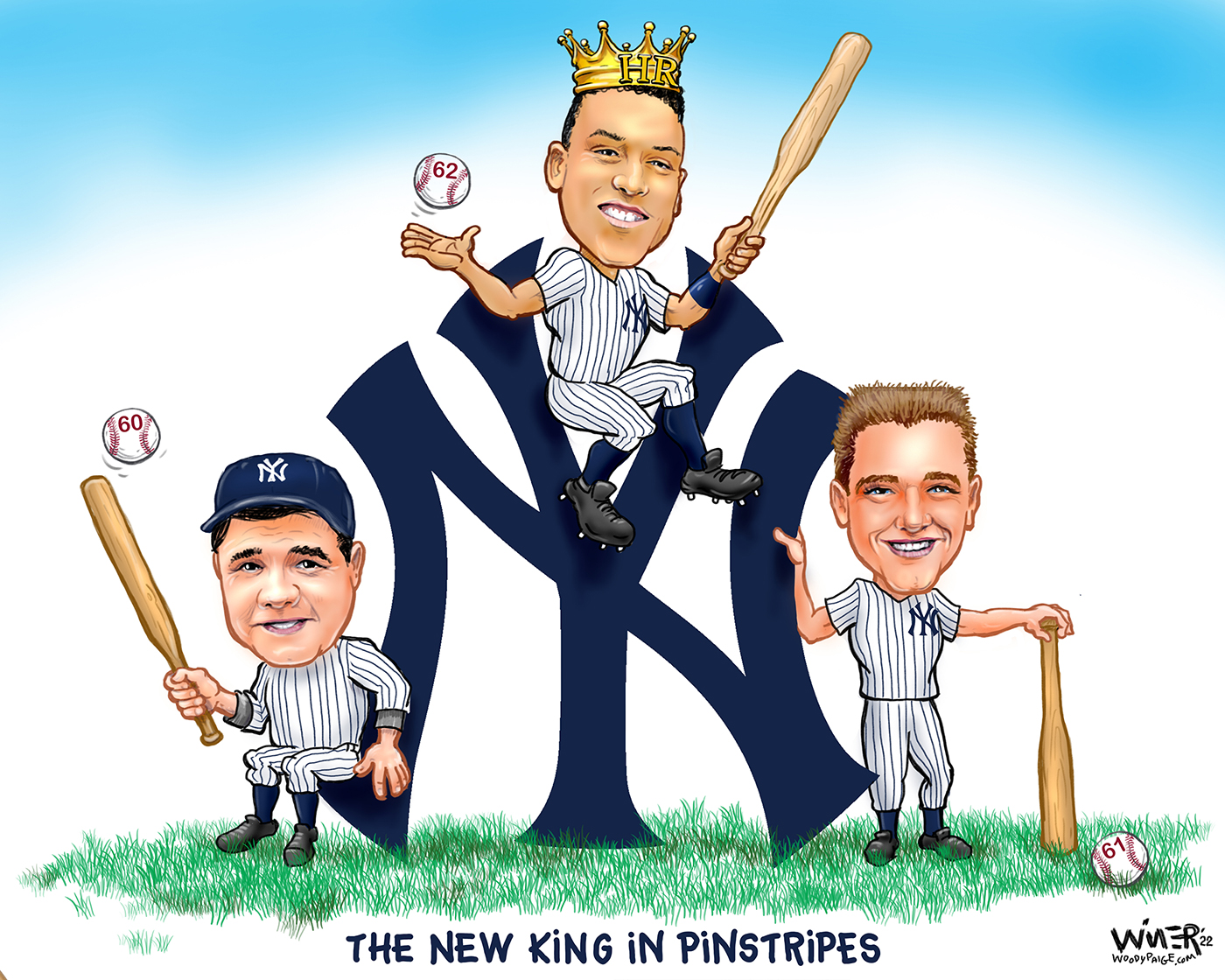 New King of Home Runs in Pinstripes
Aaron Judge moved the needle forward on a record that had stood for over sixty years when he belted his 62nd home run in the second to last game of the season.
It's a record for the American League that has remained in the hands of the New York Yankee franchise since Babe Ruth slugged 60 in 1929. Roger Maris broke Babe's record with 61 in 1961. It caused an outcry among purists of the game, as the MLB had expanded from 154 to 162 in the very year Maris surpassed the 60 milestone. For years, the record bore an asterisk in the minds of many.
That minor debate took a back seat to the home run record conversation in the National League in the late 90s. Mark McGwire, Sammy Sosa and Barry Bonds all took turns destroying the previous record of 56 home runs set by Hack Wilson of the Chicago Cubs in 1930 (also the year he drove in an unbelievable 191 runs). It didn't take long to learn that those three established records would forever be tarnished by proven steroid use.
In the meantime, Judge has made many of the right moves to build his game and with class, focus, and other outstanding elements of his game (at 6'7″ he is the best base stealer in history for a player of his size). When he broke the record on October 4th, many of the purists still pointed out that Babe got his record in 154 games, but they still had to concede that Judge tied the Bambino with 15 games left.
Home run chases always call attention to the attendant strikeouts that can hurt a team. That is certainly the case with Judge, who has struggled hitting in the postseason in the aftermath of the end of the season celebration. For a player in the running for the MVP, now is crunch time and an opportunity to see how heavy is the head that wears the crown.
Buy a signed print, poster, or wrapped canvas of this piece from me on Etsy here.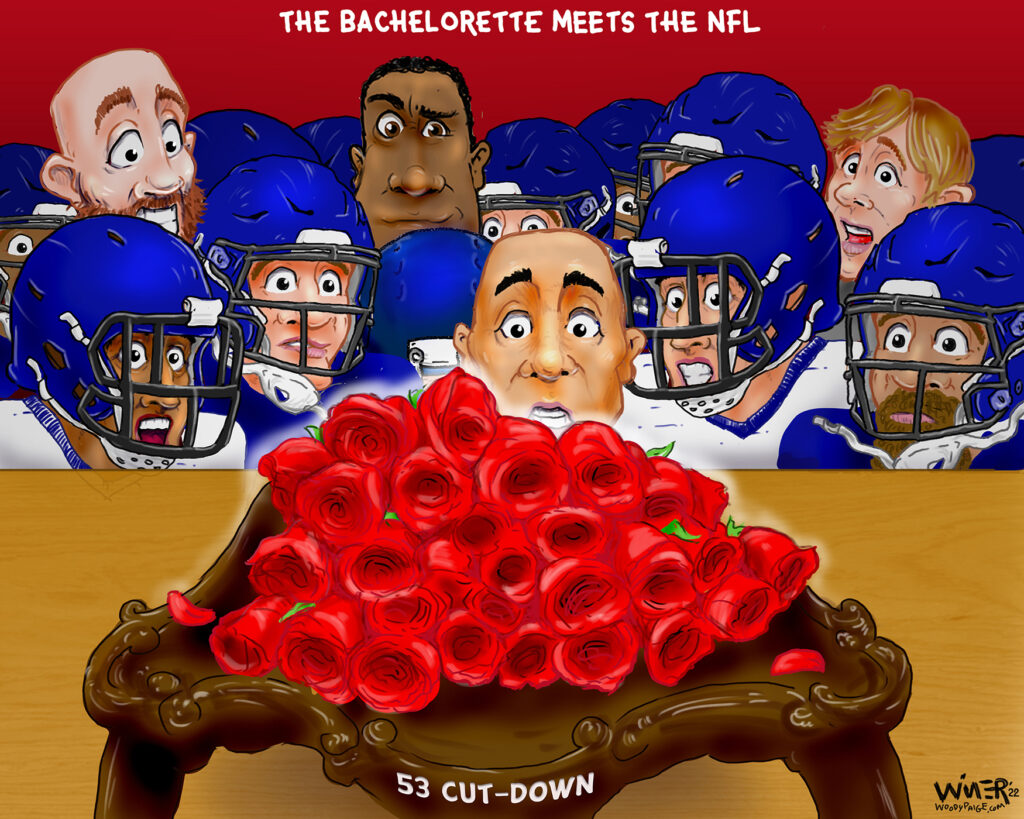 The Bachelorette Meets the NFL
For the NFL, there are seasons within every season and one of those just abruptly ended for many hopeful NFL players and veterans. The 53 player cut down happened across all teams, down from the 70 plus roster that had already been whittled down over the course of the summer.
Like the moment of truth in The Bachelorette, many nervous players can only sit and watch to see if they were worthy enough to receive a "rose" and move on to the the next show/the regular season.
In the NFL, the "Turk" (one of several names for the role) has the unenviable task of delivering the bad news to the players who don't make the cut. They will either find the player or call him on Cut Down day, then walk him to the head coach's office for the final meeting, grabbing the playbook on the way. The Turk essentially hands a "not-a-rose" to the unlucky player.
A silver lining is that many of the players who don't make the cut get an offer to remain on the practice squad, which isn't a bad gig, and often leads to full time roles with the team.  But for most of the others the day marks the end of a lifelong dream, and a final season.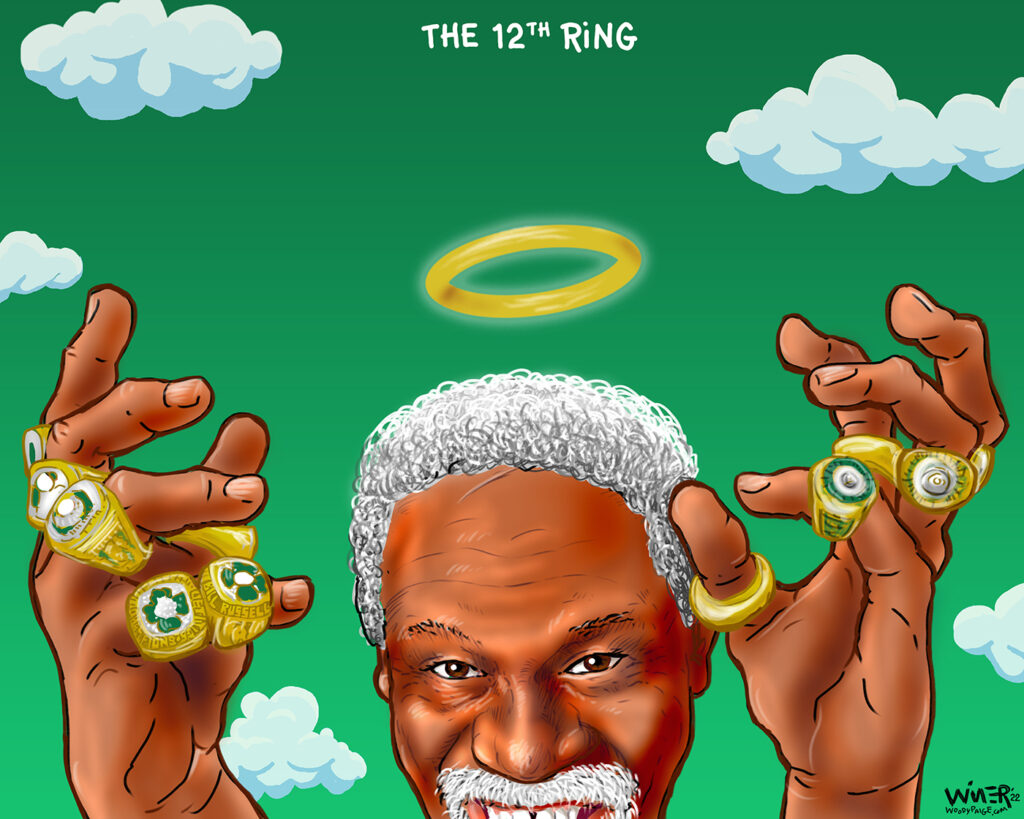 Bill Russell's 12th Ring
We lost a legend. Bill Russell, who led the Boston Celtics to 11 titles in 13 years, but did so much more, passed away at 88 years old.
I recall as a child my Dad explaining that although Wilt Chamberlain (my favorite player at the time) was phenomenal and would often win the stat battle, Bill Russell would invariably lead his teams to wins.
This leadership flowed into coaching and his efforts off the court to address racism and poverty. The number of people whose lives he changed or provided invaluable direction for is a massive iceberg with just the tip being touched by the articles and stories in the press this past week.
There will never be another one quite like Bill Russell, but his legacy left plenty of inspiration for us and younger generations to live up to.
Buy a signed print, poster, or wrapped canvas of this piece from me on Etsy here.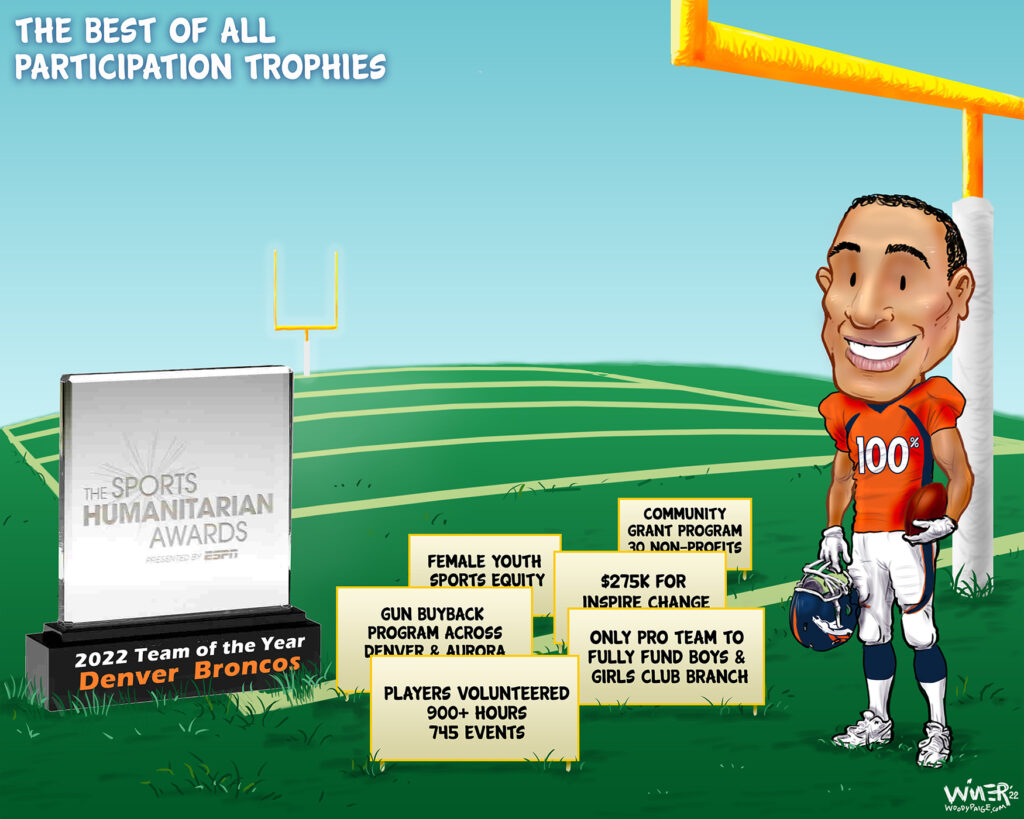 Broncos Named ESPN's Sports Humanitarian Team of the Year
The Denver Broncos are on a roll. Signing one of the big prizes in the off-season in quarterback Russell Wilson, while filling a number of other needs through the draft and free agency, the club seems poised to rejoin the top ranks of the league after a 5-year hiatus.
It doesn't take much to get the Bronco faithful pumped for a new season, so this year most likely only a deep playoff run will approximate their typically unreasonable expectations.
This year those same fans have something they can truly be proud of regarding their franchise: the ESPN Sports Humanitarian Team of the Year. Only the second NFL franchise to receive the award (it's been in play since 2013), the Broncos beat out a stellar group of finalists to capture the award for the professional team that made the biggest difference in their community.
Fairly amazing that this franchise, which seemed to suffer due to family ownership infighting over the past several years, was still able to keep its eye on the ball for doing things right in the community. The Broncos had been a finalist three times prior, so this was no aberration.  Perhaps a lasting legacy of Pat Bowlen and the culture he created many years ago.
Among other things, the Broncos supported the community by:
Players volunteering more than 900 hours through 745 different engagements
Launching a gun buyback program in partnership with Denver & Aurora councilmembers and Colorado-based nonprofit RAWTools
Contributing over $275,000 for Inspire Change programs and initiatives
Being the only professional sports team to fully fund its own branch of Boys & Girls Clubs of America, giving 14,500+ under-resourced youth a home away from home since 2003
Supporting 30 local nonprofits via the club's annual Community Grant Program
Investing in the equity of female youth sports in the Metro Denver area, with an emphasis on launching a girls high school flag football pilot program
Conducting the Staff Community Service Series, featuring in-person and remote monthly volunteer opportunities for Broncos staff and families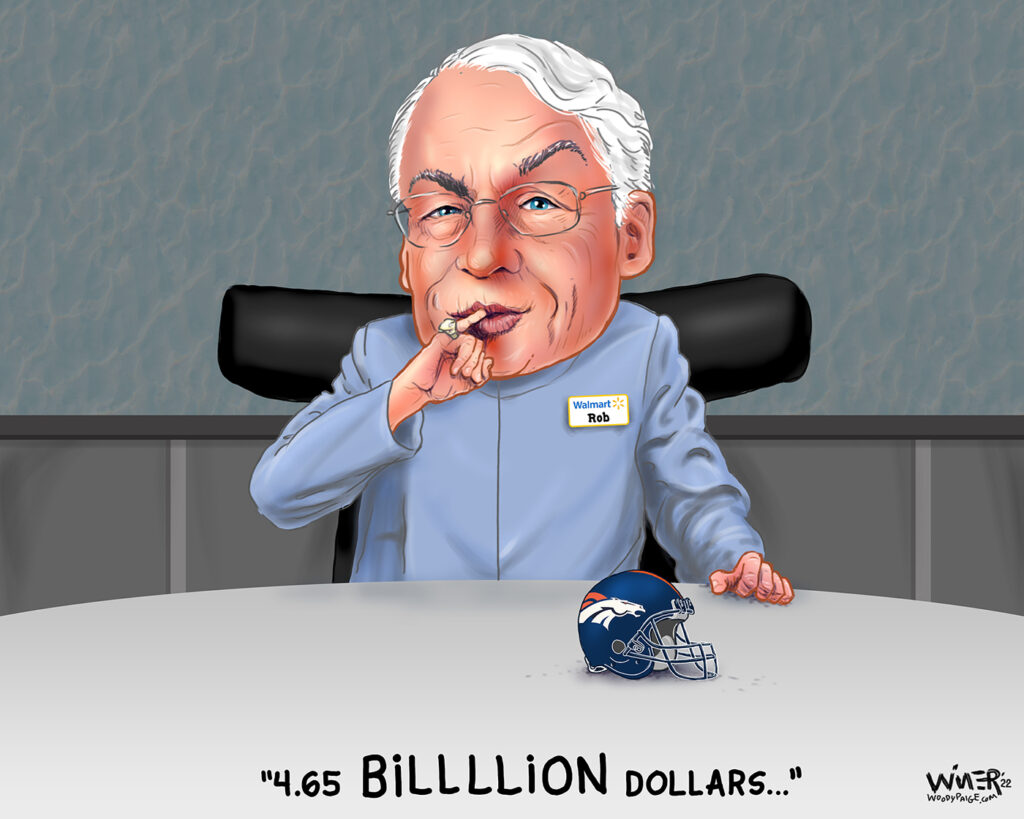 Denver Broncos Sale Hits Ludicrous Speed
The much needed sale of the Denver Broncos finally happened. It was hard not to connect the past several years of struggle for the proud franchise with Pat Bowlen's decline then passing, as his various family members fought for control.
The sale had a massive $4.65 billion price tag: the most money paid for a U.S. sports franchise, and only a little behind the $5.3 billion sale of Chelsea Football Club.
It's a stunning amount of money, the kind of figure you might expect a movie villain to throw around.
Rob Walton, of the Wal-Mart family, headed a successful consortium to make the purchase. Plenty of other strong individuals in the group and possibly Peyton Manning also finding a role in the new management structure should provide the start of an interesting new chapter for the Mile High football franchise. And all that new capital can't hurt.
Meanwhile, the Bowlens can head off into the sunset after nearly 40 years and 3 Super Bowls trophies, benefiting from a mountain of cash that grew from a $78 million investment back in 1984.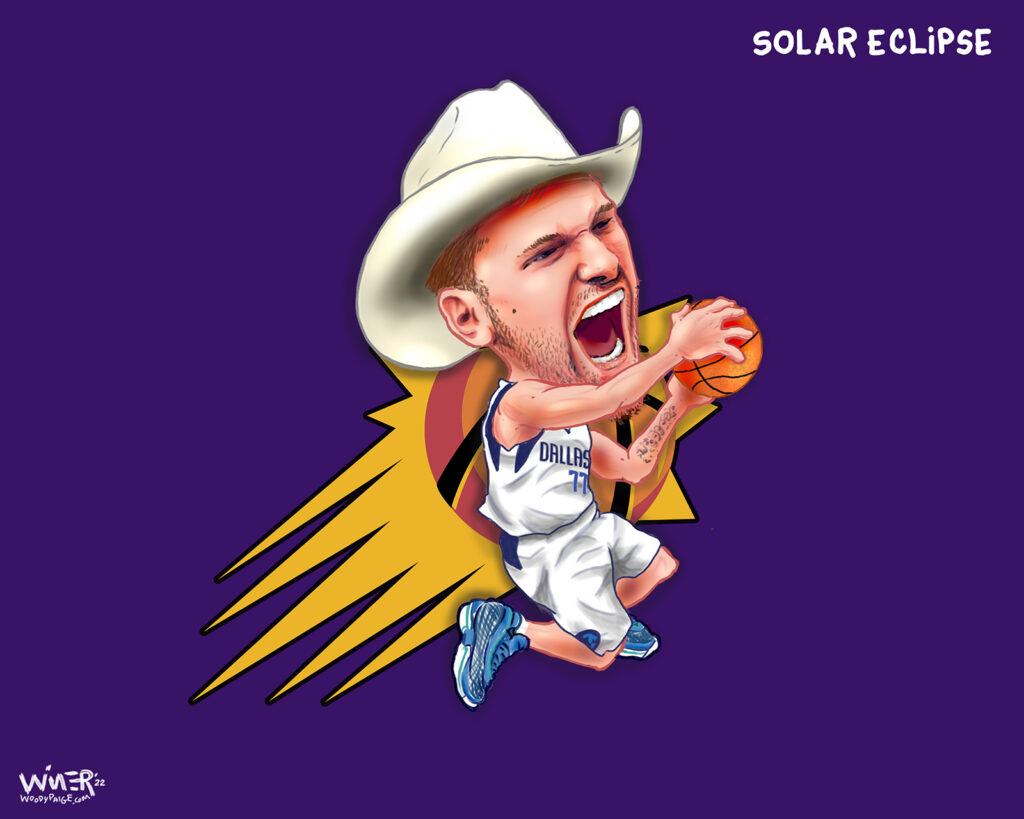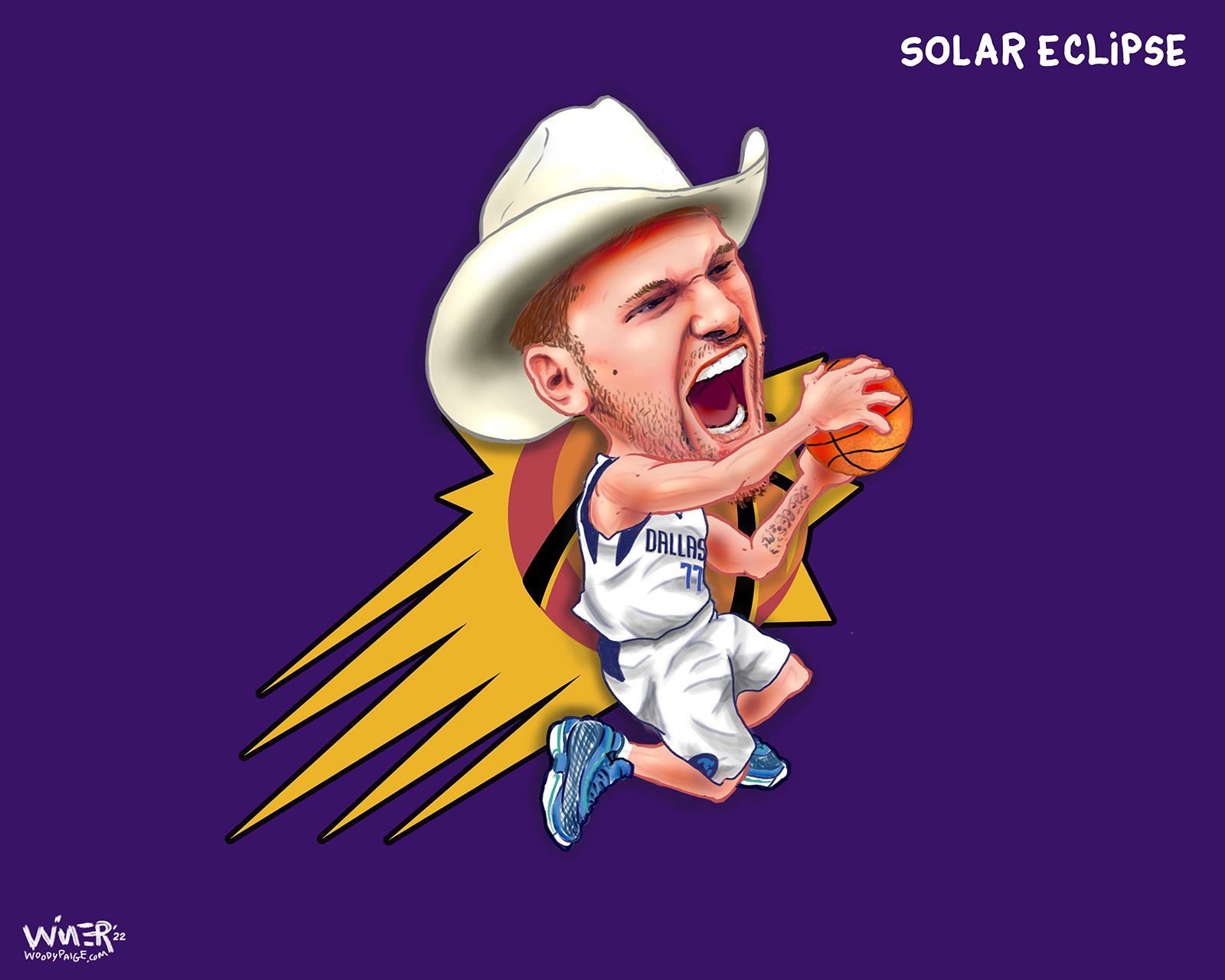 Someone Just Blocked Out the Phoenix Suns
A Slovenian cowboy, Luka Doncic, and the Dallas Mavericks improbably sent home the best team in the NBA this past season in a total blow out, 123-90.
Doncic finished the regular season on fire, helping the Mavs secure the fourth seed, and playing at an MVP level. He continued through the playoffs, first routing the Jazz 4-2, then coming back to beat the Suns, 4-3.
In the final game of the Phoenix series, Doncic was unstoppable, putting up 35 points, 10 rebounds, four assists, and two steals in only three quarters. And he does it all with a smile.
The Suns, who had dominated the regular season and looked like the team to beat for the championship, now will face a much longer than expected off-season to think about what could have been. Chris Paul had been a reason for so much of their success, but at 37 it's hard to tell how much he can hold off Father Time's inevitability.
Meanwhile, it will be interesting to see how much the Mavericks will continue to shine as they face a dangerous but banged up and up-and-down Golden State Warriors team for the conference finals.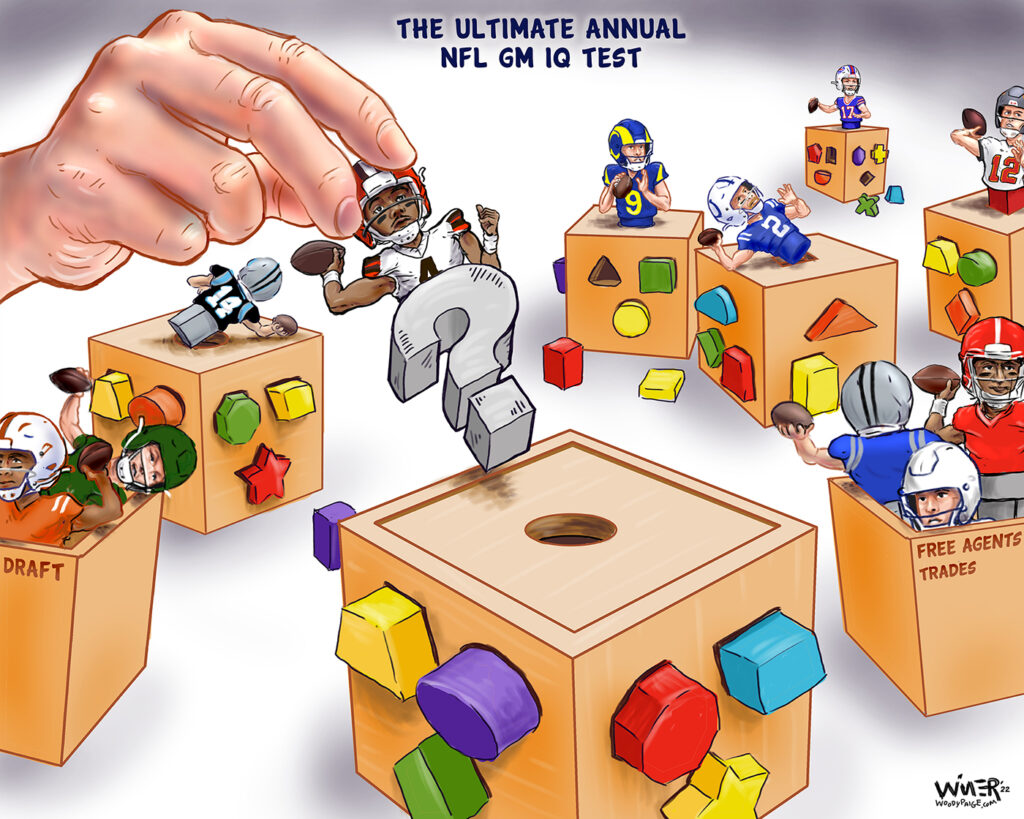 NFL Quarterbacks Looking for a Fit
Every year NFL General Managers cross their fingers with whatever quarterbacks they have in their stables, or prepare to bring in through trades, free agency or the draft.
Even with a top tier quarterback, health is never a certainty. So GMs have to hope their backup is up to the task when/if their stud goes down.
Major movement happened this off-season with quarterbacks.
The MVP of the past two years, Aaron Rodgers, expected to move due to his vocal criticism of the situation in Green Bay surprised most by staying. He is certainly a peg that has found a long time fit with that franchise, at least on the field.
Russell Wilson landed in Denver, which had 6 previous years of lousy luck matching pegs with holes. Lots of interesting Bronco parts and a consistent, mostly injury-free career for Wilson still don't guarantee a perfect fit.
Carson Wentz, a once MVP candidate flamed out in Philly before making a one year stop in Indy, and now will try to right the ship in D.C. When the odds for winning the Super Bowl (already abysmally low for the Commanders) don't budge after a move like that, you know there isn't much faith in the system for a quarterback to fit the puzzle.
Deshaun Watson is the most intriguing of puzzle pegs. Commanding an enormous contract, front-loaded with guarantee money, Watson is a terrific talent who has piled up outstanding stats on a lousy team primarily due to mismanagement by coach/GM Bill O'Brien. The Cleveland Browns took a big swing with this one, especially considering any lingering blow-back around his lingering legal and private troubles.
On the other hand, two years ago, Tom Brady (well into his 40s) switched franchises and proved a remarkable fit and Super Bowl winner. Then this past season Matt Stafford moved from a perennial loser in the Lions to the Rams and in the same year won the Super Bowl.
The draft is notoriously difficult for those trying to find the perfect quarterback fit. Trevor Lawrence, a "can't-miss" talent was mostly miserable in his first year, with a dysfunctional team and coaching staff. Josh Allen, drafted 7th by the Buffalo Bills struggled his first couple years in the league before finding a very strong fit as a top QB last year. Sometimes patience can be the answer. But that's not always easy in this win-now environment that keep coaches and general managers hesitant to buy a permanent home.
It's early days for this year's NFL cycle. Quarterbacks come and go, bringing hope and nervousness to franchises and their fanbases. Only the actual test of the season will determine how well these critical pegs fit in their new homes.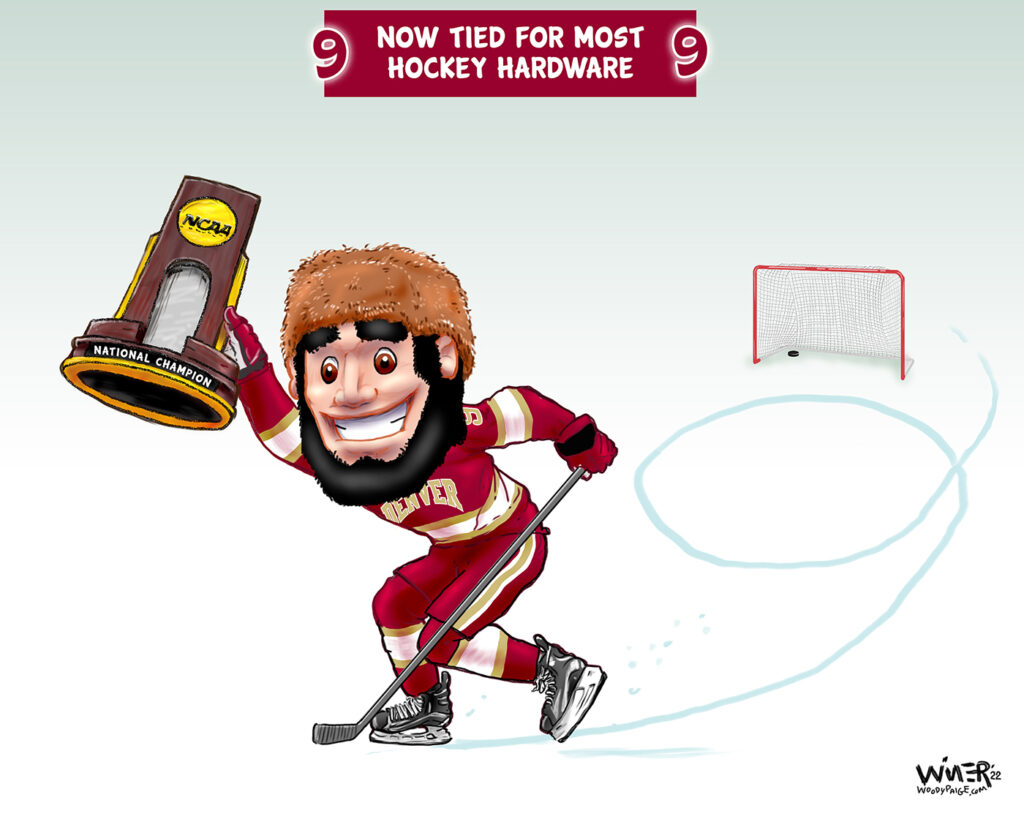 Denver Pios Add to their Hardware Collection
With a 5-1 victory against the Minnesota State Mavericks in Boston, the University of Denver hockey team hoisted the NCAA trophy for the ninth time.
Tying only the University of Michigan with championships, DU again sits comfortably atop the ranks of college hockey. Interestingly, the Pioneers knocked off Michigan in the semi-finals, thus denying the Wolverines of a tenth title, while putting themselves in the driver's seat to tie their northern rival.
Down by a goal for nearly 40 minutes of the final game, the DU offense came to life with two quick goals, then a late insurance goal, followed by two empty-netters. The final score didn't reflect the nail-biter that was the actual game. Work in goal by Hobey Baker Award winner Dryden McKay for Minnesota State proved to be a lot to overcome.
But the country's top offensive team (again tied with Michigan) figured it out and brought the championship home to the Mile High City. In no small part due to the work of David Carle, who at 32 became the youngest coach to win a national championship.
Pioneer Boone can savor his newest trophy until next year, when the Drive for 10 begins.
Buy a signed print, poster, or wrapped canvas of this piece from me on Etsy here.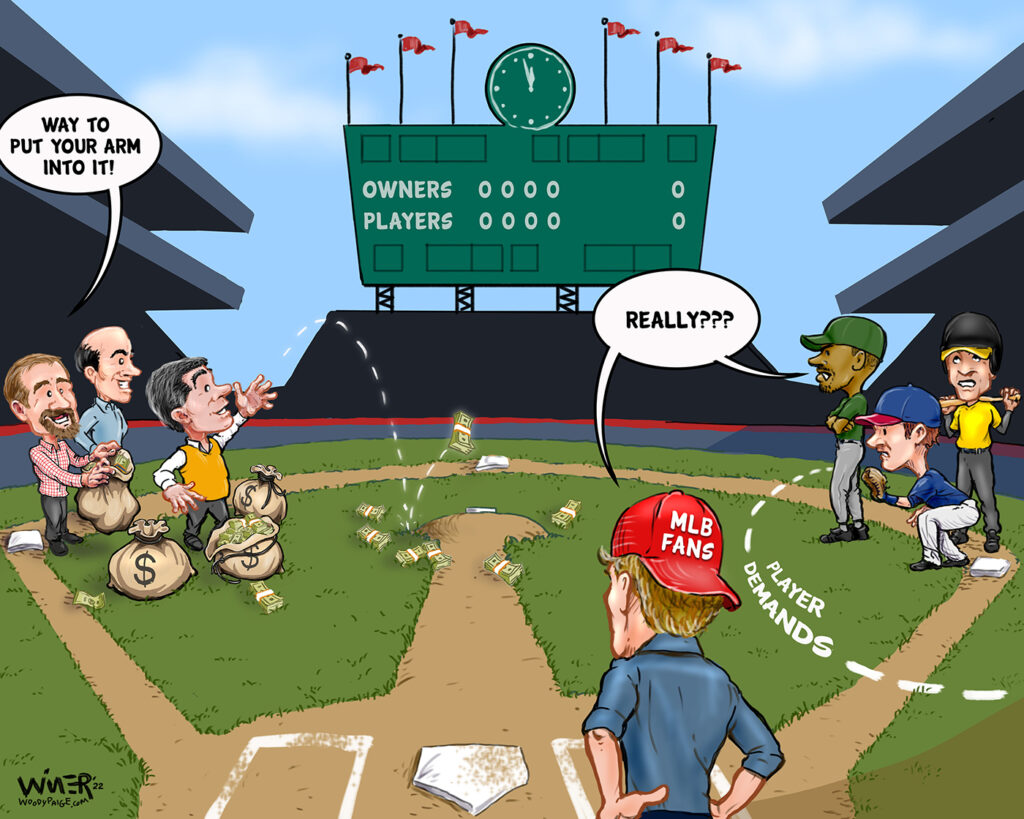 MLB Half-Assed Negotiations
Unfortunately, the MLB season will not start as scheduled. The lockout continued, with probably the first month of the season cancelled as owners and players failed to finalize a new collective bargaining agreement.
As many on the sidelines accurately point out, this is millionaires (some, but not all players) battling billionaires (owners) over money. This narration does disregard the important issue of low pay for minor league players. There are a number of pieces on the table to address (and too much to go into detail here), but too little progress has been made due to too little effort made in good faith, particularly on the ownership side.
Plenty of blame probably is deserved by all parties, but the league waited three months to respond to the player's initial demands, then another six weeks of delay after declaring the lockout. Traditionally poor television numbers in April means the owners don't mind losing games on the schedule - especially when they aren't obligated to pay players for those missed games.
League revenue has grown over the past 4 years (including the pandemic shortened year), while the players' share has decreased during that same time. So perhaps league representation could find a way to "put a little more arm" into a counter-offer that the players would find more palatable.
These kinds of negotiations are never pretty, but those with the most to lose long term need to be careful. A league that's facing dwindling interest can ill afford turning off an aging and fickle fan base with lots of other more compellng options for their attention.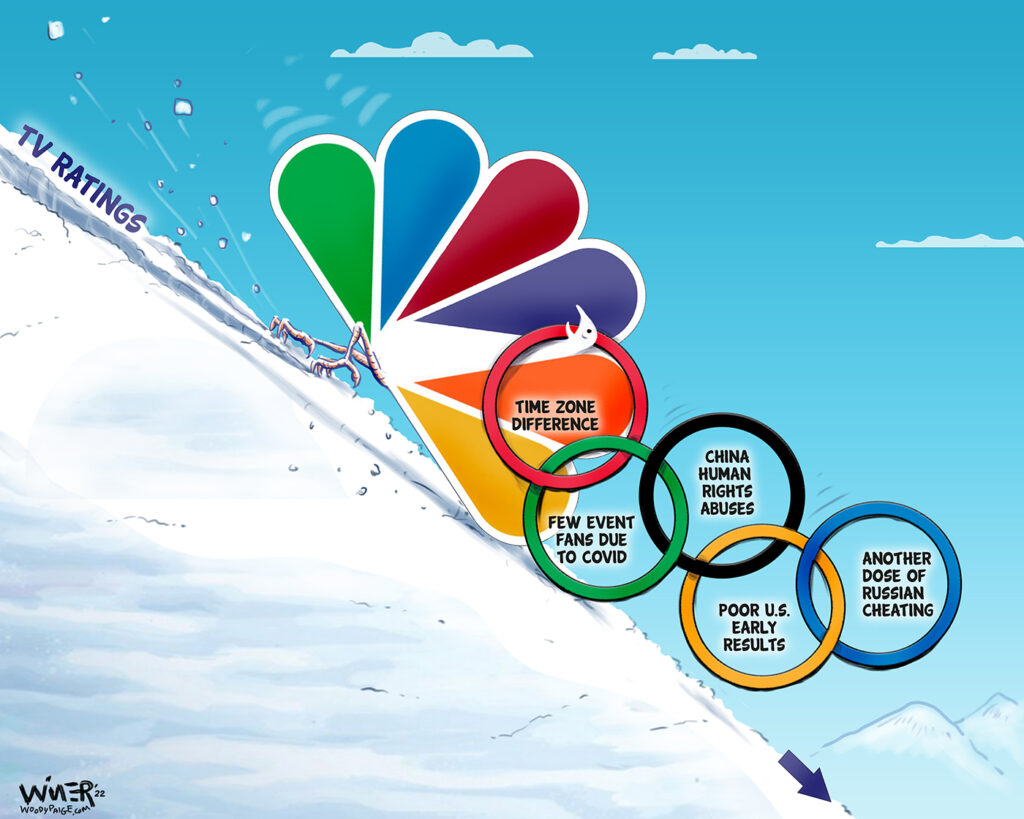 NBC Peacock Downhill Ratings Run
NBC predicted it themselves, but it still can't be easy to swallow. Months ago they cut media rates for their advertising partners to reflect the lukewarm ratings in store for the 2022 Beijing Winter Olympics.
And now it's real. The Olympics are headed for the worst viewership in history, with nearly half the rate of the last Winter Olympics, in PyeongChang, South Korea in 2018.
The list is long for reasons why. The time difference is a big deal, as events held in the middle of the day (think nearly any sport held outside) in China are typically early morning in the U.S. Fans can watch it packaged up by NBC in prime-time stateside, but it's not the same as witnessing events real time.
Some amount of boycotting via viewership because of ongoing behavior by the host country. The U.S. government made a point not to send diplomats to protest Chinese human rights abuses, among them the continued abuse and horrific treatment of millions of its Uyghur citizens. At the same time, serious rape and sexual assault charges by a top Chinese tennis player (and her subsequent disappearance, then reappearance) have been awkwardly managed through propaganda and the heavy hand of Chinese government.
Covid precautions have kept the often rowdy Olympic crowds to a minimum, thus dimming the fun and intensity the Games often deliver.
The U.S. Olympic Team started very slow, and saw many media favorites come up short in their competitions. The team did gain some momentum and moved up the medal ladder as the OIympics progressed, but probably too little, too late.
Russia continues to thumb its nose at much of the world with continual doping violations prior and during the Olympics. Although not allowed to wave their official flag or hear their anthem, they still go by the "Russian OIympic Committee" and many of their athletes (guilty of doping or not) will take medals away from athletes who don't have the benefit of state-sponsored cheating. It's the fourth Olympics in the row they've competed under the dark cloud of full violation of International Olympic Rules. Add a fresh scandal with their top female figure skater failing a doping test, with the result essentially brushed aside. Money, threats and influence clearly can change punishments when it comes to the Russian situation, and plenty of folks don't like watching rigged events.
Olympics burnout also most likely doesn't help, as this one comes only six months after the Japan-held Summer Games. And finally, ratings will never be the same as online streaming, media fragmentation and younger viewership behavior has changed the landscape dramatically.
But there's always the Super Bowl! NBC cleaned up with a very solid Rams-Bengals clash this past Sunday and can bask in that glory as the Olympics wind down with a potential late bump tied to strong U.S. men's and women's ice hockey teams.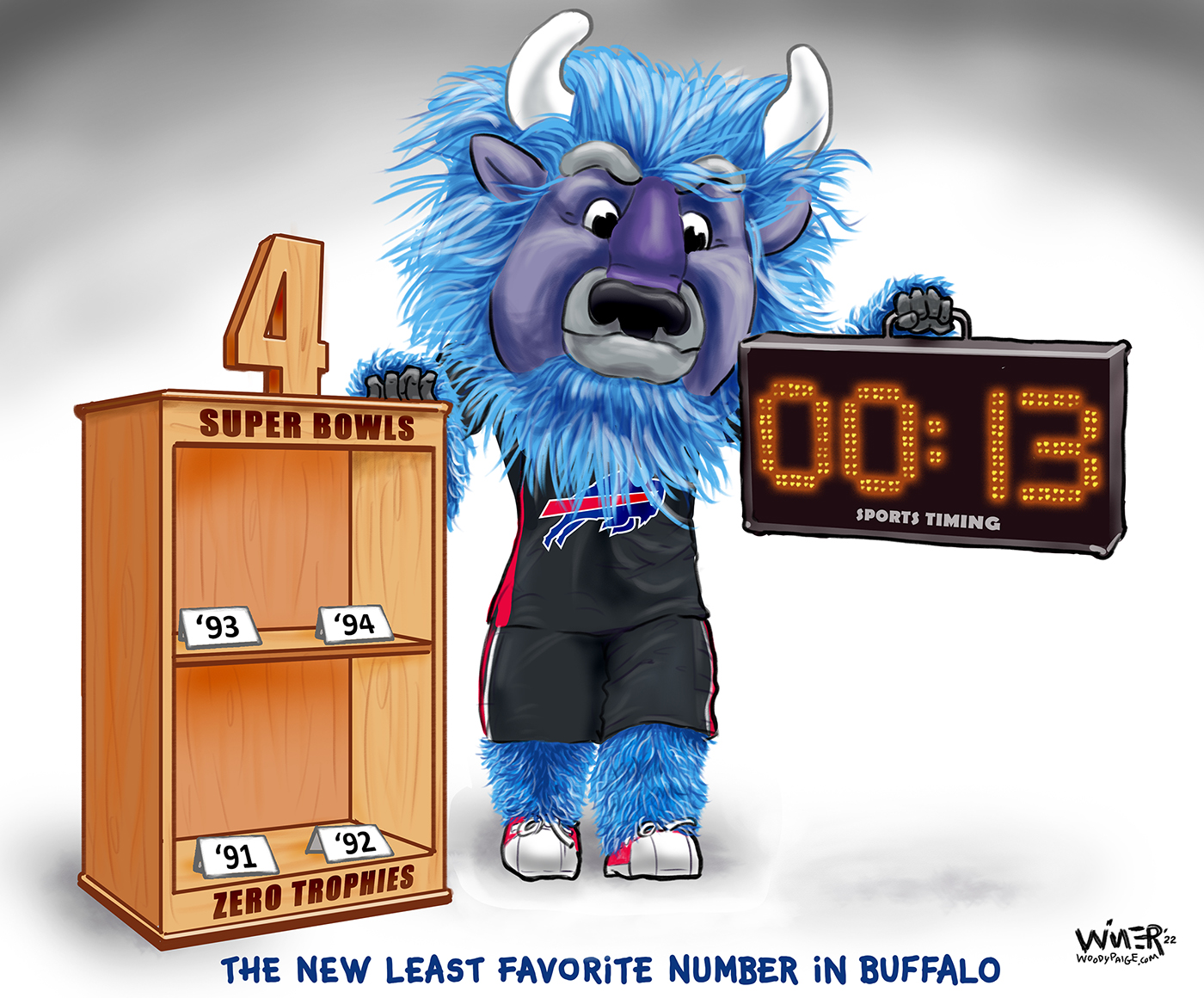 Buffalo's New Number for Frustration
13. Specifically 13 seconds. That's how much time the Buffalo Bills and their coaching staff were faced to manage in order to move forward to their first AFC Championship in nearly 30 years.
The Bills had just pushed themselves three points ahead of the Chiefs in Kansas City due to a heroic team effort led by emerging superstar quarterback Josh Allen. With 13 seconds on the clock, Bills fans everywhere (and quite a few Broncos, Raider and Chargers fans) were celebrating the upset of a powerhouse Chiefs team. The final moments of one of the more epic playoff games in NFL history.
Realistically, 13 seconds represents no more than three plays (not including the preceding kickoff) a team with timeouts can execute before the final whistle blows. And that's precisely what Patrick Mahomes and the Chiefs offense masterfully worked with to move 44 yards down the field in two big plays for a tying field goal. After receiving the overtime kickoff, the Chiefs finished burying the Bills playoff dreams with a touchdown drive. The rules dictating overtime winners and the issue that Allen never had a chance to respond is worthy of another cartoon and article.
Starting with a kickoff that took no time off the clock (a squib could have subtracted 3-4 seconds), then a prevent defense that gave Chiefs receivers the room they needed to move the ball quickly in big chunks, the Bills allowed the seemingly impossible to happen.
The second-guessing will undoubtedly live on for decades, especially if the Bills don't advance so far in the next few years. Arguments include: defensive backs should have played aggressive bump-and-run to slow down the Chief speed advantage, and (my favorite) played a version of end-of-the-game NBA basketball - intentionally grab and hold receivers coming off the line. This would have resulted in 5 yard penalties that could have knocked 4-5 seconds off the clock per play and the concession of 5 yards instead of 20+ yards. You can't end a game on a penalty, but if there is 3 seconds left and the team is on their own 35 or 40 yard line, a Hail Mary is the last resort. A lot better scenario for the Bills than what actually happened. A long list of reasons why that didn't happen and hard to completely dismiss a coaching staff that had built the best pass defense in the NFL.
But Bills fans have a deep reservoir of frustration and it just got a lot deeper. They were the first and are still the only team to make it to four straight Super Bowls. That's quite a feat, but being on the losing end of each one carries quite a lasting sting. Rival fans (Patriots in particular) have a way of reminding the longtime Buffalo faithful of their four failures to grasp the Lombardi trophy. Now there is a new number in Buffalo representing futility.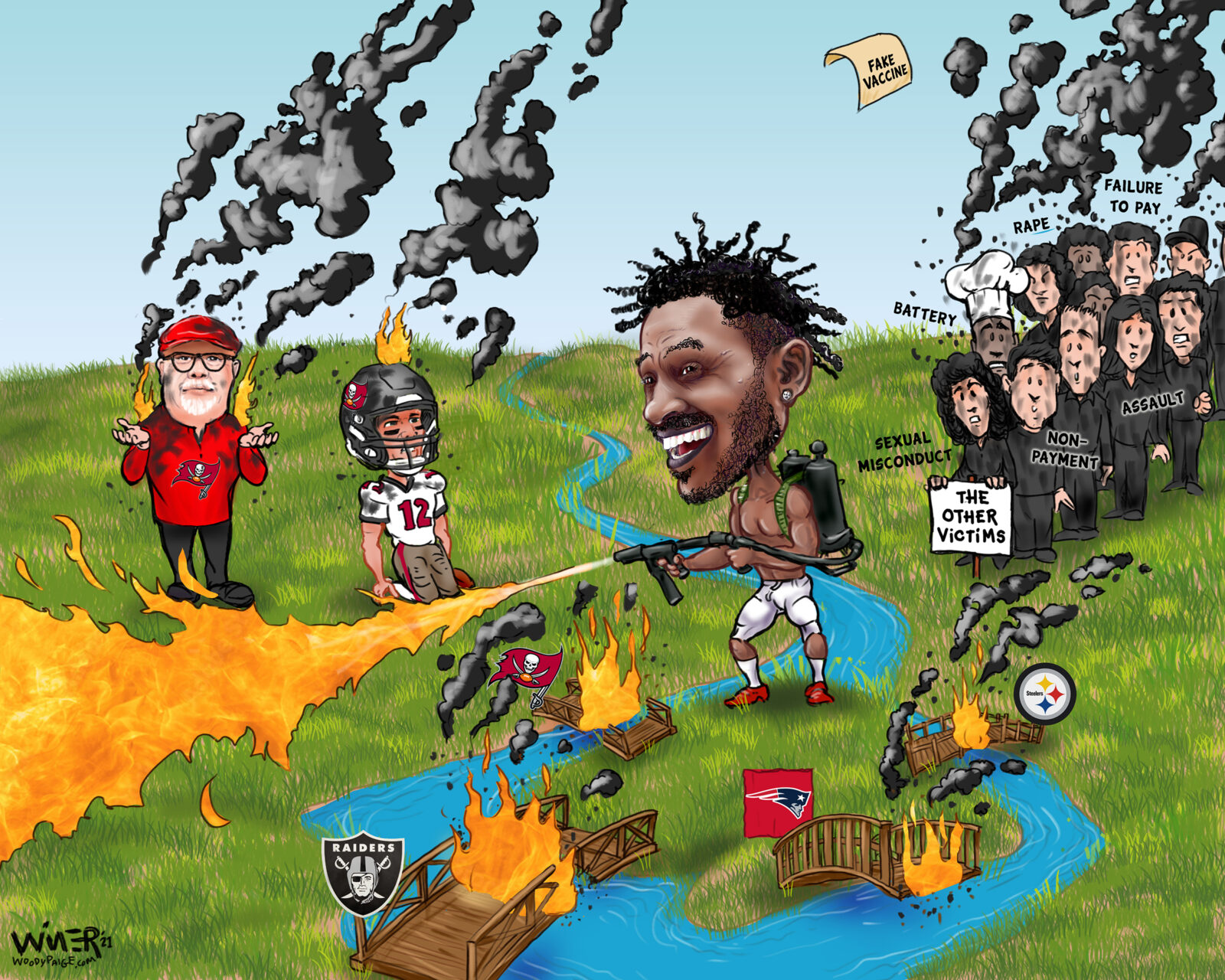 Antonio Brown and his Flamethrower
In Antonio Brown's final game with the Tampa Bay Buccaneers, he removed his jersey and shoulder pads, threw gear into the stands, dashed around the stadium, did some jumping jacks, then disappeared into a tunnel. All mid third-quarter of the second-to-last regular season game against the NY Jets while his team was down by two touchdowns.
Strange behavior indeed, but not completely out of character for one of the most talented players of his generation who has now burned bridges with all his former teams. The Steelers, Raiders, and Patriots have all experienced bizarre actions, verbal abuse, and off-the-field disruptive behavior that led directly to the parting of ways. Now the Bucs in the midst of a potential second Super Bowl run will make that journey without their (arguably) best wide receiver.
We may never truly know what triggered the Brown meltdown, as he claims the team tried to force him to play with an injured ankle (that seemed far from it as he energetically left the field). The Bucs claimed he was upset because he wasn't being thrown to during the game. Additionally, Brown had been on a short leash, playing on an incentive-laden contract; a necessity for any team that signed this talented, yet mercurial individual.
Post striptease, Brown lashed out at the Bucs GM, Coach Arians, and quarterback Tom Brady. Arians had shown significant patience with the temperamental receiver over the past two years, even trying to look past a faked COVID vaccine. Brady was also an interesting target for Brown's ire, as he had once housed Brown during his short stint with the Patriots, and later recruited Brown to the Bucs.
It's clear that Brown's pattern of behavior is enormously difficult to fit into a team environment, and he will likely never see the NFL field again as a player. The football community has responded with reasonable concern for the slightly shifting official story from the Bucs, but they've mostly expressed disappointment for one more head-scratching outburst. There's also been significant concern for Brown's mental well-being, as these self-destructive episodes don't seem to add up.
But take a closer look, and it seems to fit a pattern of how Brown treats people in general. He's had multiple arrests, court dates and other brushes with the law, mostly originating with the horrible treatment of a long list of service providers such as massage therapists, chefs, artists and movers, to name a few. He's settled out of court in nearly every situation.
Soon, Antonio Brown will surely find a public stage to target someone else for more of his bombastic flame-throwing. But the clock may have already stopped ticking for the stage that allowed him for many years to share with the world his undeniable football talents.
Shop for over 250 of my top images (many that you have seen here) as prints, unframed or framed, posters and large print on canvas. Just added other great gift options with this artwork on mugs, towels, blankets, totebags, throw pillows, etc.! Etsy is super easy and convenient.  Reach out to me directly for those options and send me a note if you don't see an item in a gift option - I'll make it happen!
If you can't find a piece of my work at Etsy, or are interested in a commissioned piece of work, please reach me directly at [email protected] or 303 746-1305.