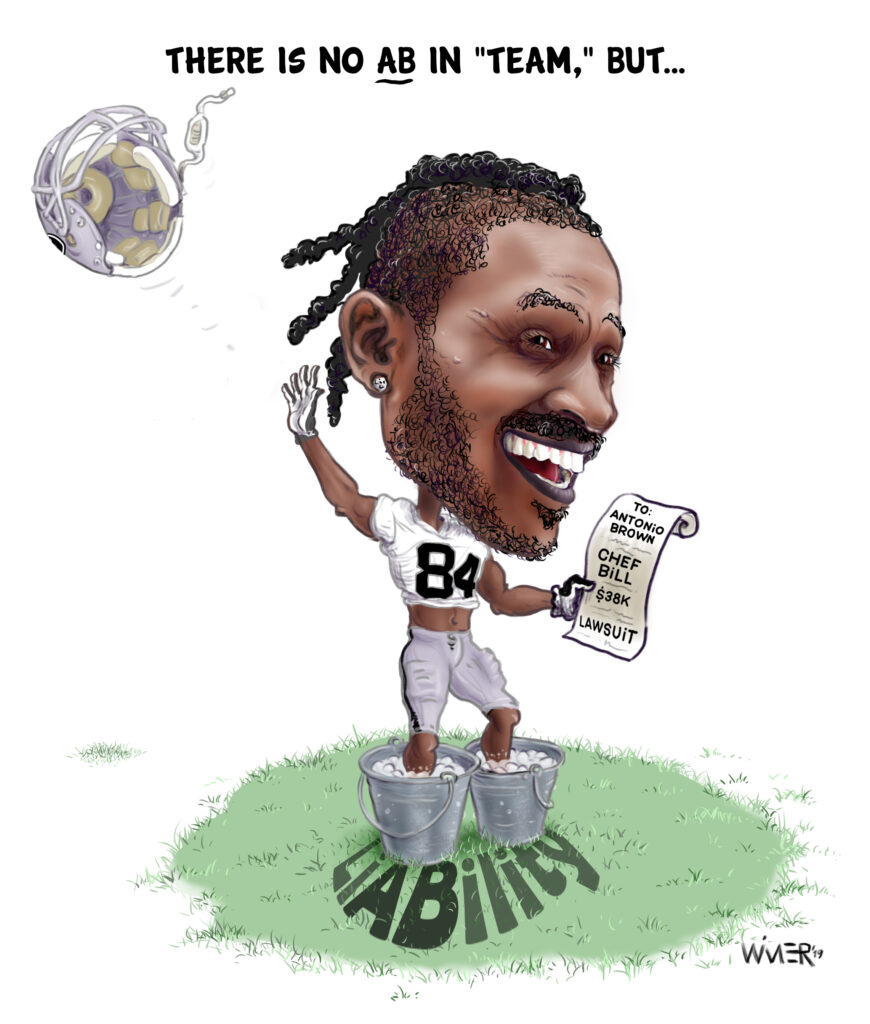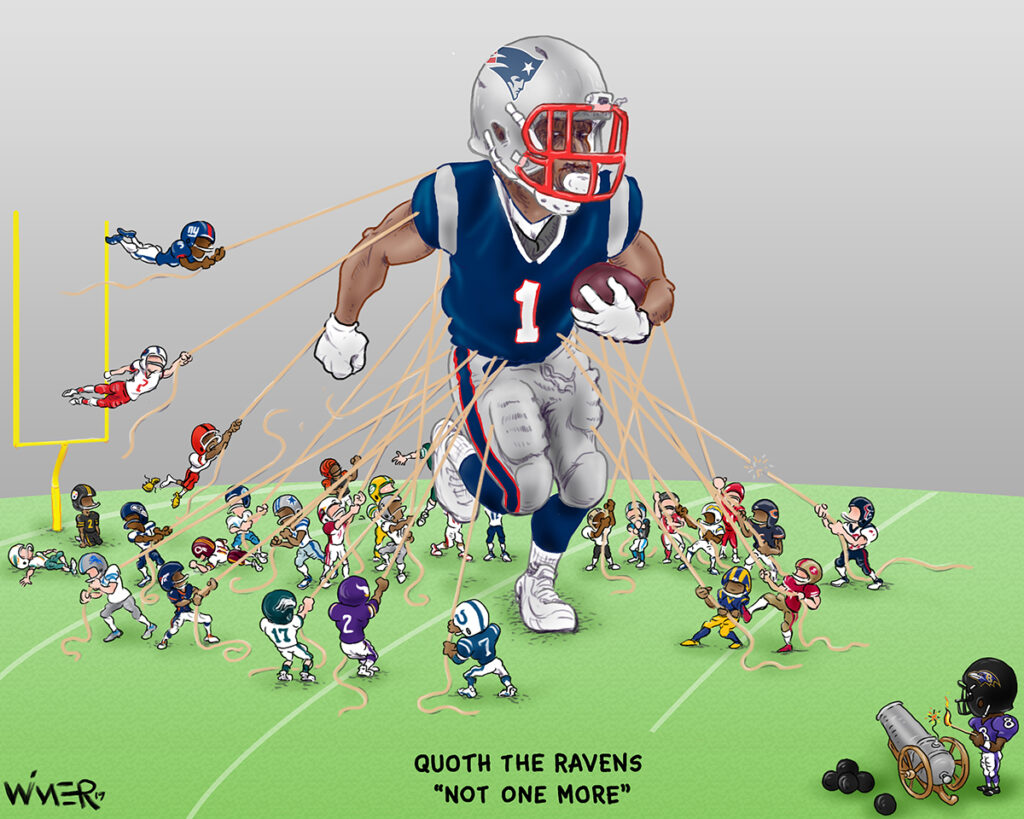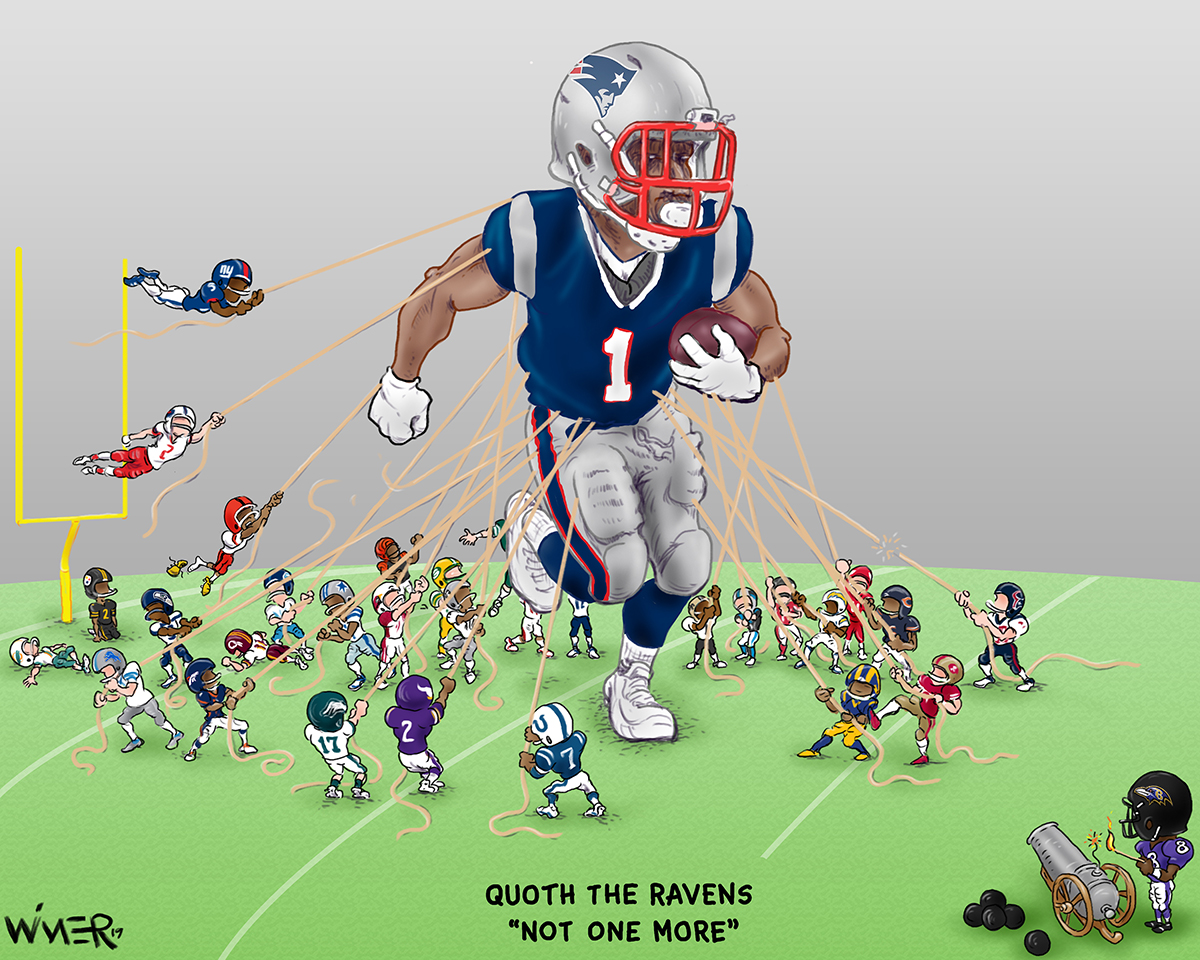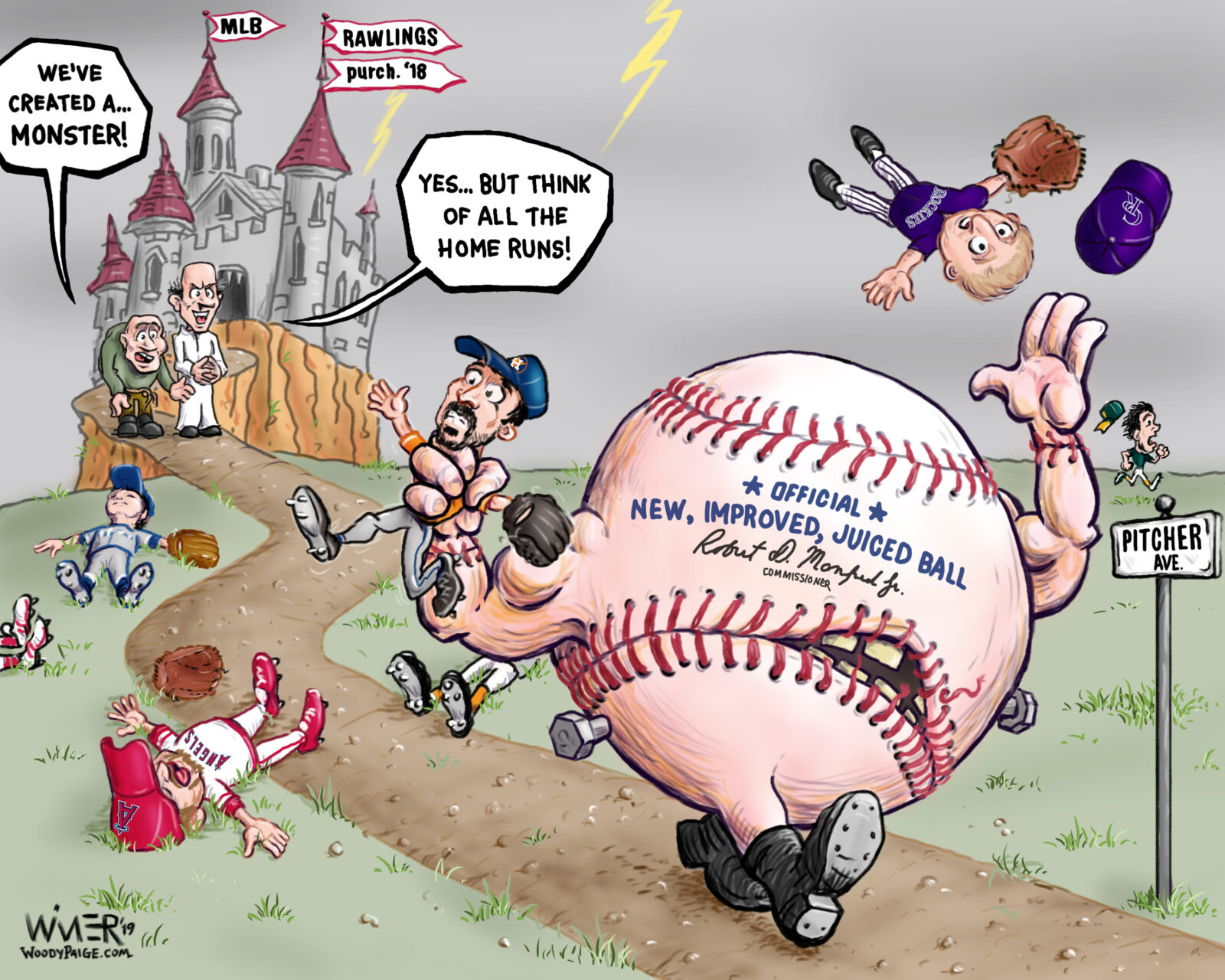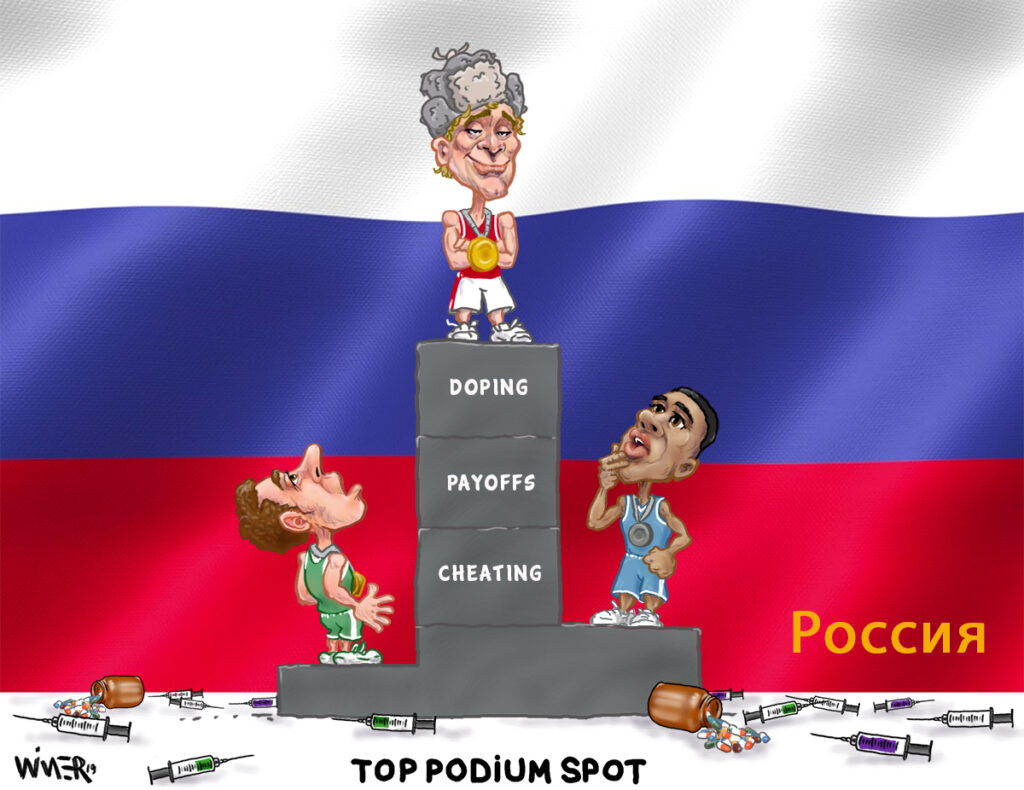 National Sports Commentary (2019)
Woody Paige, a nationally awarded sports writer for many years, continues to deliver his special brand of commentary via television, podcasts and writing. My cartoons, illustrations and comments are featured weekly on WoodyPaige.com alongside Woody's finest and other outstanding content by some of the finest sports writers in the country. I cover a wide range of sports topics, with an honest perspective as an athlete (D-I lacrosse and football, All-America), coach (youth, club and HS), several years living abroad, and family (Grandpa Wimer is in Basketball Hall of Fame). This art represents the sports glories and tribulations of 2019.
Click for 2022 & 23, 2021, 2020 cartoons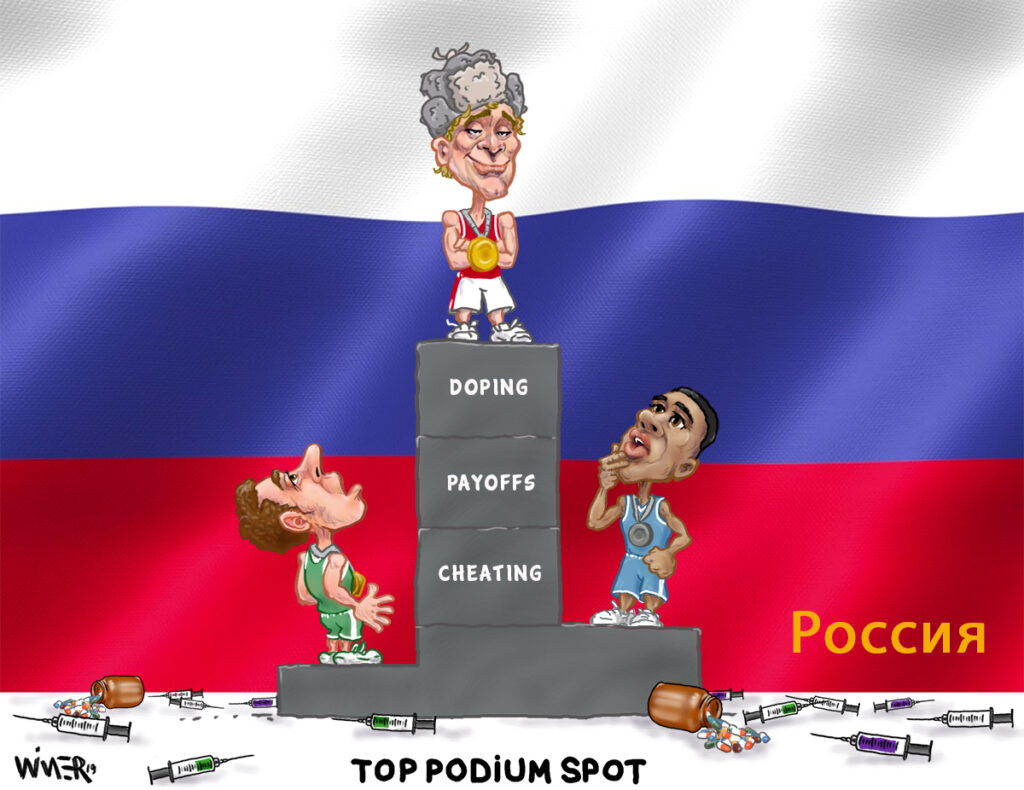 It feels like we've been here before.
This past month, Russia was banned from all major sports competitions for the next four years, following gross violations of doping rules and state-sponsored circumvention of World Anti-Doping Agency (WADA) controls.
"Finally, Russia's many doping and obstruction sins will now get some of the punishment they richly deserve. For far too long, Russia has weaponized doping fraud and state-sponsored criminal activity as a tool of foreign policy," said Dr. Grigory Rodchenkov, who had worked for the Russian anti-doping agency until he (and several others) felt they could no longer support the deception.
By playing by their own rules through the years, Russia has succeeded in stacking their podium opportunities, while continuing to frustrate the rest of the world of competitive international sports.
Of course, there's a long list of bad actors through the years, including American athletes, but rarely has a single country so blatantly sought to gain an edge, and often with only minor repercussions.
Those of us old enough to remember the days of the Soviet Union will recall the steroid and human growth hormone cheating that helped fuel the Russian sports machine (and much of the Soviet bloc countries). Much of the doping was relatively new at the time, and so often difficult to effectively catch and penalize. But it isn't just steroids and human growth hormones that have defined the cheating through the years. In one instance, Russia influence and bribes in the 2002 Olympics led to a Russian gold medal. Once the scandal was uncovered, changes were made to the way judging and scoring occurred for all international skating events. Well documented has been the influence (i.e., bribes and bullying) that Russia has used to land the Olympics and the FIFA World Championships in recent years (despite better candidates in the mix).
The response by Russian authorities to the latest judgment handed down was predictable: total denial. But once again, a mountain of evidence was compiled to bring the case to the international body and make the charges stick. 
The fear from many in the international community is that the Russians will continue to use their influence to avoid penalty or to allow their athletes (many of whom have been in state-directed, performance enhancing drug related programs) to continue to compete on the world stage, and unfairly stack the podium in their favor.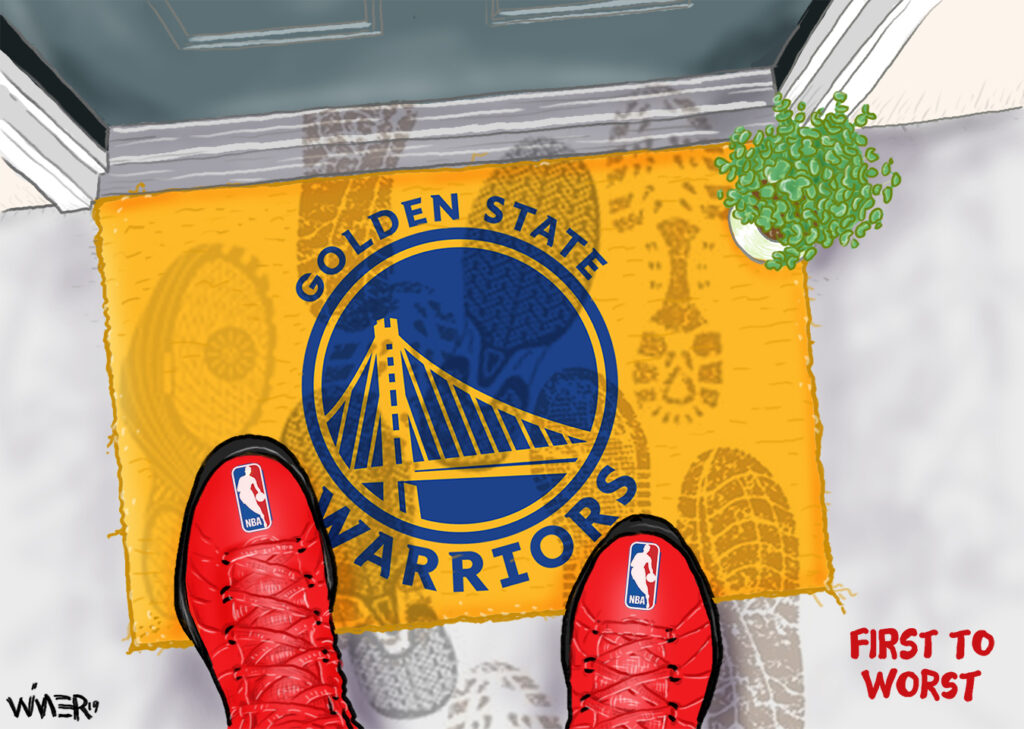 Usually the story goes the other way. A NBA bottom feeder finds its way to the top suddenly via the hiring of the perfect coach or star player. But rarely does the top team in any league become the doormat overnight. I can't recall another collapse as dramatic as the Golden State Warriors' during the past few months.
One moment they own the best record in the league and lose in dramatic fashion in the NBA Finals. The next moment they've lost arguably their best player (Kevin Durant) through free agency and a trade. Their roster has been so decimated by injury that even a standout coach like Steve Kerr can't weave enough miracles to overcome. 
But at least all those Golden State fans who've been spoiled by success in recent years can lounge in luxurious comfort in brand, spanking new seats and soak in their state-of the-art stadium while their team flails on the court.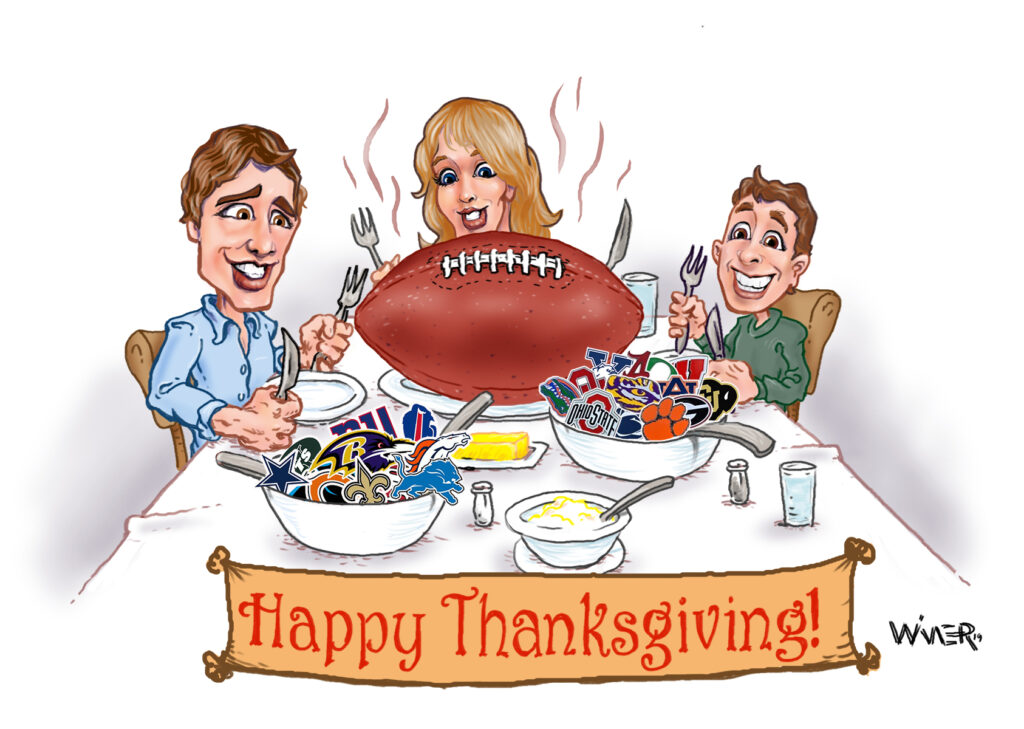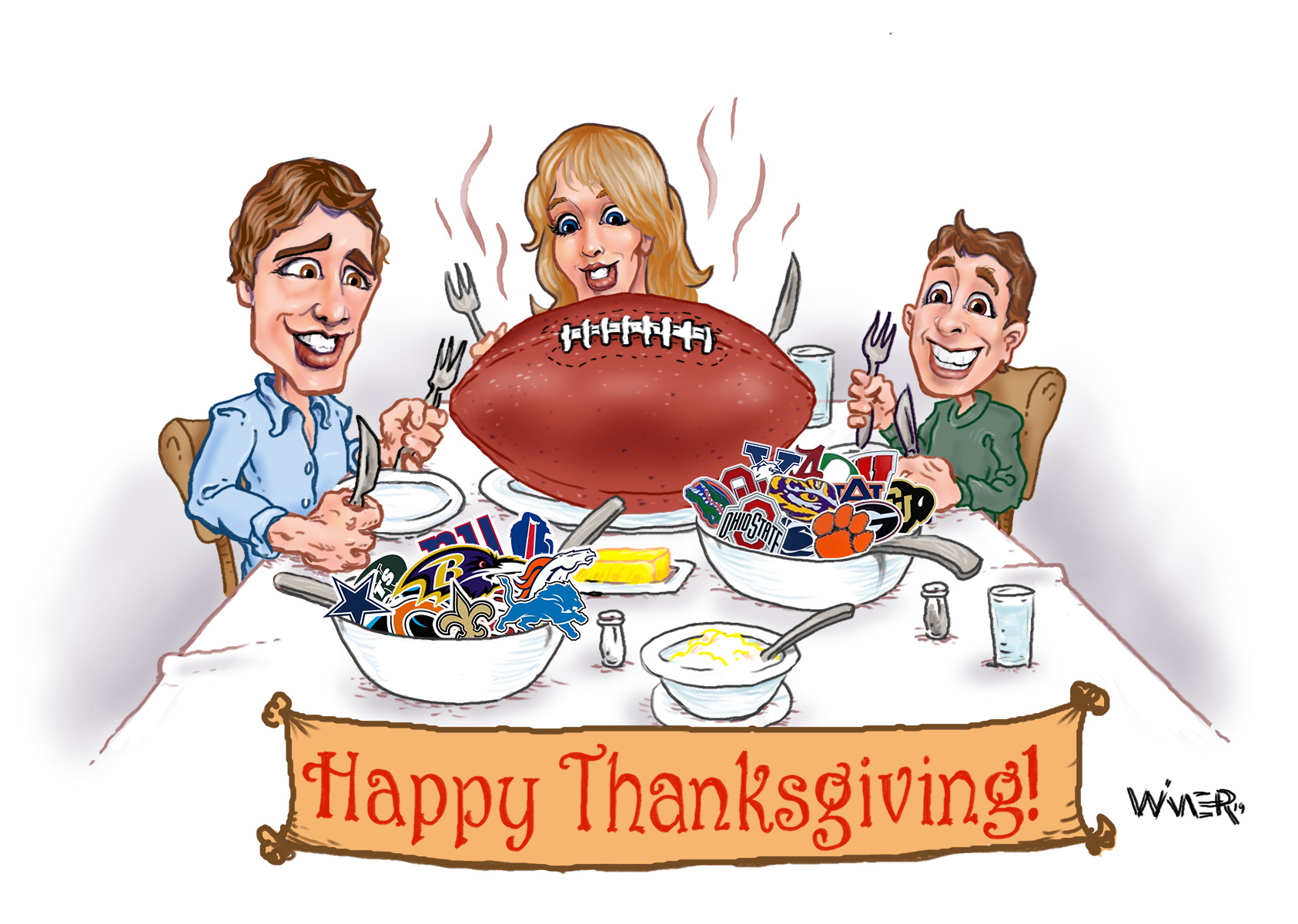 Large quantities of football viewing is consumed by Americans, and at no time more so than around the holidays. Certainly a Thanksgiving tradition as much as any other.
For the day of Thanksgiving itself, pro football is king. And although the hapless Lions are always on the schedule, the addition of a third game has increased the odds of decent football for viewing while digesting copious amounts of food over the course of Thanksgiving Day.
The smorgasbord of football spills into Friday and then Saturday with college football, and typically lots at stake for conference playoff seeding. Additionally, rivalry games can be found all over the dial (can we say that anymore?), so dig deep in the fridge for those outstanding leftovers. Ohio State is looking as unbeatable as anyone at the moment, but there may be no more bitter rivalry as the one they share with Michigan. Anything and everything has been known to happen in these late season matchups. Ohio State has won seven in a row, but Michigan has nothing to lose, the bitter taste of last year's 62-39 beat-down is still fresh in their mouths, and Harbaugh's back is against the wall.

Then go back to the icebox to fill up on more NFL on Sunday. Separation seems to be happening between the stronger teams and a host of pretenders. But now is the time to pay attention as this is the time of year when a team or two wakes up, gets healthy, and makes a surprise run, while other teams falter.
Come Monday, a food/football coma will be in full effect and the transition back into the workflow will not be easy.  But for the most part, it marks a special time of the year for over-indulgence. Happy Thanksgiving to all!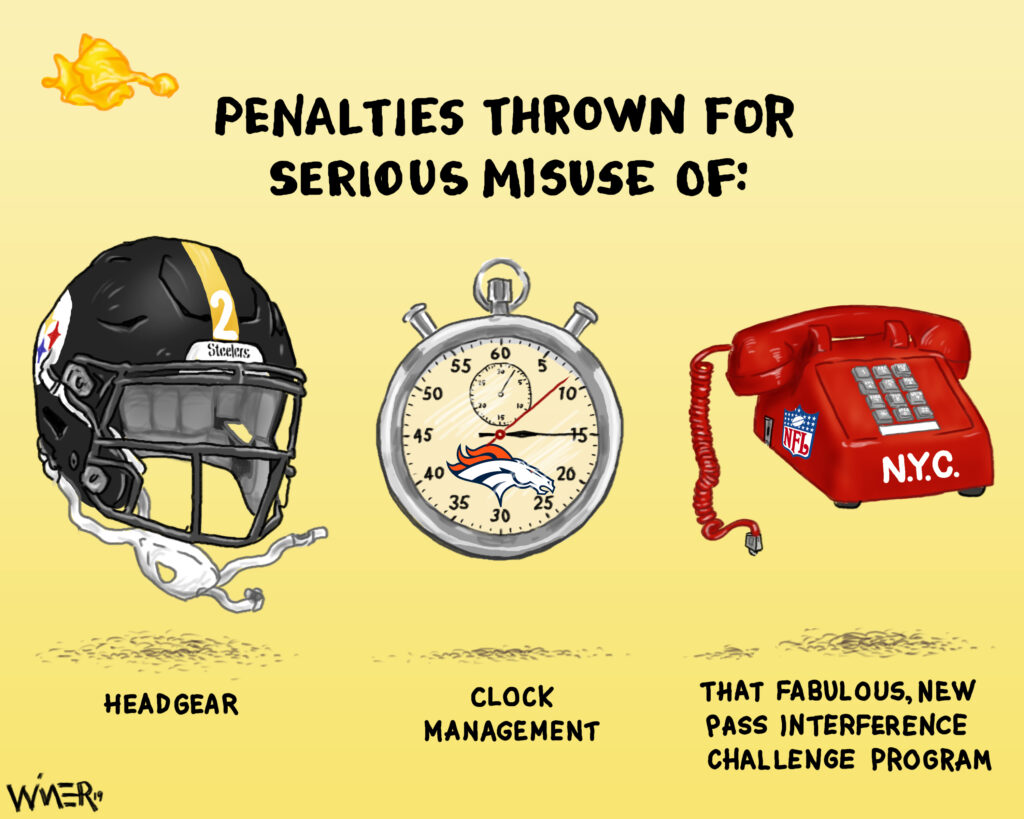 The flags started flying early and often during an ugly Thursday night game between the Pittsburgh Steelers and the Cleveland Browns. With only seconds remaining in a blowout win for the Browns, defensive end Myles Garrett took down quarterback Mason Rudolph after he'd released the ball. Not to rehash a scene that has seen plenty of rehashing, back and forth between the two eventually led to Garrett swinging Rudolph's own helmet down on his unprotected noggin.
A melee with other teammates ensued, and ultimately ejections, fines and suspensions followed. Lots of finger pointing and the airwaves have been full of opinions. A helmet as a weapon is bad for everyone – and frankly amazing that Rudolph came away with no serious damage. Especially mere weeks after he was knocked out cold with a concussion in a game. Garrett is suspended indefinitely, with appeals to come. So the drama will continue to unfold, and he will always be negatively attached to this moment. Meanwhile, the two teams face each other again two weeks post-incident, which should provide an interesting rematch.
The second flag is thrown on clock management by teams at the end of games or halves. It's remarkable how many teams look like they're ill-prepared, or try to be too clever for their own good.
The Chicago Bears are a total mess right now, and they certainly aren't aided by blown opportunities such as the one before the end of the first half, while down 10-0 to the Los Angeles Rams. With plenty of time and the ball near midfield, they looked perfectly content to run the clock down and not make a serious effort to put points on the board. A bad football game was made even worse.
The Denver Broncos, struggling all year to perform consistently in all phases of the game (and losing many close games because of it), put together a near perfect first half against a strong Minnesota Vikings team. But a 20-0 lead wasn't enough to hold off a Vikings comeback (it was the first time in five years that a halftime lead that large was squandered) and a 27-23 loss as the outcome.
But the Broncos had a chance to bail themselves out with good field position on a final drive. Behind surprisingly solid backup quarterback Brandon Allen, they drove to the 4-yard line. With only 10 seconds left, they had three unsuccessful shots at the end-zone before time ran out. Along the way, they dealt with numerous pass interference calls that were not missed/not made by officials, a pass interference challenge that burned a timeout (more about that later), and some gutsy converted fourth down plays.
I don't have as much issue as some about the choice to challenge the pass interference call – it looked pretty obvious real time and in slow motion – and at the time they still were in good shape time-wise. My complaint is that they let plenty of time slip by over the course of the drive, which one can only assume was either poor pre-game prep, or more likely to use up all of the remaining clock. 
It's a league-wide problem: coaches worrying too much about how much time is left for the other team that they don't take care of the most important task: putting points on the board. Unless the game is tied, or a team is winning, scoring any way possible has to be the absolute focus. It is so hard to score in the NFL, that you can't afford to get "too cute" (as my Dad used to say); just take care of business.  When you don't handicap yourself with an additional focus of running the clock down, it can mean you have one more precious play to possibly win a game.
The final flag is thrown on the league with their new rule that allows coaches to challenge pass interference calls.  Meant to address the injustice done to the New Orleans Saints in last year's playoff game versus the Rams, it has been an utter failure.  Since Week 4, only 5% of these challenges have gone the way of the coaches. An overwhelming number of these challenges have seemed to be justified by TV viewers and announcers, but the league seems to be watching a different game…or covering their own butts and the mistakes of the officials. 
Every week is a long list of examples of the failure of this program.  This past weekend, the most glaring was the mugging of Houston Texans All-Pro wide receiver DeAndre Hopkins in a game against the Baltimore Ravens.
Pundits are now recommending that coaches don't even burn a timeout on the effort – the league seems to be making a point that they will never employ this process as it was intended, or unless, as Vic Fangio said, it was "a five-car pileup." But can you blame a coach for watching a player make a full-on tackle of another player before the ball arrives (like in the Arizona Cardinals – San Francisco 49ers game) right in front of his bench, and not feel you have to use a tool that was created for that very purpose? Pretty certain that after many, many more of these embarrassing moments for the league, this rule (and the NYC telephone) will be a distant memory next season.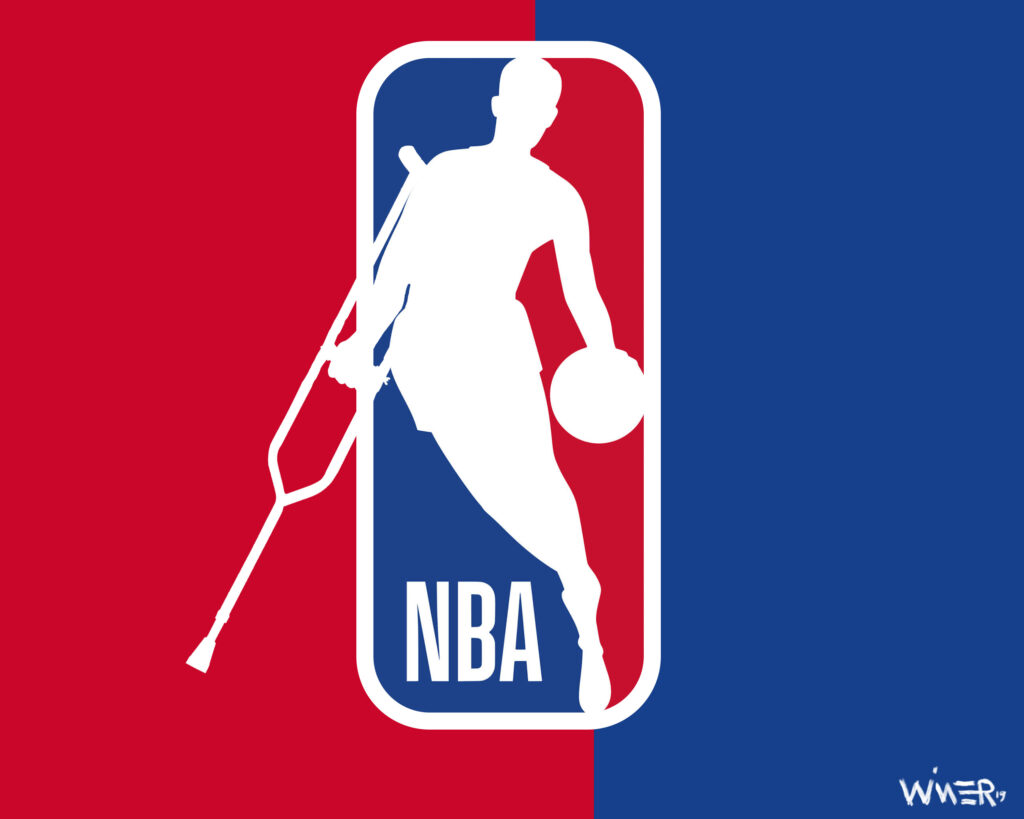 MASH Unit, NBA Style
Before the NBA season even started, some of the top players were already ruled out for the whole year, if not a significant portion.
Celtic Gordon Hayward, after seeming to finally get his groove back this season following a catastrophic leg injury in 2017 and struggles since, broke his hand this past week and is expected out for months. Zion Williamson, the much heralded rookie for the Pelicans had knee surgery before the season even started.

Golden State was hit the hardest, first losing Kevin Durant in the NBA Finals to an Achilles injury (before losing him to the Nets in a sign and trade deal), then Klay Thompson in those same Finals to a torn ACL that may cancel his entire 2019-20 season. This season started with much of the same for the Warriors, with team leader Stephen Curry breaking his hand (gone until February), and Draymond Green (finger), Kevin Looney (hamstring), and five other key players missing significant time with injuries.  They've gone from the top of the league to the very bottom (2-9 at the time of this story) in just a few months. That dynasty came and went quickly.
Here's a rundown of major injuries faced by key players in this young season (not counting smaller, day-to-day injuries):
Victor Oladipo, Indiana, knee

Paul George, LA Clippers, shoulder

Zion Williamson


Blake Griffin, Detroit, hamstring

Kyle Lowry, Toronto, thumb

John Wall, Washington, Achilles


Gerald Green, Houston, foot

Myles Turner, Indiana, ankle

Jusuf Nurkic, Portland, leg

De'Aron Fox, Sacramento, ankle

Justice Winslow, Miami, head


Chandler Parsons, Atlanta, knee

Rajon Rondo, LA Lakers, calf

DeMarcus Cousins, LA Lakers, knee

Serge Ibaka, Toronto, ankle


Lonzo Ball, New Orleans, hip

Andre Roberson, OKC, knee

Zach Collins, Portland, shoulder

Derrick White, San Antonio, thigh


Marvin Bagley, Sacramento, thumb

Dante Exum, Utah, knee

Grayson Allen, Memphis, ankle

Jeremy Lamb, Indiana, ankle


Nicolas Batum, Charlotte, finger

Elfrid Payton, NY, hamstring

Allen Crabbe, Atlanta, knee


Otto Porter, Chicago, foot

John Henson, Cleveland, hamstring


Reggie Jackson, Detroit, back

Bruce Brown, Detroit, knee

Darius Miller, New Orleans, Achilles


Damion Lee, Golden State, hand

Nene Hilario, Houston, groin

Udonis Haslem, Miami, wrist

There's a Dream Team of All-Stars on this list.

Feels like the NBA has become the NFL. Teams with the least injuries will most likely come out on top.

Another way to look at it, which unsung heroes will emerge in a vacuum where the stars are missing?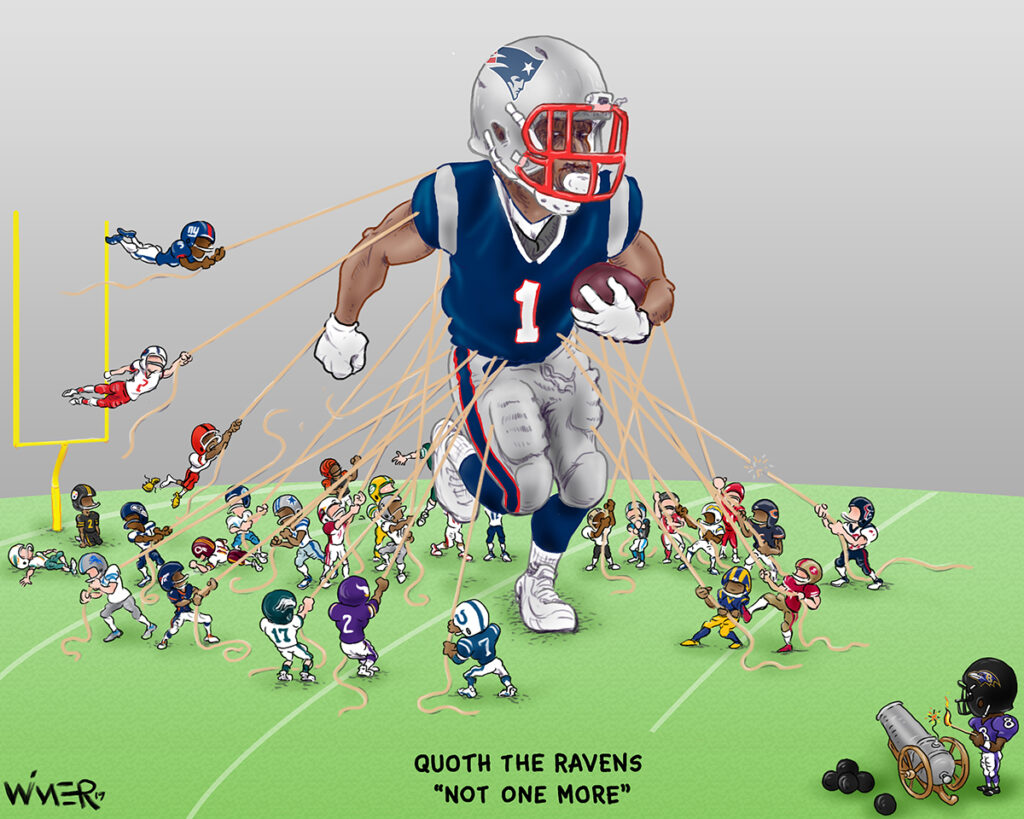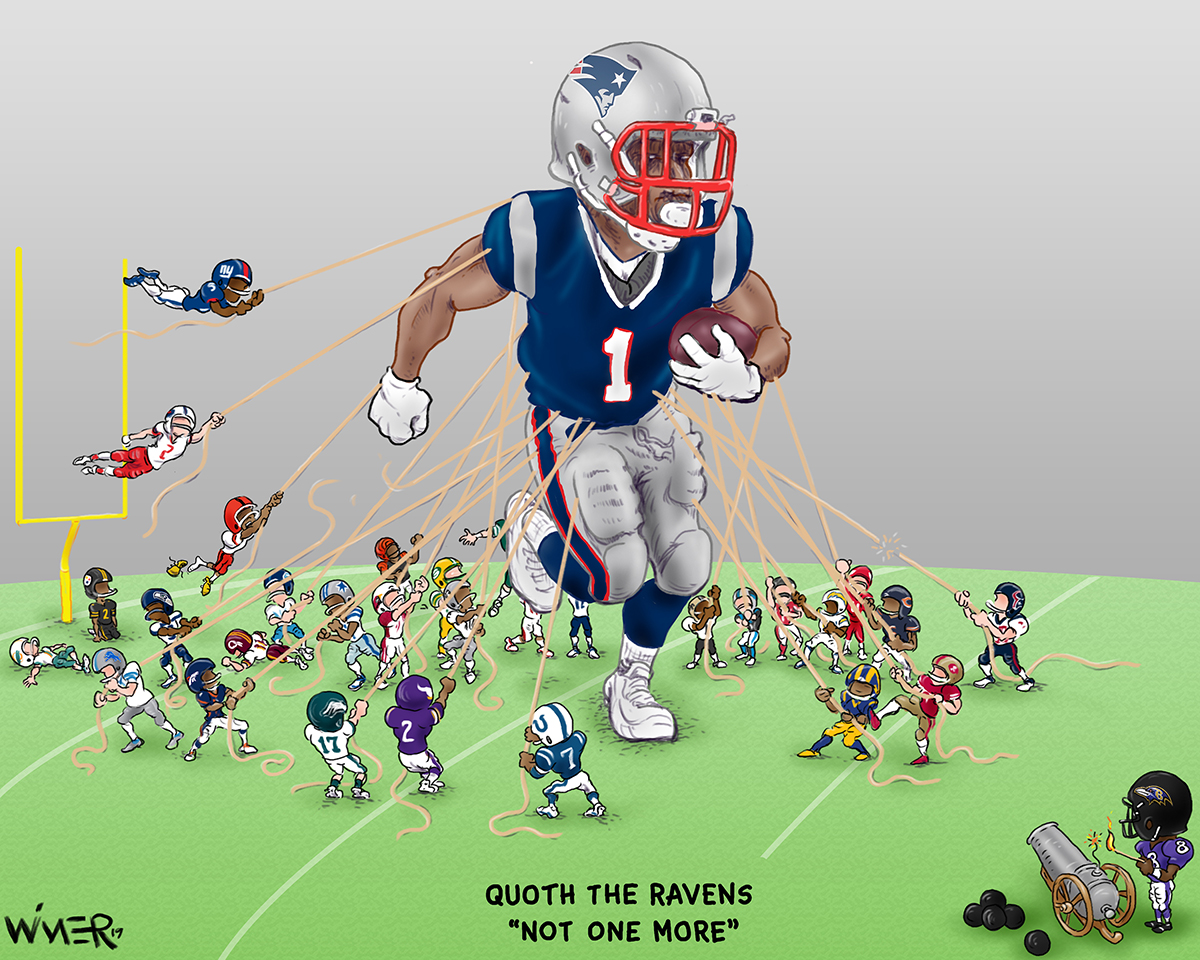 Bringing Down A Giant
For much of the past twenty years, the New England Patriots have been the bully on the block. 2019 was also very much shaping up that way, with blow outs in nearly every game.
Like a Brobdingnagian nightmare in a world of Lilliputians, until Sunday night the Patriots had barreled through the NFL outscoring their opponents by a stunning 250 to 61. Then they met the Baltimore Ravens on a chilly night in the city of Poe, and were knocked down for the first time since December, 2018. Surprisingly, it wasn't even close, as the Ravens exposed the Patriots in a 37-20 butt whipping. The Ravens showed they deserve serious mid-season attention, especially in an inconsistent AFC. Foremost for this shift has been a stellar Lamar Jackson who is making himself a legitimate case for MVP.
Looking back, not many of the early opponents (with the exception of the Bills) have shown much quality this year, so perhaps New England simply hadn't faced much of a challenge, before they met this giant killer. It sets the table for a potentially very interesting rematch come playoff time.
And meanwhile, the rest of the league let out a collective sigh of relief with the recognition of a very mortal New England squad.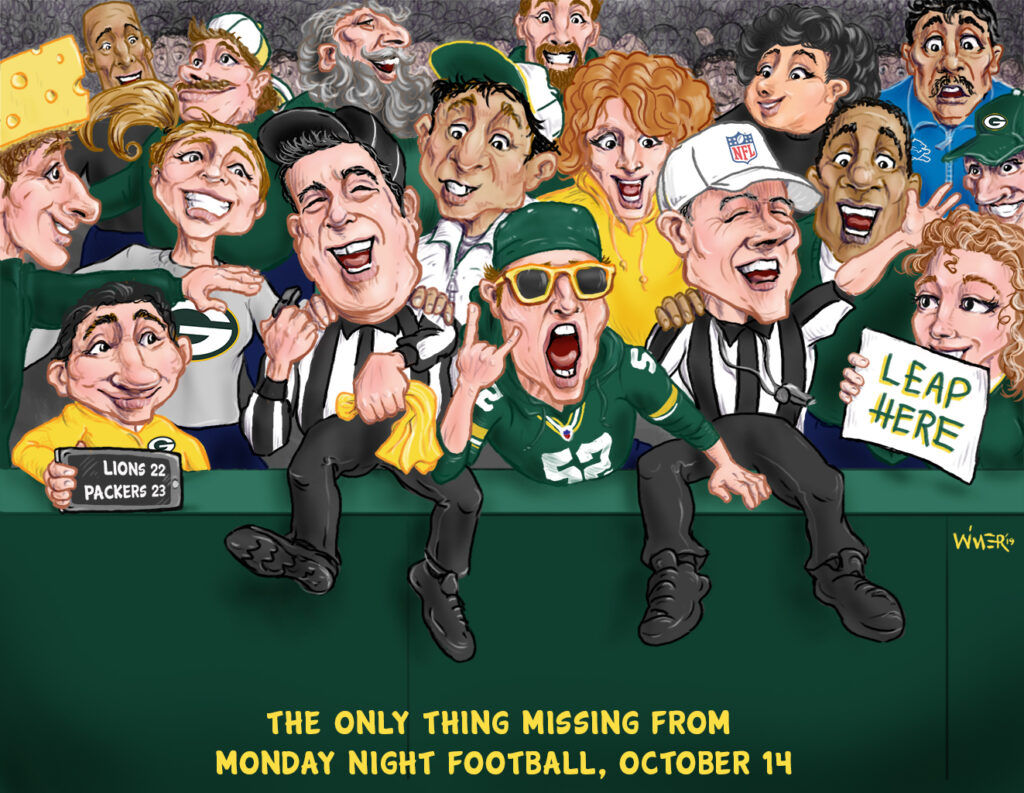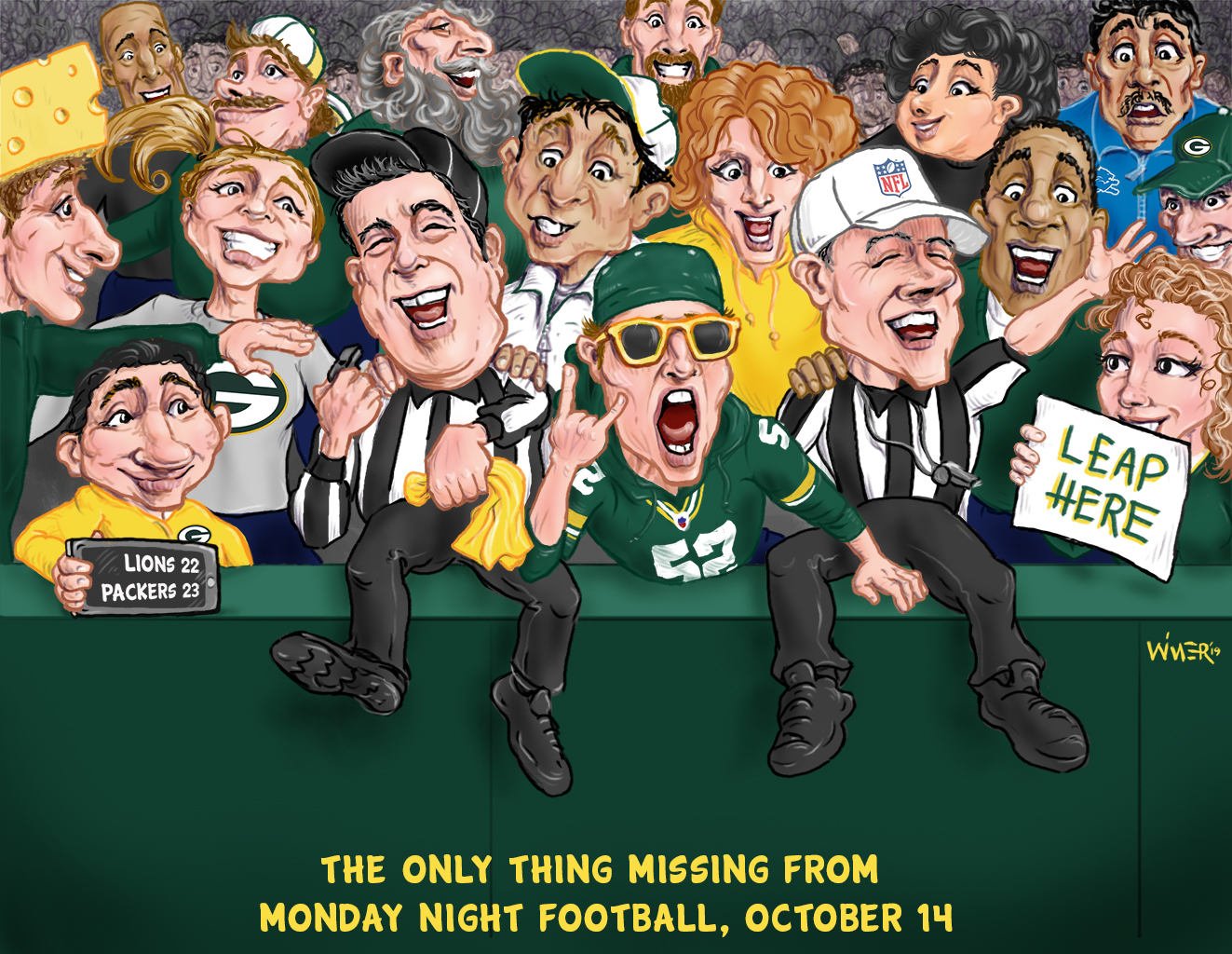 NFL refs are under more scrutiny than ever before. And rightfully so.
On October 14, in front of a national audience on Monday Night Football, the Green Bay Packers squeaked out a 23-22 win over the Detroit Lions, increasing their lead in the NFC North, while deflating the prospects of their Motor City rival.
As players and coaches for the Lions would point out, they had plenty of opportunities to win the game outright. But clearly the referees had a major hand in the outcome, botching a pass interference call and the resulting challenge (Exhibit 1 calling into question whether or not the new rule is working as intended), and missing or making a number of other head-scratching calls throughout the game.
But it was two "hands-to-the-face" penalties against Lions Trey Flowers that kept drives alive and cemented the win for the Packers. Replay showed that these should have been non-calls, and perhaps the product of Academy Award winning acting by Green Bay left tackle David Bakhtiari.
The fact that Flowers had never been flagged for this infraction prior in his career doesn't help the optics.
Refreshingly, ESPN analyst Anthony "Booger" McFarland (impressive so far for his natural,  insightful and candid delivery this season) didn't hold back on this assessment.
"That is a terrible call,'' said McFarland after the second Flowers penalty. "Let's make sure we let America know that. That's twice. The first time it cost [the Lions] a sack. This time it cost them the game.''
I'm pretty certain that NFL Commissioner Roger Goodell didn't like hearing that on TV.
Make no mistake about it: these blown calls will likely have implications on the NFC Playoffs when January rolls around.
Every new week of the season ref-related issues influence games in key ways. Early on it was an emphasis on "lobster blocks" that led to a huge bump in holding calls. It doesn't seem we are any closer to getting the interference challenge rule change right. Unclear if what is needed is better refs, better reffing (additional training?), or better rules. 
But it is clear that we are heading for another end of the season when teams will be crossing their fingers that the guys in the stripes don't determine if they make the playoffs or get bounced (see New Orleans last year) with a lousy call or non-call. 
It would be great to have far fewer moments where the only observation to be made (thank you, Booger) goes something like this: "the Lions are going to feel like they played better than the Packers tonight and the officials took this one away."
Lambeau Leaps should be reserved for players only.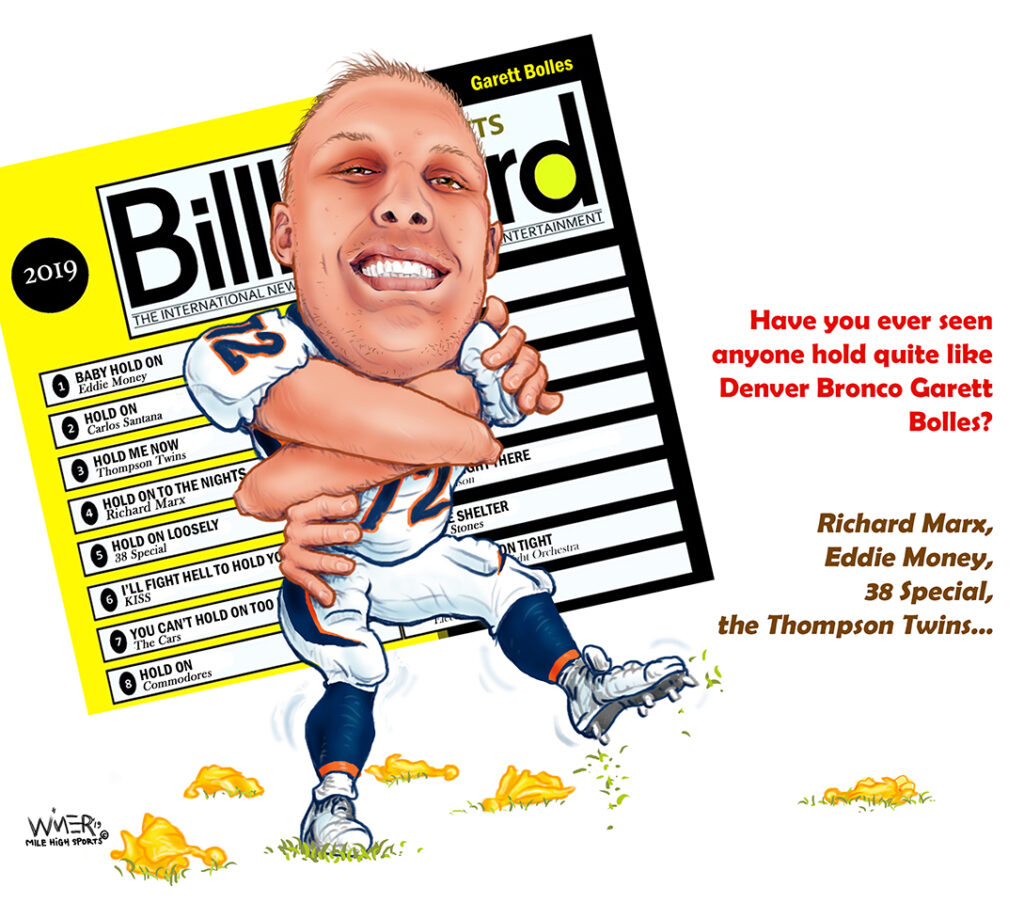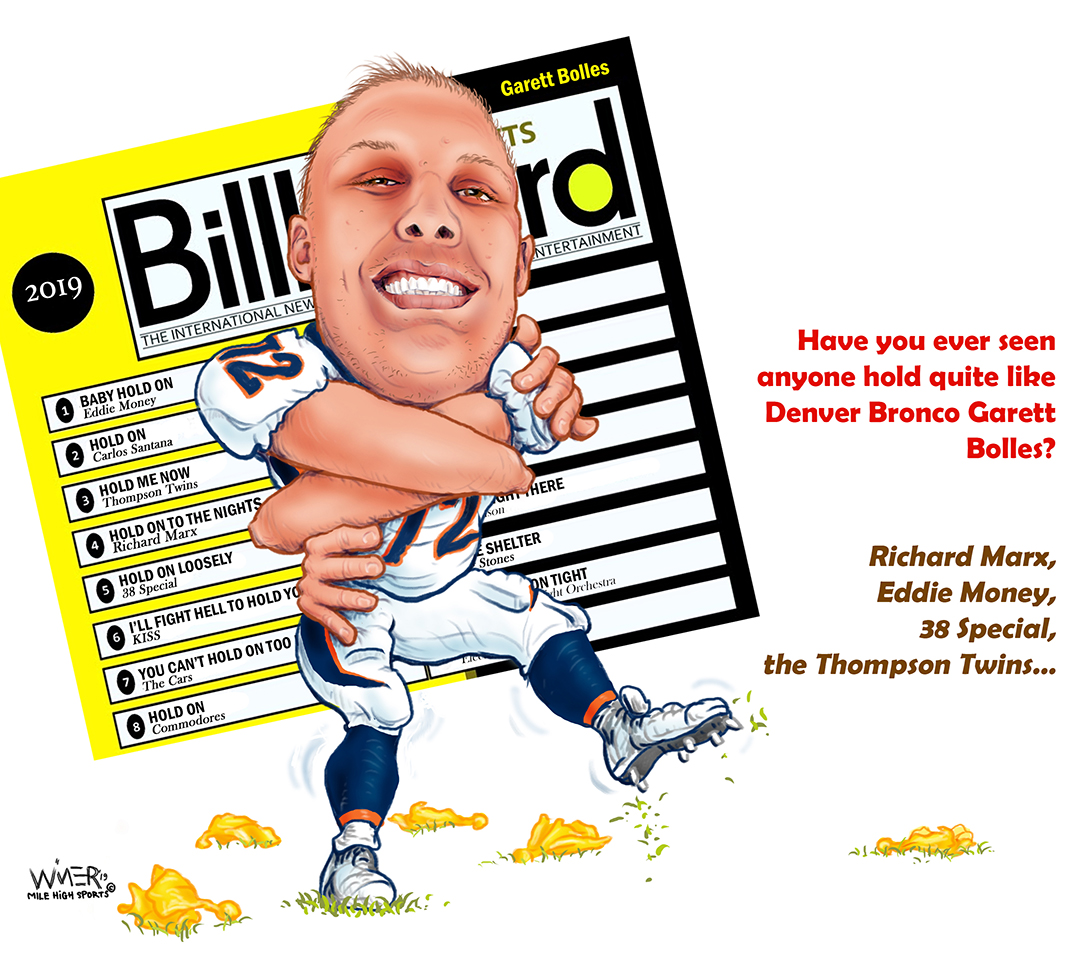 A former first-round draft pick, Denver Broncos left tackle Garett Bolles has been a major disappointment in his 2+ years in the NFL. He had a hideous start to the 2019 season, highlighted by a game featuring four holding penalties in Week 2. 
As bad as it was, it could have been even worse – up to six holds to be exact. One was declined, and another was falsely applied to an unfortunate teammate of his. 
After A LOT of local and national criticism, he cleaned up his act and was playing much better, even rating as the fourth best OT in the league one week. 
But the 'old Bolles' reared its ugly head again on the national stage on Thursday against the Kansas City Chiefs. 
On top of contributing three holding penalties in a blowout loss, Bolles was also responsible for a healthy share of the blame for nine sacks on the night. 
There was also plenty of guilt to be shared by his fellow linemen, tight ends, running backs and quarterback Joe Flacco for an embarrassment of sacks, hurries, and knockdowns — especially since they came against a struggling Kansas City defense (the Chiefs accounted for 45% of their 2019 sacks in one game against the Broncos). 
It was a major missed opportunity for the Broncos as they could have easily pulled back into the AFC West race with a win. A home game, reigning NFL MVP Patrick Mahomes going down with a knee injury, and a major momentum shift all provided Denver with the perfect chance to take charge of their own destiny. 
Instead, fans got to see an embarrassing performance in all phases of the game.
Here's to Bolles figuring it out – I'm always the biggest fan of redemption stories. But with Mike Munchak (one of the best in the business) hired to fix things on the line, yet seeing the same results, it's hard to imagine the experiment lasting much longer. 
In the meantime, there is no one else for the Broncos to turn to, with right tackle Ja'Wuan James still out, and no starting-caliber offensive tackles sitting at home waiting for a midseason phone call.
So, big boy, please keep your hands to yourself, and find a way to shut down your personal "hold party," which may soon transition into a "going away party."
This cartoon originally appeared in Mile High Sports Magazine.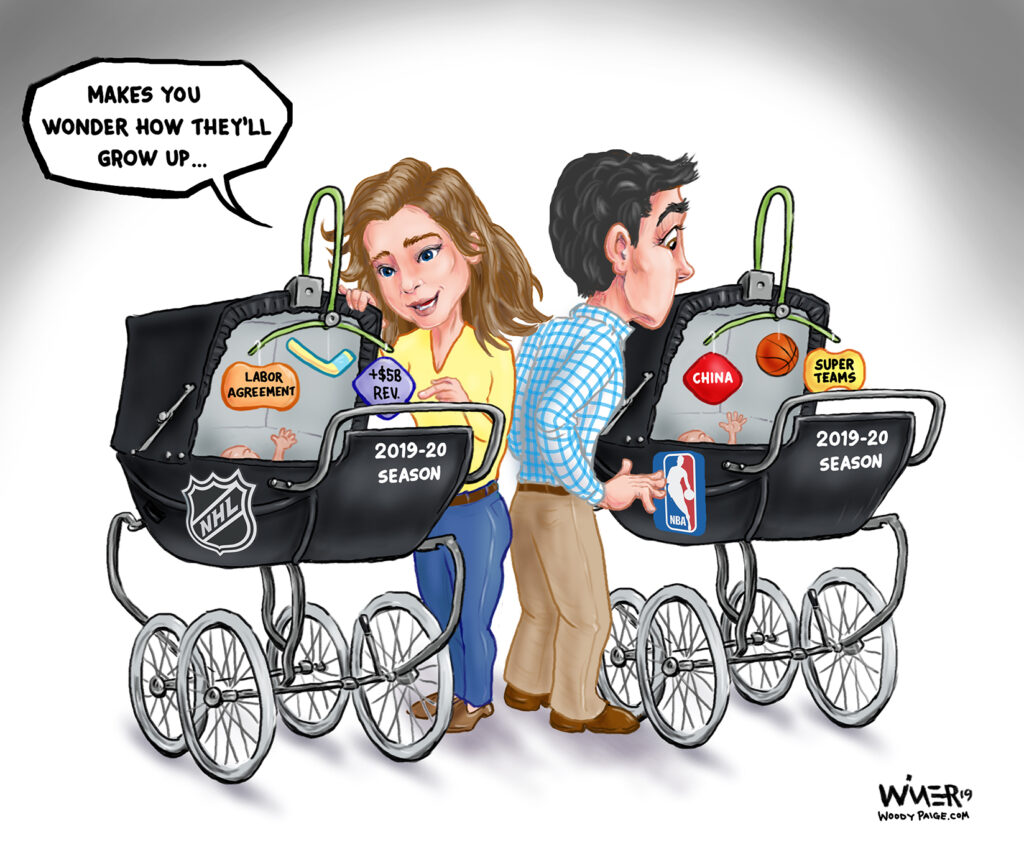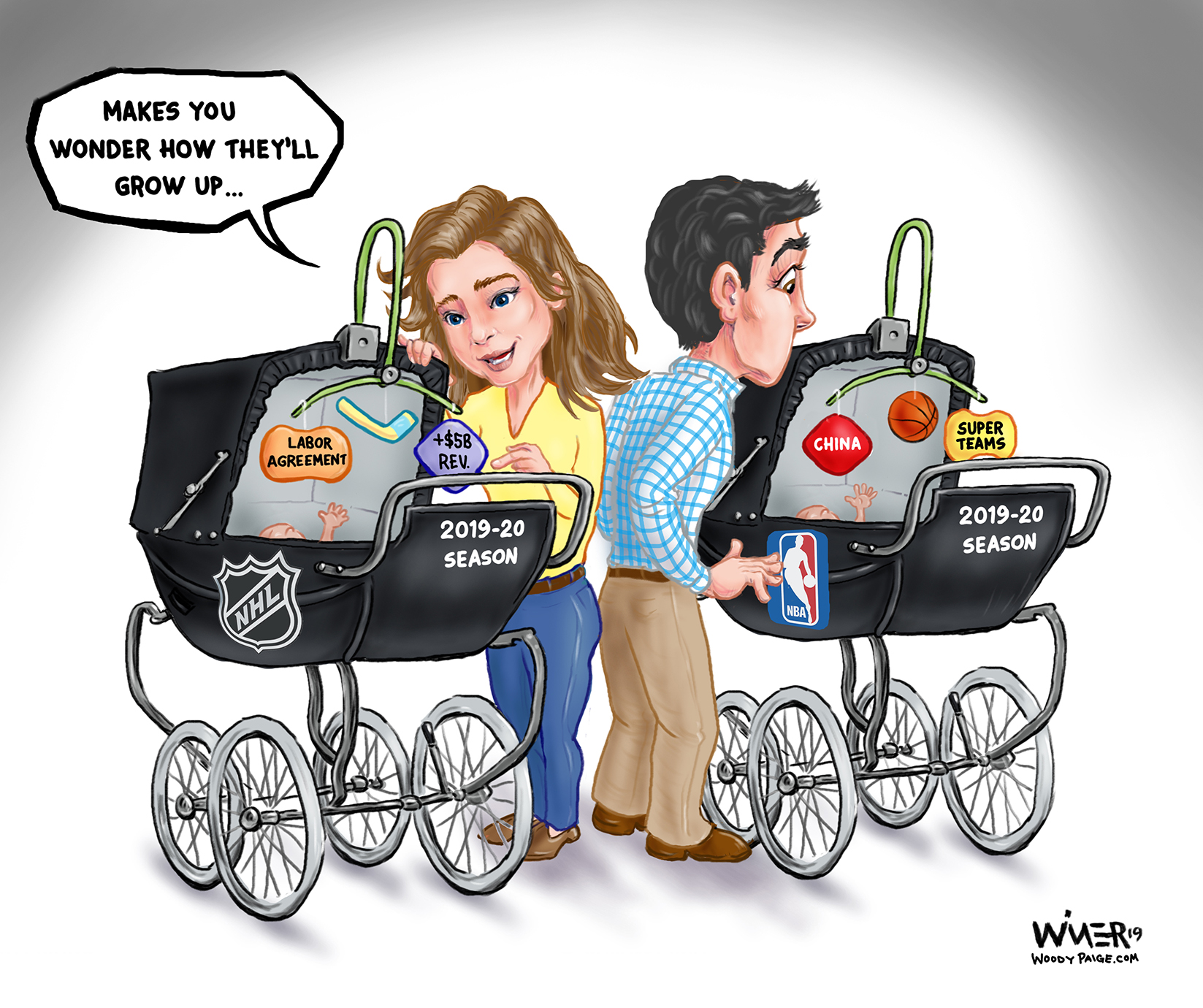 The NHL has kicked off its 2019-20 season, and the NBA is just around the corner.
These discrete chunks of time generally start off so cute and innocent, but by season's end you don't know what you'll get.
The NHL is coming off a historic postseason where multiple series went the distance, and heavy favorites were knocked out early. The St. Louis Blues took home their very first Stanley Cup in their 51 year existence. Revenue topped $5 billion, and the game saw higher scoring with more action than ever before. A potential snag to the beginning of the season was avoided when the NHL Players Union opted to stay with the present Collective Bargaining Agreement for the next three seasons.
The NBA on the other hand…
Last season ended with a rash of injuries to star players that not only affected the outcome of the playoffs, but shelved some of those key individuals for most if not all this coming season.
The offseason saw serious roster movement as Anthony Davis joined LeBron James in L.A.; Kyrie Irving was joined by Kevin Durant in signing with the Brooklyn Nets; Al Horford landed in Philly with the Sixers; and Russell Westbrook was shipped to a loaded Houston Rockets team.
But in the end, Kawhi Leonard and Paul George arguably created the most noise with their concerted effort to make the Los Angeles Clippers the team to beat this year.
The creation of "super teams" creates some excitement for sure, but there is a good chance there will be some serious hollowing out of the middle of the standings as the rest of the NBA suffers from a vacuum of star talent. So expect some lousy basketball along the way with a league that has never been so top heavy.
Add to this the headache of the NBA's sudden conflict with the Republic of China. An enormous, strategic partner for the NBA and their growth of the brand for broadcasting and merchandising, they don't take kindly to political commentary.
Houston Rockets GM Daryl Morey created a firestorm with a tweet about Hong Kong, and the fallout has been considerable with no real end in sight.
Through the years, I've seen some not-so-attractive infants grow into gorgeous swans, so who knows what the course of these seasons may bring…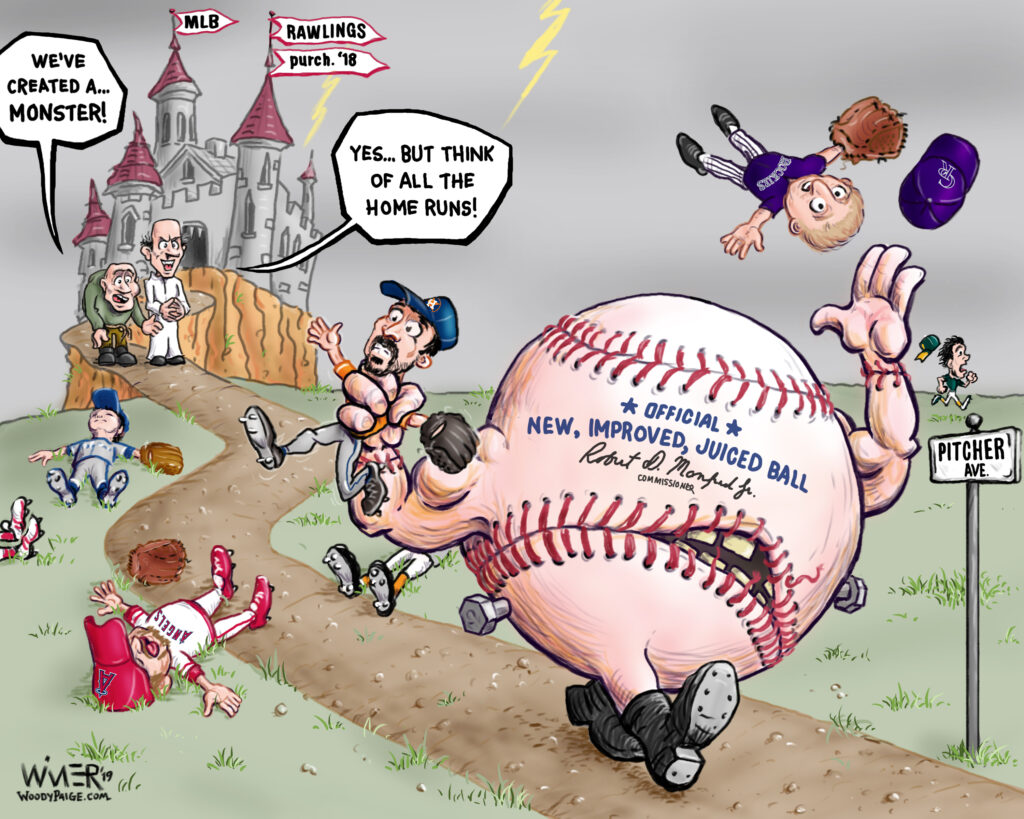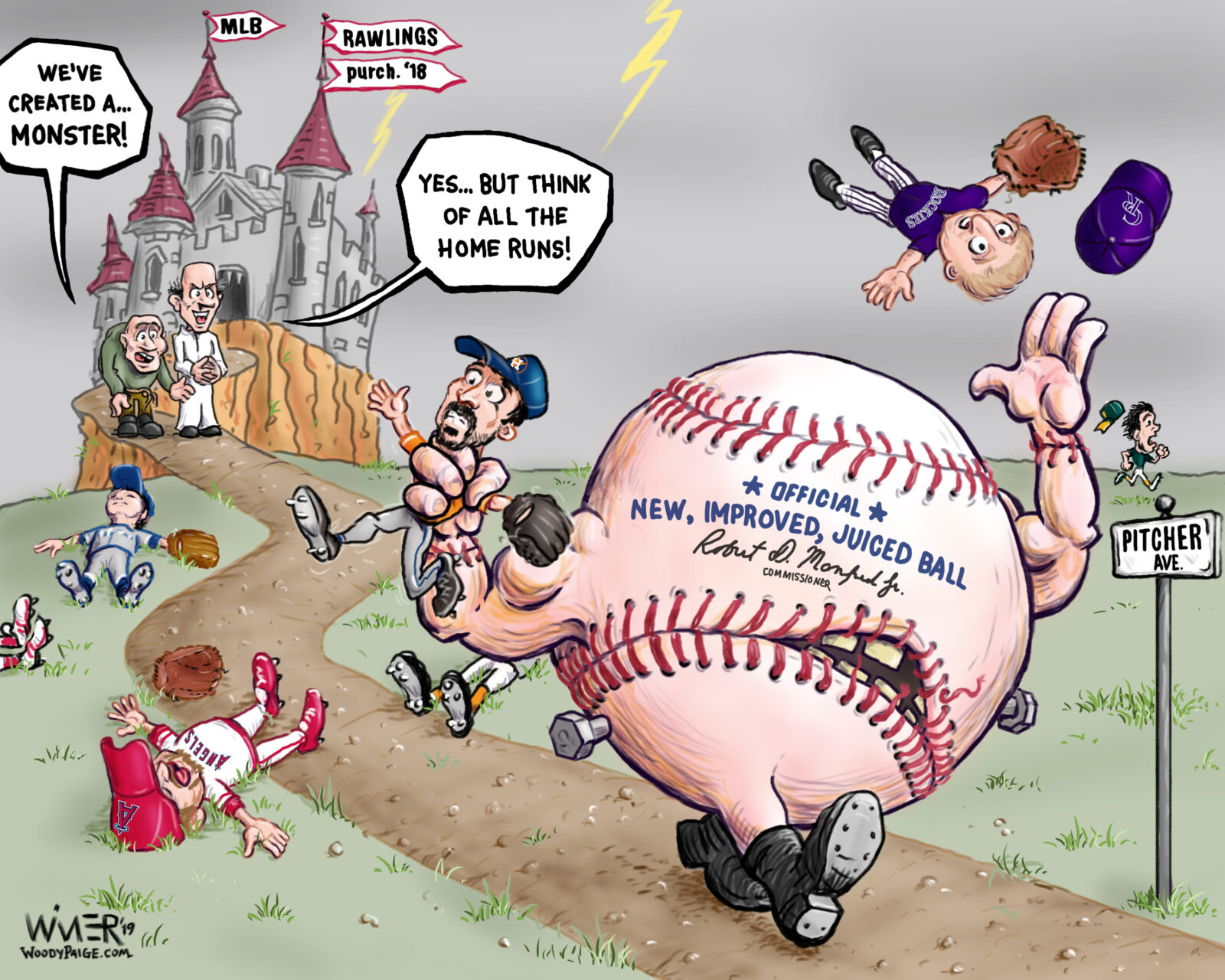 Two interesting events in Major League Baseball happened over the past couple of years. 
First, in June of 2018, the MLB made a $395 million purchase of the venerable Rawlings Company, their longtime supplier of baseballs (as well as helmets, gloves, and bats). Then, over the course of the 2019 season, home run records began falling left and right, at a rate no one could have ever predicted.
Buying Rawlings made sense in a number of ways for the second most valuable sports league in the world. Already striving to deliver a more consistent product and exerting greater control wherever possible, why not own the only standardized piece of equipment shared by every player in the league? Sure, the league had a hand-in-glove relationship with Rawlings for decades to ensure balls met specific standards with a degree of variation (see: mud application and the humidor at Coors Field in Denver). But what if it could exert even more control?
Well, it didn't take long. Although the trend already seemed headed in that direction at the time of the purchase, 2019 has blown by all previous years for home runs. At the time of this post, 6,735 home runs had been hit, 630 more than the previous record. 54 players have hit for 30 or more home runs this season, compared to only 27 in 2018. As can be expected, the baseball traditionalists are in a tizzy, as records have been falling on a daily basis.
If you consider MLB's obsessive focus on retaining fans (recent declines in both stadium and television attendance), it's hard to blame the league for looking for ways to score more runs. Holding onto the average fan or bringing in new ones is never easy with 2-1 pitching battles that deliver few big moments for casual observers. But what if was possible to light up the scoreboard without resorting to widening the strike zone, or shortening the field? And what easier way to score runs than the crowd-roar-inducing-dinger? What if you could do it by actually making the ball better?
Seems that the core or "pill" of a baseball could be centered more precisely with greater manufacturing oversight, which in turn would mean a truer flight in air with less drag, and thus travel farther after being hit. Pitchers also claim the newer balls have seams that are tighter than before, which means even less drag as well as pitcher control, and thus batters the advantage. Studies have been done, baseball officials have mostly denied "juicing," but something clearly has happened.
As in much of life, to gain one thing something else has to be sacrificed.  The Faustian bargain here is the negative impact to arguably the most important player for every MLB club, the pitcher. Nearly all pitchers have seen their ERAs inflate in this new, "juiced ball" era, but an unusual number of reliable pitchers have stumbled hard. Cody Allen was a World Series closer only a few years ago, signed a beginning of the season contract with the Angels, and was gone by June after giving up 3.5 home runs per nine innings (compared to his 1.1 career average).  Kyle Freeland of the Colorado Rockies had a breakout season in 2018 and was a model of consistency. This year the wheels fell off with a 6.98 ERA and 25 home runs served up.  MVP, Cy Young, and World Series winner Justin Verlander who has given up 36 homers in '19 had something choice to say about it: "it's a f–king joke." 
Check your local team and there is a good chance of an unexpected pitcher meltdown related to this. The underlying point is that many pitchers who have built their livelihood around a certain kind of ball haven't fared well with the league's tweaks. 
The league claims they are looking into it. In case you were wondering — have all these home runs have helped the game? MLB attendance in '19 is down by 1.6%.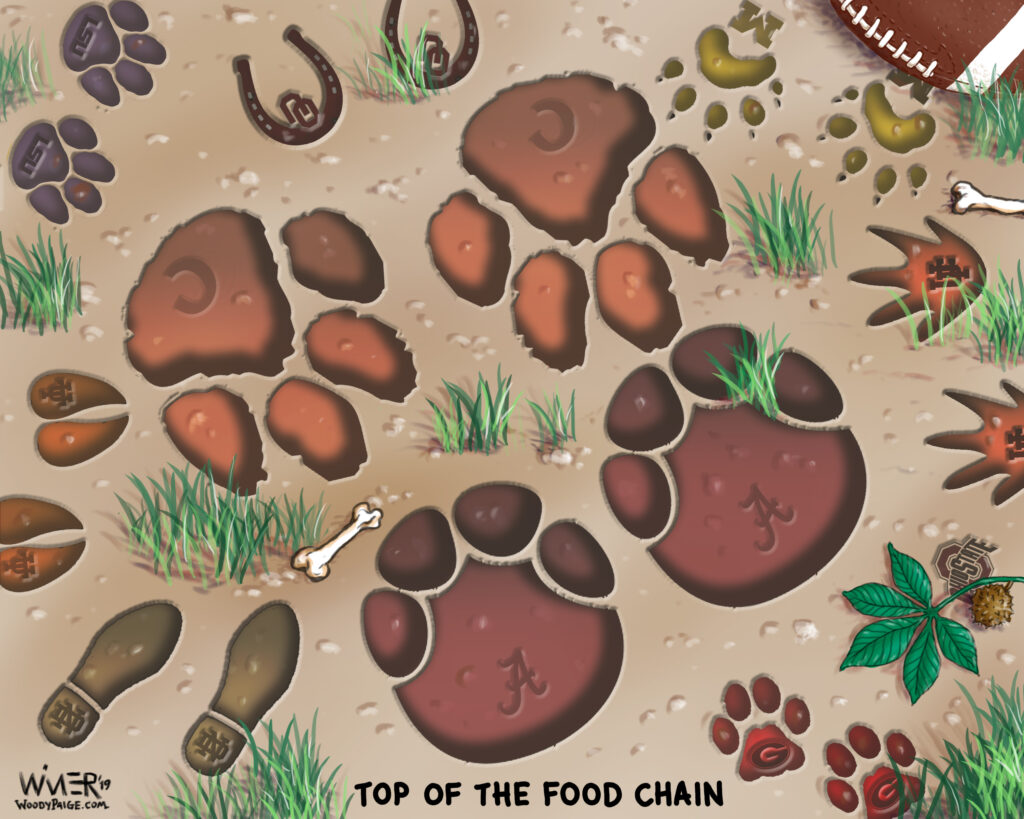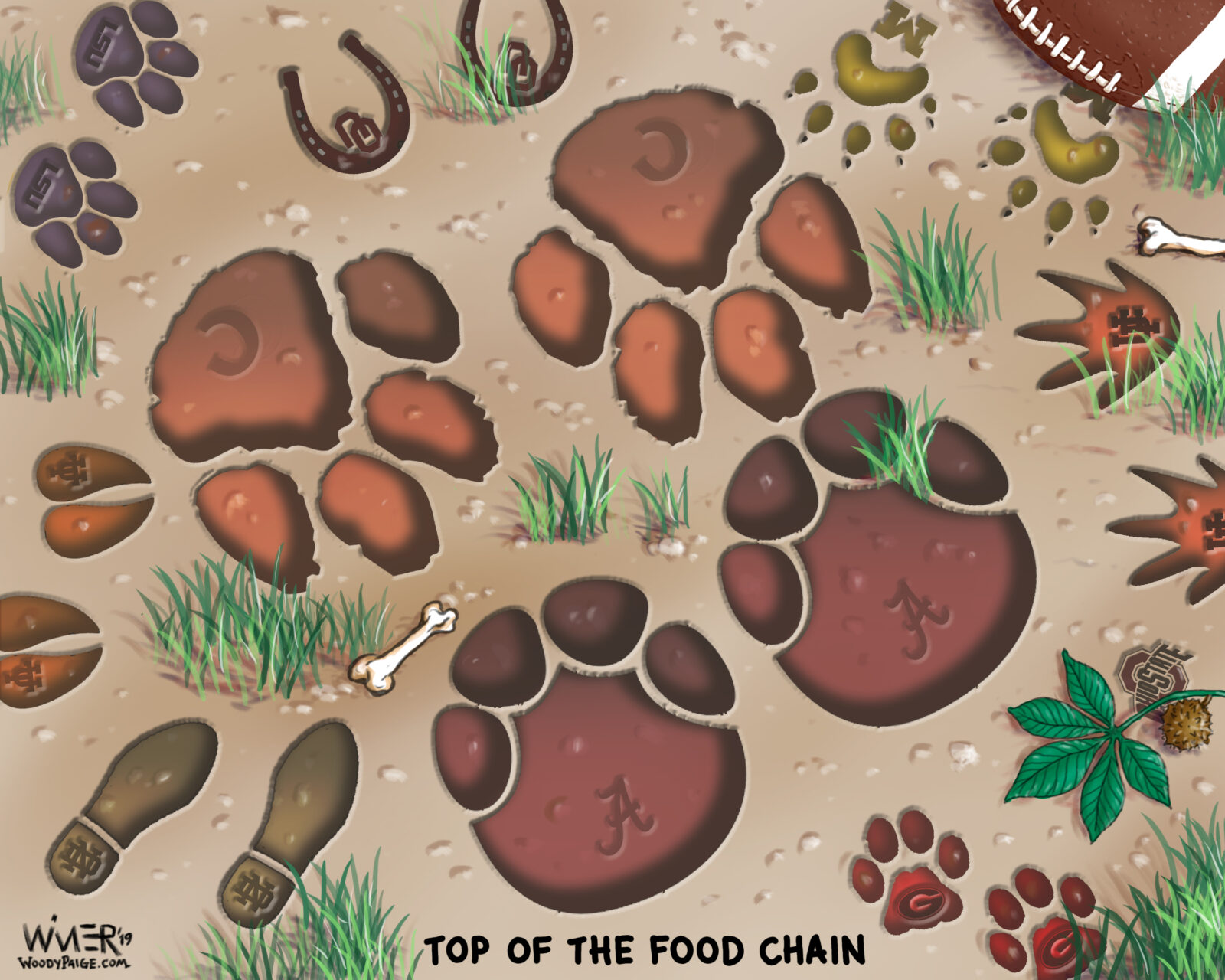 For the last five years, the college football landscape has essentially consisted of Alabama and Clemson, then everybody else. Sure, Ohio State won the inaugural College Football Playoff national championship back in 2014, and Georgia came up just short against the Crimson Tide in the 2017 CFP title game. But the simple fact of the matter is Clemson and Alabama have met in three of the last four national championship games. And after three weeks, it's starting to look like the Crimson Tide and Tigers are destined to meet again this coming January on the sport's biggest stage with all the 'chips' on the line.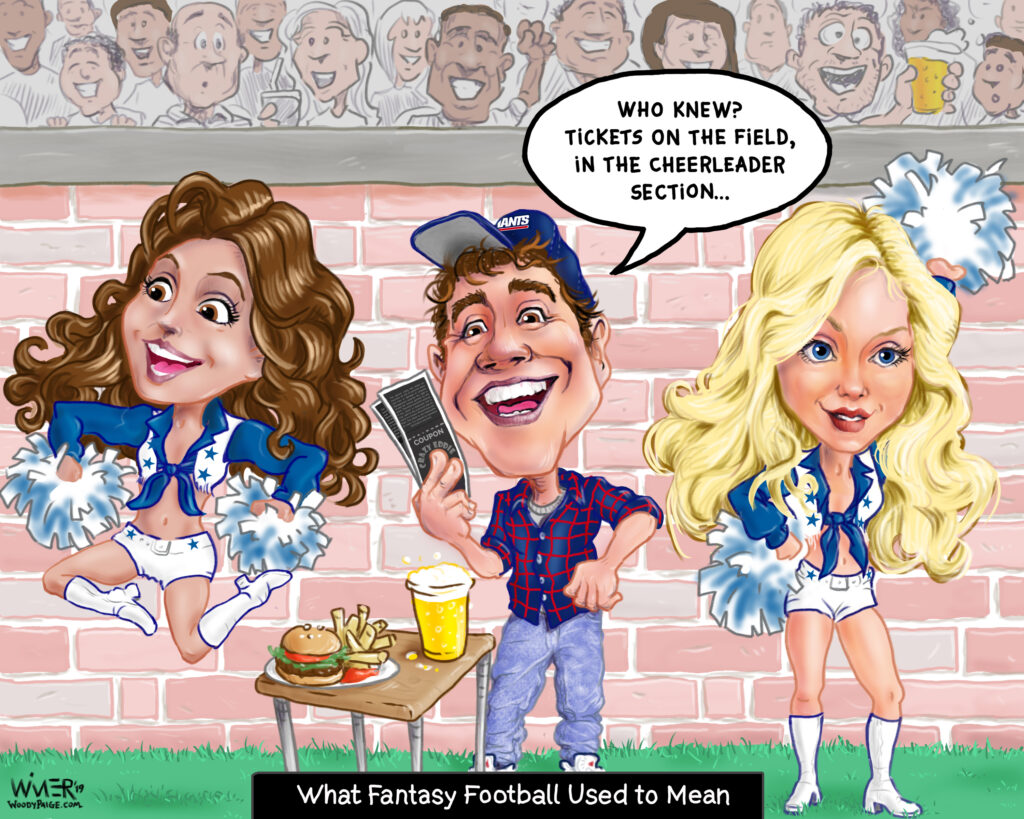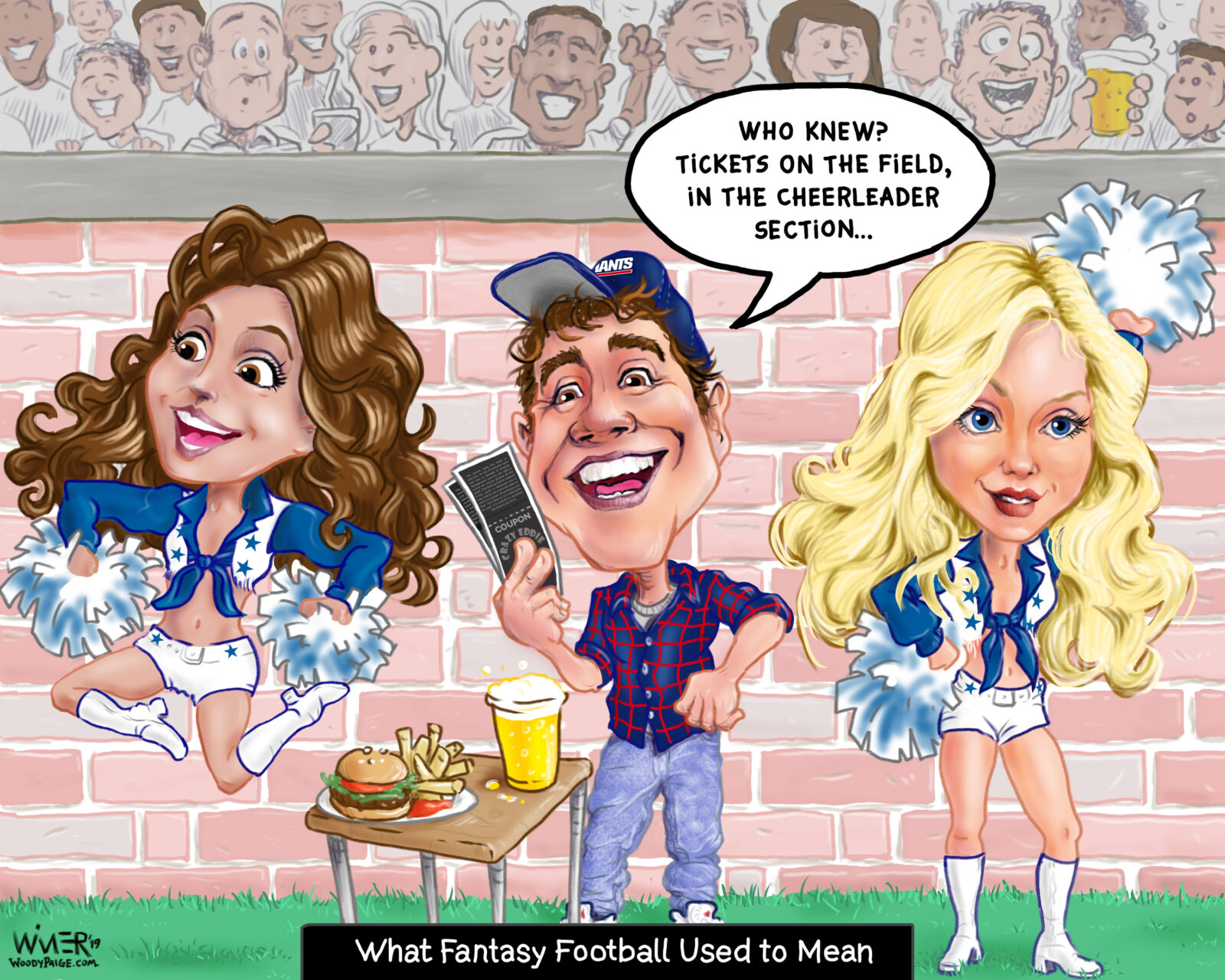 At this moment, something like 70-80 million people in the United States and Canada are deeply invested in their Fantasy Football leagues. But if you were to bring up that term at 25-30 years ago, you would have been given a blank stare, or maybe something entirely different…
Then again, it would have also been considered fantasy back then that the NFL's leading receiver would sign an enormous contract, then play games with and screw over the Oakland Raiders, one of the league's most proud and fabled organizations (see last week's toon).
Nothing lasts longer than the NFL off-season. So no matter how your team (fantasy or home) did this past weekend, it's always nice to finally get the season started!
Note: For those with an eye for detail, I make a case that fantasies aren't always bound by team allegiances…or by brick walls.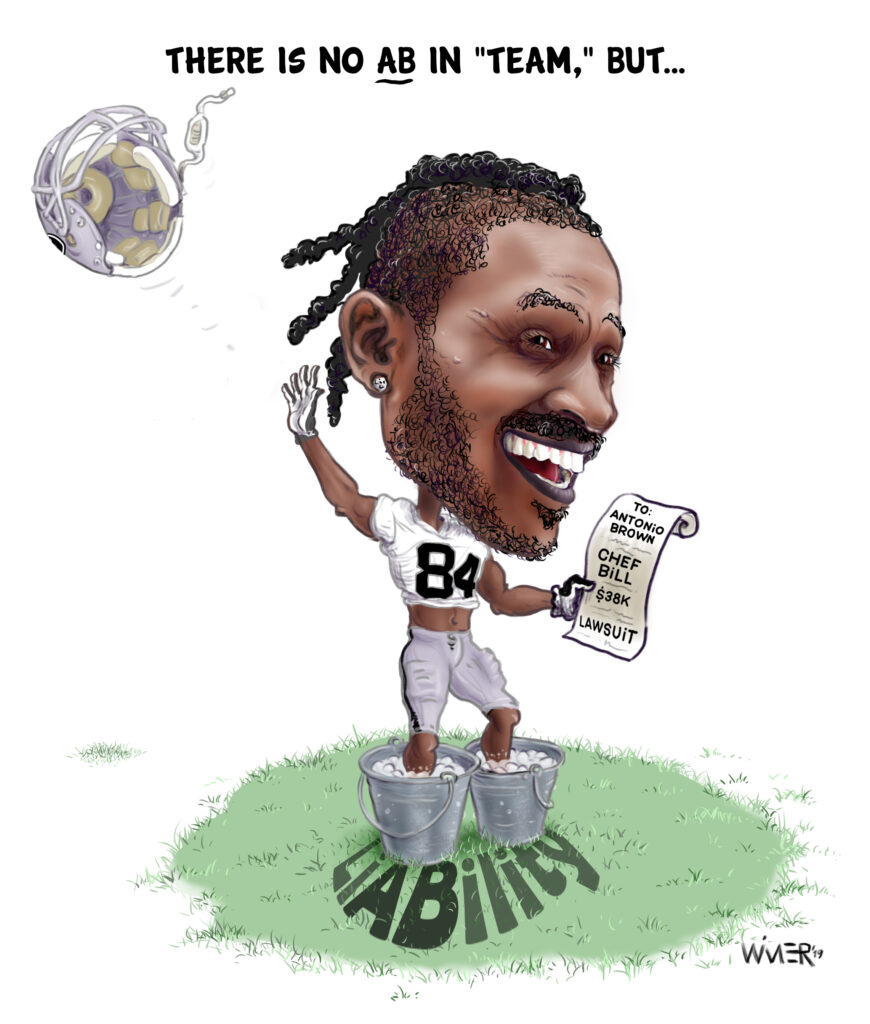 Antonio Brown took his formidable talents and interesting on-and-off-the-field behavior from Pittsburgh to Oakland this past offseason.
Will one negate the other? How much distraction can a team take? Will Jon Gruden's head explode before the season even starts, or sometime before Thanksgiving? 
They said they wanted to bring back some of the old Oakland Raiders personality, which always had strings attached. Now they've got it in "A.B.," a Hall of Fame caliber superstar, who wore out his welcome with the Pittsburgh Steelers. From all accounts, the team out East had bent over backwards to accommodate behavior and comments which weren't always in line with what was best for the team. 
Shop for over 250 of my top images (many that you have seen here) as prints, unframed or framed, posters and large print on canvas. Just added other great gift options with this artwork on mugs, towels, blankets, totebags, throw pillows, etc.! Etsy is super easy and convenient.  Reach out to me directly for those options and send me a note if you don't see an item in a gift option - I'll make it happen!
If you can't find a piece of my work at Etsy, or are interested in a commissioned piece of work, please reach me directly at [email protected] or 303 746-1305.