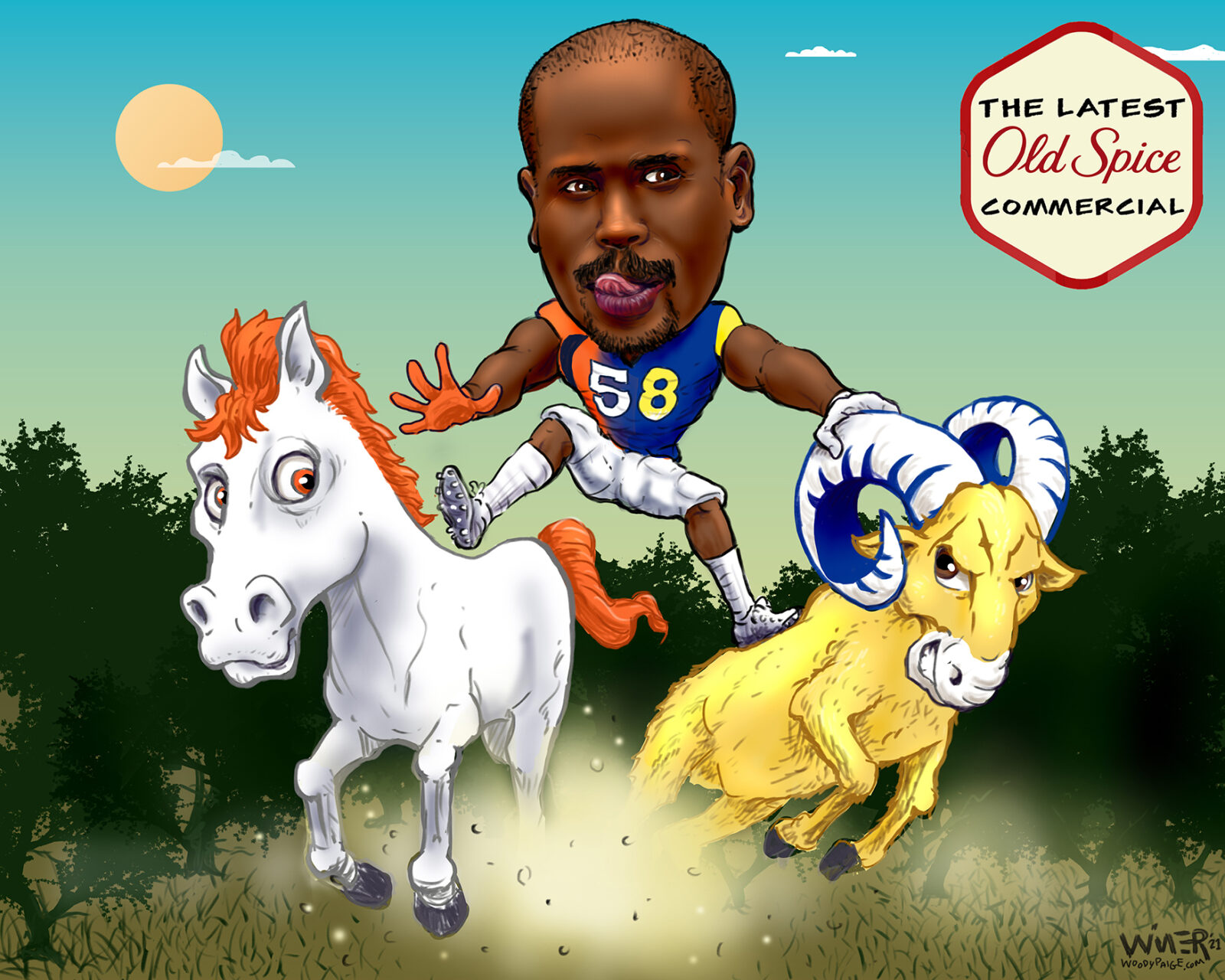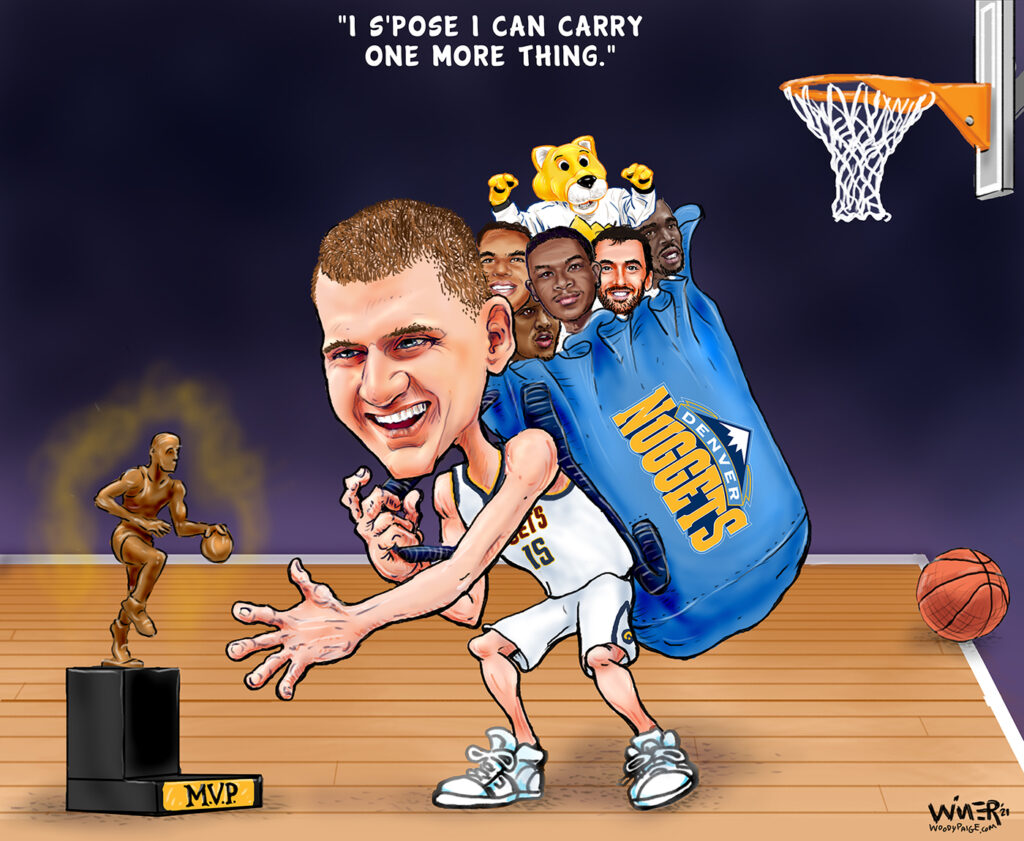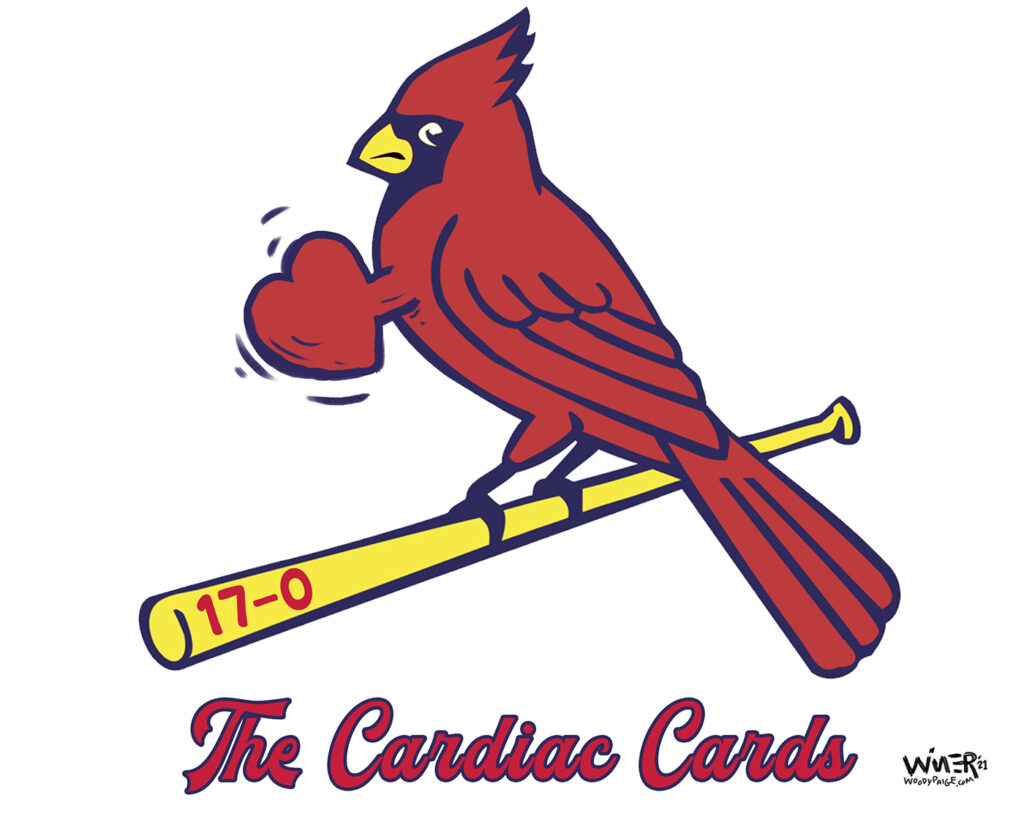 National Sports Commentary (2021)
Woody Paige, a nationally acclaimed sports writer for many years, continues to deliver his special brand of commentary via television, podcasts and writing. My cartoons, illustrations and comments are featured weekly on WoodyPaige.com alongside Woody's finest and other outstanding content by some of the finest sports writers in the country. I cover a wide range of sports topics, with an honest perspective as an athlete (D-I lacrosse and football, All-America), coach (youth, club and HS), years living and working abroad, and family (Grandpa Wimer is in Basketball Hall of Fame). Featured on this page is work from 2021 - a year to be remembered for transition, greatness, and also some sadness.
Click  for 2022 & 2023, 2020, 2019 cartoons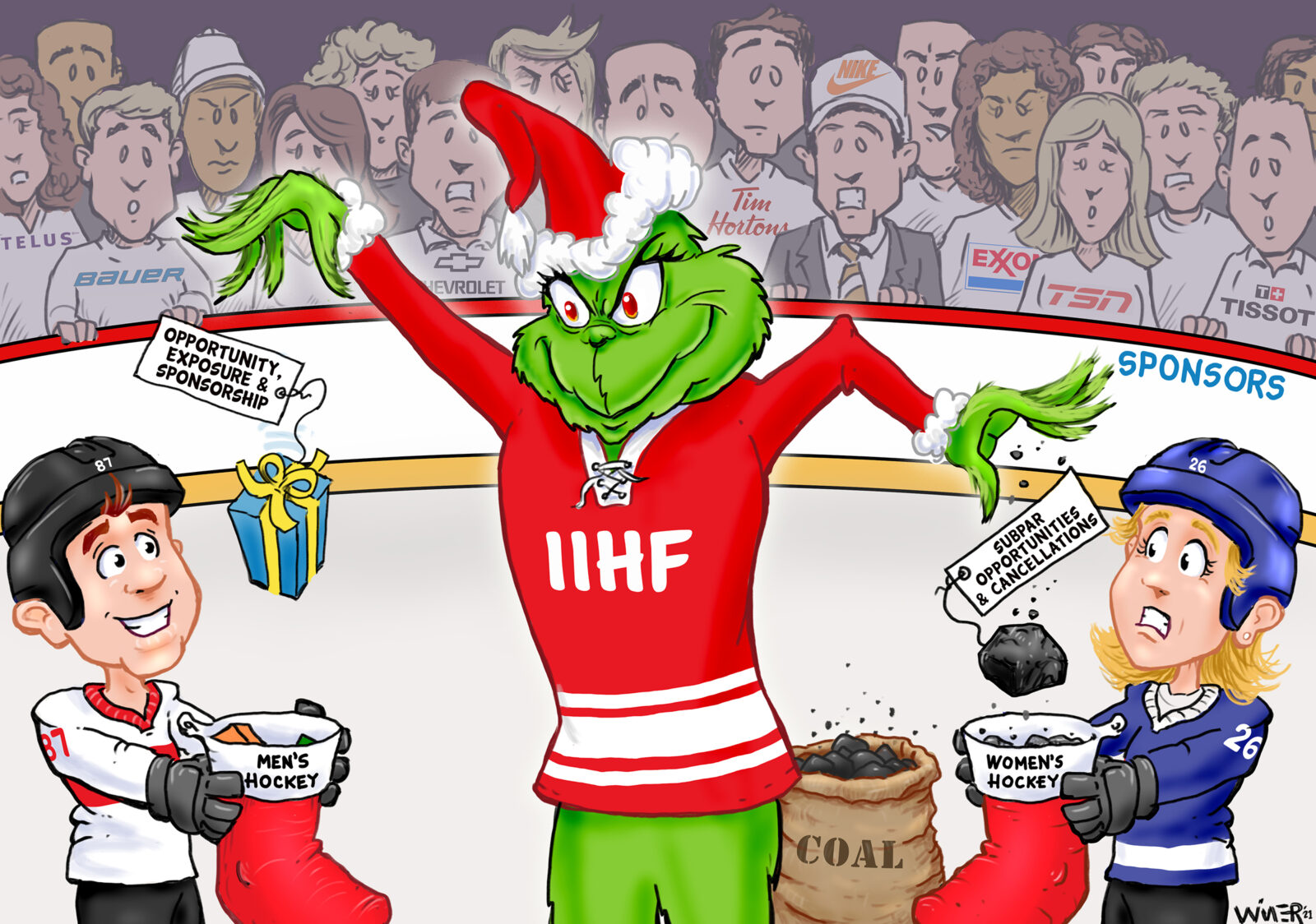 The IIHF Grinch Playing Favorites
There's curious stuff going on with junior hockey. The International Ice Hockey Federation (based in Europe) has been playing favorites.
The Junior Men's (U20 & U18) tournaments get plenty of support & exposure, but Women's events get cancelled at the drop of a hat. A pattern through the years that caused a firestorm this past week.
If I had a daughter on Team USA who got shut out from representing her country on the biggest stage, while the boys team still had the green light, I'd be looking for answers.
I'm sure all the sponsors (many like NIKE and Bauer that have taken very public stances for athletes of all types) are taking notice.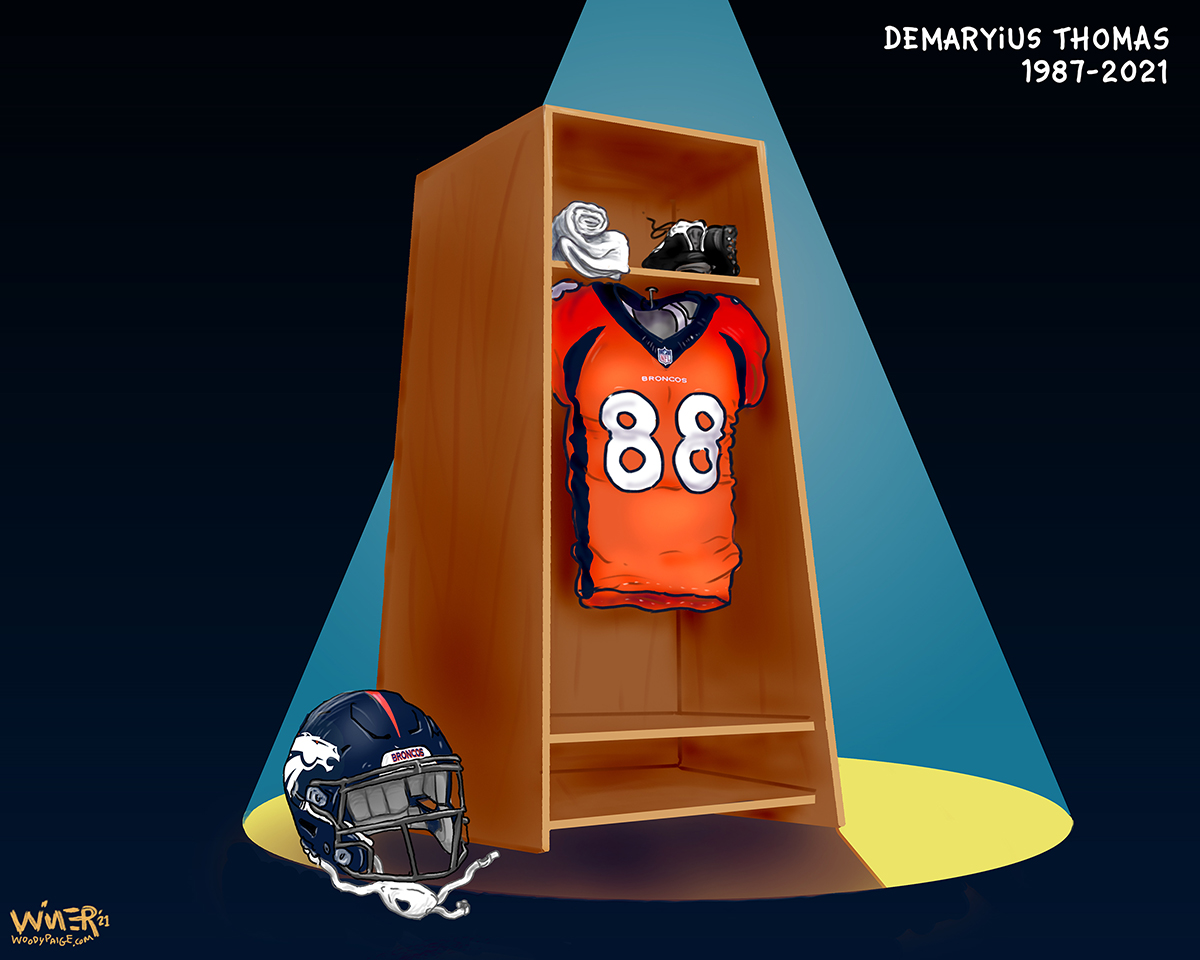 Demaryius Gone Too Soon
Demaryius Gone Too Soon
We lost a great one this past week, as Demaryius Thomas passed away in his home in Roswell, Georgia at the age of 33.
Second on the all-time receiving list for the Denver Broncos, Demaryius' size, speed and hands made him an outstanding target for many Broncos quarterbacks, and a handful for defenses across the NFL.
But it was the man himself who folks across the country mourned. A gentle soul, Demaryius touched everyone he met with his smile, his generosity and his kindness. He emerged from a terribly tough childhood situation to play ball for Georgia Tech, score a tremendous score (34) on the Wunderlic test, make All-Pro, and win a Super Bowl.
I never met the man, but my friends who did and got to know him well are truly in a state of shock and sadness. It's a shame we won't get a chance to see the post-retirement second act of this humble, beloved sports legend.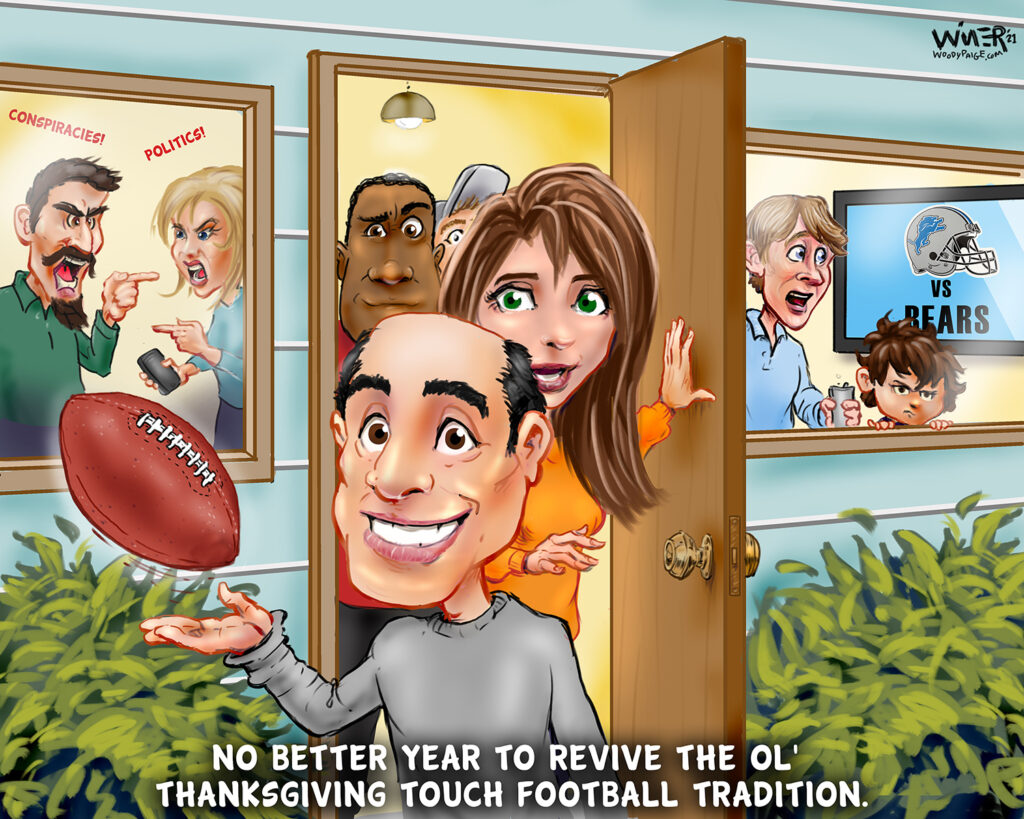 Giving Thanks for Thanksgiving Touch Football
Nothing kicks off the holiday season like Thanksgiving. The food, family time, football, and traditions passed down through the ages makes for a memorable Thursday that bleeds into the long weekend.
But sometimes friends and family time can get downright ugly, especially in today's hyper-charged environment. And football? Well, on Thanksgiving this year, we are again fortunate to take in the sadness that is the Detroit Lions (only one win in the past 12 years of Thanksgiving games) vs the nearly as inept Chicago Bears.
The food…well that is pretty much always awesome. But I don't recommend eating all day. I've tried, and regretted it.
So here's to pumping up the old pigskin, cuing up "Glory Days," and leading your crew outside to the nearest park for a game of touch football.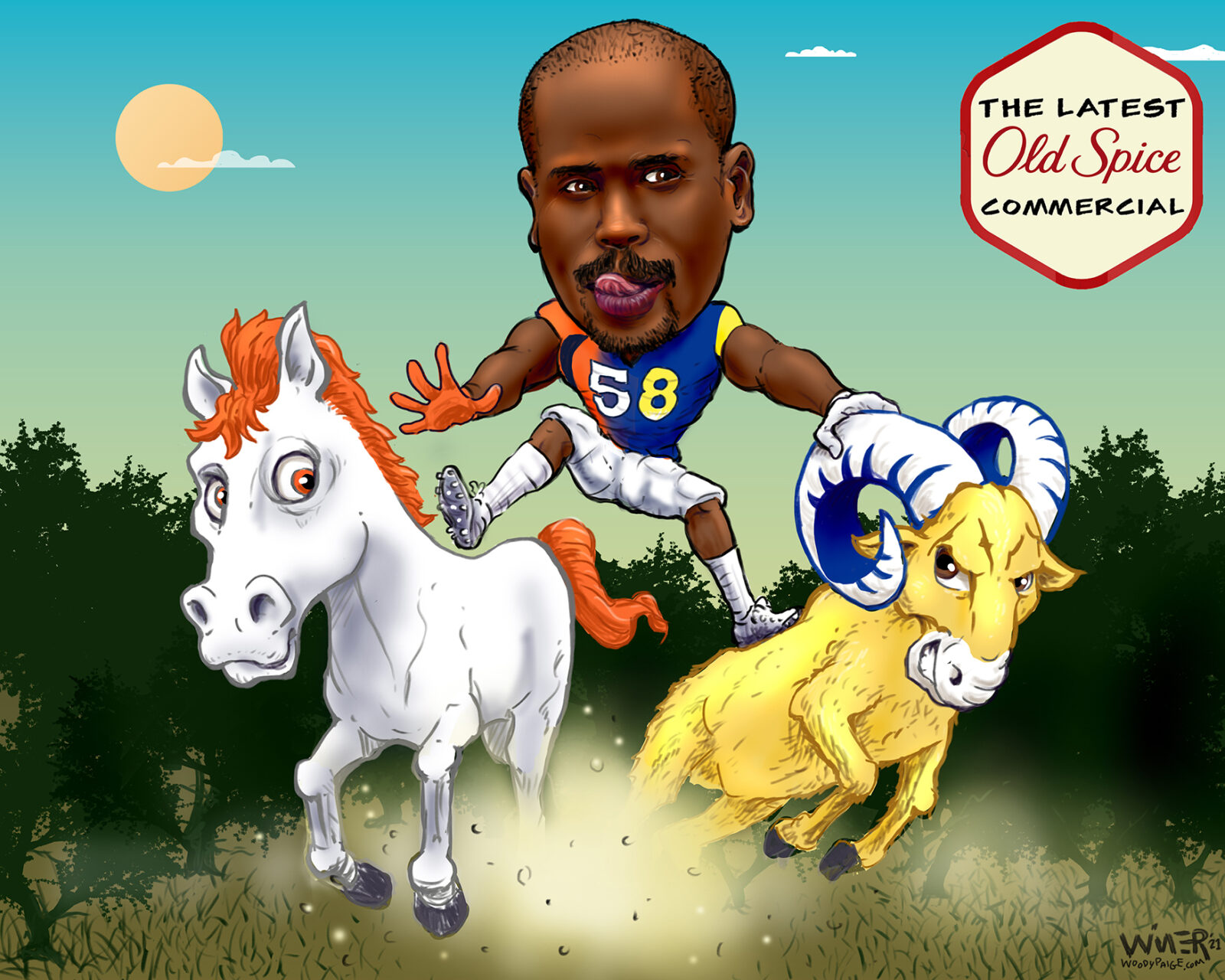 Von Miller's Latest Old Spice Ad
Von Miller has left the building. Arguably the best defensive player in Denver Broncos history was traded to the Los Angeles Rams for two draft picks.
Sadness for sure in the Mile High City, but a reality check for many. At 32 years old, Miller is most likely not the same player he was winning the Super Bowl MVP award in the Broncos' 2015 championship season. After missing the 2020 season due to another injury there were already lots of question marks. Flashes of the old Miller to start the 2021 season were followed by a fall off in play and then another injury. Miller seems to be showing the wear and tear that tends to rear its ugly head for players that serve more than a decade in the NFL.
Miller is the active career sacks leader in the league (and Broncos record holder) and creates fear for any offense, as there is still explosiveness in the tank. That's a threat that the Rams certainly anticipate throwing into the mix with their dynamic defense. Even if Miller can't put up the numbers of the past, he will draw attention and blockers away from their other star defensive linemen, which ultimately could be the difference for the Rams and their Super Bowl hopes.
In the meantime, the Broncos will get a better idea of their own young talent. In the first game after the trade, rookie Jonathon Cooper made two sacks in an impressive and surprising Bronco win over the Dallas Cowboys. The entire defense stepped up for their best game of the season, whatever that means without their defensive captain of the past 10 years.
Always strange to see veteran stars in a different uniform (Exhibit A: Tom Brady), and also the possibility that we may witness a rare thing regarding an NFL trade: a win-win for all sides.
A Rare Bird Sighting: Cardinals Atop the NFL
In theory, the NFL is set up for parity as well as any sports league with salary caps, active free agency, and a raft of rules around draft picks. But fans typically see the same set of franchises toting the Lombardi Trophy come February.
Thus it's refreshing to see the Arizona Cardinals lead the standings with an unblemished 6-0 record. They've also done it with some quality wins against the Titans, Rams, 49ers and Browns with a strong blend of defense and offense. And their future is bright with young QB Kyler Murray who is essentially tied for the best passer rating in the league.
Also good to see one of the original NFL teams make some noise. They've only made one trip to the Super Bowl in 2008 where they lost a heart-breaker to the Steelers. Will this be their year?
The Cardinals should enjoy their perch for the moment, because with eleven games to go, there is still a lot of season to go.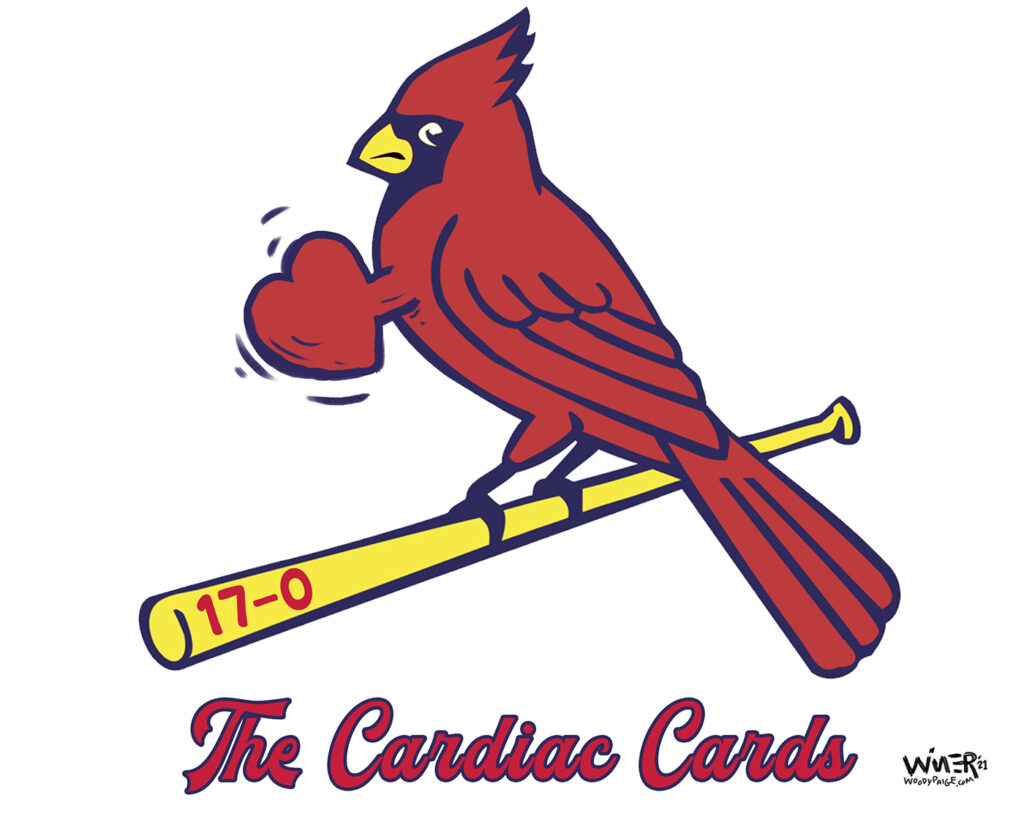 The Cardiac Cardinals Stamp their MLB Playoff Pass
There is never a bad time to go on a 17-0 run, but the St. Louis Cardinals made this one truly count. A longshot to make the playoffs on September 11, sitting at 71-69, in the weeks that followed they have registered the best winning streak in MLB since 2017.
If any bird can boast the heart of a lion, this is the one. The timely effort pushed them into the NL wild-card game on October 6 vs. either the Los Angeles Dodgers or San Francisco Giants.
With only a handful of games left to go, who knows how much longer this streak can last? Certainly that kind of momentum has put certain fear into whatever team they face in the postseason.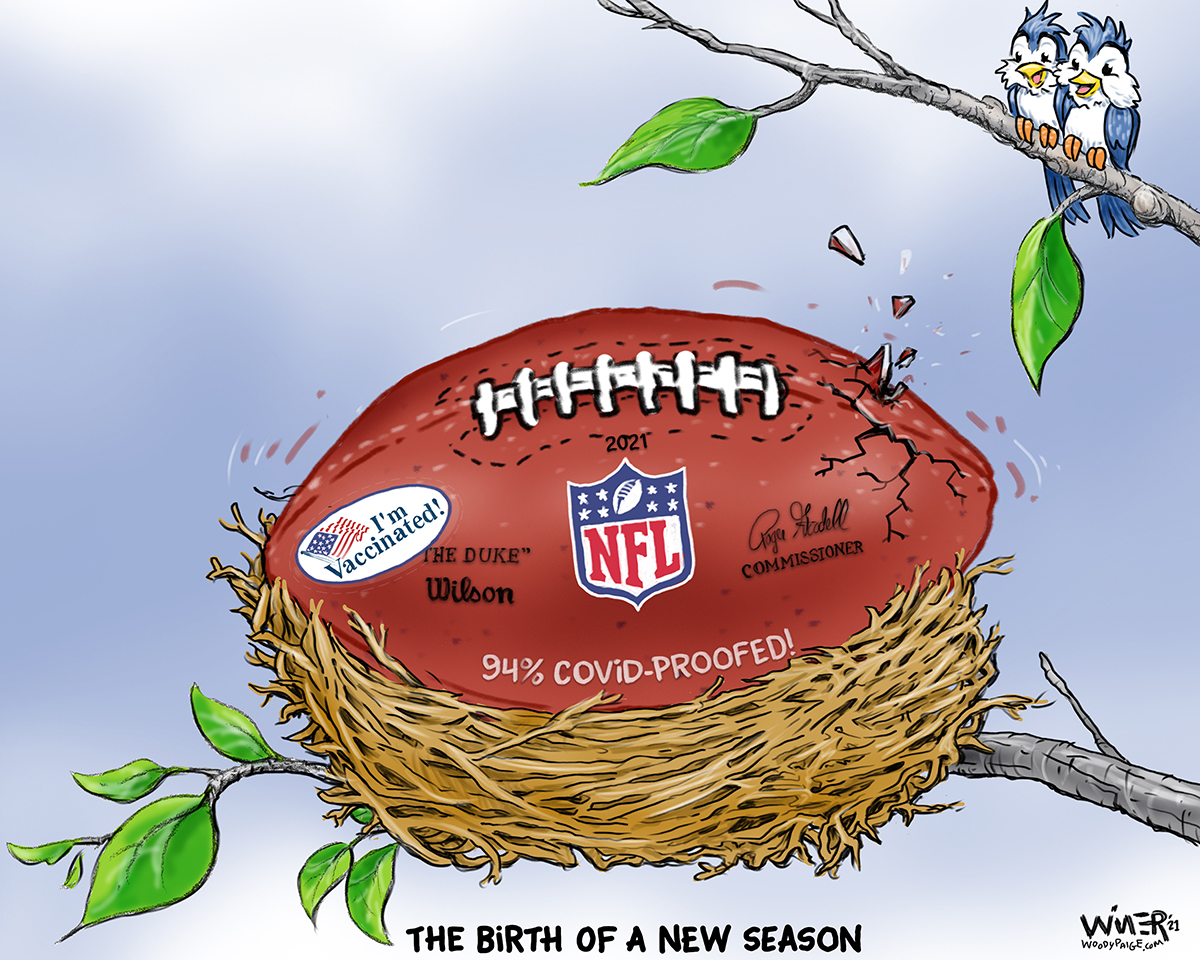 The Birth of a New NFL Season
Nothing announces the advent of autumn like the first weekend of football. As much as many of us love the college game, it kind of bleeds from summer into the new season. Some early games trickle in, the ranked teams mostly play cream-puffs to pad their early records, and the occasional upset or big time match-up get lost in the shuffle.
But the NFL announces it's here in a different way. And everyone seems to listen.
Maybe it's the built up anticipation due to the months of constant yammer provided by radio and television talking heads. But it feels good to plug in again.
Perhaps because it also feels normal again. Full stands and full rosters owe a lot to better control of the COVID pandemic. And the NFL has been a leader in all sports getting its people vaccinated: 94% of the players and 99% of the staff.
It may not fully stop the virus, but NFL teams can mostly get back to business with confidence and deliver fans the full brand of entertainment they've been craving.
We all can't wait to see what will emerge.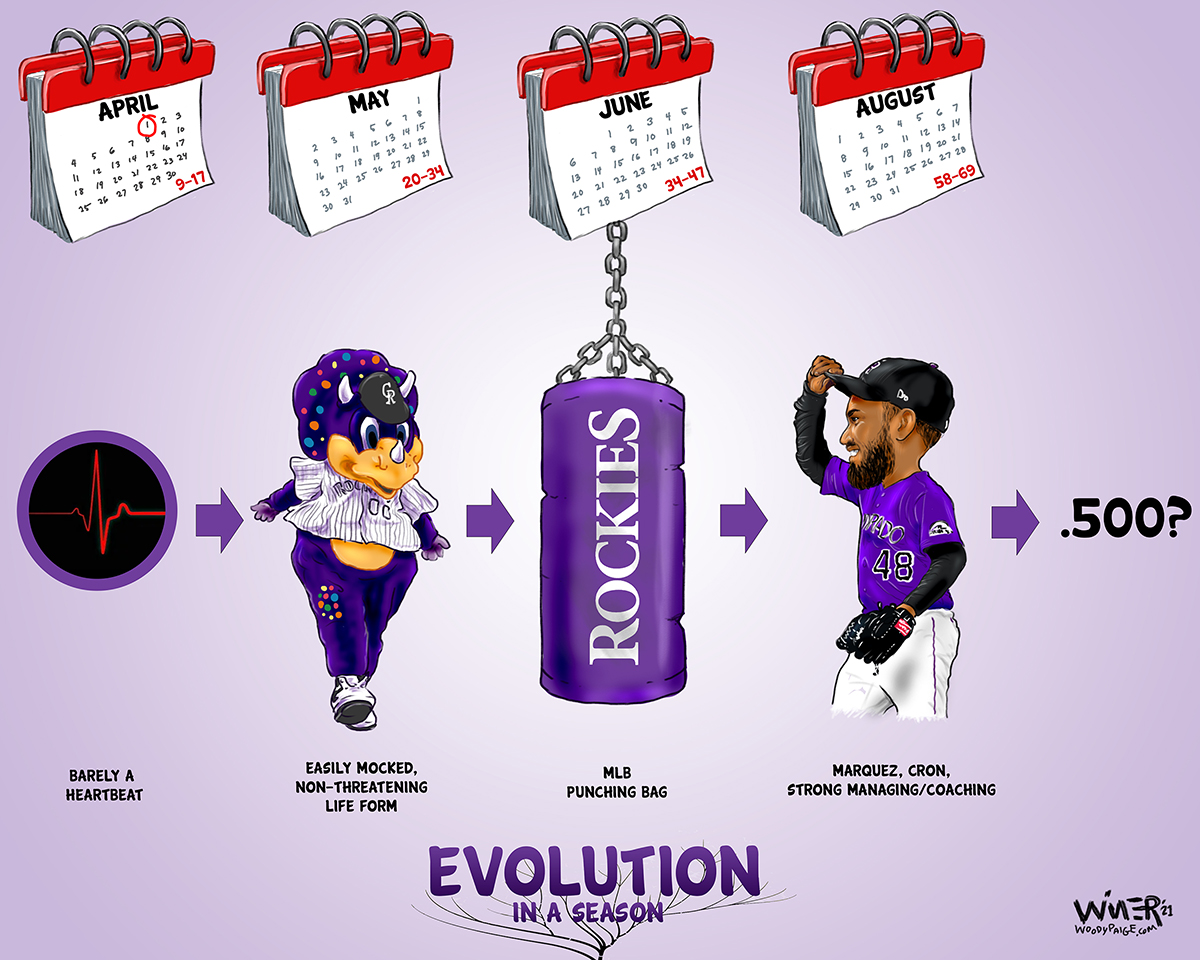 Rockies Upward Evolution?
For a team that nearly everyone gave up for dead at the beginning of the 2021, this Colorado Rockies team has lately shown surprising MLB life.
April was abysmal, confirming initial Rockies fan fears in the wake of what seemed a lopsided trade of future Hall of Famer Nolan Arenado. That month's 9-17 record was followed by an 11-17 record in May. Teams around the league licked their lips in anticipation of taking on the Purple Punching Bag, especially when they played away. Their 6-33 record away from Coors Field set a new low for he worst start for a team in the live-ball era. A 100-loss season felt like a solid bet.
June's 14-13 record hardly stopped the bleeding; opponents gave the Rockies about as much respect as their hapless mascot, Dinger. But the last two months have shown greater consistency and more wins, so that reaching respectability (.500) is a real possibility. On August 21, the club was nine games away from that significant threshold.
It's been a combination of things that has helped the team evolve into something the league has to take more seriously, including pitching (German Marquez among others), hitting (C.J. Cron), and some deft in-game management.
With a little more time and growth, who knows what this team might grow into?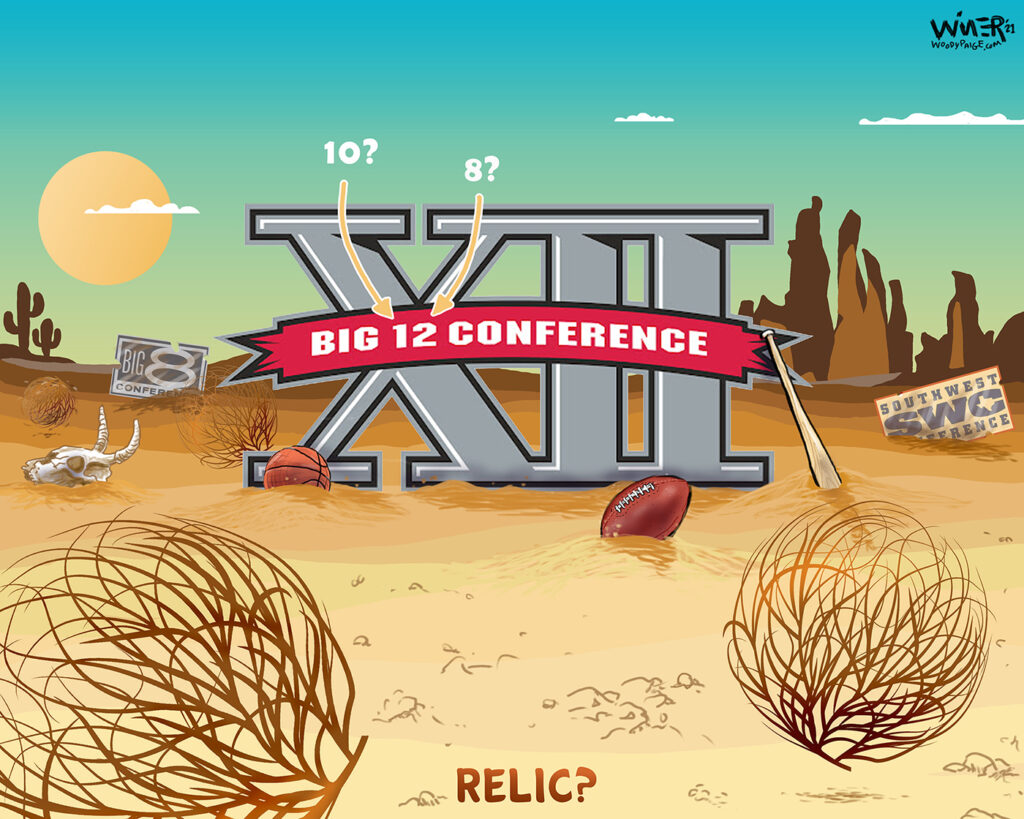 "Big12 Destined for the History Books"
Texas and Oklahoma recently chose to leave the Big 12 Sports Conference for the greener pastures offered by the SEC. The writing is now on the wall for the rest of the once-prominent athletics conference.
Prior to that the Big 12 had already dwindled down to 10 schools, but another conference had that name wrapped up (although confusingly, the Big 10 now has fourteen teams). The departure of the two real powerhouse university programs, UT and Oklahoma, leave the conference with little to attract eyeballs or advertisers. Great company for the tumbleweeds in a now much more empty sports wasteland.
Alternatively, the SEC just got a lot stronger.
Perhaps the Big 12 can find comfort in joining its predecessors, the Southwest Conference and the Big 8, as a footnote of college sports history.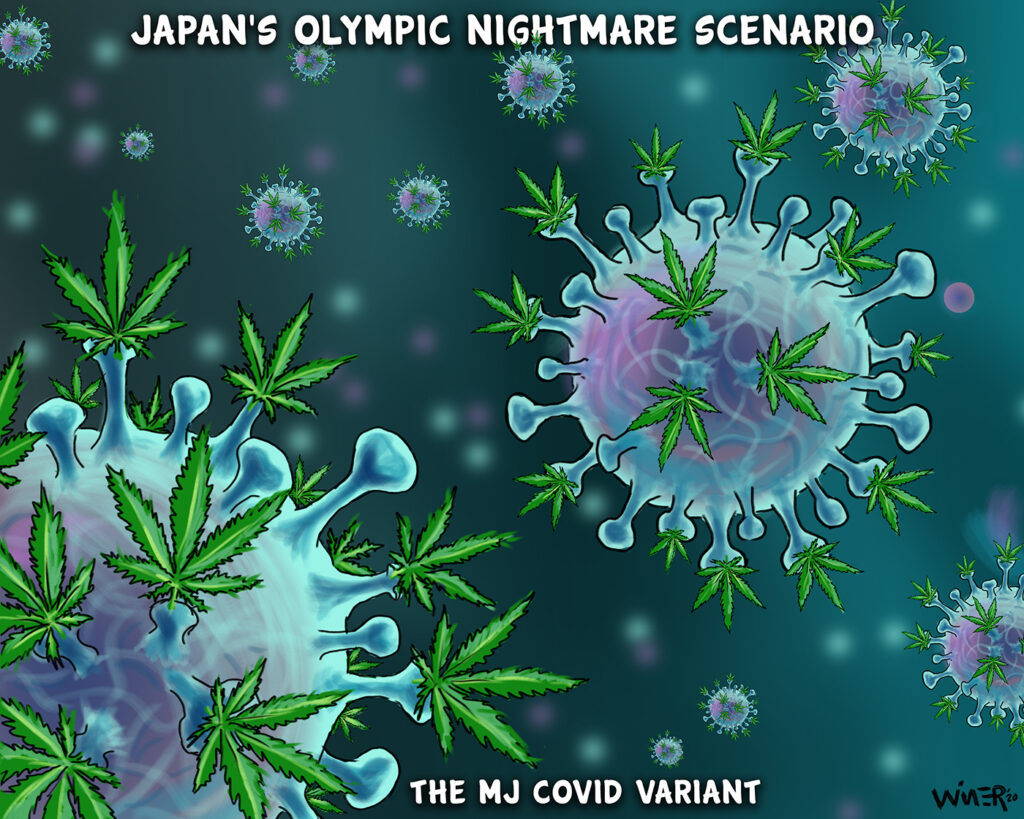 "The MJ COVID variant: When things really go wrong for the Japan Olympics"
Not sure if there has ever been an Olympics as beset as the upcoming 2021 Olympics in Japan. Even during the boycotted Olympics of 1980 and 1984, there was a sense of solidity that guaranteed fans at events.
First postponed during the heart of the pandemic in 2020, it's been a huge waiting game to see if the summer of 2021 would work for the Olympic Games. The arrival of vaccines in the beginning of the year made it possible at all. But when the host country struggled to get its hands on enough vaccines, its own population is at serious risk (it seems the countries that have overseen the bulk of vaccine production get first dibs, and Japan wasn't one of those). Thus, instead of the revised plan of limited international fans at events, the Japan government and the Olympic ruling body recently changed that back to only limited attendance with local fans.
Two things regarding this. It will be interesting to spot wealthy or influential international fans who somehow (money? politics?) end up in the stands cheering on their nations. Second, how will they fake crowds and deal with empty stands to deliver a "true" Olympic experience for television? Stand up cutouts? Fake crowd noise?
Testing of athletes and quarantines will require a daily watch to see which nations have the advantage. And we can only guess about the ripple effect that a positive test might have for an entire discipline, or entire nations, or even dormitories.
Add to this giant headache the ever-present fallout of drug testing. Once again (surprise, surprise), the Putin-directed Russian Olympic team will not be attending under their nation's tainted banner. Gross performance-enhancing abuses (with an abundance of proof of meddling from the very top) should have made many of those athletes ineligible for any team, but corruption continues to beleaguer watchdog efforts to manage a more level playing field for all athletes.
The United States has had its share of athletes caught for cheating in the past, like track athletes Tyson Gay and Justin Gatlin. This go around sprinter and gold medal favorite Sha'Carri Richardson tested positive for cannabis and was subsequently banned. Much has been made about whether marijuana should be classified as performance enhancing, but Richardson took full responsibility for her suspension. "I know what I did, I know what I'm supposed to do, I'm allowed not to do and I still made that decision."
Similar to the COVID-related issues we can expect to see, don't be surprised when more of the "MJ" (now more common in recreational use than ever) rears its head in interesting ways during this Olympic season.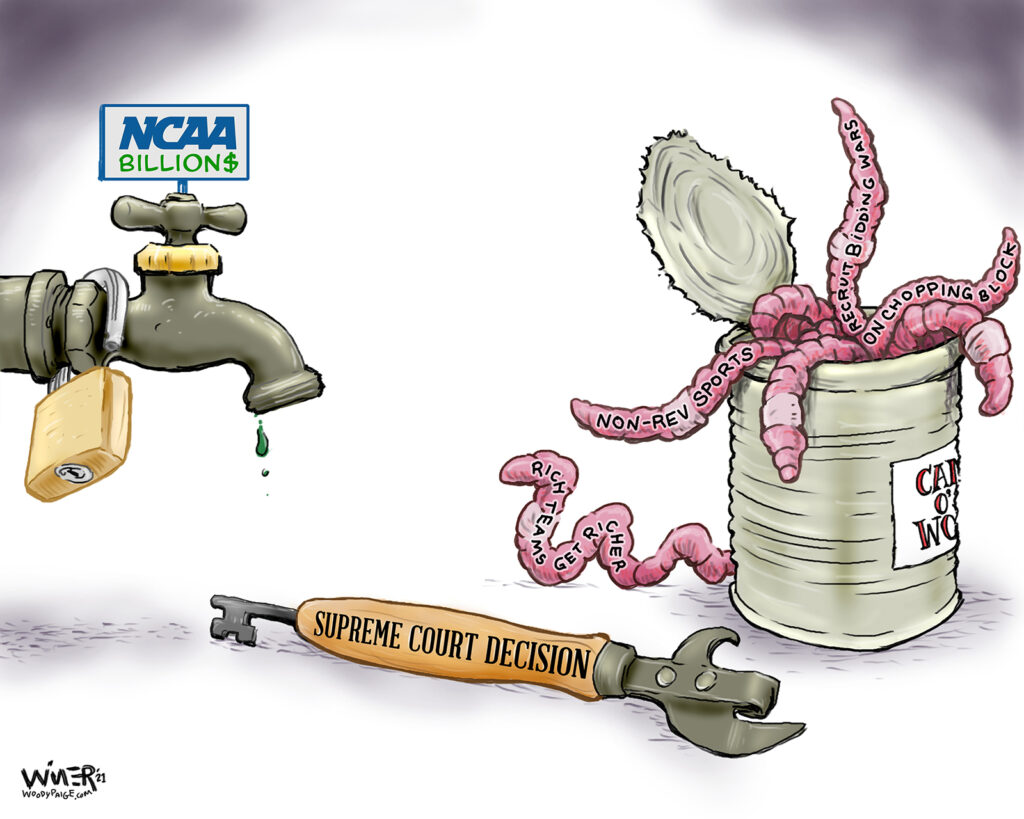 "Supreme Court Ruling Opens a Can o Worms"
A landmark legal ruling was made on June 21, when the Supreme Court
ruled for student athletes and against the NCAA in the ongoing battle
around the growing treasure chest of riches that college sports (and in
particular, football and basketball) annually generates.
The ruling itself is fairly narrow:  student athletes can now receive
education-related payments outside of their normal scholarships.
But it is notable because the ruling was unanimous (when does that
happen anymore with the Supreme Court?), and opens the door for a large
number of other changes, including use of name, image and likeness to
make money by signing endorsement deals or making personal appearances.
The long-running central argument is a hugely sticky issue, with a long
list of pros and cons that have been battled out in the courts and in
the news for years.  There is a reason big, thorny problems like this
don't easily get solved.
And appropriately, one solution often drives a host of side effects; or
opening a giant can of worms that manifests itself down the road.  Most
colleges do not in fact make enormous amounts of money from sports, and
athletic departments struggling to make ends meet aren't thrilled with
the idea of having to also pay student athletes down the road.
After basketball and football, there are no true revenue generating
sports. There is a very real threat that the timetable for the chopping
block moves up for these other sports.  When the majority of college
athletes don't play in the big two sports, this is no small concern.
The rich teams with the biggest television contracts and sponsorship
opportunities stand to gain the most from these changes. Expect another
interesting development: bidding wars for athletes. Again, it's hard to see
how the smaller schools can effectively compete with the new set of rules.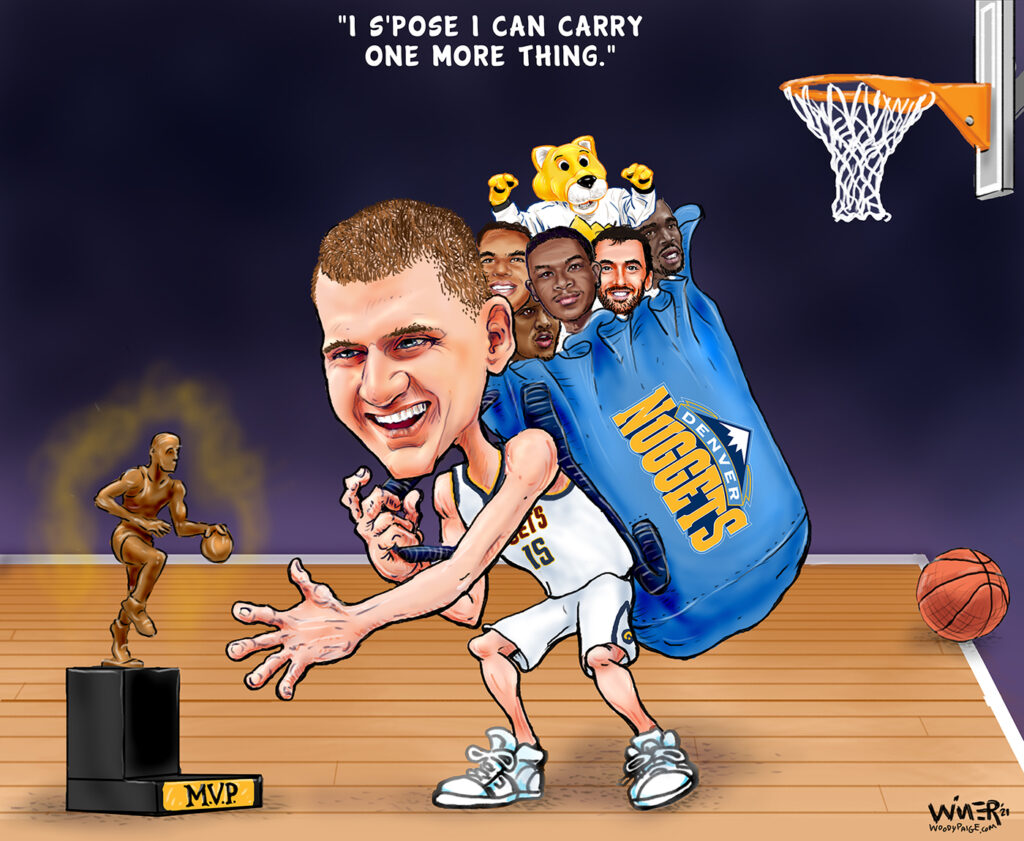 "Give New NBA MVP Something Else to Carry"
Nikola "Joker" Jokic did something that no NBA basketball player selected below 15th in the Draft (and no prior Denver Nugget) had ever done: he won the National Basketball Association Most Valuable Player Award.
Selected at 41 in the 2014 NBA Draft, Jokic blew away that previous record (Steve Nash and Giannis Antetokounmpo were selections at 15 in 1996 and 2013, respectively).  He was also only the sixth international player to win the award.
The typical front-runners including Giannis, LeBron, Harden, Embiid, and Durant missed significant time due to injury, effectively knocking them out of consideration. But even if they had stayed healthy, it would have been tough to dislodge Jokic.
He had his best career statistics: ranking 12th in the NBA in scoring, ninth in rebounding and sixth in assists. And he was a dream come true for the "quants"; leading the league in Player Efficiency Rating, win shares, Box Plus/Minus and Value Over Replacement Player.
Somehow he did all this and led the Nuggets to a 3-seed in the hyper-competitive Western conference, while his team was decimated by injuries. The only other clear-cut star on the team, Jamal Murray went down with a campaign-ending injury mid-season. Then the rest of the guard corp (Barton, Morris, Dozier) missed huge chunks of the season. Often working with two 2-way players (Austin Rivers and Shaq Harrison), Jokic still was able to find win after win.
What makes it all that more remarkable is that the offense runs through Jokic, and he provided such a deft touch at distributing as well as finishing. He made teammates better, while helping establish an all-for-one attitude that made up for weaknesses. His teammates seem to love Jokic and his low-key approach, humility, and frankly, goofy nature. He carried this team, and did with ease and grace.
At this point in time, all of this might not make a difference as the Nuggets are in danger of being swept in their second round efforts against the Phoenix Suns. Triple doubles sometimes can't make up for an opponent that is physically superior, plays great D, and picks the right times to get hot.
But the NBA MVP Award is an award for the best player in the regular season, and "the Joker" earned it.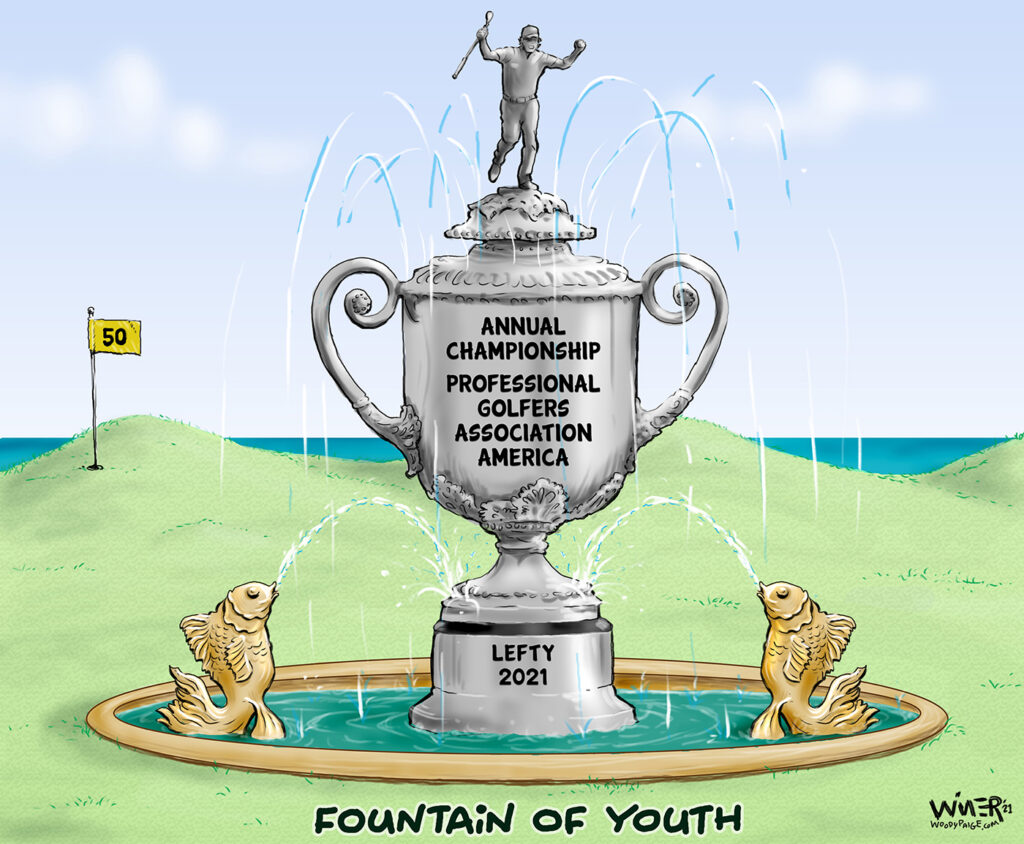 "Lefty Fountain of Youth Trophy"
At only a few weeks from turning 51 years old, Phil Mickelson pulled off an improbable PGA Championship victory in Kiawah, South Carolina.
Now the oldest winner ever of a PGA Championship, the feat was made even more impressive as Mickelson had truly struggled recently, entering the tournament with a lowly ranking of 115 in the world. If you had placed a $1 bet on him, you would have come out $300 richer.
Missed cut after missed cut had plagued "Lefty" as of late so when he suddenly found his stride on the small South Carolina coastal island, everyone was shocked and surprised.
But as Mickelson has become more of a fan and tour favorite over the years, the surprise was universally embraced. As he strode up to the final hole with victory in his sights, an enormous crowd cheered him on, and then again when he sunk his final putt.
In a year when a 43 year old won a Super Bowl, another aging legend had dipped his cup one more time into the Fountain of Youth to give us all a little taste of inspiration.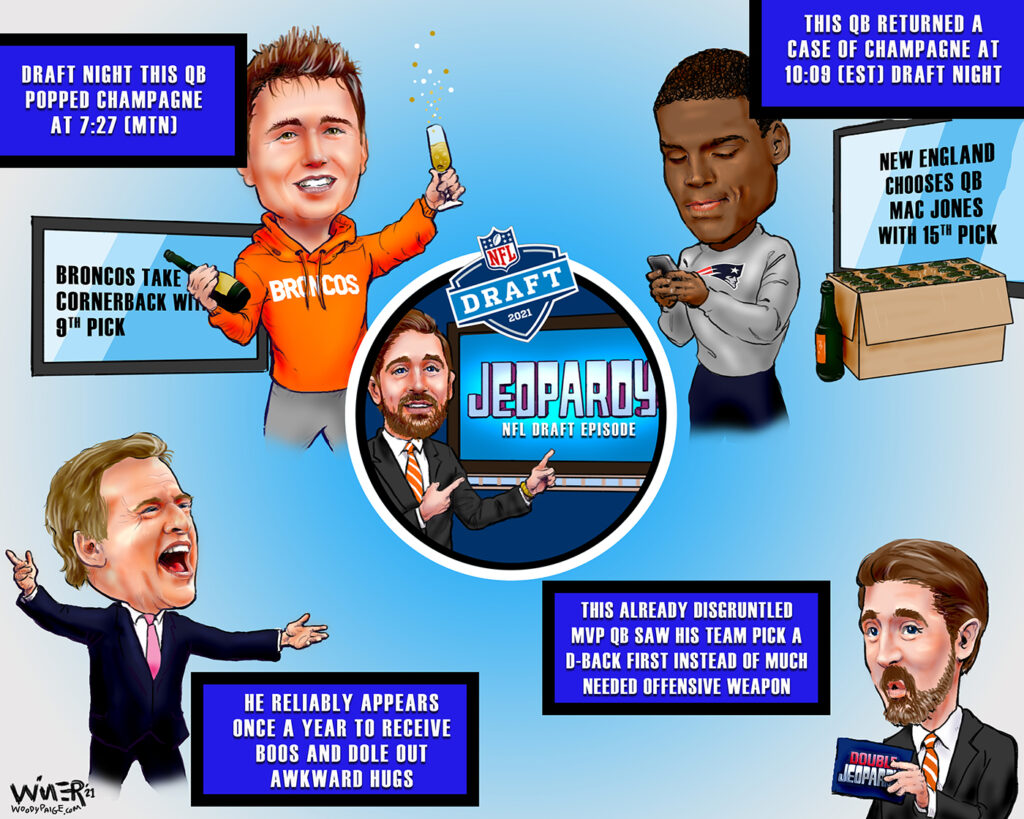 "NFL Draft Jeopardy"
Draft Night in the NFL was an interesting one for not just the draftees, but also for incumbent players (like a certain guest host of Jeopardy) and the impression of what their teams think of them. We saw how draftees reacted before and after being picked, but it would have been fun to be behind the scenes with some other folks.

Drew Lock of the Broncos has been under fire as one of the worst performing quarterbacks in the league, and a recent trade by the Broncos for Teddy Bridgewater of the Panthers has provided additional pressure. But he must have breathed a sigh of relief when the Broncos chose Patrick Surtain with the ninth pick instead of many experts' choice quarterback Justin Fields.
New England starting quarterback Cam Newton felt the other side of the coin. Previous MVP and Pro Bowl player, Cam had a rough first season with the Patriots. So the drafting of Mac Jones with the 15th pick probably put a damper on his Thursday night.

The NFL Commissioner Roger Goodell...well, he has a knack for awkward moments, and this year didn't disappoint.
Finally, regarding the ongoing saga of Aaron Rodgers, hard not to believe that his story won't go quietly into the night. Last year at this time, it was clear he wasn't thrilled with the Green Bay Packers picking a QB with their first pick. After an MVP season and a few plays away from a trip to the Super Bowl, the relationship with the front office was still not good. He's got star power for sure, exhibiting some of it in a completely different role as a guest host for the Jeopardy game show.  Plenty of sources have passed on the fact that he's not happy in Green Bay and would welcome a trade, so the rumor mill was working overtime before the draft and ever since. The speculation intensified when the Packers chose a cornerback with their first pick, instead of an offensive weapon that could aid an often beleaguered Rodgers this past season.

Did the fact the Broncos chose a cornerback mean there was a deal in the works? We may never know. But an unhappy star player doesn't always last long with a franchise, and plenty of teams will gladly mortgage the future with talent and draft picks in trade for a chance to win a championship tomorrow.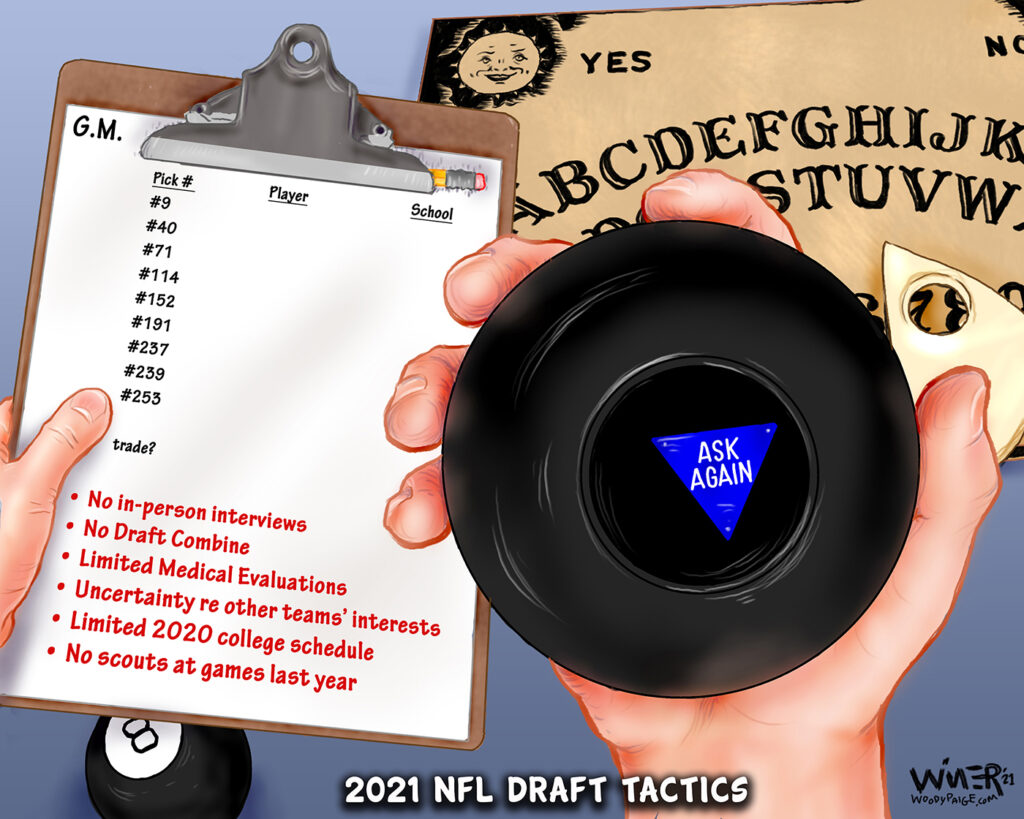 "NFL Draft Uncertainty Solved with Magic Eight Ball"
The 2021 NFL Draft is around the corner and there has rarely been so many questions and uncertainty about a crop of football talent.
The Covid-19 pandemic and all its ramifications means that NFL teams are (relatively) in the dark about the available talent on every measurable level.
First of all, there has been no opportunity for NFL teams to have in-person interviews. Yes, in every industry Zoom interviews are becoming the norm, but in very few cases is it better than sitting down in a face-to-face. When every team is concerned about burning a draft pick on a player who will not just be an athlete on the team, but a locker room presence, a face of the organization in the local community, and an employee who spends half the year away from the organization out of season, you can understand the need to look under every rock to understand everything making these young men tick.
The absence of the NFL Combine takes away another sample point. Sure, there have been Pro Days held at various major programs where players have been able to go through many of the same drills and tests as the regular combine. But, every one of those events was held under different conditions, making it harder to compare apples to apples.
Limitations on face-to-face interactions have seriously curtailed medical evaluations; near the top of the list for "kicking the tires" on players as potential future assets. When the average career length of an NFL player is 3.3 years, and no sport grinds up a player like football, it's critical to best understand the present physical state of these young athletes.
The level of gamesmanship that historically takes place around this time of year is probably worthy of multiple books and podcasts. No team wants to show its hand for its interest in various players, particularly the ones that may not be on the top of everyone's draft list. That interest is hard to hide when a coach or scout visits a campus, sets up an interview, or shows interest in some other way. This often has led to other teams swooping in on those players before the original interested team can draft them as a competitive resort to deprive a rival team of an asset. Importantly, it's also a cheap way to let other teams do the hard work and due diligence that other teams can benefit from.
Finally, the pandemic forced a shorter season for most FBS and FCS teams, while shifting the season to the spring for many lower level teams. To make matters worse, scouts were not allowed to attend many of those games live — an eye test that can be very different than what one sees on film. For scouts and NFL personnel, a larger sample size is essential for effectively rating players, and this year that just doesn't exist.
Thus, we've already seen a number of teams trade out of higher draft positions, because they simply don't want to play this guessing game.  For so many others, the Magic Eight Ball may be the best answer.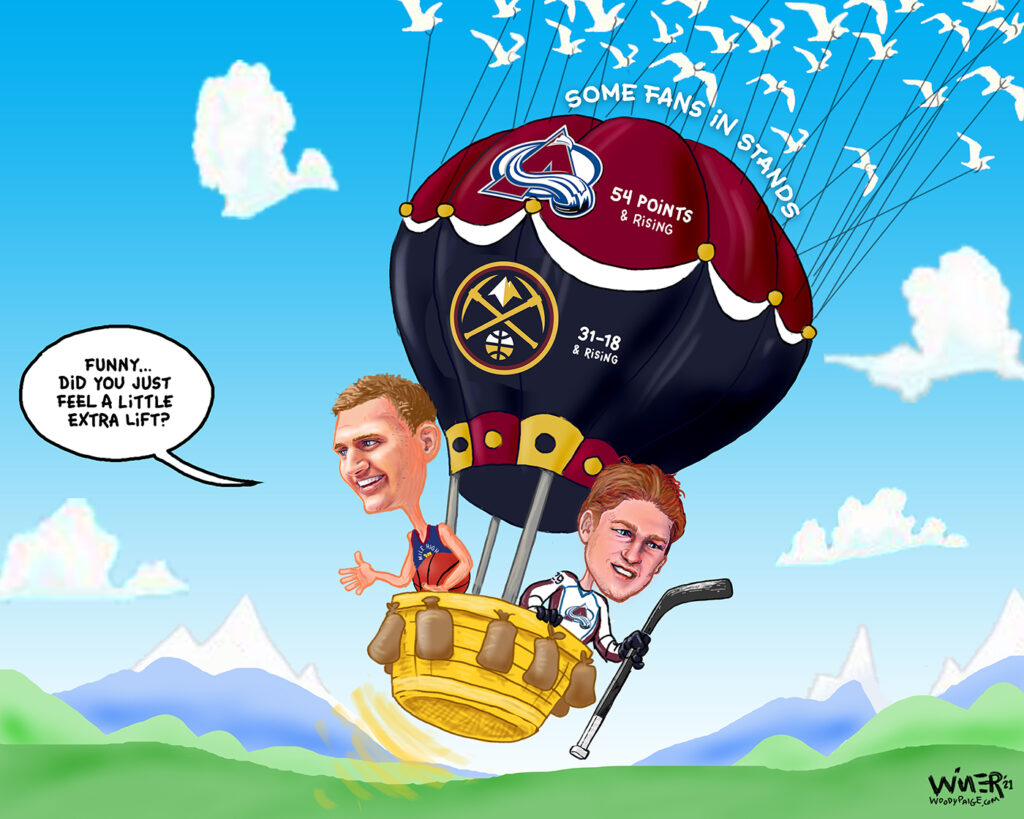 "Nuggets and Avs Fan Lift"
The hometown Colorado Avalanche and Denver Nuggets have found their footing at about the same time and are shining as potential favorites in their respective leagues. The Avalanche with a league-leading 54 points, and the Nuggets in a strong fourth place position in the West.
Staying healthy hasn't hurt the Avalanche, who's collection of talent is gelling and shining in a way that hasn't been seen in years in the Mile High City. The Nuggets have been at times outstanding this year, while mediocrity occasionally sets in. A tremendous trade that brought Aaron Gordon to town lands perhaps the perfect piece as an athletic, physical player who can score and defend.
So the pieces are in place for as good a playoff drive as either team has seen in many seasons. And one more benefit recently provided a lift for these teams: The opportunity to have fans in seats to deliver a bit more home ice/court advantage.
Twenty-two percent of Ball Arena capacity, or 4,055 fans, have added some juice to the home games and may have helped the Nuggets climb out of an 18-point hole against the Orlando Magic on April 4. After the first game with fans back (a win against the 76ers), Jamal Murray had this to say: "It's amazing to have fans back. The energy they bring. Before, when there was no one in the arena, it's just, I swear to you guys, it's just like a practice."
Keeping the numbers limited to maintain separation is a good thing indoors. But it's great to finally recreate an atmosphere where the hometown teams can continue to flourish.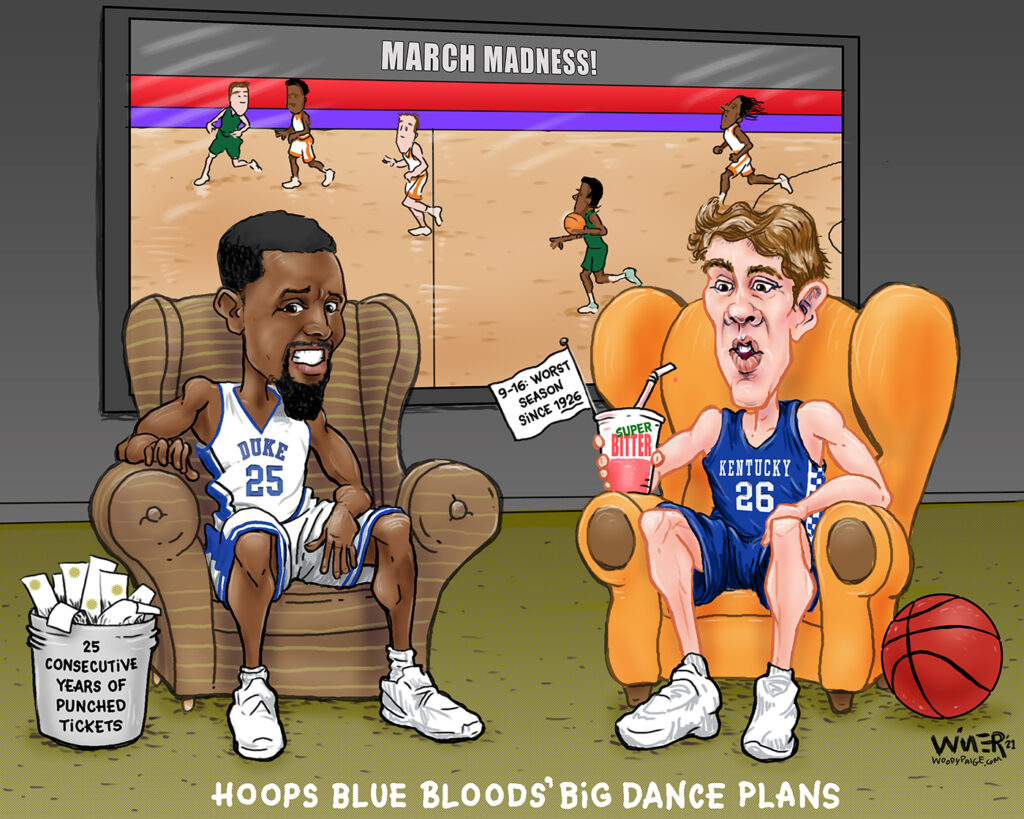 "Hoops Blue Bloods' Big Dance Plans"
March Madness is upon us finally, but for so many reasons it just ain't the same. We missed it completely last year, crushing the dreams of many a college hoops player, as well as fans across the spectrum. This year it will be held from start to finish in Indianapolis, with a bubble approach that will create a challenge for managing 66 teams, while fending off the Coronavirus.  No raucous crowds or opportunities for sports-hungry mid-tier cities to host regionals.  Pools and betting will be all over the place, as the unknowns run high in this tournament.
And interestingly, the Big Dance will be missing some of its blue bloods. Past champions like Duke and Kentucky (as well as Louisville, and some other notables) will be staying home. Duke saw its string of appearances since 1995 broken, and Kentucky missed for the first time in eight years, but notably with its worst record since 1926.
It just won't feel the same without those two programs, but perhaps this opens the door for a less storied program that can break through and build something interesting. Of course, there are very small violins playing across the country for Duke and Kentucky, who've played the bully to so many other teams through the years.  And even so, those same fans will miss these two hoops blue bloods, simply because they won't be there to root against.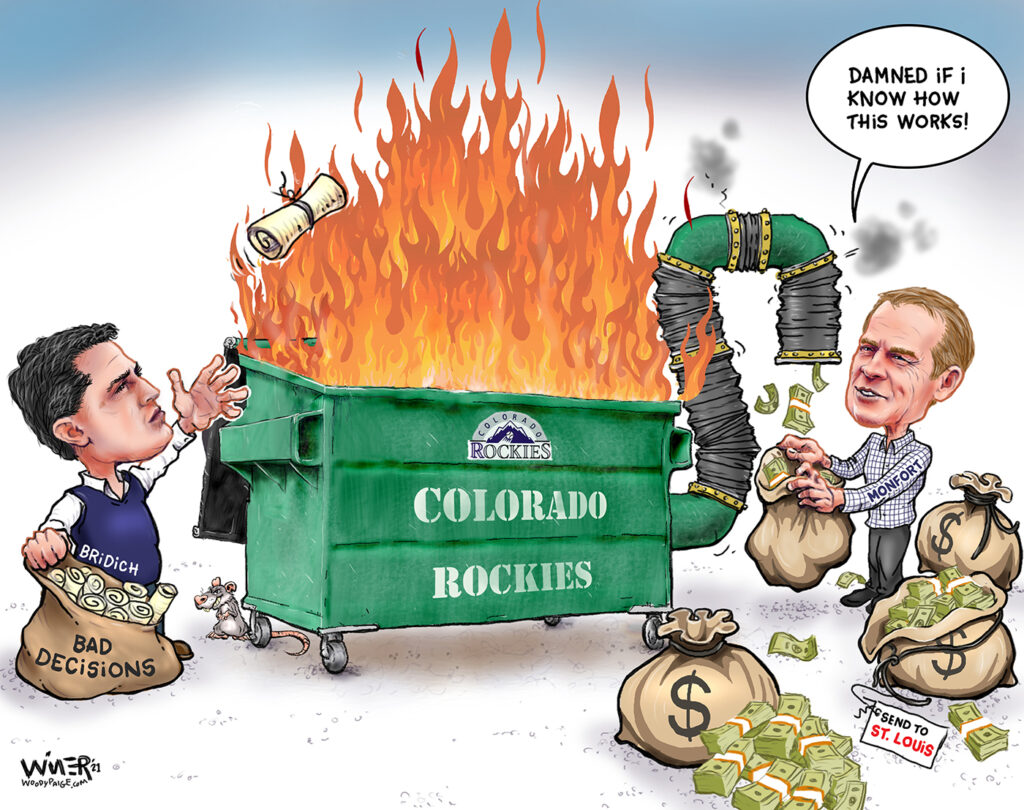 "The Colorado Rockies - A Dumpster Fire Like No Other"
The Colorado Rockies have been picked dead last for the upcoming MLB season by a number of national pundits. Just two years ago they seemed poised to join the ranks of the regular playoff contenders.
Nolan Arenado, perhaps the best player in the franchise's history is no longer in Denver. Traded to the St. Louis Cardinals for a weak batch of prospects and a backup pitcher, a disgruntled Arenado has left the Mile High city. Fans and players are all left scratching their heads with the move. And oh yeah, the Rockies also parted with $51 million.
All this in the wake of a string of other bad baseball decisions by General Manager Jeff Bridich and owner Dick Monfort. Fans should be excited about the news of some attendance allowed with adjustments to Covid limitations. But will they for this baseball product?
The question has been raised if the organization truly cares about winning. Sure, it costs a bundle to keep up with the high-spending Joneses of Major League Baseball: the
Yankees, Red Sox and Dodgers, to name a few. But cost-cutting, and failure to step up to hold on to gems like Arenado, not to mention DJ LeMahieu (the AL Batting Title champ in 2020 for the Yankees), doesn't add up to a laser focus on fielding the best team possible.
Somehow this dumpster fire of a team magically keeps kicking out money. Perhaps the organization is blessed with a growing city looking for things to do on spring and summer nights no matter how good the team is. But probably the reality is that none of the key people knows how this thing is supposed to work.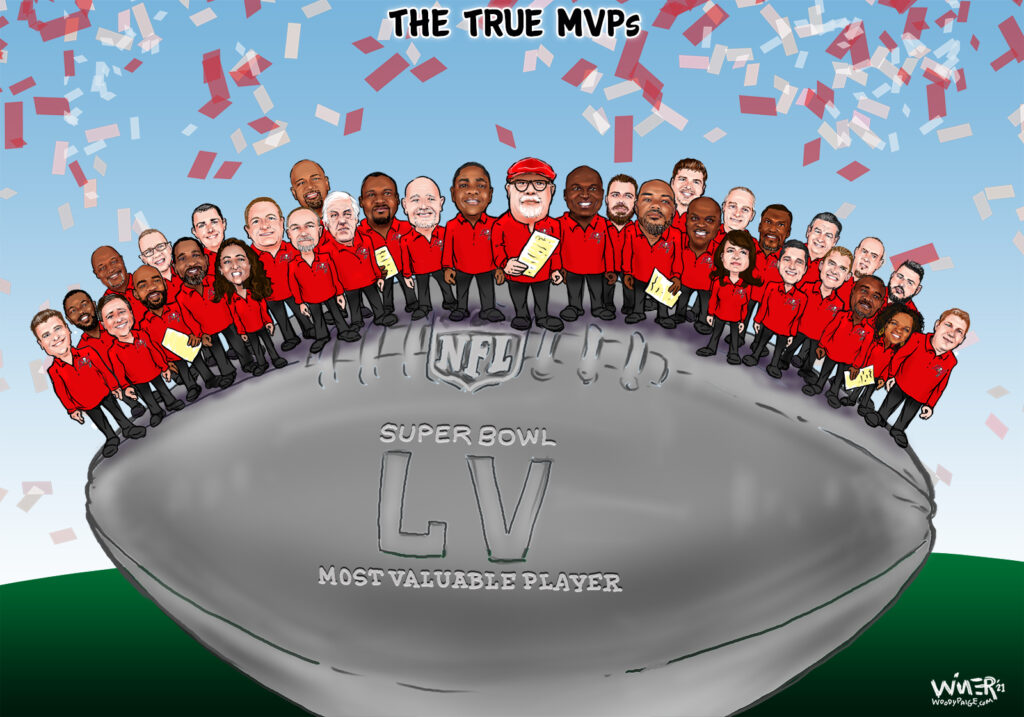 "The True Super Bowl MVPs"
Traditionally, the Pete Rozelle Trophy has only been awarded to a player for being the Super Bowl MVP. Maybe that should be changed going forward, as the Tampa Bay Buccaneers coaching staff made a very valid claim to that title during the 55th version of this end of the season classic.
Sure, Tom Brady stood out as the individual on the field who led a commanding victory over the favored Kansas City Chiefs. Three touchdown passes, 21 of 29 for 201 yards against a solid Chiefs defense, and excellent game management, all at the age of 43 years old made him the obvious candidate.
But what we witnessed was a complete game by the Buccaneers against one of the most explosive offenses in NFL history, a Chiefs defense that was solid and opportunistic, and some of the best coaching minds in the game on the other sideline. En route to a dominating 31-9 win, the Buccaneers seemed prepared for everything the Chiefs threw their way.
It started from the top with Coach Bruce Arians, long known for his connections with his players and his creative approach to the game, and a major reason why Tom Brady landed in Tampa Bay. The offense hummed along in a very efficient and effective fashion that delivered a smashmouth running game expertly meshed with a strong passing game (that benefited from excellent protection for Brady). Byron Leftwich pulled off the kind of balanced gameplan that nearly every coach strives for, but few can stick to, typically because the other team has other plans. In this case, the other team couldn't execute their own plans due to an outstanding Bucs defensive game plan, executed to perfection under the guidance of Todd Bowles. Along the way, an impressive array of players stepped up with strong efforts, all at the right times, and due to the kind of direction you can't help but take your hat off to great coaching.
Like small armies, NFL coaching staffs operate tirelessly while balancing their own team-within-a-team dynamics. Bruce Arians was the maestro.
And plenty has been said about this staff being built with more diversity and with more African-American coordinators than ever seen before in the NFL. Heck, they also have two women coaches.
There are plenty of folks who will point to the star players Tom Brady attracted to the team as the real reason for the win. On the other hand, Gronk's been out of the league for a year, a toxic and unpredictable Antonio Brown was no sure bet, and Leonard Fournette ran himself out of Jacksonville. Others bemoan the ref impact, as multiple penalties went against the Chiefs. Importantly, it was noted by many prior to the game that the Chiefs secondary was known for being very grabby and prone to those kinds of penalties. And what about home field advantage? The list goes on.
But the bottom line was that a remarkable collection of coaches pulled a team together with a lot of new pieces, and orchestrated a stunning upset against a top notch coaching staff in a year chock full of distraction, and made it look easy.
That's my MVP.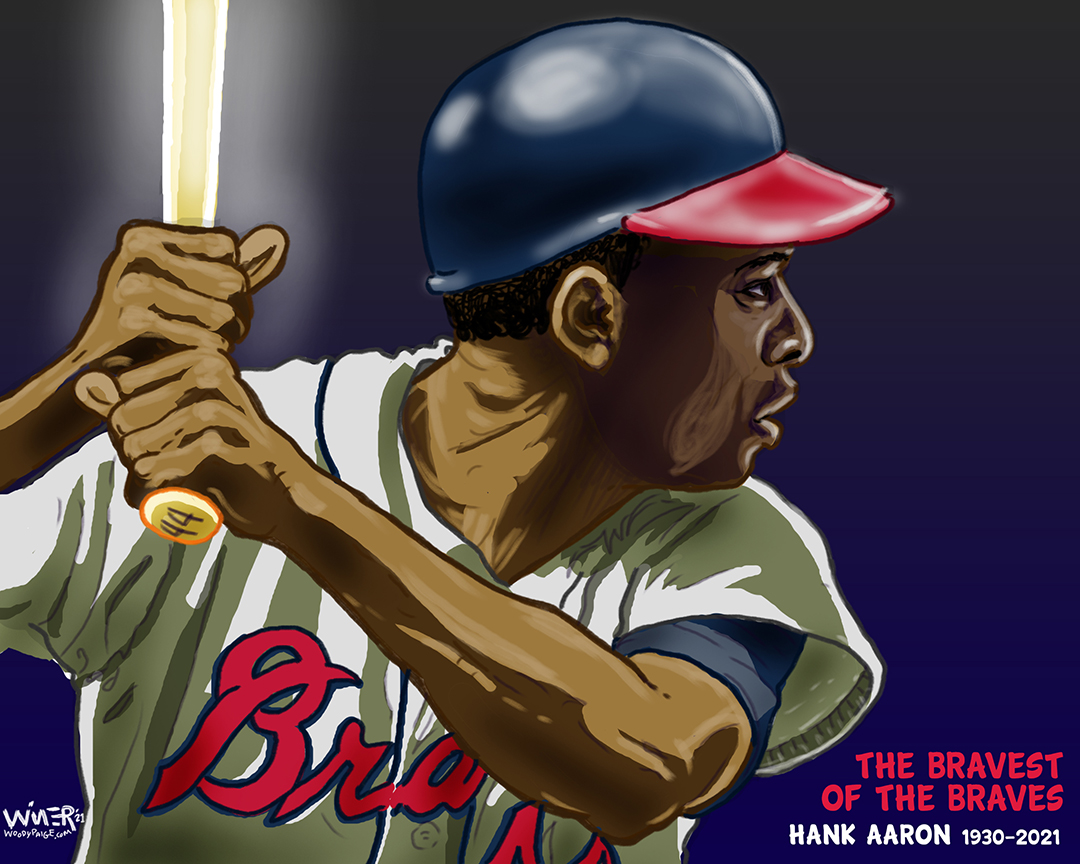 "The Bravest of the Braves"
Henry Louis Aaron passed away this past week, leaving behind a legacy as a giant on and off the baseball field.
The last of the big leaguers to join Major League Baseball from the Negro Leagues, Hammerin' Hank was a paragon of class and dignity through out his Hall of Fame career.
When Aaron approached Babe Ruth's record for career home runs in 1974, he bravely faced an onslaught of hate and death threats from racist "fans" of the game. During a season where bodyguards followed him everywhere he went, he bore down on the record with grace and focus. But Aaron never forgot what he had to so unfairly endure, famously saving every one of those hateful letters.
His retirement showed no departure from his prior approach to life and the game, cementing his place in baseball and sports lore as a legend and hero.
In a particularly tragic year for so many sports heroes, the light Hank Aaron left behind somehow seems to stand out just a bit more.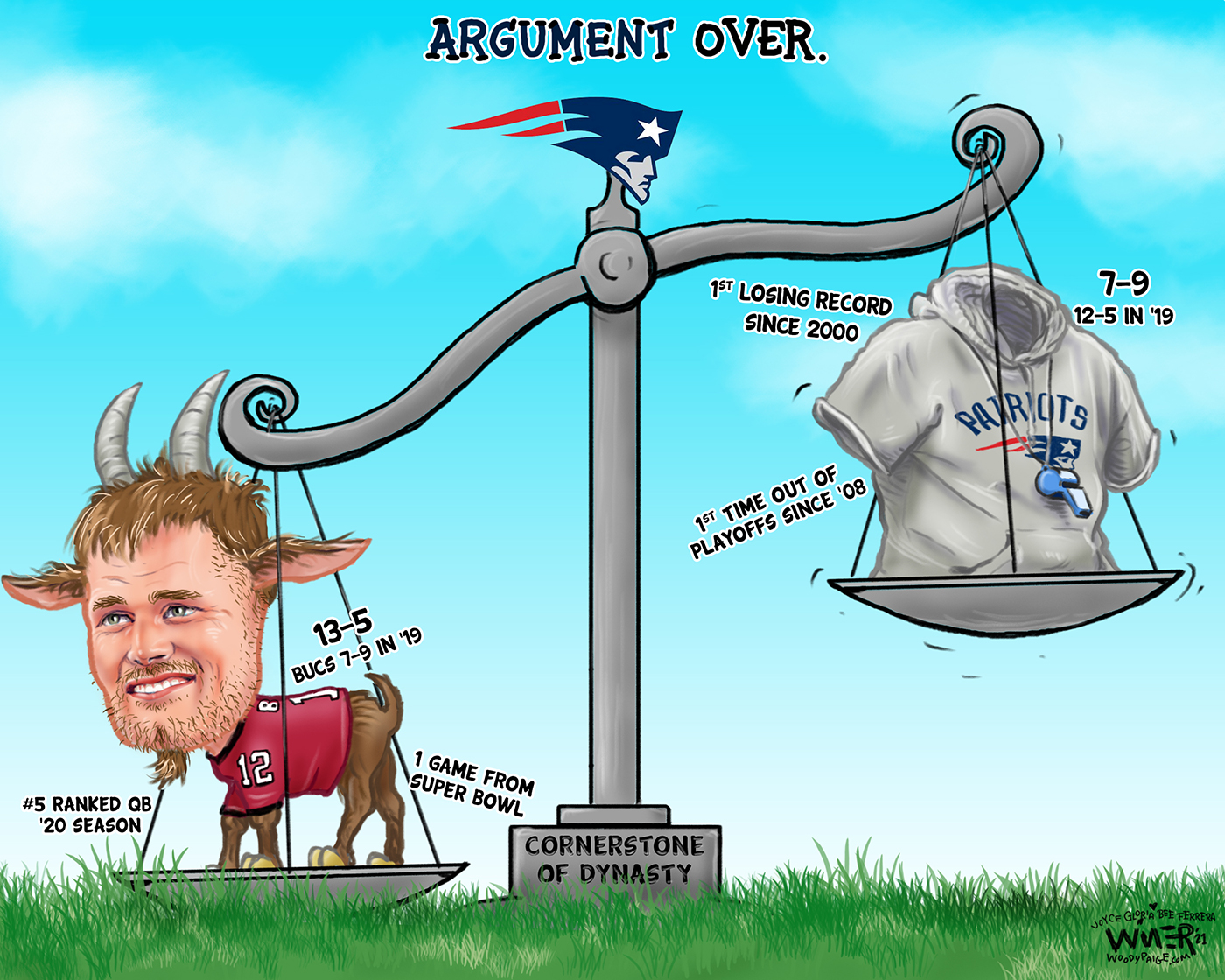 The G.O.A.T. vs The Hoodie: 2020 settled who was more important
When we once gathered around the watercooler, it was a classic sports argument: who was the straw that truly stirred the Patriots? The gruff, brilliant, cutoff-hoodie-wearing mastermind Bill Belichick, or the 6th round draft pick with 6 Super Bowl rings — Tom Brady?
With similar number of years in the organization, the two future Hall of Famers presided over arguably the most dominant dynasty in NFL history.
Was that because Belichick was a genius at managing an ever-changing roster of players and assistant coaches (so many hired away as head coaches), a vicious, opportunistic defense, and well-documented gamesmanship (or worse as many would claim) vs. all comers?
Or was it the quarterback who made an art form out of training, preparation and smarts to maximize a solid, but hardly overwhelming set of physical tools?
Or were the two indispensable for each other? Could Brady be as effective outside the Patriots organization, and would the Patriots be able to compete at such a high level without their on field leader?
Due to injuries and a suspension, the Patriots found some limited success when Brady couldn't take the field. But it wasn't until this year, when the Patriots decided to let Brady (labeled the G.O.A.T., or Greatest of All Time) walk away from the team he led for two decades, that the world got to see the grand question play out.
Joining a struggling Tampa Bay Buccaneers team that had missed the playoffs the previous year, expectations were low for Brady at 43 years old, coming off a below average season the previous year. There were some ugly games and losses that Brady could take the bulk of the blame for, especially early, but his play improved and when the dust settled at the end of the regular season, Tampa Bay was in the playoffs with a strong 11-5 record. Two wins in the playoffs now has them knocking on the door of the Super Bowl, in the NFC Championship. Not only has he led the team in a way reminiscent of his Patriot days, he also ended the season ranked 5th among all NFL quarterbacks, a feat remarkable for a player at his age, on a new team, and in a new system. To be fair, he joined a team with some offensive weapons, then added more once Brady became the main attraction. Additionally, the pairing with Coach Bruce Arians, an offensive genius, has been very successful.
And how has the Patriot organization and Coach Belichick fared since the separation? Uh, not so great.
They missed the playoffs with a losing record, both occurrences that hadn't been seen in many years. In the year of Covid all bets are off, so it's fair to cut any organization some slack and have faith in Belichick righting the ship next year. But right now, Brady is making a very strong case for who was the most important cog in the New England machine.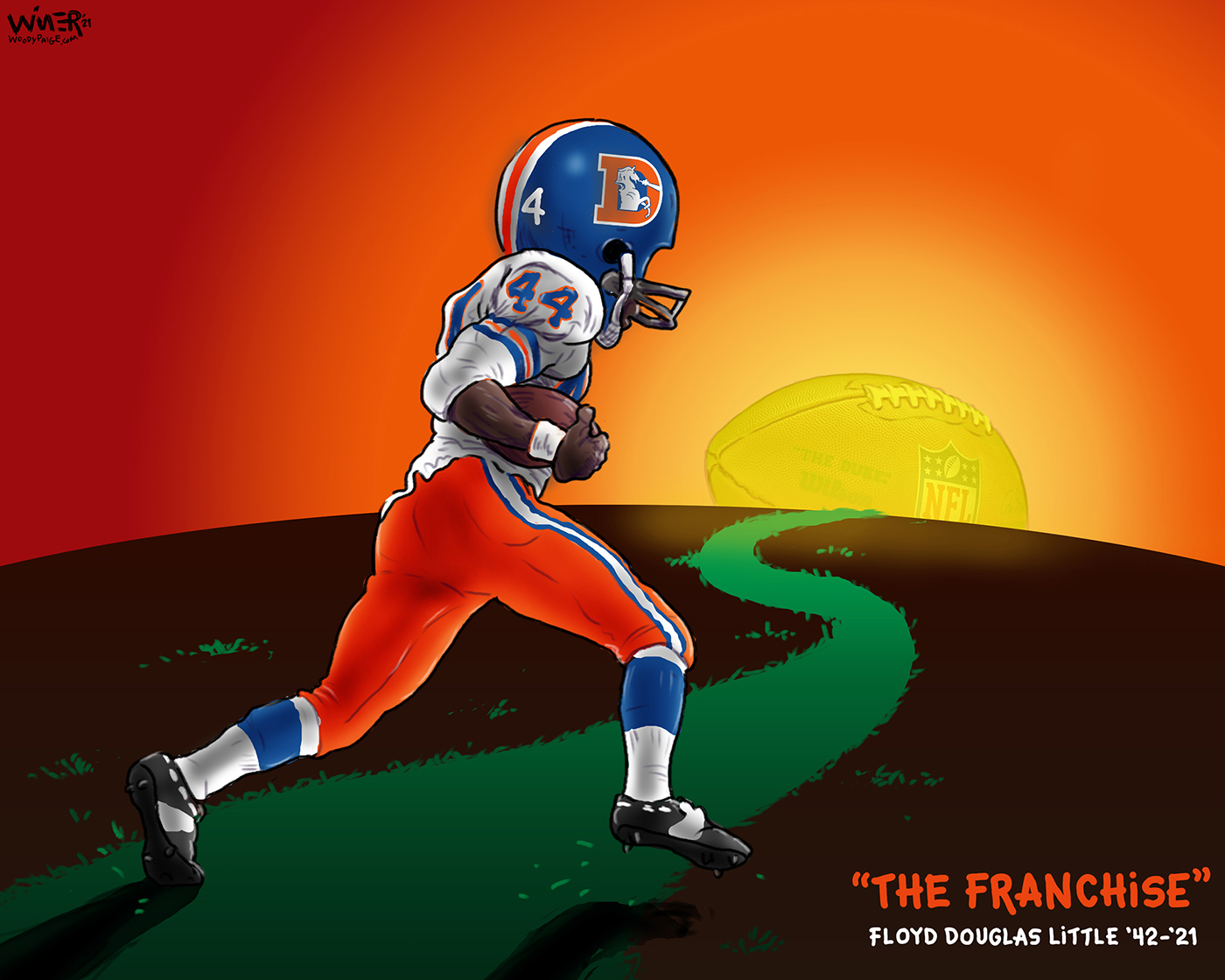 Floyd Little's Sprint to the Final End Zone
We lost a great one this past week. The first great Denver Bronco, Floyd Douglas Little, galloped off into the sunset after a battle with a rare cancer.
A Ring of Famer, Hall of Famer, and one of only three Broncos to have their number retired by the team, Floyd was truly "The Franchise" in its early days.
Importantly, he stood out as a man who drew praise from his contemporaries as an even better person than he was a player. The kind of cornerstone any organization would be proud to build its future on.

As the once proud Broncos struggle to find themselves amongst abysmal seasons, serious ownership issues, and a transition away from Elway guiding the ship, may the example of Floyd help provide some direction forward.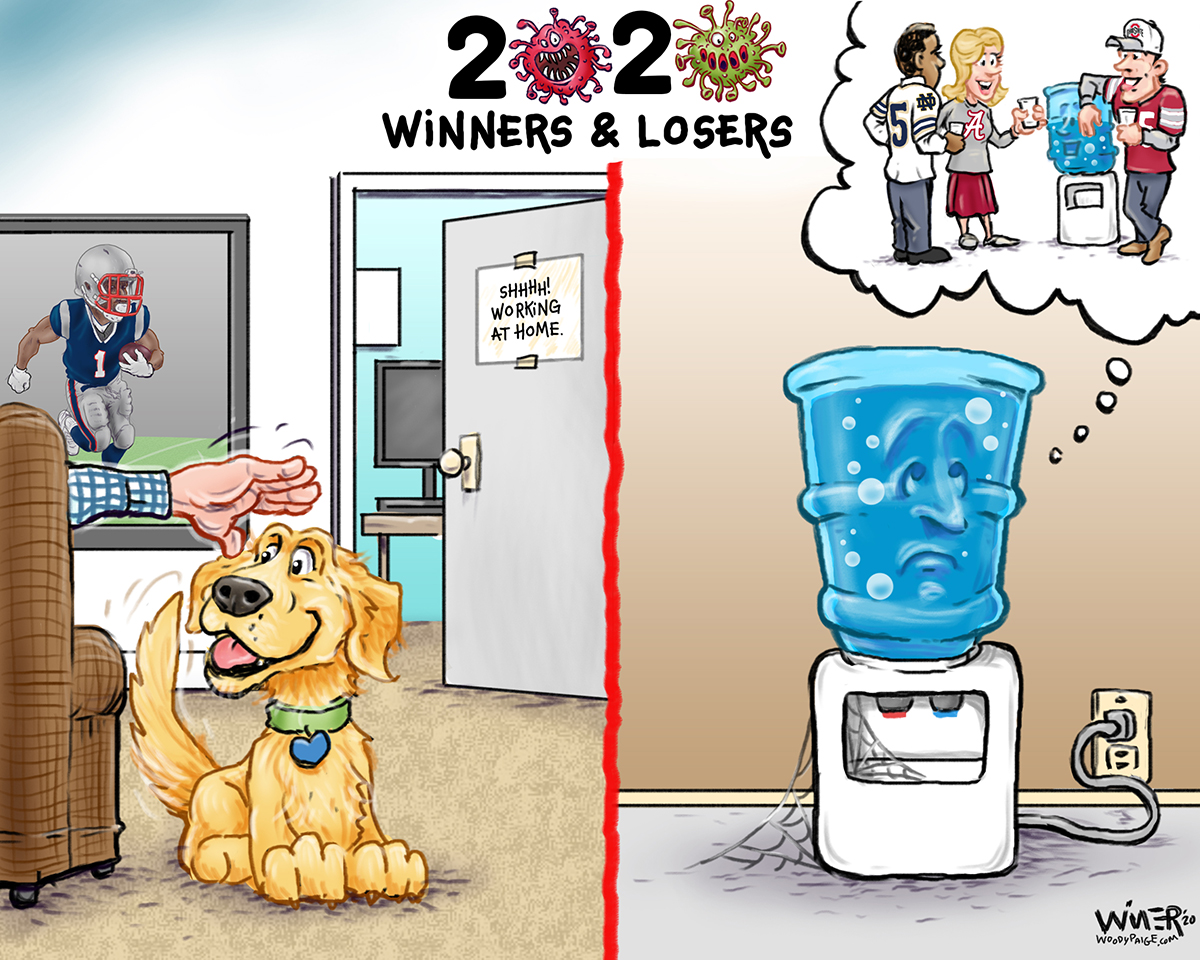 2020 Winners & Losers
As bad as 2020 was, there were certainly those who came out of it as winners. Man's best friend got a LOT more quality time with their owners, as the workplace moved into the home. And without the option of watching sports live or at the favorite watering hole, the home TV got a heavy workout.
And high on the list of losers was the company watercooler. The long time popular meeting place for talking all things sports (and until recently, politics), the watercooler was a truly lonely entity this past year.

Makes me wonder: has the overall fall-off in sports viewing been a result of our lost connectedness this past year? Without the drama and suspense that is driven by weekly watercooler conversations, do we care a little less about the big game on Saturday or Sunday? Do we thirst to watch the outcome of a contest to prove wrong that guy in accounting whose opinions never have a foot in reality? Are the little side bets about big rivalry games we make with our buddies over beers fewer and farther in between?  And is it harder to collect those bets, because we won't see that guy for another month?
Here's to a fresh, new year, where things like the watercooler are reinserted into our lives.
Shop for over 250 of my top images (many that you have seen here) as prints, unframed or framed, posters and large print on canvas. Just added other great gift options with this artwork on mugs, towels, blankets, totebags, throw pillows, etc.! Etsy is super easy and convenient.  Reach out to me directly for those options and send me a note if you don't see an item in a gift option - I'll make it happen!
If you can't find a piece of my work at Etsy, or are interested in a commissioned piece of work, please reach me directly at [email protected] or 303 746-1305.