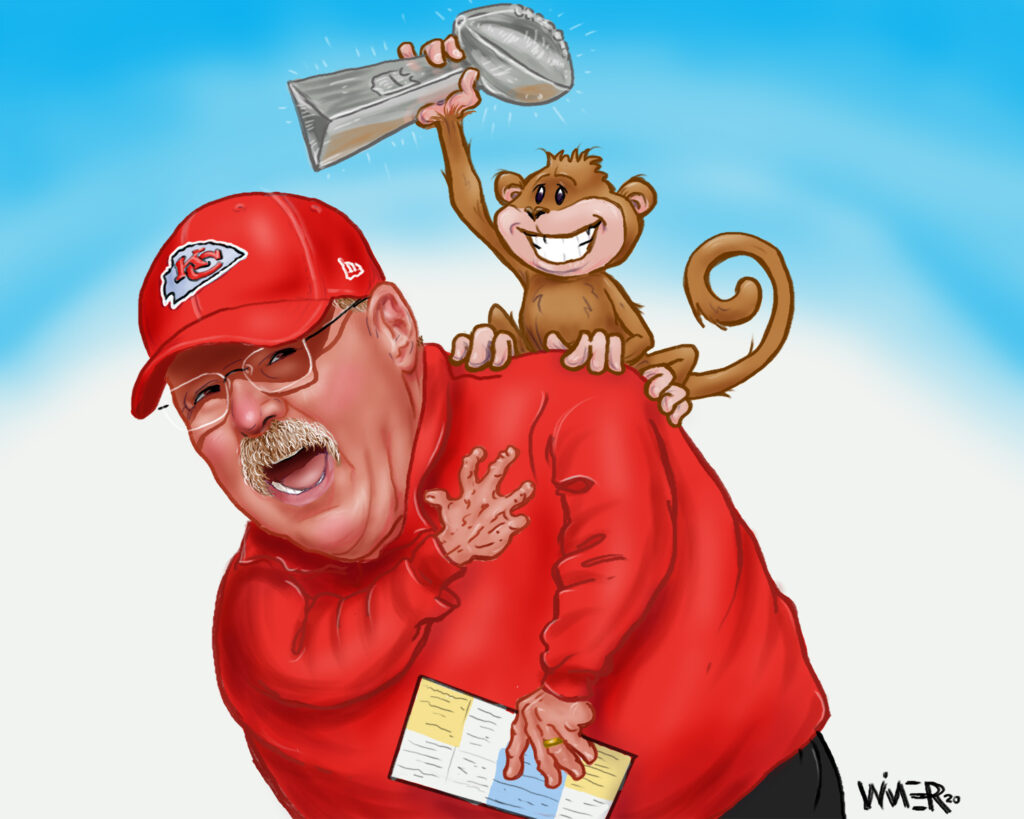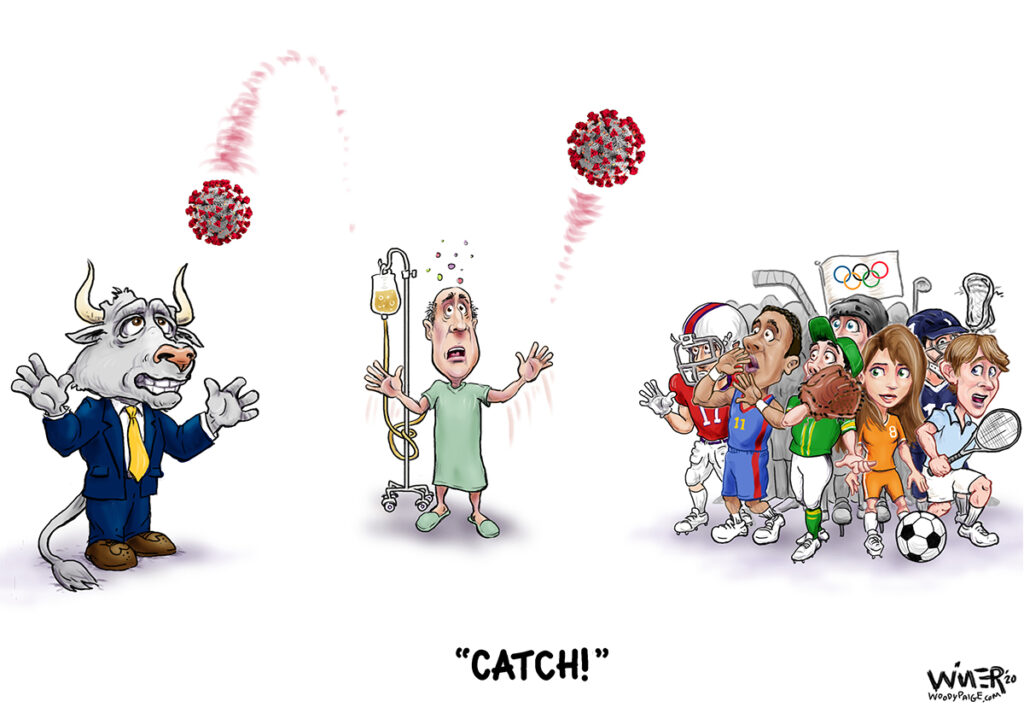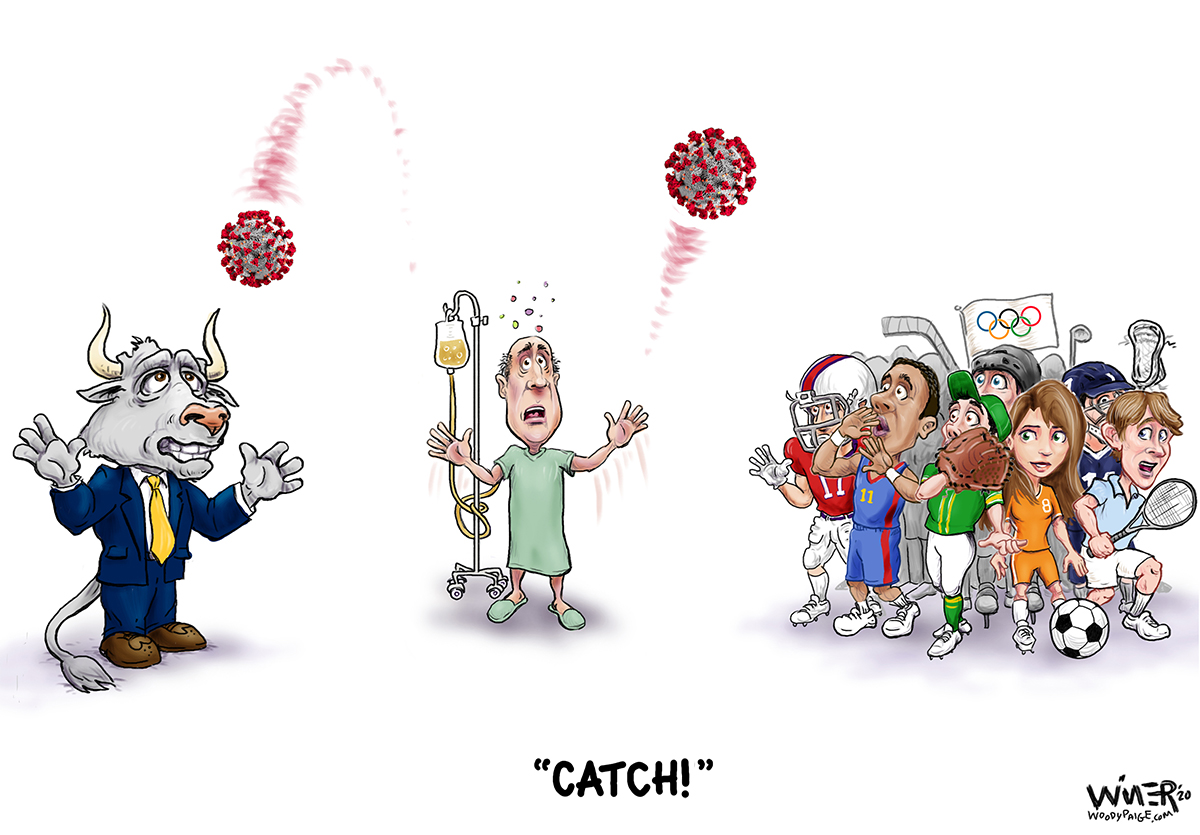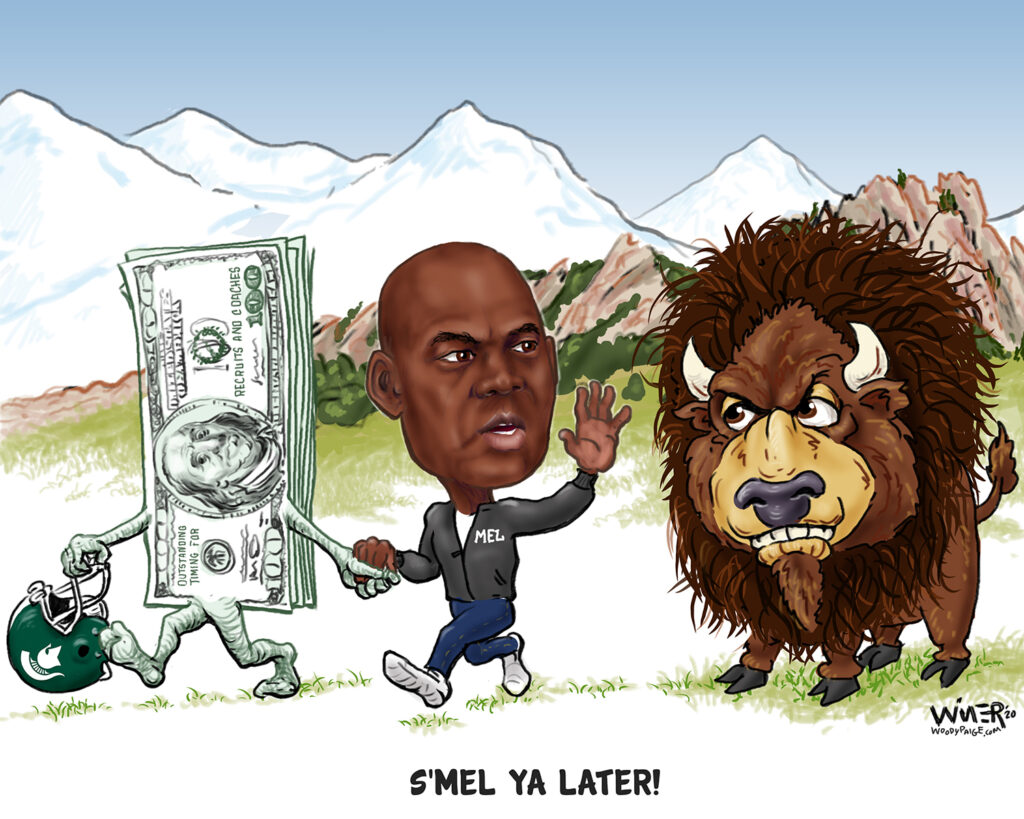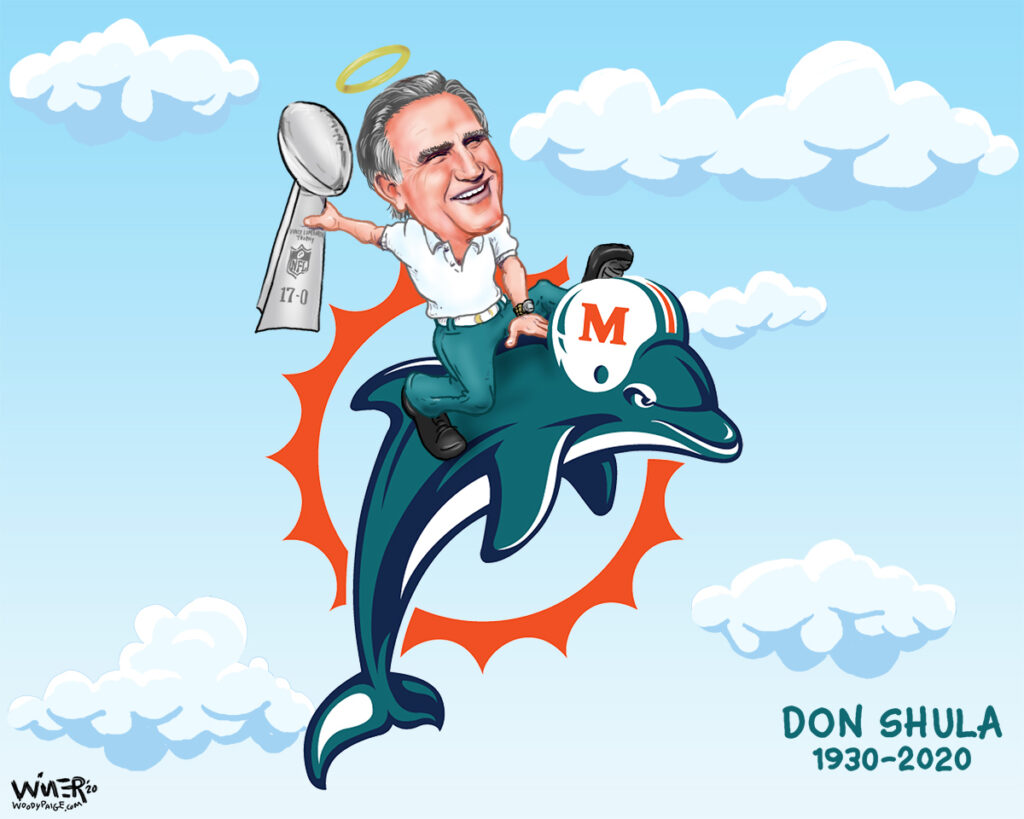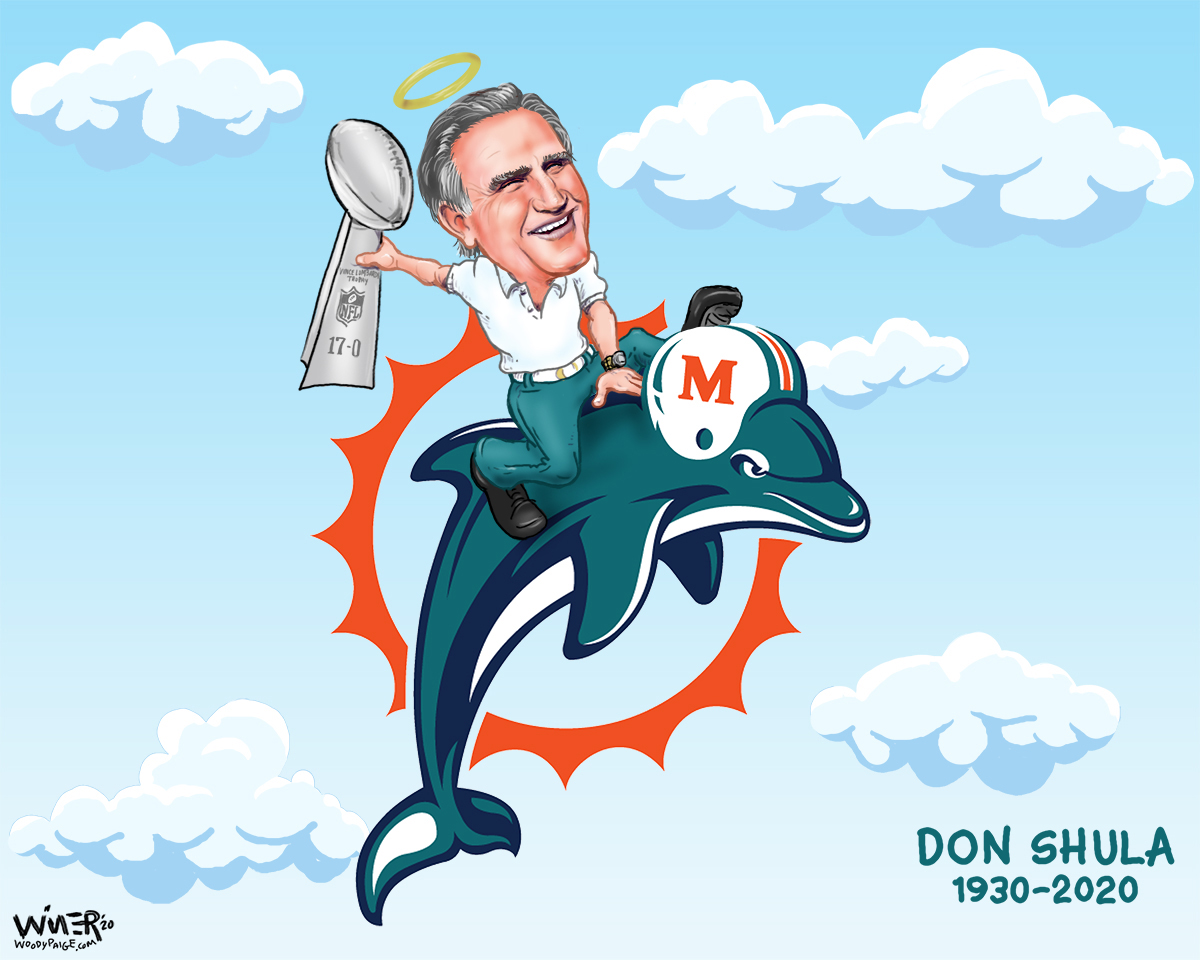 National Sports Commentary (2020)
Woody Paige, a nationally acclaimed sports writer for many years, continues to deliver his special brand of commentary via television, podcasts and writing. My cartoons, illustrations and comments are featured weekly on WoodyPaige.com alongside Woody's finest and other outstanding content by some of the finest sports writers in the country. I cover a wide range of sports topics, with an honest perspective as an athlete (D-I lacrosse and football, All-America), coach (youth, club and HS), several years living abroad, and family (Grandpa Wimer is in Basketball Hall of Fame). Featured on this page is work from 2020.

Click  for 2022 & 2023, 2021, 2019 cartoons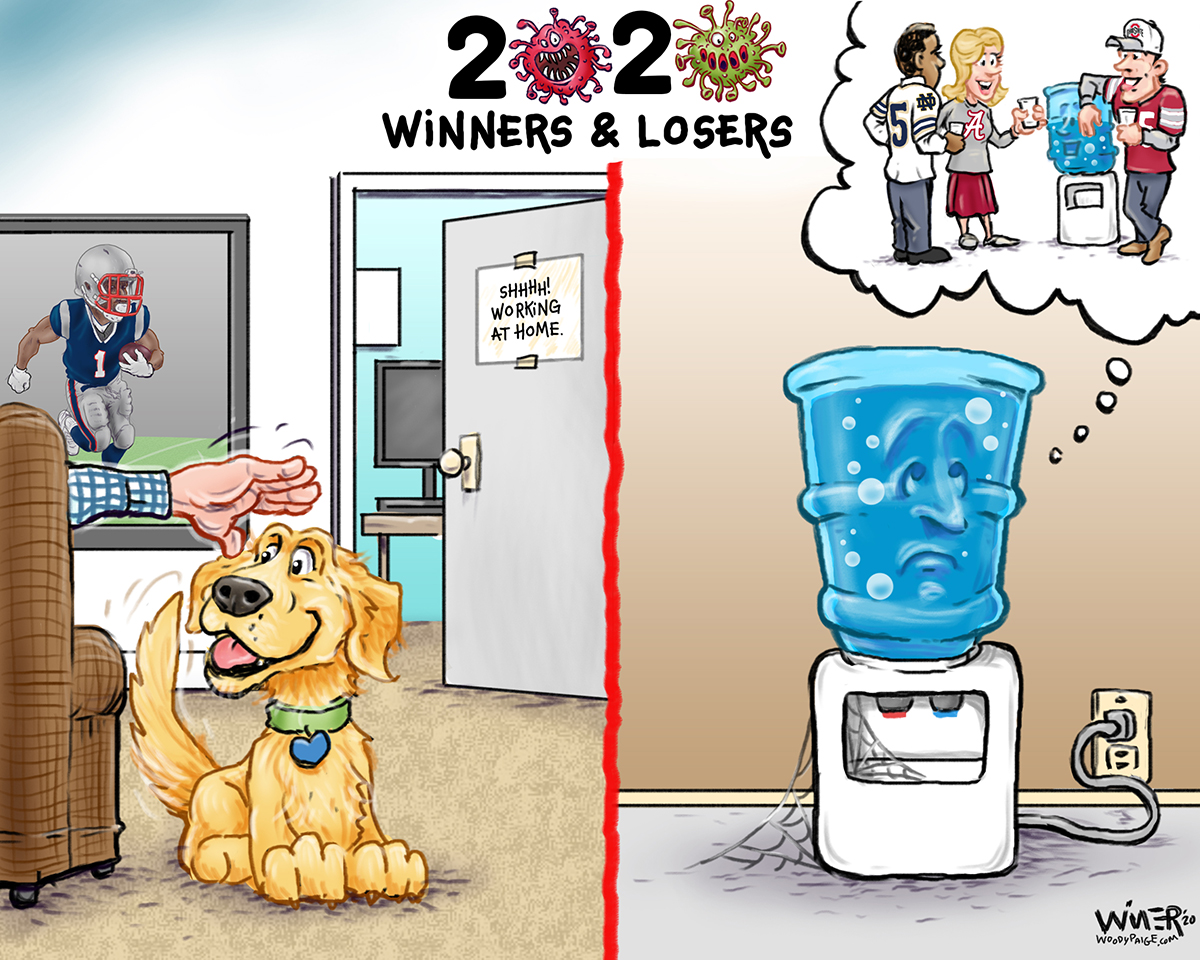 2020 Winners & Losers
As bad as 2020 was, there were certainly those who came out of it as winners. Man's best friend got a LOT more quality time with their owners, as the workplace moved into the home. And without the option of watching sports live or at the favorite watering hole, the home TV got a heavy workout.
And high on the list of losers was the company watercooler. The long time popular meeting place for talking all things sports (and until recently, politics), the watercooler was a truly lonely entity this past year.

Makes me wonder: has the overall fall-off in sports viewing been a result of our lost connectedness this past year? Without the drama and suspense that is driven by weekly watercooler conversations, do we care a little less about the big game on Saturday or Sunday? Do we thirst to watch the outcome of a contest to prove wrong that guy in accounting whose opinions never have a foot in reality? Are the little side bets about big rivalry games we make with our buddies over beers fewer and farther in between?  And is it harder to collect those bets, because we won't see that guy for another month?
Here's to a fresh, new year, where things like the watercooler are reinserted into our lives.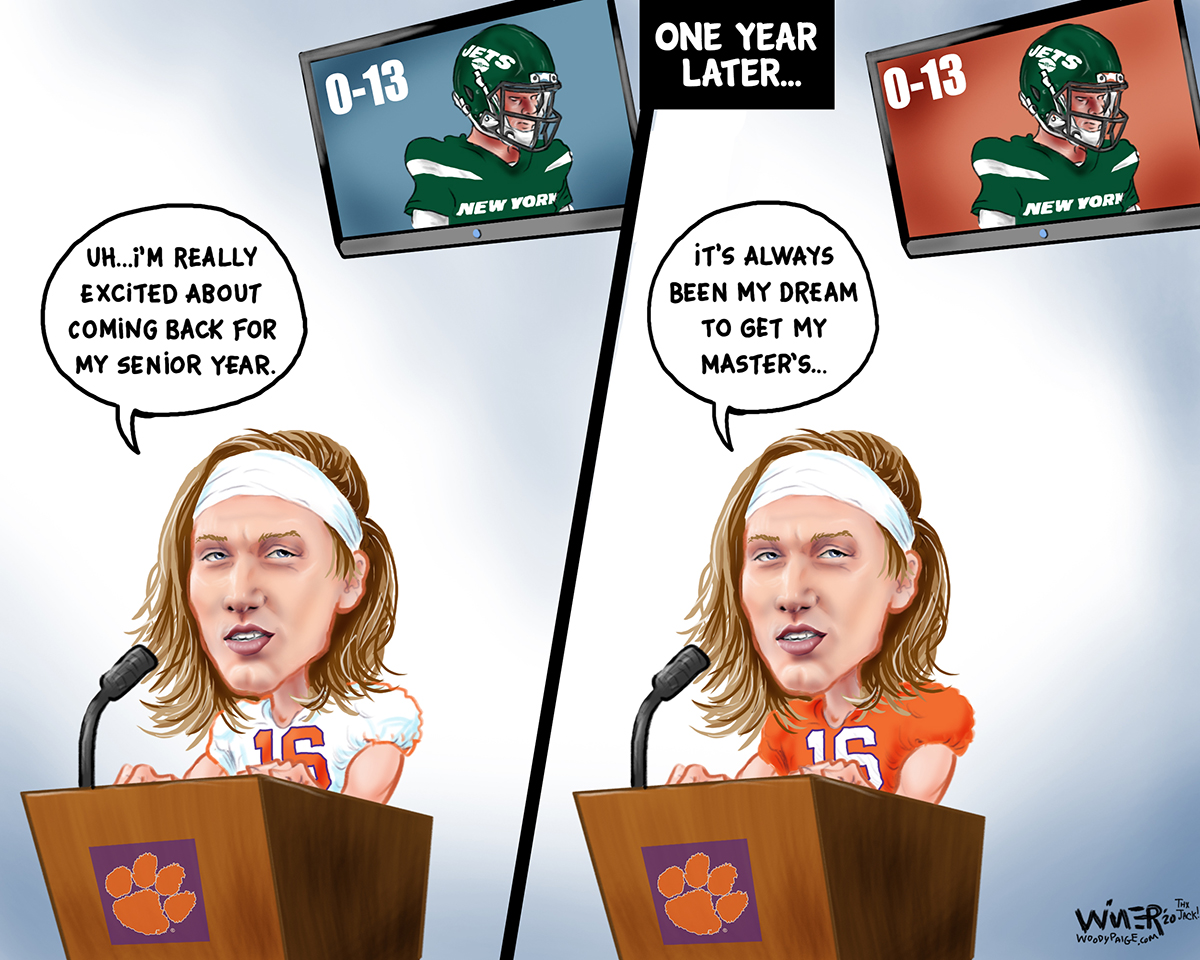 Trevor Lawrence may end up thanking the Jets for him getting a complete education
As the New York Jets stumble towards a winless season, they are clearly becoming the frontrunners in the Trevor Lawrence sweepstakes.
Positioning for the number one pick in the upcoming draft means landing a generational talent in the gifted Clemson quarterback who won a national championship as a freshman, and has continued to impress over his sophomore and junior years.
Meanwhile, the Jets have been in a painful downward spiral since they drafted Sam Darnold out of USC a few years ago. They've come up with new and creative ways to lose games while also losing key players. Their defensive coordinator was shown the door recently and the days are most likely numbered for their head coach as well. So the promise of a stud quarterback may be just what they need, right?
Not so fast.
Speculation has abounded that Lawrence may choose to dodge the bullet of being drafted by Jets by making demands pre-draft or simply staying one more year at Clemson. This Jets team is a true trainwreck, with many citing a lack of talent and a strain of toxicity throughout the organization.
Even the greatest Jet of all time, Joe Namath, hinted at the fact that Lawrence should find a way to not punch his ticket to New York.
But who's to say that one more year will change the overall scenario? It's not hard to imagine that in another year this dysfunctional Jet team will be in precisely the same situation.
And then what will the NFL's next great quarterback do?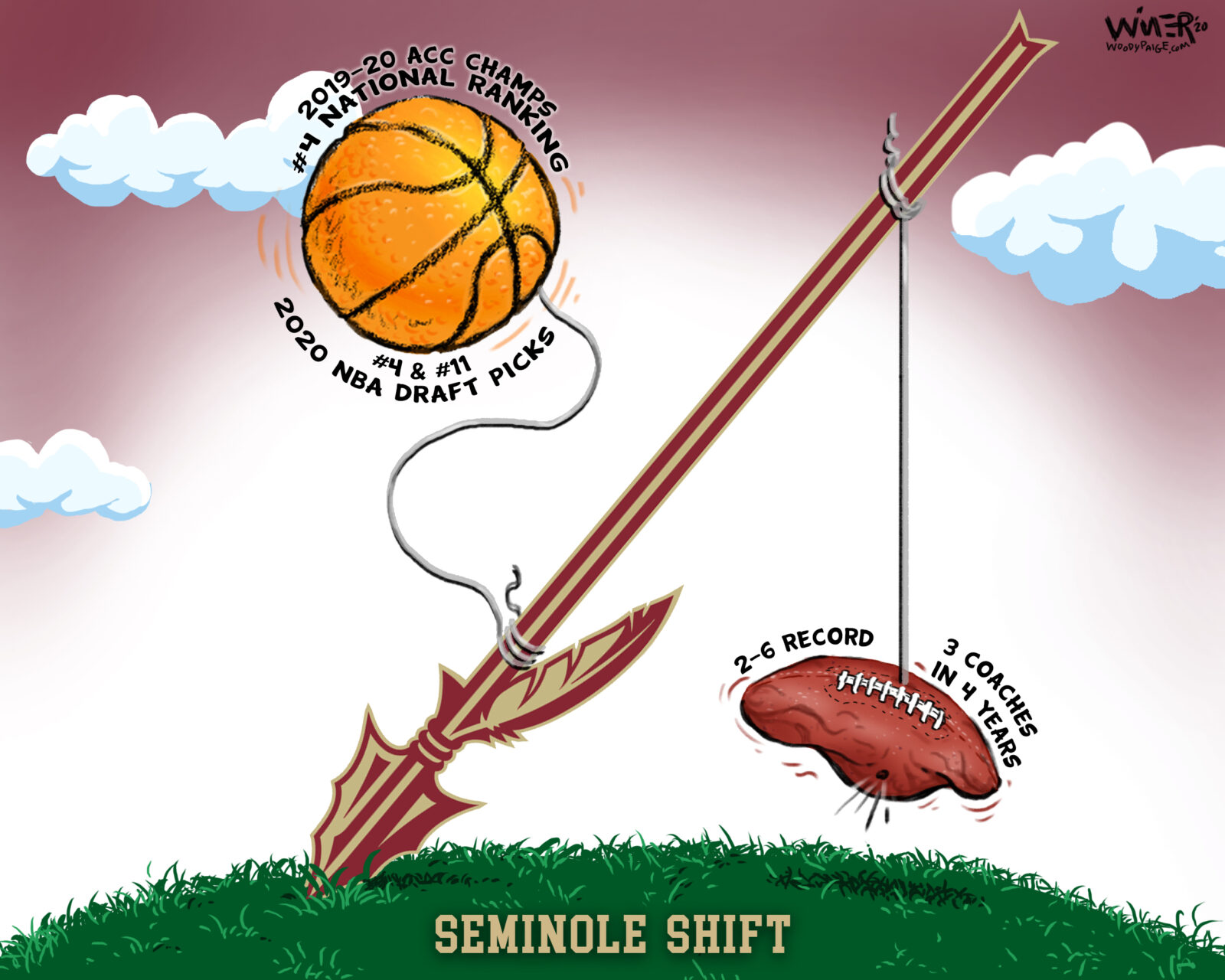 "Florida State's Change of Sports Fortunes"
A long time top college football program, the Florida State Seminoles have fallen on hard times of late. At 2-6, alongside Syracuse at the bottom of the ACC, all is not good in Tallahassee. A couple of years ago they broke a 36 year run of bowl games with a 5-7 record that made them ineligible for the postseason. It was only in 2013 that they went undefeated and won the national championship.
Much has been said about dissension between the football program and the athletic department, the mess Jimbo Fisher left behind when he departed for Texas A&M, the dearth of funds for keeping up with the likes of Alabama and Clemson, and a toxic football culture. The program is on its third coach in 4 years, and the bleeding shows no signs of stopping.
But a remarkable thing is happening on the other side of the athletic campus…in the basketball program. Florida State football fans should take a moment to dry their tears and admire the work coach Leonard Hamilton has quietly done in building a powerhouse. In recent years the hoops program has made some noise with major wins and runs in March Madness. But last season was something truly special, winning the ACC for the first time in their history while securing a ranking of fourth in the country heading into the ultimately doomed national championship playoffs.
Then, a week ago they saw two of their players drafted: Patrick Williams fourth overall, and Devin Vassell at number 11. A better showing than bluebloods Duke, North Carolina, Kansas or Kentucky. It would seem the school has arrived in the world of basketball just when things haven't looked worse for fortunes on the gridiron.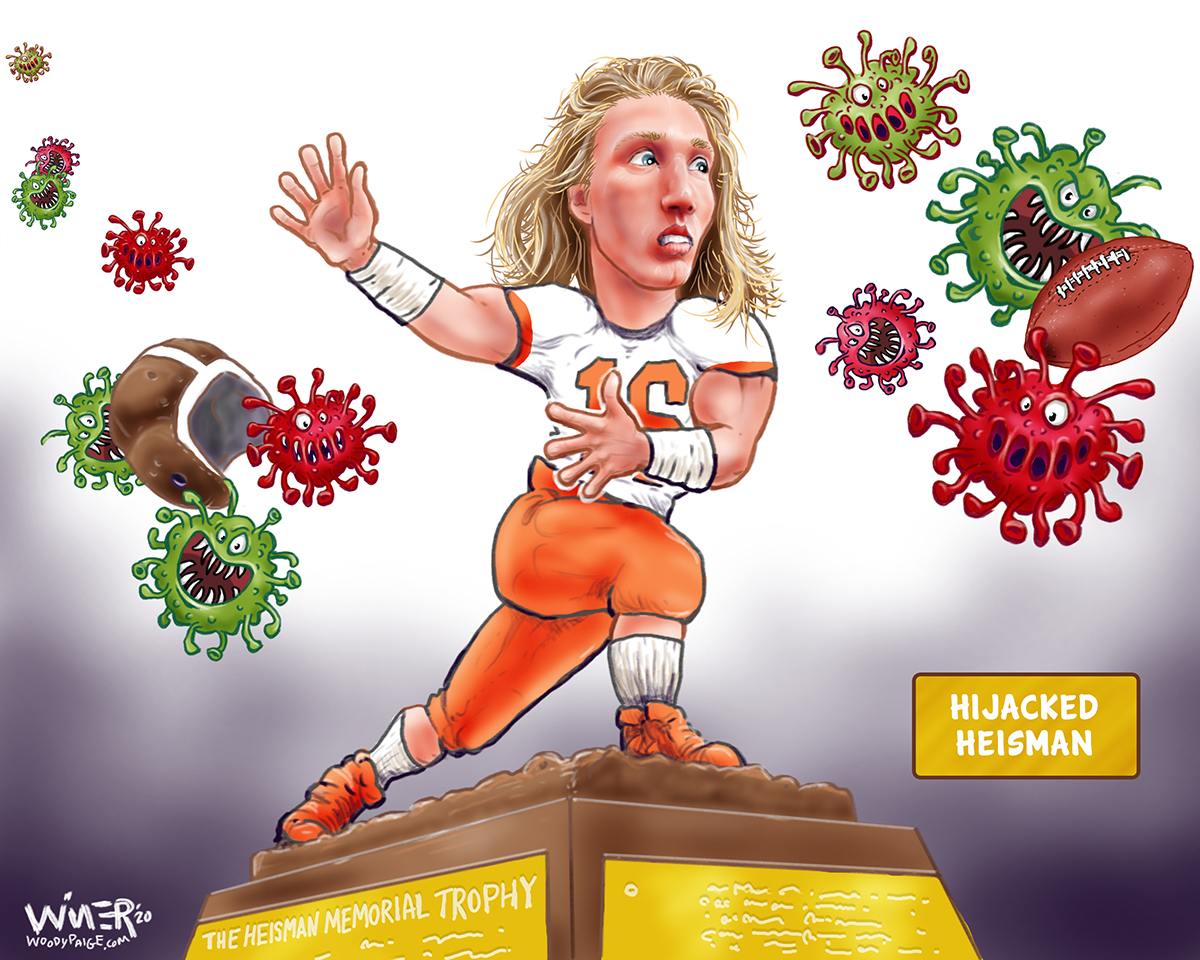 "Hijacked Heisman Hopes"
Trevor Lawrence, the junior Clemson quarterback every NFL team is (or probably should be) drooling over, tested positive for coronavirus last week.
In quarantine and out of the game for at least two weeks, Lawrence is at risk of losing any chance at taking home the most impressive end of the season college football hardware, the Heisman Trophy.
A leading candidate for the award on many pundits' boards, the odds changed quite a bit with this blow. The Tigers squeaked out a comeback win against a middle of the road Boston College opponent this past week in Lawrence's absence, and came up just short this week against 4th ranked Notre Dame.
The interesting thing is that Lawrence's freshman backup, D.J. Uiagalelei (barely easier to spell than to pronounce) played well and led a comeback for the win over B.C.. Can't help make you wonder the reasons for a quarterback's success (see Tom Brady); is it the player or the outstanding talent on the team around him?
Sometimes a seed of doubt is all that is needed for any of the 929 Heisman voters to look elsewhere to cast their vote.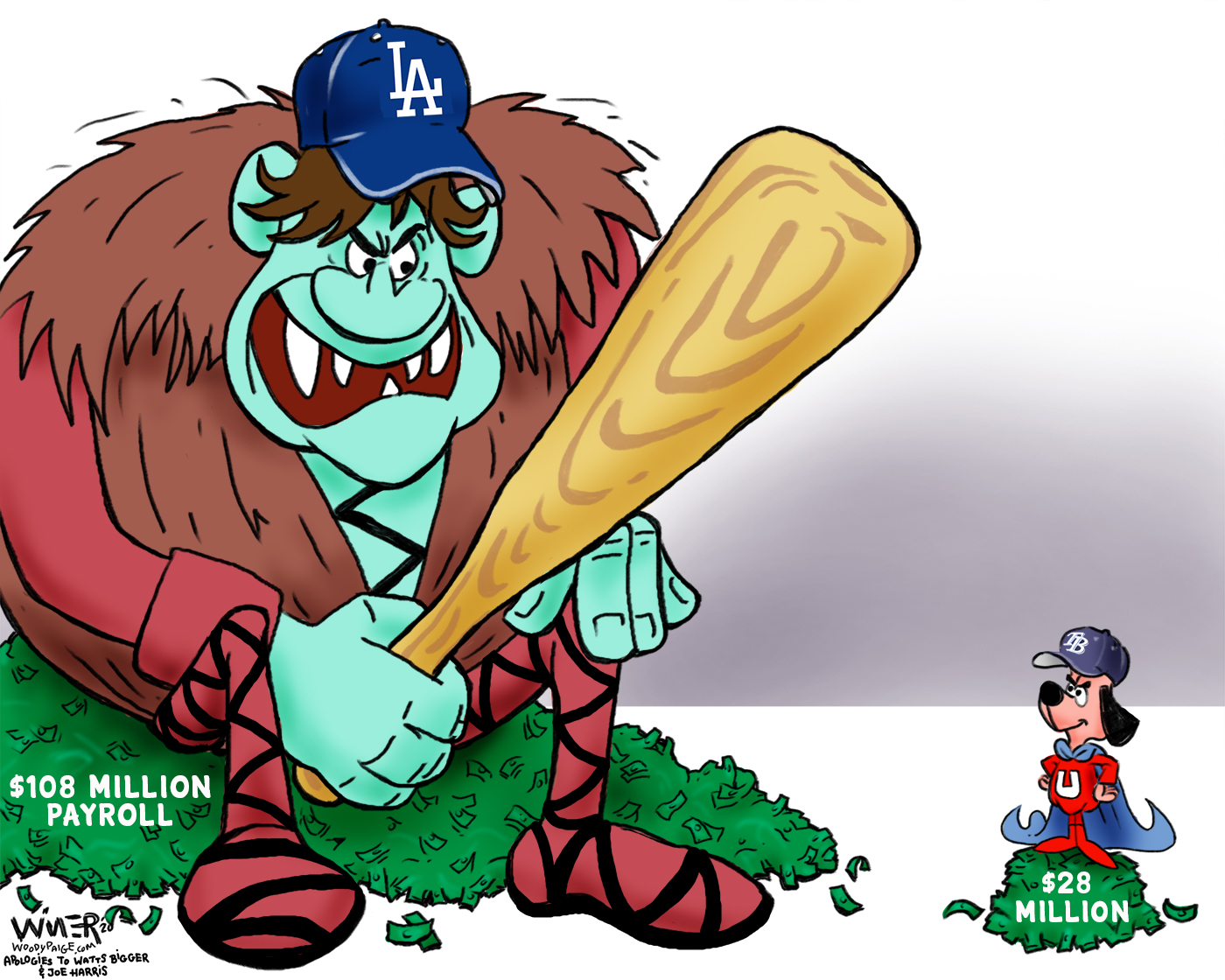 "A Baseball Underdog Story"
A few months ago, the thought of a World Series was a 50-50 proposition in the midst of the Covid-19 pandemic, but here we are now with the two best teams by record in Major League Baseball.
The Tampa Bay Rays against the Los Angeles Dodgers in a great match-up. Baseball has always relied on drama to draw broader interest, so it's nice to see a true "Underdog" scenario. The Dodgers bring the second highest payroll (adjusted for the shortened season) at $108 million vs. $28 million (3rd lowest in MLB) for the Rays.
By most metrics, that disparity in money invested in talent is reflected in what we will see on the field. The Dodgers ripped through the competition in the playoffs until they were able to scrape by Atlanta. Most talking heads give them the nod with simply too much high powered depth.
But never count out the underdog. The fact the little guy knocks the big guy off his perch with relative regularity is why so many of us love our sports.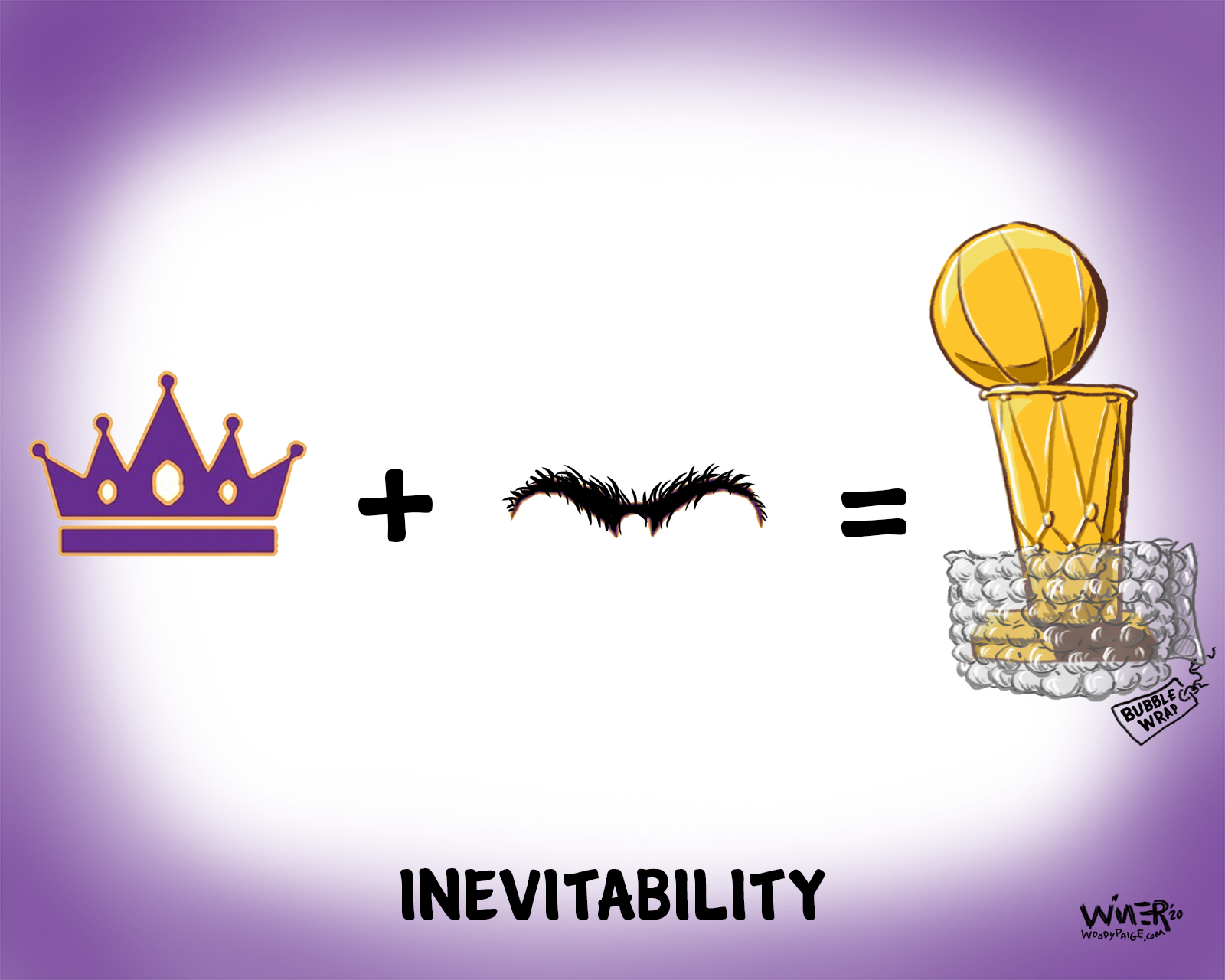 "The King and The Brow"
Last year when the Los Angeles Lakers pursued and landed Anthony Davis from the New Orleans Pelicans the rest of the NBA let out a collective groan.
Super Teams have been running rampant in the league ever since LeBron James left Cleveland for Miami in 2010, but pairing arguably two of the top three players in the league was something we hadn't seen. The King and The Brow were destined to deliver dominant basketball.
Physical specimens who could dominate on both ends of the court, the idea of James and Davis playing together made everyone scratch their heads and wonder how you could defend them both over the course of a game, much less an entire playoff series. Ultimately, that was exactly what played out in the NBA playoffs and Finals, with the Lakers taking home the hardware four games to two over the Miami Heat.
LeBron was truly outstanding while winning his fourth NBA championship and another Finals MVP trophy. At 35 years old, his dedication and fitness led to multiple triple-doubles and at times carried the team. A less consistent, but always dangerous Anthony Davis was the piece that was too much for any team they encountered to handle.
There were other pieces that came together quite nicely, like a rejuvenated Dwight Howard and a healed-up Rajon Rondo, who helped right the boat after a rough stretch of play in the bubble. Coach Frank Vogel deserves a ton of credit for dialing up vicious defense and playing mad scientist with a deep, veteran cast and a wide range of lineup nightmares for opposing teams.
But truthfully, in June 2019 when the trade went down for Davis, there was no more suspense, it just became a matter of time.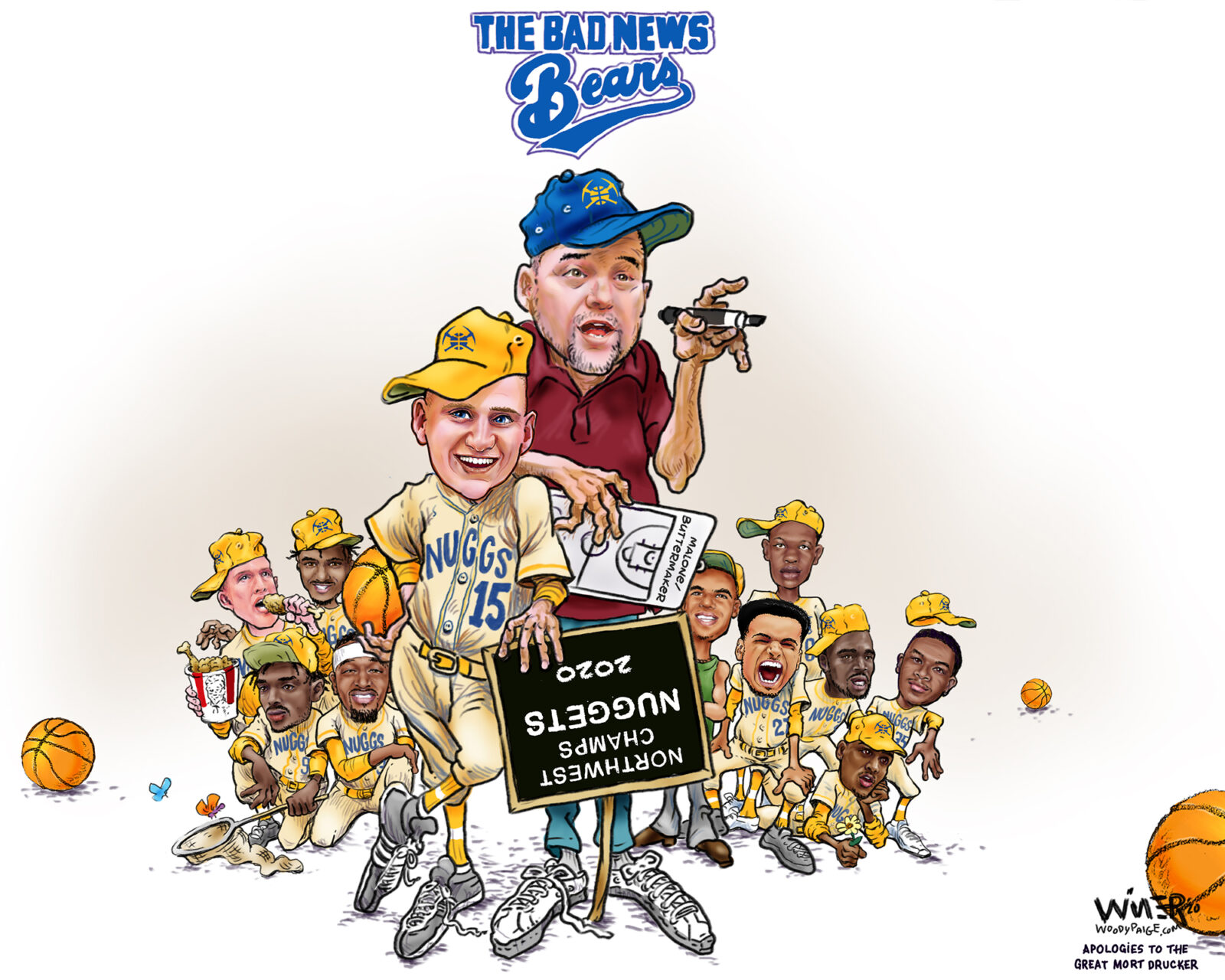 "The Bad News Bears of Basketball"
The Denver Nuggets keep confounding the basketball sages, with gut-wrenching wins and series comebacks that have made history. And yet they continue to be written off.
Coach Michael Malone last week in the middle of the Clippers series said, "I almost feel like we're The Bad News Bears and I'm Coach Buttermaker. We're a team that nobody really looks at and takes us seriously. And our guys, I think, have taken that personally."
This week's cartoon went to the famous movie poster created by the late, great Mort Drucker (famous for his MAD Magazine work), and faithfully recasts the misfits from the 1976 movie.
The Nuggets don't look like much on paper, especially against the NBA standard bearers. One of the youngest teams in the league, they've got up and coming players like Jamal Murray who seems destined to be a future All-Star, a real All-Star in Nikola Jokic (who doesn't really look the part) and then a deep cast of supporting players. But often a well-coached team with great chemistry knocks off the team loaded with talent.
And Malone also made a hugely valid point that this team was 2nd in the West for much of the season, and that a record should count for something.
But right now, being that underdog team isn't the worst thing, and it's pretty clear that Malone continues to mine that for motivation. So, Charles Barkley and all the other haters can keep on hating, as long as the Bad News Nuggets keep on winning.
But let's hope this story doesn't follow the script of the original movie. The Bears lose in the championship, but decide to throw a party anyway. Looking forward to the party, but with a different outcome.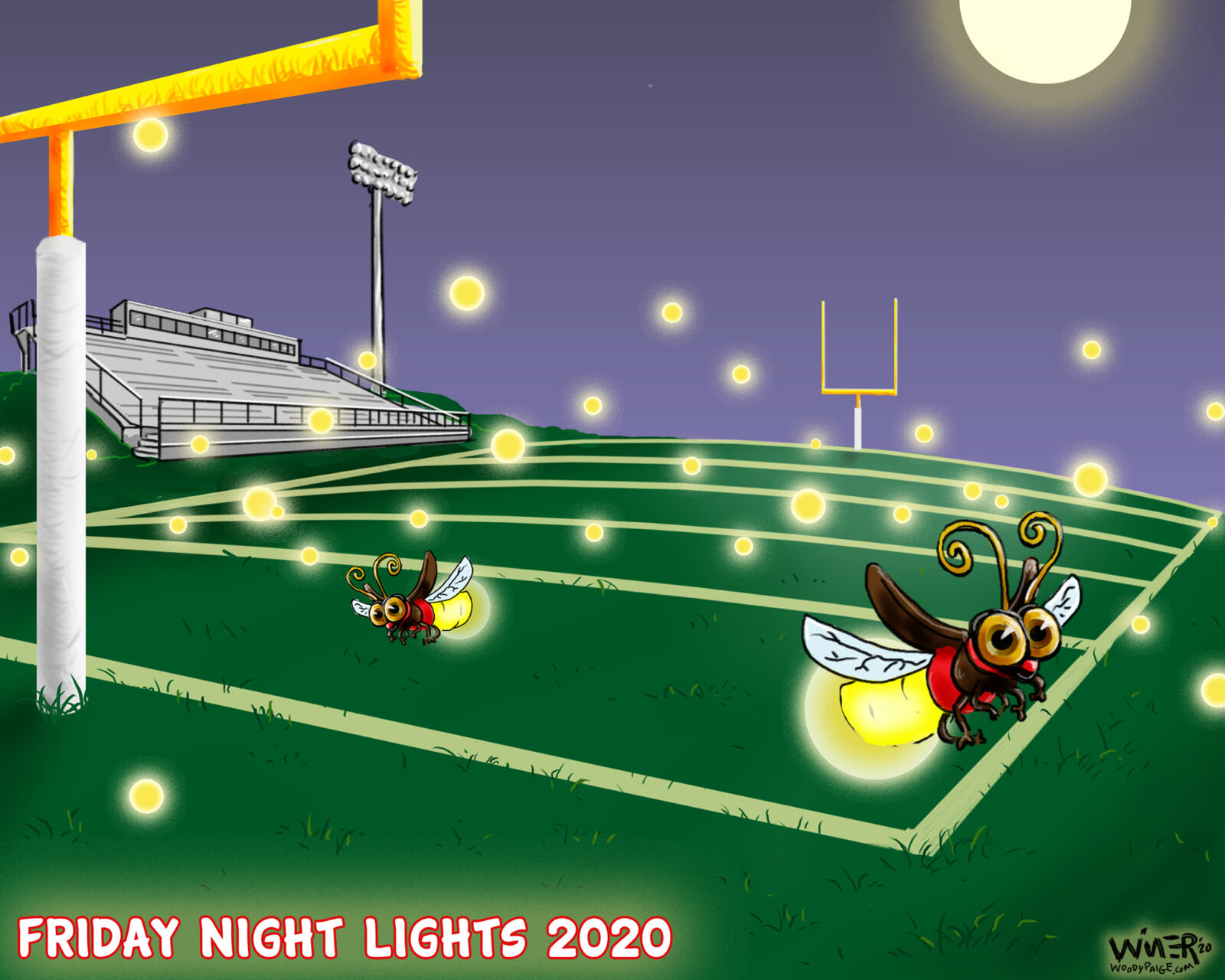 "Friday Night Lights 2020"
Autumn ushers in all kinds of things we all can excited about. Usually, high school football and "Friday Night Lights" is one of them.
But in a year different than any other, HS football in many parts of the country has been a casualty of the pandemic. Thus, many of us will have to settle for a different kind of Friday Night Lights in the late summer/early autumn.
And hopefully the kids who dream of suiting up for their HS get a chance to before they move on.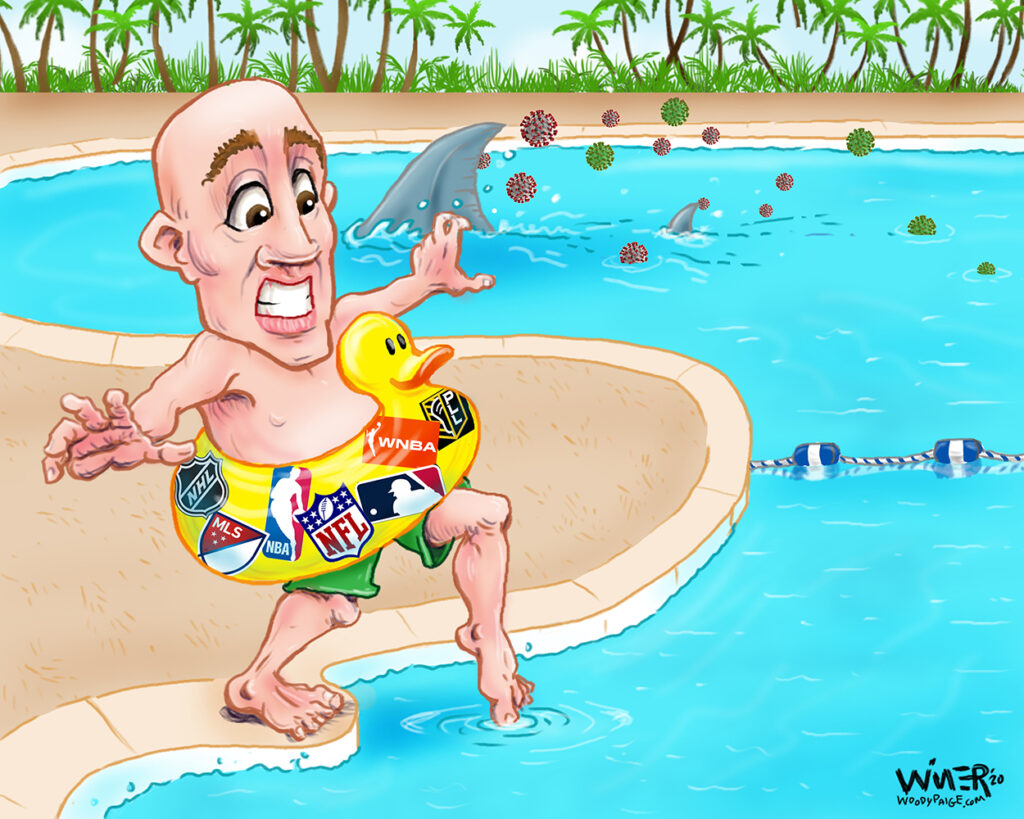 "Sports Dipping a Toe Into Uncharted Waters"
Sports are back! Well, kind of...
All of the major sports (and many of the minor ones) are starting up again in some form or another. None include fans in the stands of any note. So the value of television continues to rise on all levels, as sports-hungry fans will ingest anything to enrich their socially distanced lives.
This is uncharted waters for every one of these sports leagues, with most hesitantly dipping their toe before jumping in to the deep end. These waters are fraught with all kinds of danger regarding Covid. Careful getting in too deep, because the coronavirus has a habit of quickly making a mess of things. Just look at baseball and their approach of no fans, small changes, but business as usual for playing home and travel games with limited isolation for players and staff. Somewhat predictable, but a team (the Marlins) already has experienced a surge of cases on their roster, which in turn led to a postponement of several games. With an already short 60-game season, missed games will only complicate rankings and playoff calculations.
Other sports are taking the bubble approach. So far, so good for many of them. But it's early days, and I'm certain there will be a regular tally of players who are caught "breaking out" of their imposed bubble worlds, no matter how much those worlds are lavishly propped up to meet players' various and extensive needs. Patience and maturity aren't the hallmarks of 20-somethings to start with, and athletes certainly don't set records for impulse control.  Breaking out means higher chances of exposure, which means eventual cases and hiccups to sports leagues' best laid plans.
Here's to the sports leagues that deliver the sports we've been craving, while keeping things safe and as normal as possible. A balancing act that will be as interesting to watch as the sports themselves.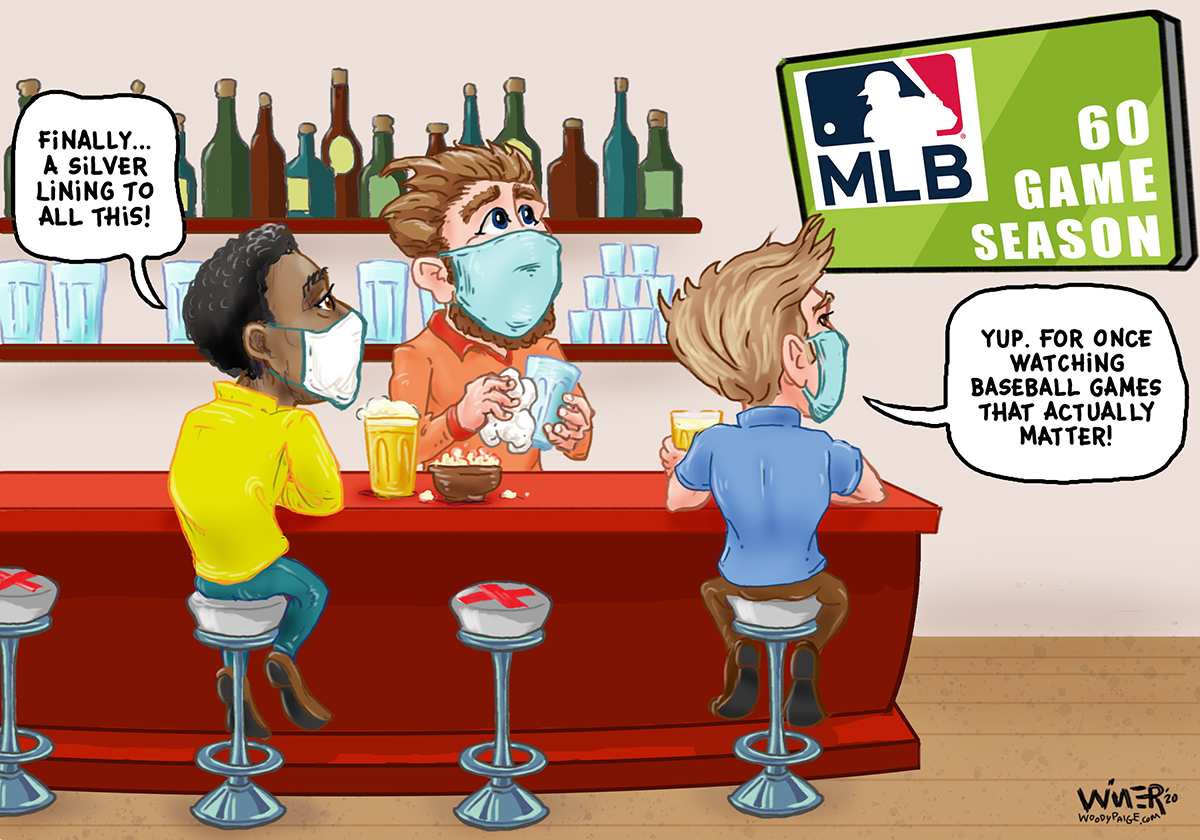 "Baseball that Matters"
After months of torturous negotiations, the owners and the players' union came to an agreement to make baseball happen in 2020. But it wasn't easy, and it was mostly ugly. Probably most apt was the analogy that it played out like a nasty divorce, and in full sight of the kids.

Enough has been said about sports fans of all kinds looking for any kind of live competition, even if they aren't allowed to see it in a stadium. Baseball will be no different. And additionally, it will provide the benefit of a much shortened season, so that each game actually means something. For a handy comparison, one regular season football game equals 10 baseball games (16 NFL to 162 MLB games). At some point in a normal year, it's hard for the fans (and most likely many of the players) to REALLY care about each game. To you baseball purists out there, this can sound like sacrilegious smack talk, but ask the average fan on the street and they'll most likely give you a shrug if you were to ask who the home team is playing next...or even worse, who they just played. So this new look may prove to inject some additional excitement in the ol' ball game.

We are all ready for real games, so bring them on! At the same time, let's hope that we can protect the players and the armies of support and production staff who need to pull it all off in the time of Covid.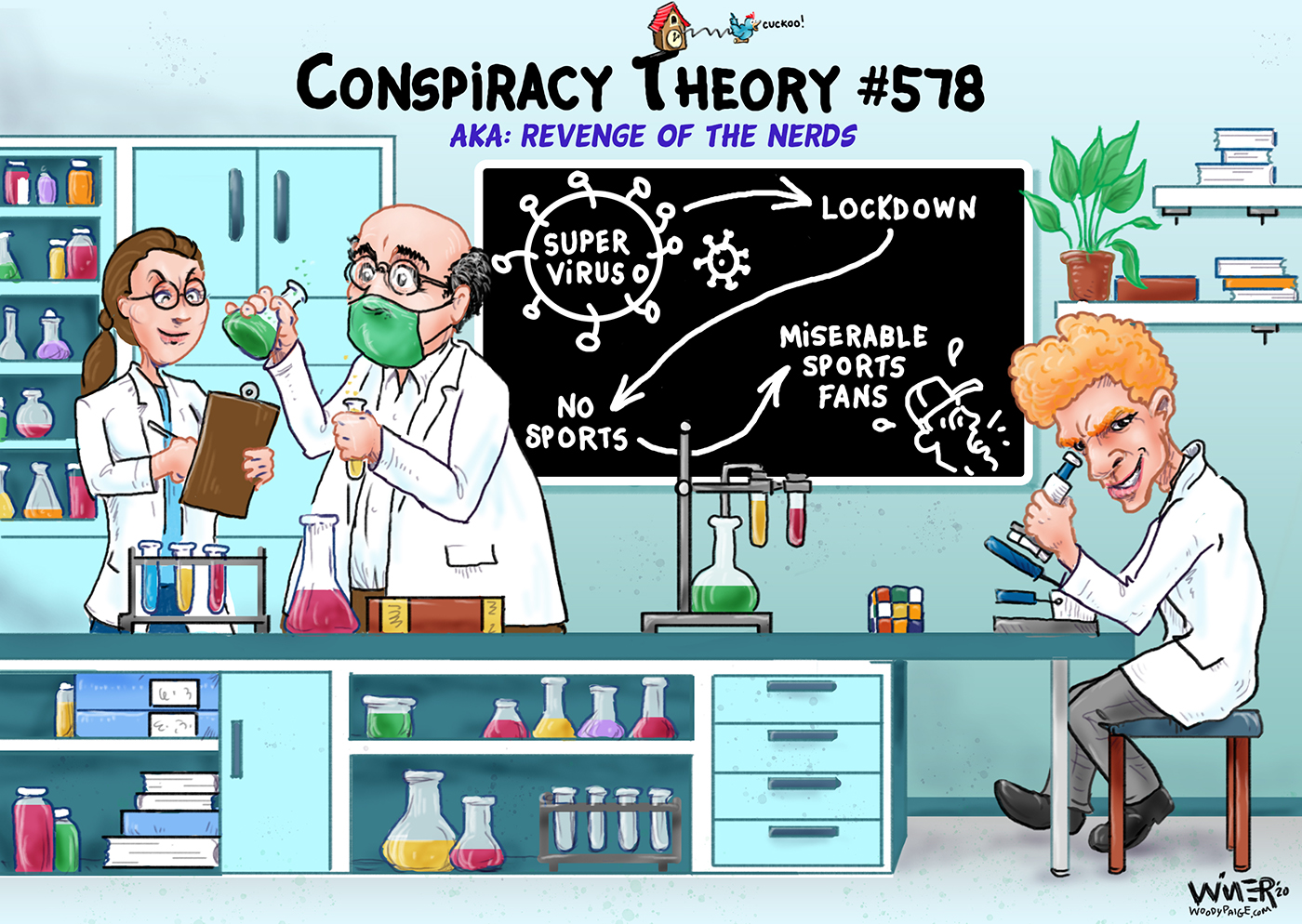 "Revenge of the Nerds?"
The Coronavirus continues to take its toll on every institution across our country and the world.  There has been no shortage of theories, conspiracy or otherwise, regarding the origins of the virus and hidden agendas.
So why not throw one more on the pile? 
The "nerds" have already long ago found their revenge, as the technology age will attest.  They are the ones who startup and run the hot new companies that rake in tons of VC and IPO capital. But to add insult to injury, they've developed a bug so strong it's shut down essentially every sport in the USA. The outcome is hundreds of millions of miserable sports fans who have nothing to watch, bet on, or spend hours arguing about with friends, neighbors, and coworkers. 
Mission accomplished for the brainiacs who never had an interest in sports and suffered through years of middle and high school where popularity was the province of the jock.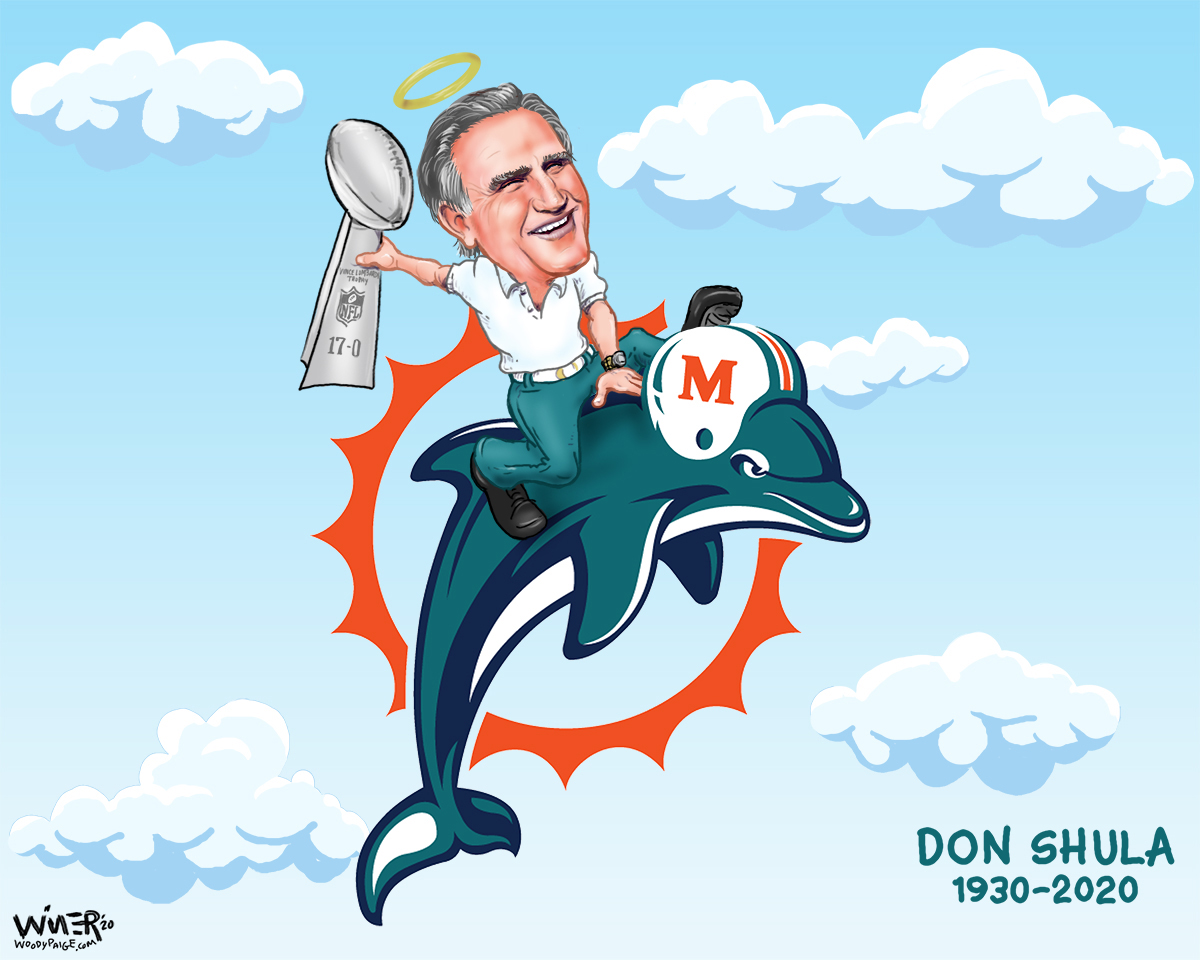 "Don Shula: A Dolphin into the Great Beyond"
Don Shula just left us to begin a totally new and different 'season.' As the winningest coach in NFL history (347 victories), the owner of the only undefeated season (1972), two Super Bowl championships, and only two losing seasons, he was the gold standard.
And Donald Francis Shula did it with a ton of class, and no excuses. He won ugly with defense, with a crushing running game, or by airing it out, depending on what the skills of his players offered.
If there ever will be a Mount Rushmore carved out for coaches, Shula would be a slam dunk; his chiseled face a perfect fit to match his remarkable list of contributions to the game of football.
2020 Cartoons and Commentary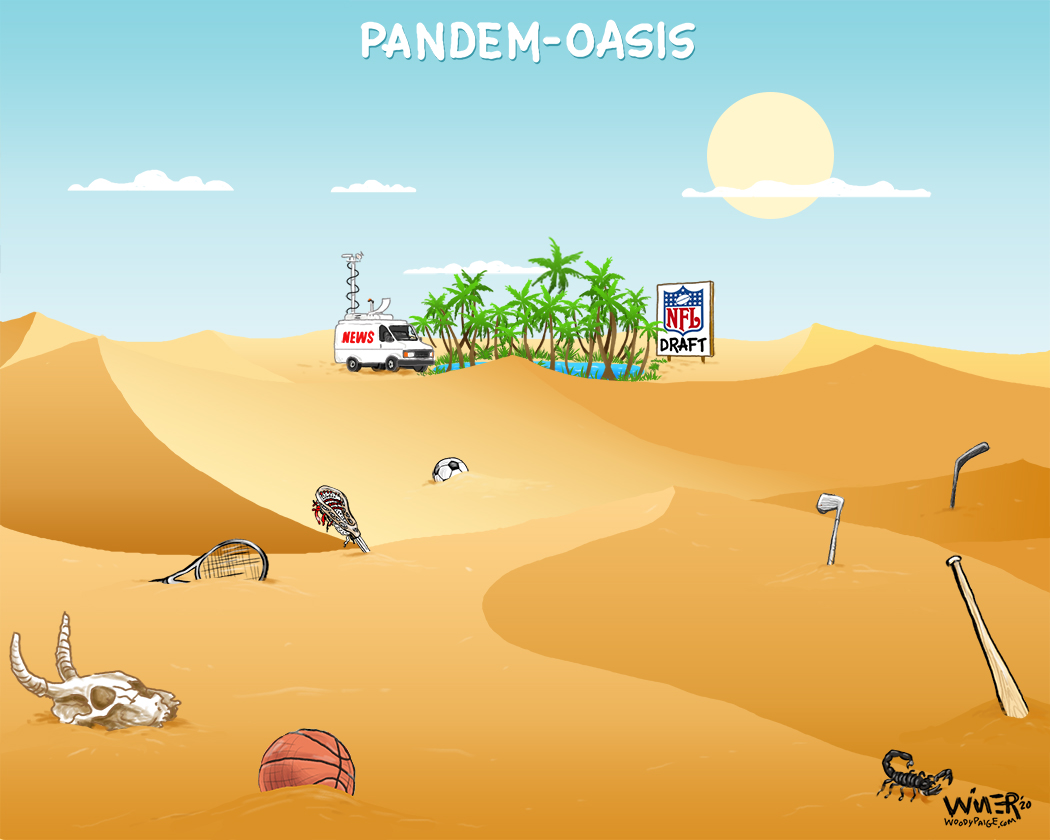 "Pandem-oasis in a sports desert."
The sports scene has become a virtual desert. No competitions, no audiences — no soup for you.
ESPN plays reruns of old games that people may or may not care about. They drum up intriguing, yet only half-satisfying programs like "The Last Dance," chronicling Michael Jordan's final season with the Bulls.
I caught "The Tournament of the Americas" or something like that the other night. USA vs Canada in a dodgeball championship whose mediocre athletes were dead ringers for those in the movie of the same name. Entertaining for about a half hour.
But the NFL Draft is something a little different. Not sports per se, but a draw like nothing else in the past two months. It blew away previous drafts for television audiences, for the simple reason there is nothing else on. For a moment we could all immerse ourselves in something happening real time (as opposed to reruns) and connected to the sport and teams that so many of us love. There was plenty of drama and surprise and hand-wringing, but fundamentally it was a temporary lifeline, an oasis we could enjoy for a moment in the vast desert of silent sports.
Was it any better than previous years? Probably not. As Eddie Murphy once said, "if you're starving and someone throws you a cracker, you'd be like: 'That's the best damn cracker I ever ate in my life!'"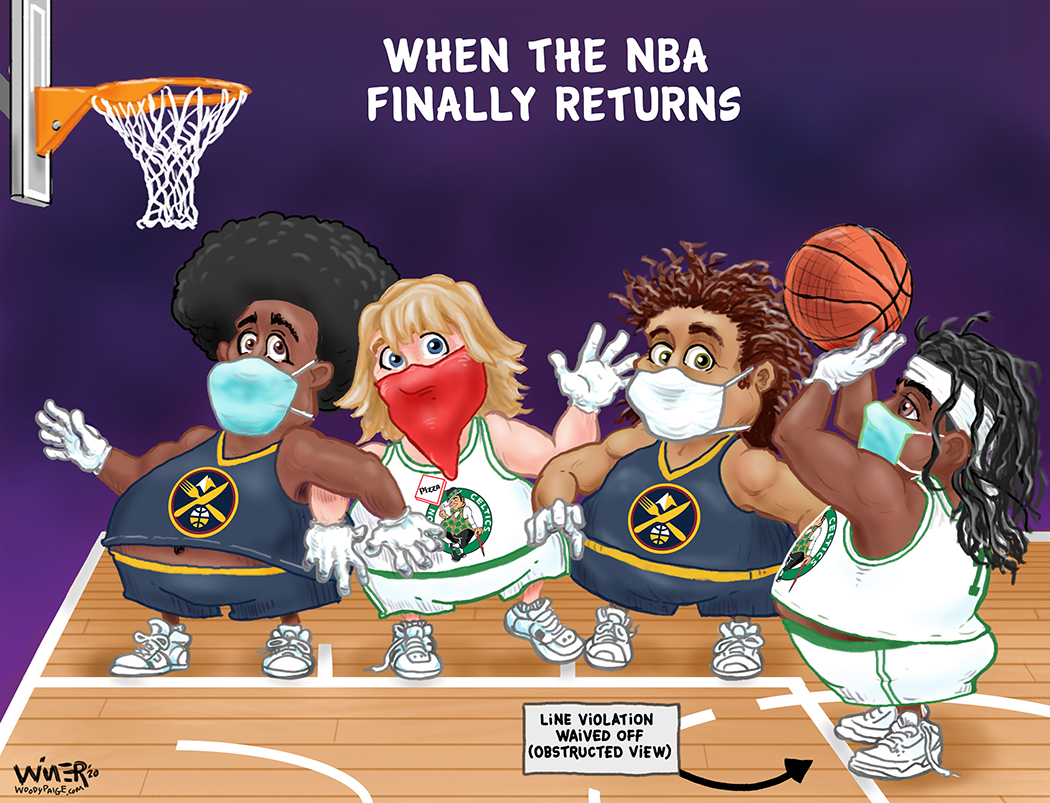 "The Post-Pandemic NBA Look."
After we figure out the "when," we'll get an idea of the, "what it's going to look like." 
To say the players will be nervous to re-enter the court will probably be an understatement. As the first major sport in the U.S. to show cases of the Coronavirus, and with more potential for exposure than most sports, the NBA will be interesting to watch. Add to that players who've been managing their own diet and training (assuming they've had access to adequate facilities), let's just say it will be the beefiest basketball has been in a while.
In the cartoon above, you will find recommended adjustments to certain elements of officiating, and also some tweaks to team logos that will better represent most teams during the post-pandemic era.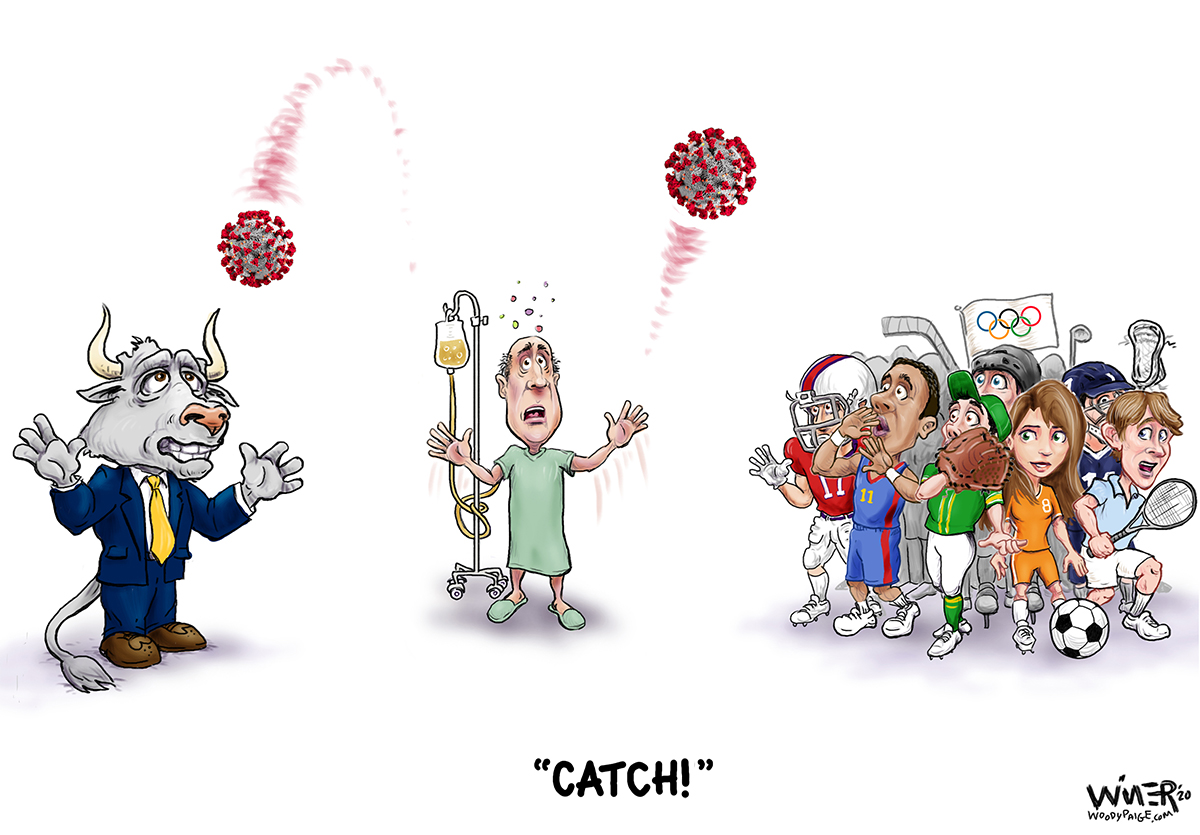 Deep into the Coronavirus pandemic, we've all dramatically shifted our lives to deal with the new reality. There is hardly a phase of life that has not been turned upside down during the last month for any number of countries and the United States.
The contagious nature of the virus, combined with its frightening mortality rate (especially for those particularly vulnerable) present enormous potential direct consequences for everyone of us and those we love.
Secondarily, the virus has deliverd a knock out punch to organizations, industries, and institutions on a level never seen before in modern history. Starting with the economy —and how we typically keep score of its health in the form of the stockmarket—we saw a drop of 35% in a matter of weeks, accompanied by over three million new unemployment claims. Essentially, indications are that the country has entered a recession.
Sports, usually played and followed during wartime and any other moments of crisis have completely shut down. Leaving fans to search high and low for alternatives, including virtual sports and random sports in far flung countries. 
What happens next?
It's hard to predict — we are now in uncharted territory.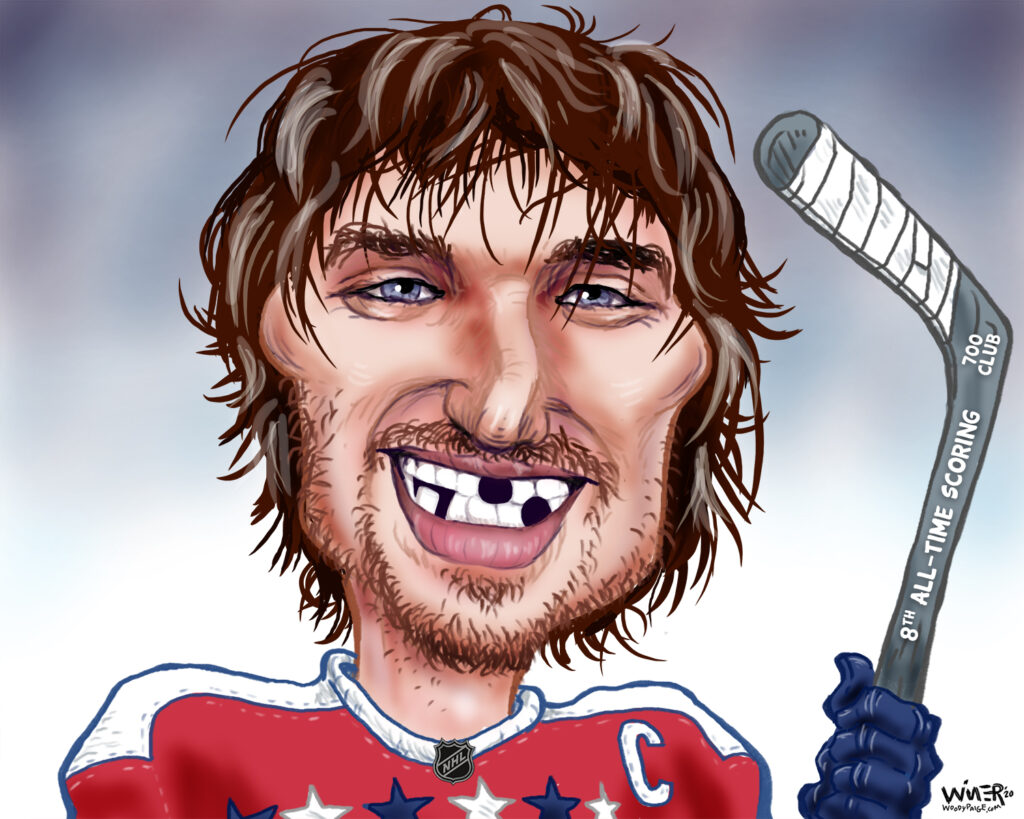 "Alexander Ovechkin's 700-Goal Smile"
Washington Capitals left winger Alexander Ovechkin reached impressive heights with his 700th career NHL goal, and did so with a smile (and nose) that only a mother could love. 
Ovi now ranks 8th overall on the NHL's all-time career goals list, and he has 194 goals more to match The Great One, Wayne Gretzky. At the rate he is playing and staying healthy, it's a very real possibility. Known for a rocket of a shot (he won the hardest shot at 109 mph at the 2018 All-Star game), Ovi doesn't just shoot it hard, but he also is regularly at the top of the league for most shots on goal.
Tough as nails, #8 rarely backs down in any situation (fights included), and yet has remained healthy through most of his career. So at only 34-years old, most players and pundits wholeheartedly believe he will end at the top of an illustrious list — most likely with a missing tooth (or two) more.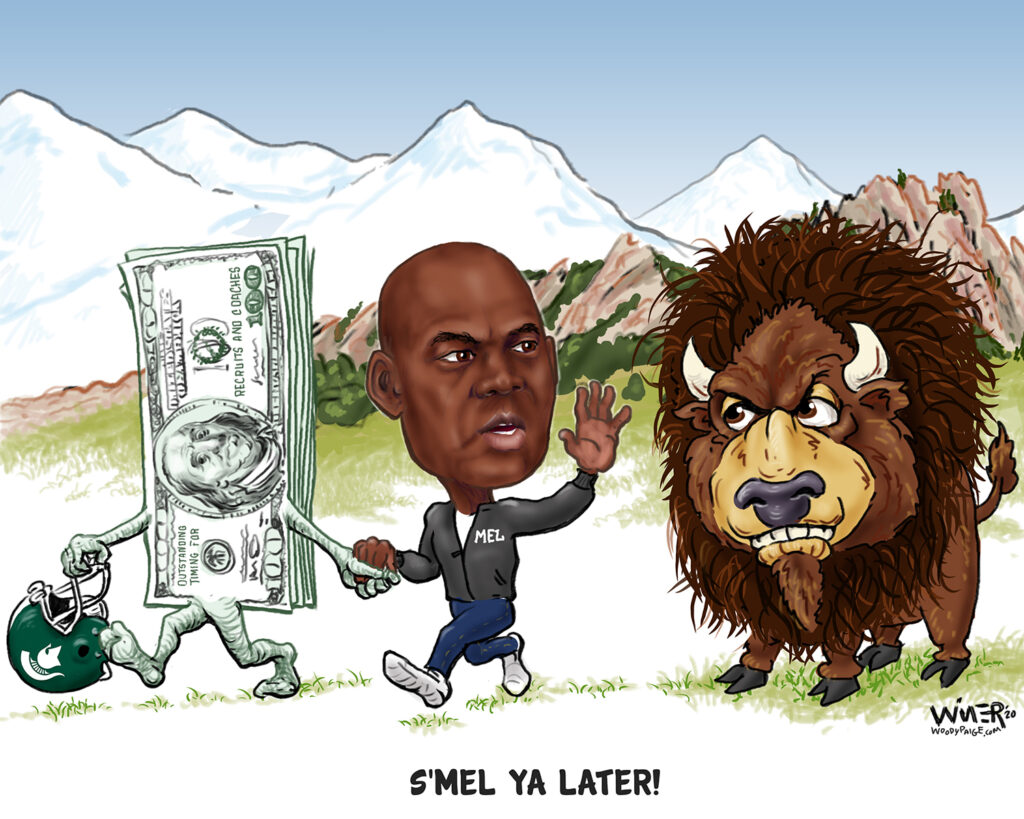 There's plenty of good stories in sports, but this isn't one of them.
Mel Tucker, a little over a year into his stint as University of Colorado head football coach, bailed this week for East Lansing, Michigan and Michigan State. He reportedly will receive compensation that will more than double his $2.4 million salary at CU — something to the tune of $5.5 million. (He also doubled his pool of money to pay his assistant coaches, and got a massive investment in strength and conditioning from the folks at MSU.)  
Michigan State was in a desperate situation after Mark Dantonio suddenly stepped down, conspicuously after a host of recruiting violations were revealed. As an aside, this is an ugly story in its own right; Dantonio claims he simply wants to spend more time with his family. His retirement was announced a day after National Signing Day. I'm sure his recruits loved to hear that news — much like Midnight Mel's recruits at CU were blindsided by his surprise.
Michigan State was able to put together a boatload of money that most Pac-12 schools would never be able to offer, and in the process, made Mel Tucker one of the top-ten highest paid college football coaches in the country. All of this after a 5-7 season.
Certainly you can't blame the coach for dramatically improving his financial situation, as well as those of his assistant coaches. But the way he handled the situation in the days leading up to the decision left a lot to be desired, promising he wasn't interested in the move and dedicating himself to many more years at CU to recruits, boosters and many members of the media. Timing couldn't be worse, for recruits or available high quality coaches. It was also a gut punch for a struggling football program that seemed to be finally finding its footing.
There will be lots of talk in the days and weeks to come of the haves and have nots in college football, as the disparity between the big two conferences (Big Ten and SEC) and everyone else comes into sharper focus with stories like this.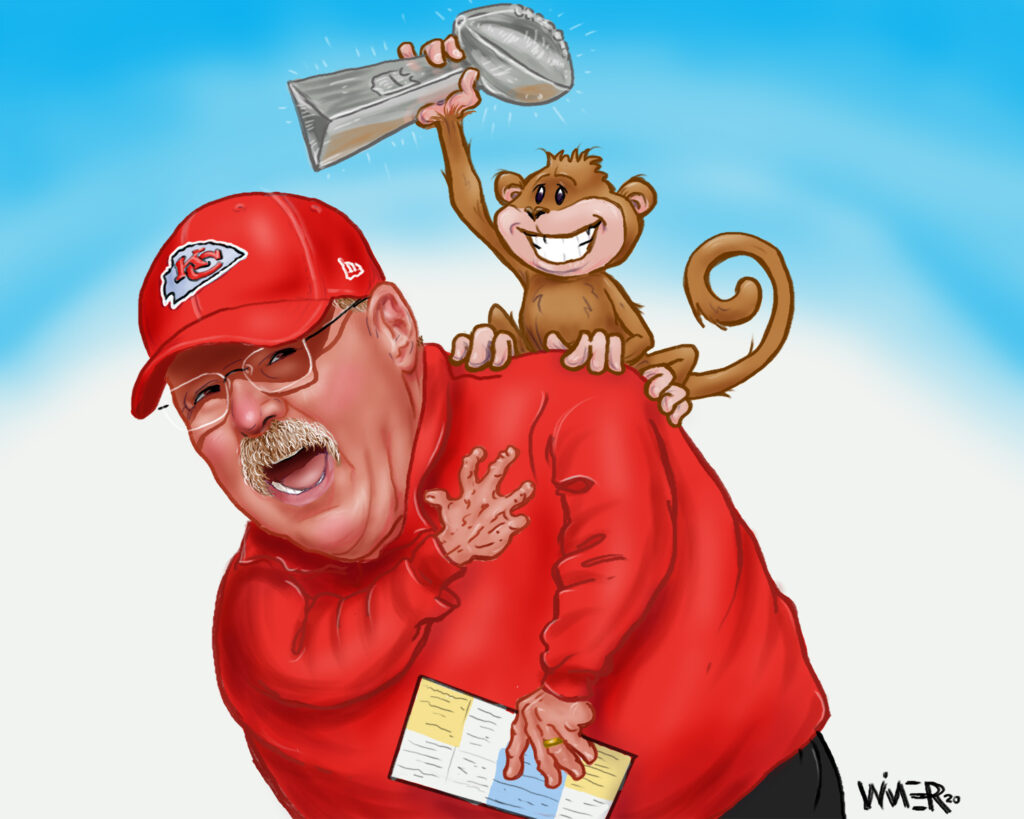 Super Bowl 54 is less than a week away, and Andy Reid is back for another swing at the big hardware — the Lombardi Trophy.
After 21 years as head coach, which included barely missing out on a ring with the Philadelphia Eagles 16 years ago, and deep runs in the playoffs with the Kansas City Chiefs in recent years, Reid looks primed to break through and shake that proverbial Super Bowl monkey off his back.
It's his best chance, with a Chiefs team that is firing on all cylinders. They've shown their ability to pull themselves out of deficits in a hurry, and score in bunches. All I can say is, 'good luck beating them in a shootout' — especially when their wunderkind quarterback Patrick Mahomes gets in a groove with the host of offensive weapons he has at his disposal. 
Perhaps more impressive (and important) is a defense that more than slows down the opposition. A weakness that has kept many prior Reid teams from advancing to the big game, this season's seventh-ranked NFL defense can go toe-to-toe with any offense in the league.
What about the opposition? Kyle Shanahan has a small monkey of his own, having fumbled away a Super Bowl opportunity of his own a few years ago while coaching the offense for the Atlanta Falcons.
Needless to say, it will be interesting to see which coach shakes their respective monkey off their back first.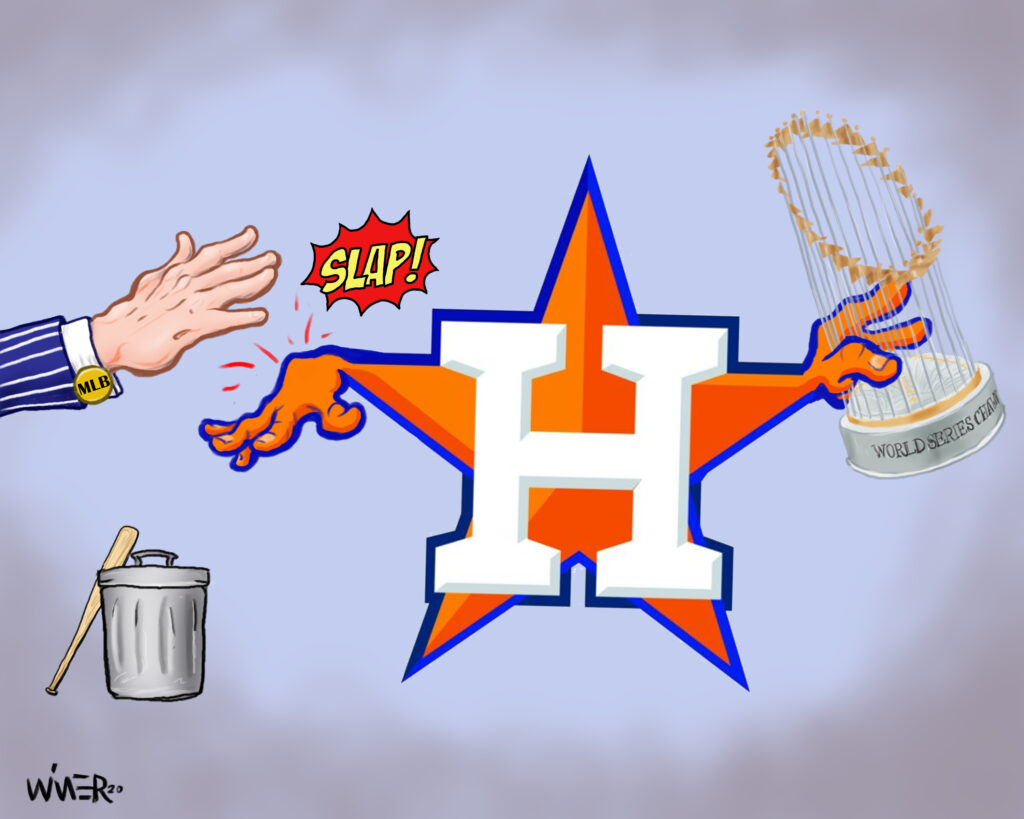 A little ice is needed for the MLB's wrist slap on the Houston Astros.
Punishment was meted out to the Astros this week for their sign stealing offenses that took place on their road to a World Series title in 2017. Manager A. J. Hinch and general manager Jeff Luhnow were both banned by the MLB for a year, then subsequently fired by the team owner. 
Since then, Red Sox manager Alex Cora and Mets manager Carlos Beltran have also lost their jobs for their involvement in the scheme. 
There's been plenty of complaints across the league that this wasn't nearly enough of a punishment for a club that benefited financially in a big way from the championship, and was, in effect, merely a slap on the wrist.
The tremors have been felt across the league with more questions and accusations. 
For a rule that has a ton of grey area (sign stealing is legal as long as it doesn't involve technology), it will be interesting to see how it all shakes out.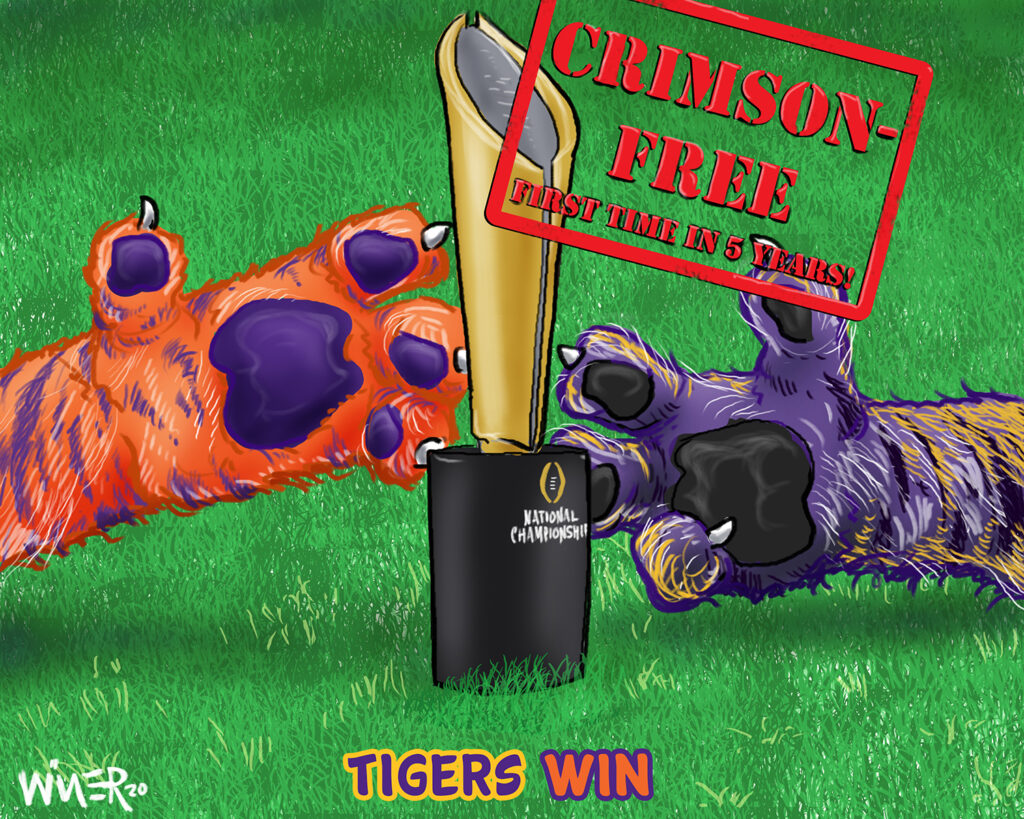 Paws on the Prize.
No matter what, fans of Tigers will be waking up Tuesday morning as National Champs.
The LSU Tigers face the Clemson Tigers in what projects to be an epic final game of the college football season. The winner will be crowned the 2019 College Football Playoff national champions.
Two outstanding offenses facing nearly as equal defenses, with loads of talent that will eventually be starring on Sundays. And, for the first time in five years, there will be no Crimson (Tide) involved in college football's biggest game of the season.
It's hard to believe after so much success by Alabama and head coach Nick Saban over the last dozen years. And at the end of the day, it would be foolish to count them out in years to come.
Shop for over 250 of my top images (many that you have seen here) as prints, unframed or framed, posters and large print on canvas. Just added other great gift options with this artwork on mugs, towels, blankets, totebags, throw pillows, etc.! Etsy is super easy and convenient.  Reach out to me directly for those options and send me a note if you don't see an item in a gift option - I'll make it happen!
If you can't find a piece of my work at Etsy, or are interested in a commissioned piece of work, please reach me directly at [email protected] or 303 746-1305.